Follow us on Telegram for the latest updates: https://t.me/mothershipsg
If you have unwanted make-up products that you received as a gift this past Christmas or that you bought ages ago, don't just throw them out or leave them on your shelves.
Instead, give a new purpose to your unused make-up products by donating them for use on the recently departed.
What and how to donate
From now till Jan. 17, Casket Fairprice, a local funeral parlour, is collecting unused make-up products which are needed during the embalming process.
The campaign, named "Dignity for the Departed", was launched on Dec. 16, 2022.
For the collection drive, the following make-up products are accepted:
Concealers (in demand due to high coverage)

High coverage foundation

Eyebrow pencils

Blusher

Lipsticks

Setting powders and sprays
To donate, the public can either mail the products to or drop them off at the following address:
Casket Fairprice, 37 Sin Ming Drive #01-571, Singapore 575711
Drop-offs are available at these hours:
Sunday to Friday,  8:30am to 4:30pm

Saturday, 8:30am to 1pm
Once collected, the embalming team will ensure that the donated items are in "proper and good" condition to be used on "the dearly departed".
"All donated products will be repurposed and used by our embalmers during the make-up and dressing process, for beautification and restoration", Casket Fairprice wrote on its website.
Any excess make-up products collected will be shared with other embalmers in the industry.
First step to sustainability
Casket Fairprice shared in a press release that, through the campaign, it hopes to reduce the wastage of make-up products, many of which can be repurposed for face and body restoration.
According to Rachael Tay, Corporate Development Manager at Casket Fairprice, "Dignity of the Departed" is the parlour's first step toward adopting more "sustainability minded practices" in their day-to-day work.
While the current collection drive will end on Jan. 17, Casket Fairprice is hoping that "Dignity for the Departed" will become an ongoing initiative.
How make-up is used during embalming
According to 8Days, Casket Fairprice typically purchases specialised mortuary cosmetics and commercial make-up for the embalming process.
"For foundation or concealer, it is important to match the right shade to the skin tone or else it may look unnatural to the bereaved family — a blend of professional mortuary cosmetics and regular cosmetics is often used", Tay told 8Days.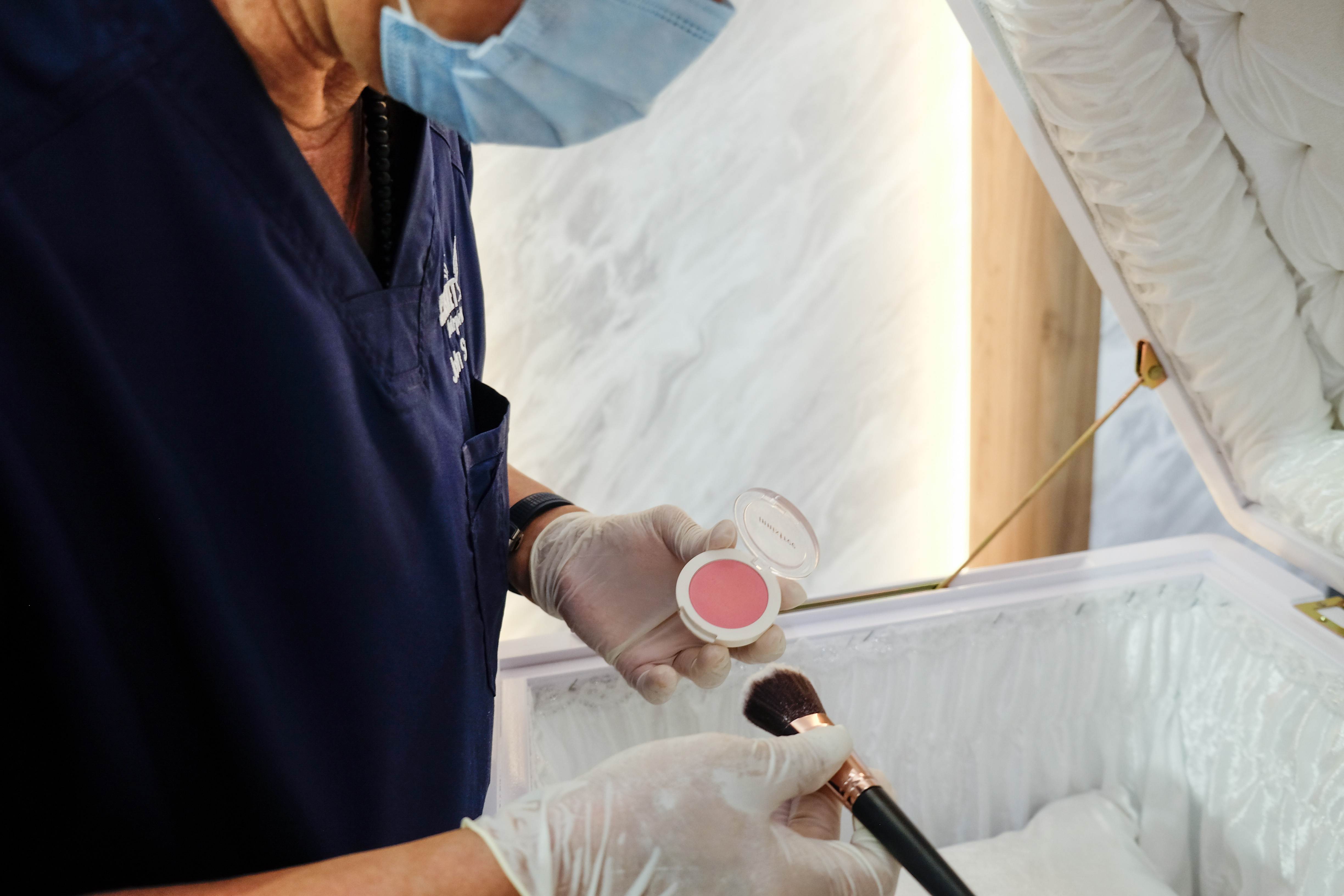 For lipsticks, a neutral shade will be applied or men and a shade of red will be applied for women.
Accessories like false eyelashes, mascara and eyeliners are seldom used unless requested by the family.
Bright make-up colours are avoided, unless requested.
Depending on the condition of the body, the embalming process takes one to two hours, 8Days wrote. Hair and make-up takes up a quarter of that time.
Top image via Casket Fairprice
If you like what you read, follow us on Facebook, Instagram, Twitter and Telegram to get the latest updates.