Follow us on Telegram for the latest updates: https://t.me/mothershipsg
From a physical standpoint, if nothing else, I'm quite possibly the biggest fan of Liverpool Football Club in Singapore. So what was I doing in North London, about to watch Arsenal and Tottenham Hotspur battle in one of the fiercest rivalries of English football?
That was the question running through my mind as I watched around 60,000 football fans scream their lungs out while Antonio Conte's lilywhite warriors and Mikel Arteta's crimson gunners took the field at the Tottenham Hotspur Stadium, known to some as New White Hart Lane, in the heart of North London.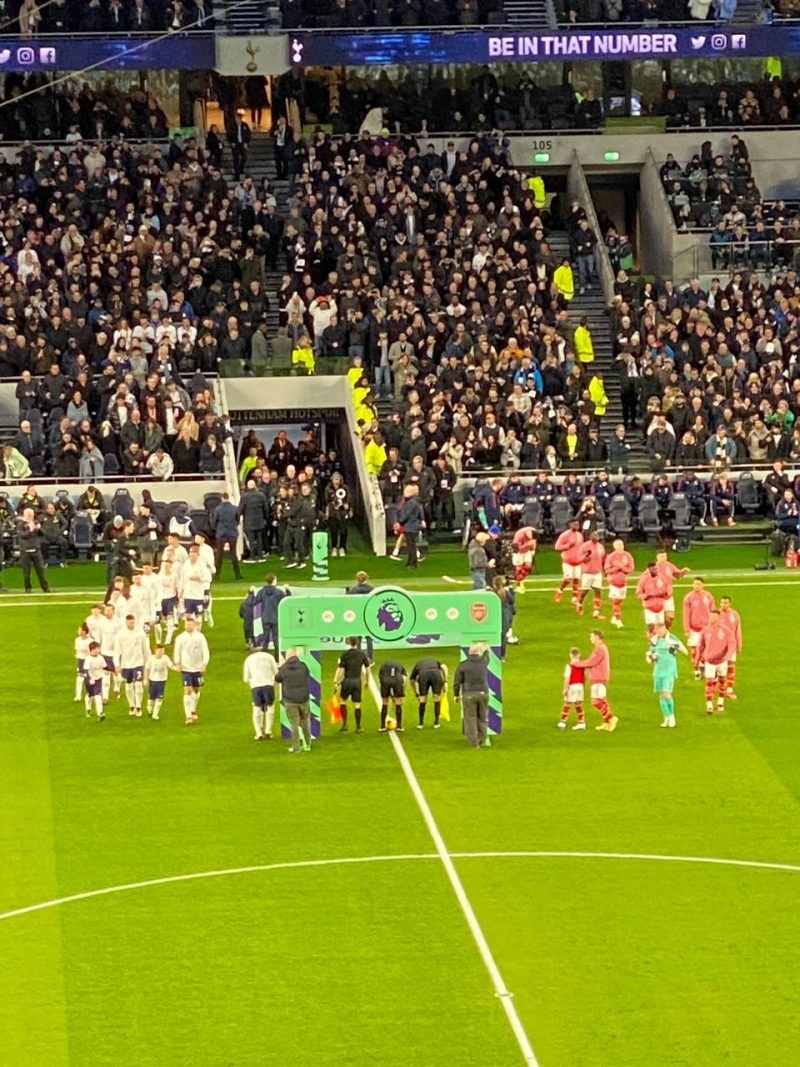 It was a cauldron of noise, pulsating music and primal roars, excitement mingled with desperation. At stake were three points: the chance for Arsenal to race away at the top of the table or the possibility of climbing into the top four spots for Spurs.
But as any fan would tell you, even that barely mattered. It would be just as highly charged if Arsenal and Spurs were playing a summertime friendly. At stake was that highest of honours -- bragging rights for the primacy of North London.
A whistle blew, and a sheer wall of noise surged up to meet it.
Voyage to London
The journey of almost 11,000km from Singapore to London, UK started with a single question: "Eh, you want to watch Spurs versus Arsenal?"
After double-checking to make sure it wasn't a practical joke of some kind (yes, AIA really was going to send two lucky Mothership staff to watch the match), I was well up for it. Watching a Premier League match in the flesh is an indescribable experience, and London just happens to be one of my favourite cities.
After a long couple of flights with a short layover in Doha, Qatar, we arrived in London exhausted, but exhilarated. I haven't been to England since before Covid, and it was a thrill to be back in Blighty.
England had a new monarch, a raft of new prime ministers, but in many other ways, it was the same old England with its thundering Tube trains, grey skies, and loads upon loads of football-mad fans.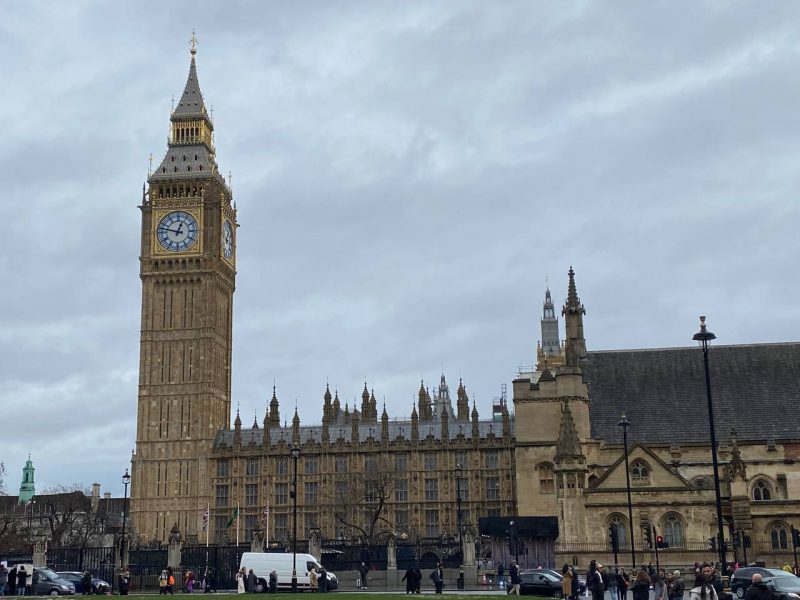 New White Hart Lane
The journey from our base in Marylebone took us past iconic neighbourhoods like Camden Town, with the posh environs of West London gradually giving way to the earthier charms of North London. Among the older buildings rose the Tottenham Hotspur Stadium like a gleaming fortress, glass and chrome at odds with the bricks and mortar of its neighbours.
I've been to big stadiums before, but this one was seriously impressive from the outside. I was to discover that the inside was equally as impressive. Thanks to our tour guide, Steve, a diehard who has missed a mere handful of Spurs games in decades, we were allowed a behind-the-scenes look at one of the newest stadiums in London.
Older fans may recall White Hart Lane, where the likes of Jurgen Klinsmann and Glenn Hoddle plied their trade. The new stadium sits in the same location as that fabled ground, with all the benefits that modern architecture and design can offer.
"In 1882, a cricket team wanted a sport to play during the winter, and Tottenham Hotspur Football Club was born," Steve told us. "Just nine years later, in 1901, that team won the FA Cup."
Spurs fans know their history, and that reverence for history is mingled into the core of the new stadium. Walking along the inner corridors, fans can catch a glimpse of the heroes of yesteryear with posters of their greatest achievements adorning the walls. Even the concrete used to build the new stadium was made with crushed aggregate from the old ground.
In one amusing anecdote, Steve shared that the golden cockerel statue that sits at the highest point of the new stadium is a larger version but still an exact replica of the old one -- including the dents caused by Paul Gascoigne with an air rifle, who decided it would be ideal for target practice.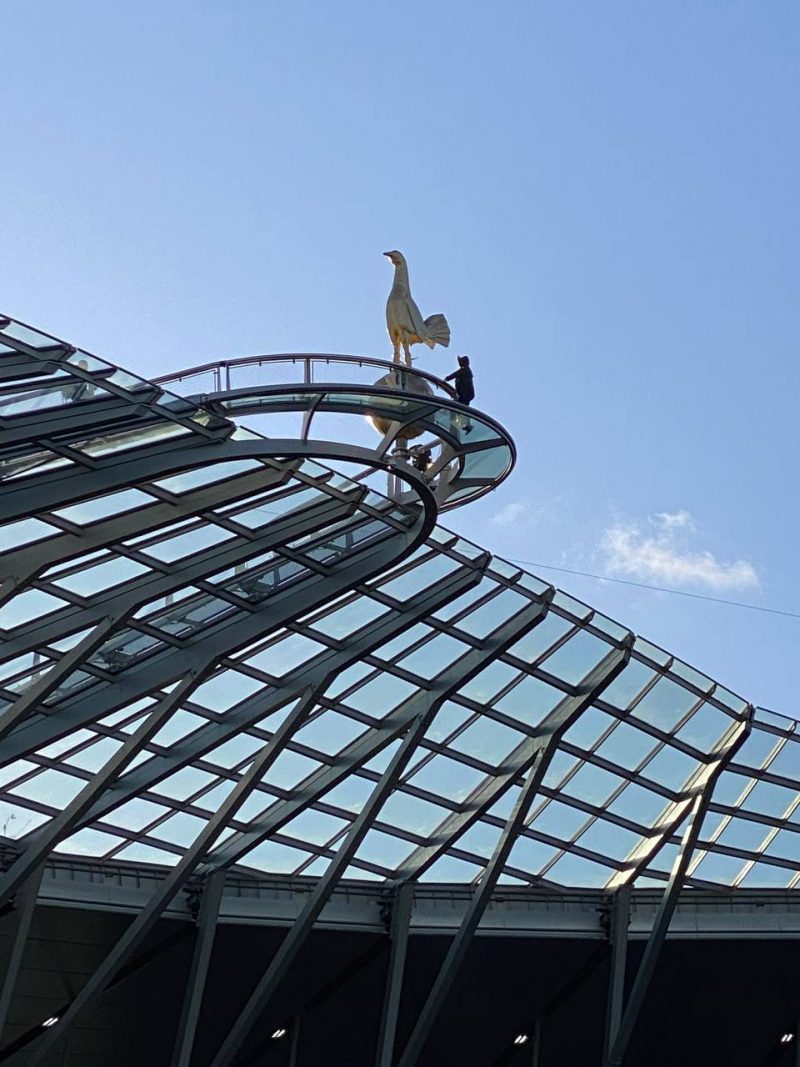 A glimpse inside
We were even allowed to wander around the dressing rooms where the players would go during match days. The home dressing room is arranged in a unique semi-circle, allowing the manager to see all his players clearly. Club captain Harry Kane gets the centre seat, where he can speak to his teammates with maximum effect.
The design pays attention to every last detail, with the room able to adjust temperature and lighting to match the conditions outside, to the doors making no noise while opening and shutting so as not to disrupt the players' concentration. By such small margins are football matches won and lost.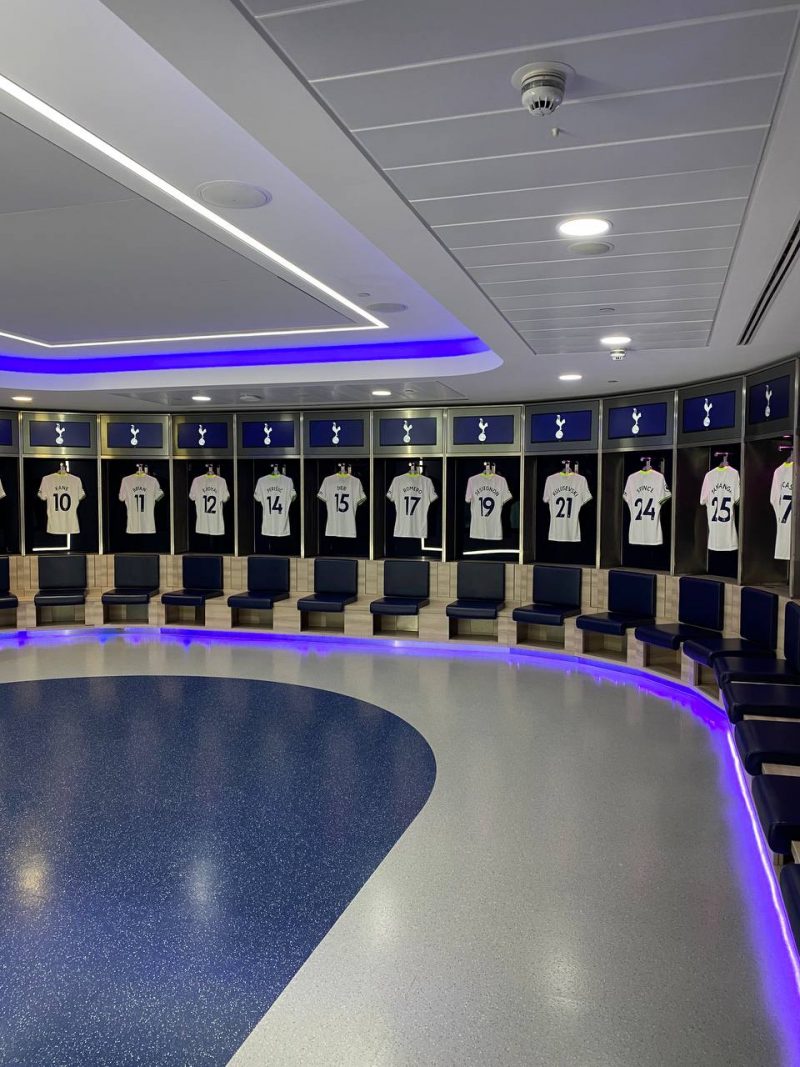 Of course, in these modern times, football stadiums that host only football matches are becoming increasingly rare. New White Hart Lane has played host to heavyweight boxing bouts, Lady Gaga concerts, a Covid testing centre in the dark days of the pandemic, and even that other "football", NFL games with teams all the way from America. Advertisements for rugby games and the Red Hot Chilli Peppers flit across LED screens. As a crucial part of the local government's regeneration project for the area, such events have provided jobs and business opportunities for local residents.
Still, the first order of business is football. To the tens of thousands of fans who throng the stands, the thousands more outside and millions around the world, their hopes and dreams rest on the shoulder of manager Antonio Conte and the team he selects each week.
Match Day
While we would be enjoying the amenities of a VIP lounge, getting to the stadium itself would be done the traditional way. Unlike most American stadiums, there is no parking right outside. Fans either get ferried to a designated spot by coach and walk the rest of the way, or catch a train on the London Overground to a nearby station, and then walk.
Walking among the fans, feeling the buzz and hearing the songs is perhaps the best way to get psyched up for a game. I recalled my own experience of walking to Anfield on match day, feeling connected to the other fans as we headed to hallowed ground for a singular purpose. I knew the Spurs fans were feeling the same.
Courtesy of AIA Singapore, we were treated to fantastic accommodations. Seats close to the centre of the pitch that could also be heated for more comfort on a cold London evening. There was an array of snacks, beverages, and mains that would not look out of place at a restaurant.
In short, for someone whose bum has endured the cracked wooden benches of the old Kallang Stadium, this was the nicest conditions in which I've ever watched a game of football.
Looking out into the stands, I noticed quite a number of Asian fans proudly waving flags of the Republic of Korea. No prizes for guessing their favourite player -- Clément Lenglet.
Ok not really, it's Son Heung Min, perhaps the most gifted Asian player to ever lace up a pair of boots, and the new brand ambassador for AIA Singapore.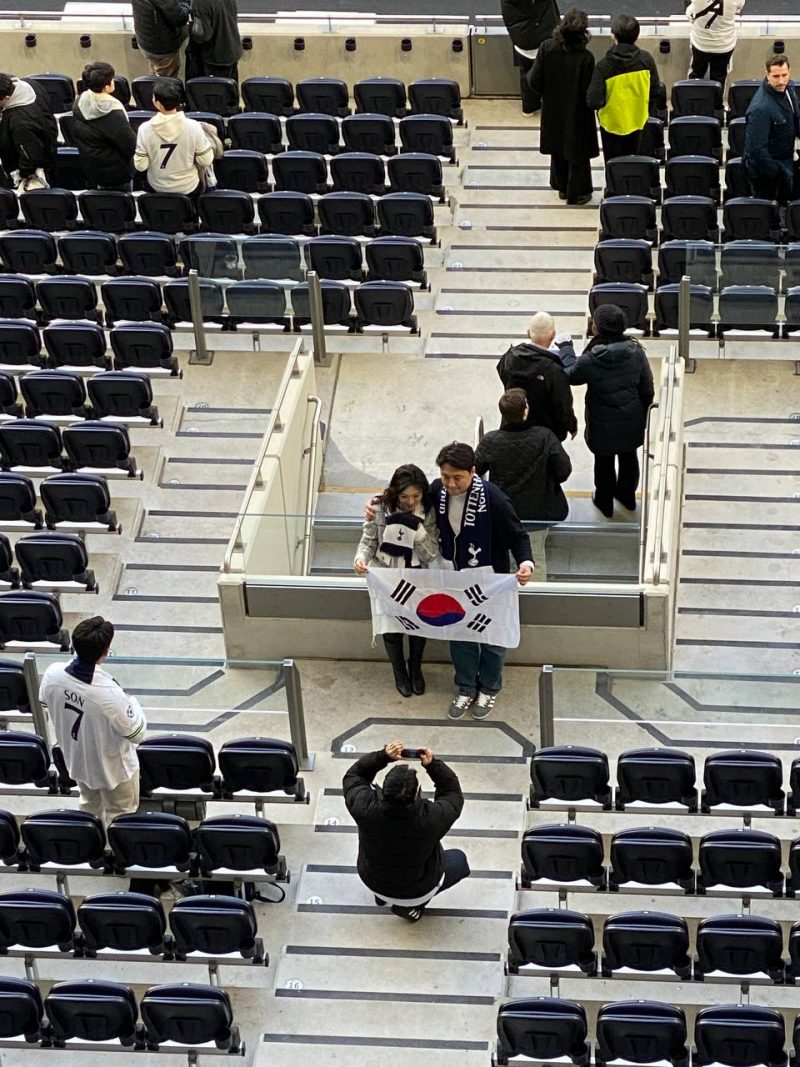 The South Stand, considered the "home" end, rang with battle cries of "Oh When The Spurs Go Marching In" and "Come On You Spurs". Not to be outdone, the 3,000-odd Arsenal fans blared "The Greatest Team" in defiance. It was almost time.
Not long to wait... 🤩

🛵 @Getir_UK pic.twitter.com/cGggLhGTUj

— Tottenham Hotspur (@SpursOfficial) January 15, 2023
Half-time, full time
45 minutes later and things had gone pear-shaped for Spurs. Hugo Lloris, the once-glorious World Cup-winning keeper, had dropped a clanger and conceded a bizarre goal.
Things only got worse for Spurs as Martin Ødegaard, Arsenal's captain, unleashed a peach of a shot that whistled into Lloris's net. At the other end, Son had a chance after a clever through pass, but he could not get past Aaron Ramsdale, who was quietly turning in an excellent performance.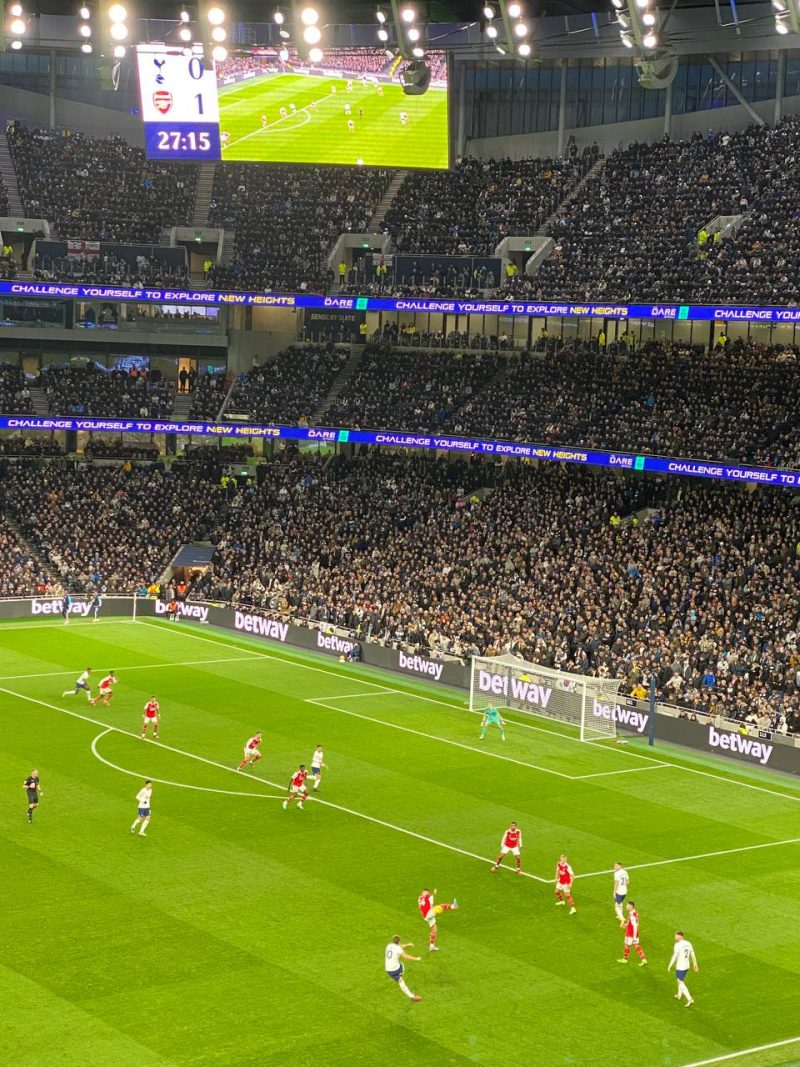 As the players trudged off for the half-time break, I envisioned them headed for the same dressing rooms I had visited only a couple of days earlier. What were Arteta and Conte saying to their players within those rooms, with so much at stake? One could only wonder.
When they emerged, Spurs did better, but Arsenal had evolved into a team capable of ruthlessly closing out a game. Neither Kane nor Son nor Conte's substitutions could find a way through their fierce rivals, who were bent on extending the lead between themselves and Manchester City.
When the final whistle blew, a testy altercation involving Richarlison, Ramsdale, and a spectacularly misguided Spurs fan could not dampen the joy displayed by the Arsenal squad as they rushed over to celebrate with their travelling fans. They would take the plaudits and the glory tonight. Their hosts would not.
I sympathised with the ones who felt pain. Agony is the birthright of any football fan. Though not my team, everyone I had met associated with Tottenham Hotspur Football Club and AIA, from the security guards to the media liaisons to the chefs and attendants and the players themselves had been nothing short of warm, welcoming, and gracious.
Leaving the stadium and back into the chill London night, I found myself thinking it wouldn't be long before someone figured out how to make Spurs a force to be feared. They have all the tools needed for success. If and when that happens, this area of North London and its fans will be the primary reason for that success.
Sulaiman Daud's trip was hosted by Tottenham Hotspurs' global principal partner AIA.
Top image by Sulaiman Daud.
If you like what you read, follow us on Facebook, Instagram, Twitter and Telegram to get the latest updates.