Follow us on Telegram for the latest updates: https://t.me/mothershipsg
A warm and fuzzy, cute and furry stunt at a zoo in China almost turned red and bloody with an unnecessary loss of life and/ or limb.
This was after the zookeepers there tried to do a symbolic passing of baton event for the Lunar New Year by putting a rabbit and tiger within close proximity of each other.
A video posted on Weibo showed exactly what happened next: The tiger, a juvenile, upon getting a whiff of the rabbit, decided to take a nice big bite out of a fellow mammal.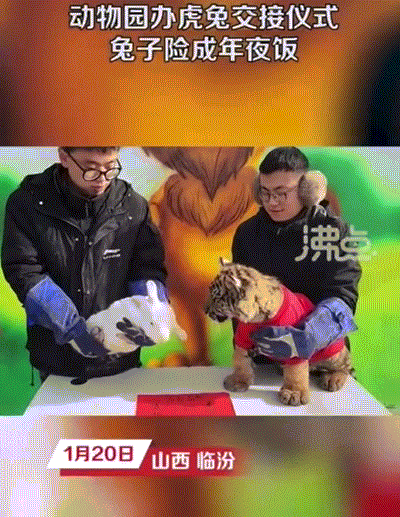 According to various news reports out of China, the rabbit was alright as the zookeeper managed to pull the tiger off in time.
Tiger cub bites rabbit as China zookeepers try symbolic passing of zodiac baton for CNY 2023 pic.twitter.com/fnuqPUunYf

— Mothership.sg (@MothershipSG) January 22, 2023
More details
Local media in China also reported that the zoo involved is the one located in Linfen, Shanxi province.
The event at the Linfen Zoo was to carry out the passing of baton from the Year of the Tiger (2022) to the Year of the Rabbit (2023) -- it made sense because the zoo had these animals in its exhibits.
Based on the fuller video, two staff members were seen holding a rabbit and a tiger cub in their arms.
As part of the "handover" for the Lunar New Year's Eve festivities, the two animals, while docile separately, were held closer to each other.
The tiger cub first gave a quick sniff while the rabbit appeared unaware it was in mortal danger.
The big cat then stretched out its paws and opened its mouth to grab a hold of the bunny.
The staff exclaimed audibly on camera and hurriedly shouted to stop and pulled the animals apart.
The video then cut off.
In order to avoid further accidents, the staff embraced animal separately, and simply said a few words to the camera.
If you like what you read, follow us on Facebook, Instagram, Twitter and Telegram to get the latest updates.