So you own a car. Great, isn't it?
But as all experienced car owners here can attest, a set of wheels comes with responsibilities on top of unadulterated fun and freedom to go anywhere, anytime of the day or night.
For those who are new to the world of car ownership or who have owned a car for a long time and are wondering if there is anything else they need to know about dealing with a new or second-hand ride, rest assured - it's all doable and not very difficult to master.
Here is a checklist of some things to look out for.
1. Go for regular servicing and oil changes
You should bring your car for regular servicing and engine oil changes every six months or after every 10,000km of mileage clocked.
This helps to take care of your car's engine.
Engine oil needs to be replaced as the fast-moving parts break down the oil and lessens its ability to absorb heat and lubricate the engine.
Over time, if engine oil is left unchanged, it can result in engine damage.
If you are unsure when the last time your car was serviced and had its oil changed, you should have it checked out as a new user.
Regular serving at a trusted car service workshop will also help you deal with other parts of the car that are subjected to wear and tear.
These parts include, but are not limited to the car's
Cooling system

Radiator

Clutches

Exhaust

Transmission

Steering

Wheel alignment

Balancing
2. Wash your car once every 1 to 2 weeks at least
Cars have thousands of moving parts and all of them are subject to wear and tear, especially in Singapore, where daily temperatures and humidity can be high – peppered with unpredictable bouts of heavy rain.
It is precisely this combination of heat and moisture in Singapore that causes cars to get dirty and grimy within days of getting washed.
If you are time-constrained, do consider washing your car at least once every fortnight.
This gets rid of dust and grime on the exterior of the car and keeps the upholstery and mats clean.
If you cannot do it yourself, here's a list of 24-hour car wash services available in Singapore.
3. Keep basic accessories in your boot
There are certain things that are good to have in your car all the time, because you do not know when you may need these car care items.
These include:
Two microfibre cloths: One for the car's exterior, one for the interior

Aircon & interior refresher: Freshens up the car air conditioning system in just 10 minutes and gets rid of tobacco and mouldy smells in older cars

Handheld vacuum cleaner: For food crumbs, dust and other
4. Keep other accessories on hand for emergencies
On the other hand, you should also keep these other accessories on hand for emergencies:
Car jump start cables: Car batteries might drain out over time and getting juice from another car is necessary to jumpstart the car for a ride to the workshop

Inflated spare tire: Catching a flat tire is uncommon, but highly probable

Reflective warning triangle: This warning sign could be a life saver, especially if you need to put one up along the expressway to warn other motorists about your stalled car
5. Save costs and earn rewards at the same time via Shell GO+
One way to accumulate cost savings over time is to stick to at least one loyalty programme offered by petrol stations.

For starters, drivers who transact at Shell via the Shell GO+ app can enjoy cost savings by simply going back to use the services.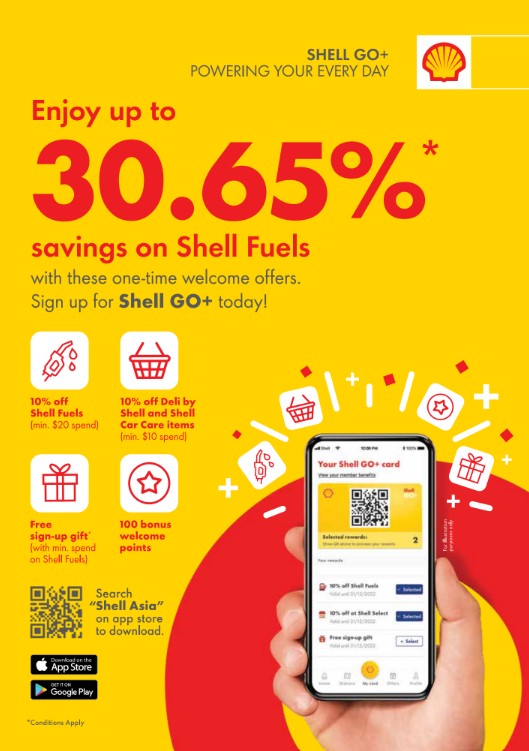 Currently, Shell GO+ is the only motorist loyalty programme that allows users to earn on all spend at Shell, such as for pumping fuel, buying in-store items, going for a car wash, as well as car servicing.
Shell GO+ is a new and revamped loyalty and rewards programme that will replace the existing Shell Escape programme.
Moreover, there are also attractive sign-up offers in this new year.
Shell GO+ users can get up to 30.65 per cent savings on Shell fuels by combining the 10 per cent Shell Fuels discount coupons with selected credit cards.
New Shell GO+ users will get one-time welcome offers, which includes free 100 welcome points, a complimentary 1kg bag of SongHe Thai Fragrant rice with a S$20 minimum spend on Shell Fuels, and an additional 10 per cent off Deli by Shell and Shell Car Care items with a S$10 minimum spend.
A summary on how to earn points from all spend at Shell to redeem rewards can be found below:
Shell Fuels: Earn 1.2 points with every litre of Shell V-Power and 1 point with every litre of other Shell Fuels.
Fill 35 litres or 15 litres across two weeks to get a S$3 off S$70 fuels coupon or a S$1 off S$10 fuels coupon, depending on your membership type in app (car vs motorbike) - which can amount to up to 34.72 per cent savings.
Shell Select: Earn 1 point with every S$5 nett spent in store for groceries, drinks, snacks, excluding selected service items.
Shell Autoserv: Earn points when you purchase Shell Helix Ultra service packages.
Shell Car Wash: Earn 1 point with every S$1 spend.
How to sign up for Shell GO+ app
Search and download "Shell Asia" on the App Store or Google Play

Sign up with your mobile number and log in with your mobile OTP

Create your account

Subscribe to receive the latest offers

If you're an existing Shell Escape member, link your Shell Escape card by entering your card number

If you are a new user, select your vehicle type and you're done
Visit here for more details and information on Shell GO+.
This article was brought to you by Shell.
Top photos via Unsplash & Shell
If you like what you read, follow us on Facebook, Instagram, Twitter and Telegram to get the latest updates.