Follow us on Telegram for the latest updates: https://t.me/mothershipsg
The tutu kueh is my favourite childhood snack.
A soft, flower-shaped steamed rice cake, the Singaporean dessert is usually filled with crushed peanuts or grated coconut, then placed on top of a square pandan leaf to serve.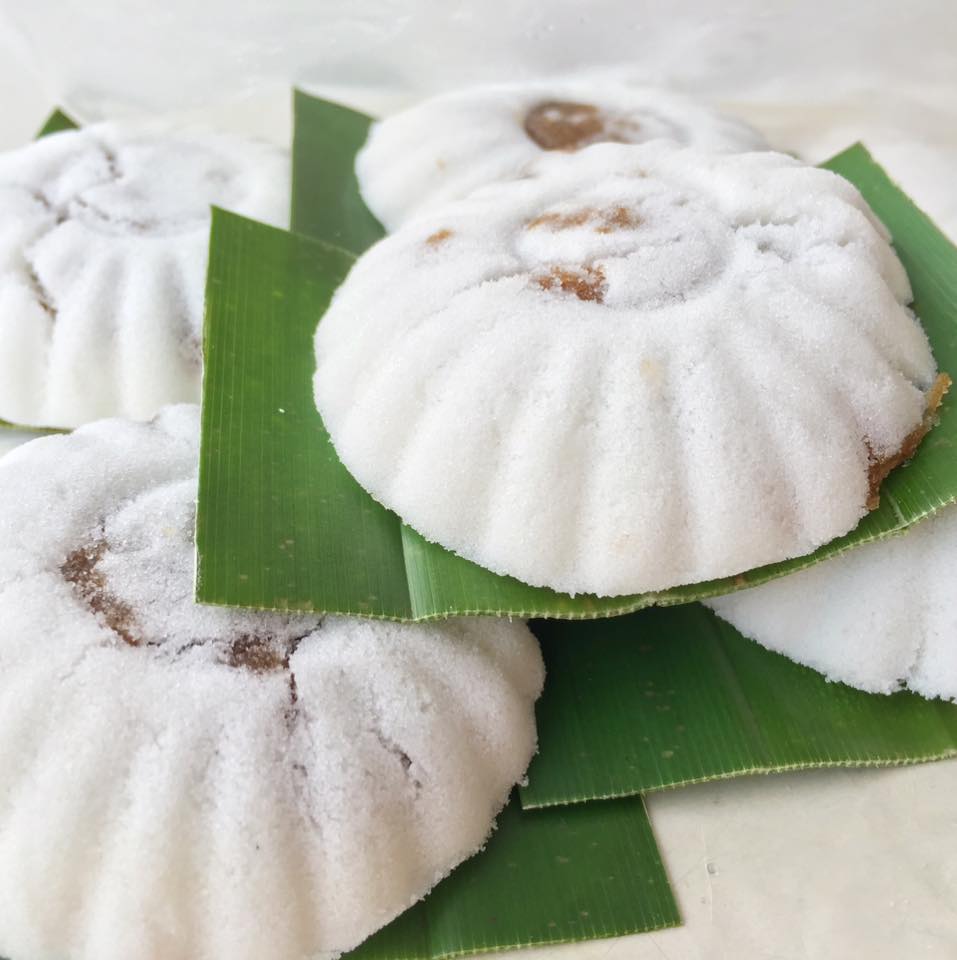 Growing up, tutu kueh was that special treat I always looked forward to on a night out, and remains so even today.
Maybe it's the shiokness of biting into a still warm, freshly made piece.
Or perhaps it's the process, itself an art – I've always found the way that operators deftly scooped the fine rice flour into moulds, added the perfect amount of filling, then pressing in just the right amount of flour to cover the product to be enthralling.
As a little kid, I especially enjoyed watching the moment the aunty or uncle lifted the rounded steamer lid, releasing a billow of smoke and revealing the steamed rice cakes within.
The tutu kueh, which commonly came in a set of five, would then be placed into a box for takeaway. However, my family and I usually ate them on the spot — while the treats were still hot and fresh — together.
Back then, we also headed to specific locations for tutu – either the pasar malams that appeared around Parkway Parade, or one of the physical stores in Chinatown.
Eventually, some of the physical stores we grew up with shuttered, and we frequented physical pop-ups for tutu less. To my dismay, none later set up shop in the hawker centres around my area.
I noticed that for food such as the tutu kueh, pasar malams remained one of the few most accessible places to get my fix, as there would always be one in whichever market I visited.
From there, I could also find several other traditional food options – food that I was familiar with and had grown up eating – such as muah chee (peanut glutinous rice balls), cup corn, fried snacks, and fishball-on-a-stick.
High rentals, a pandemic, & challenges faced by a niche industry
In 2020, that all ground to a halt.
The Covid-19 pandemic forced all pasar malams to shut down completely for two years, leaving many vendors in limbo.
The lack of business subsequently galvanised some players to move out of the industry, as The Original Vadai's founder, Stephen Suriyah, 34, shares:
"When they stopped the bazaar (Geylang Serai Ramadan Bazaar), I had nowhere else to go. We decided to open a permanent store because of Covid-19. "
The Original Vadai had been started by Suriyah's mother in the 1980s at the Ramadan Bazaar, before it later expanded into other pasar malams across Singapore and became a staple at the night markets.
It opened its first permanent space at Golden Mile Food Centre in 2020, after a brief stint at Haig Road.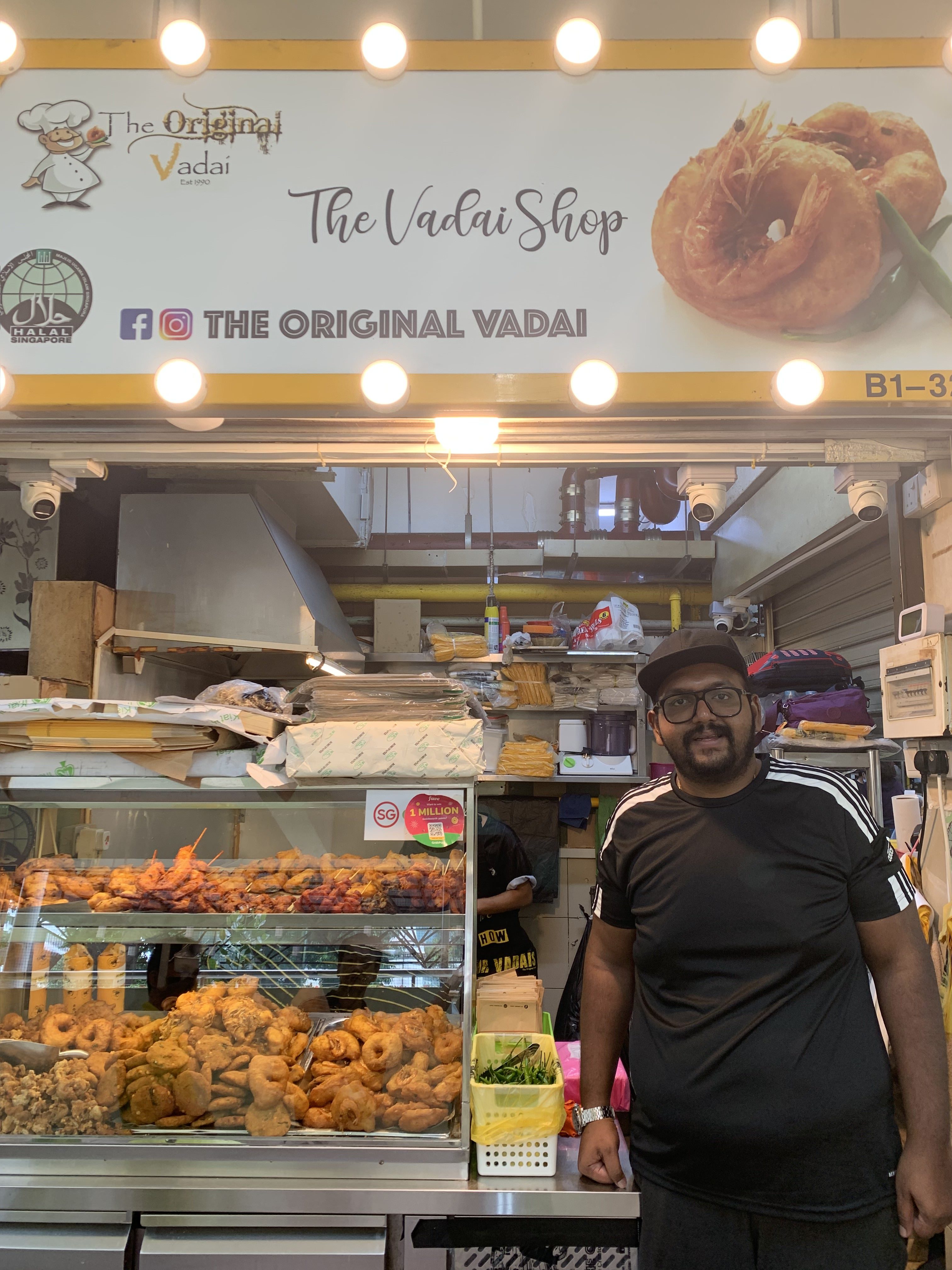 Prior to the "unexpected move", Suriyah shares that he had been hesitant to open shop at a permanent space due to past business failures which further reinforced his belief that the vadai could only be sold at pasar malams.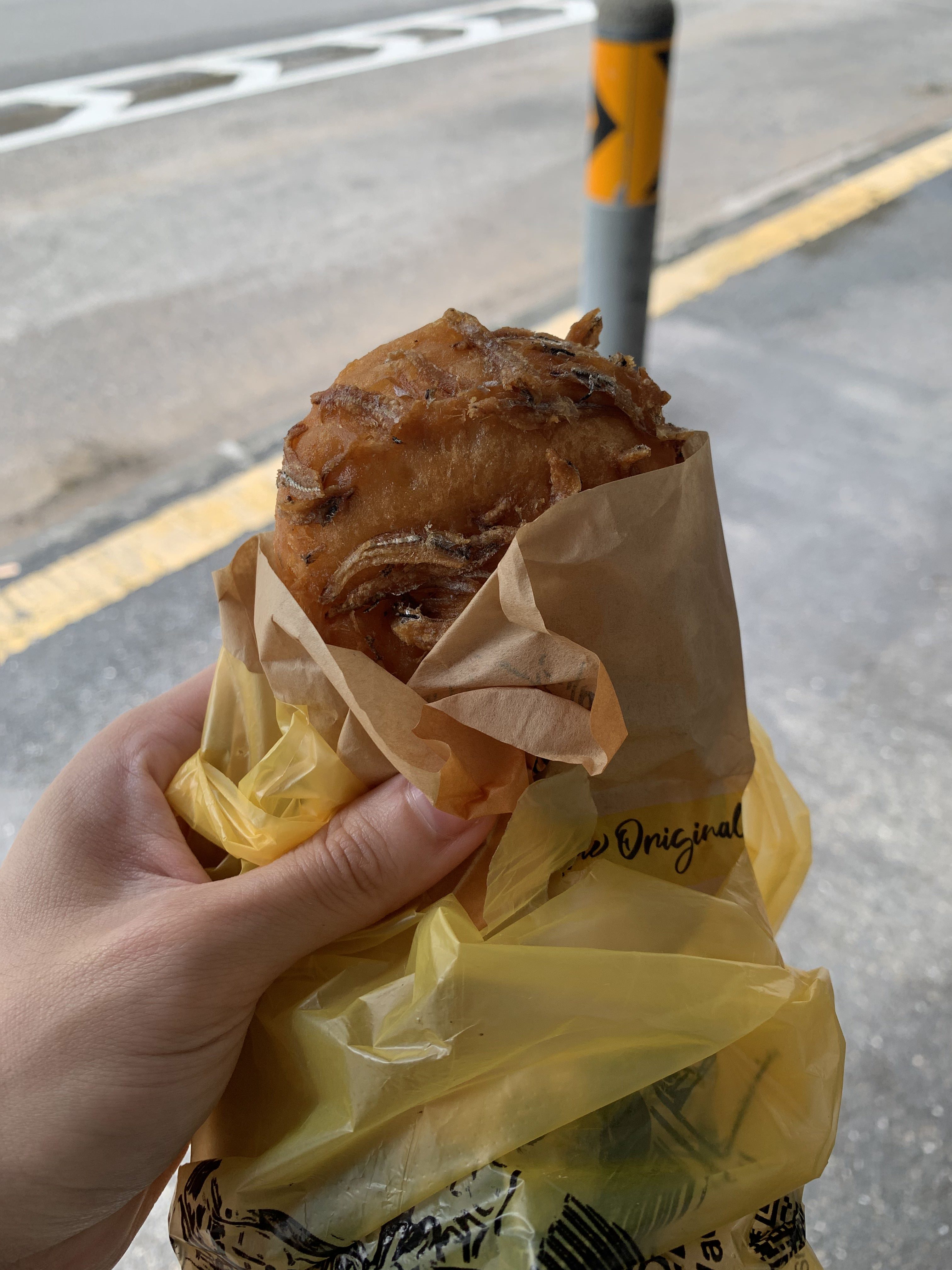 However, by a stroke of luck, Suriyah applied for a tender at Golden Mile Food Centre in early 2020, and managed to get it for less than S$1,000.
Suriyah recalls starting then with "whatever he had":
"It was like 'okay, now we [my brother and I] have no choice, let's just try to make this work'. My customers come from around here [from the neighbourhood], so we have to accept that sales will be lower.

It was different because sales at pasar malam is really high volume. But for a permanent store, you need to build the business, and distinguish your brand."
Against the odds, Suriyah's first physical store at Golden Mile opened to huge success, and today, The Original Vadai has a total of nine stalls in operation islandwide.
The plan now is to expand physical stores to all heartland areas in Singapore, and hopefully in the future build a hot snack business that rivals Old Chang Kee.
Although pasar malams have since returned to Singapore's food scene, Suriyah shares that working in the night markets is no longer The Original Vadai's main modus operandi.
This is due to several issues he still sees, such as increased rental costs – rent can go up to S$400-S$450 per day for certain locations today, as compared to about S$80 per day in the past – as well as the long hours and hurried nature of pasar malam work.
There's also one other challenge, tied to the temporary and nomadic nature of pasar malams.
While the sales volume can be high, Suriyah explains that it is prone to fluctuate:
"With pasar malams, you keep running in circles. Certain places you go, the business is good, but other places, the business is not good."
This results in having to use the extra money earned at some locations to "cover" for the losses sustained at others, which gets taxing when times are bad. "I realise, we are just barely making it through", Suriyah adds.
Adapting to change with more change
Most Singaporeans who visited pasar malams as a kid will speak fondly of those days: packed crowds, loud music blaring in the background, and a ragtag mix of stalls selling an enticing array of cheap snacks.
Today, pasar malams are often a two-week to one-month long affair, and tied to a physical location, usually in the heartland areas.
A plethora of food and entertainment options are available, ranging from activities such as claw machines and carnival games, to stalls hawking electronic appliances and clothing, and of course, an assortment of food stalls.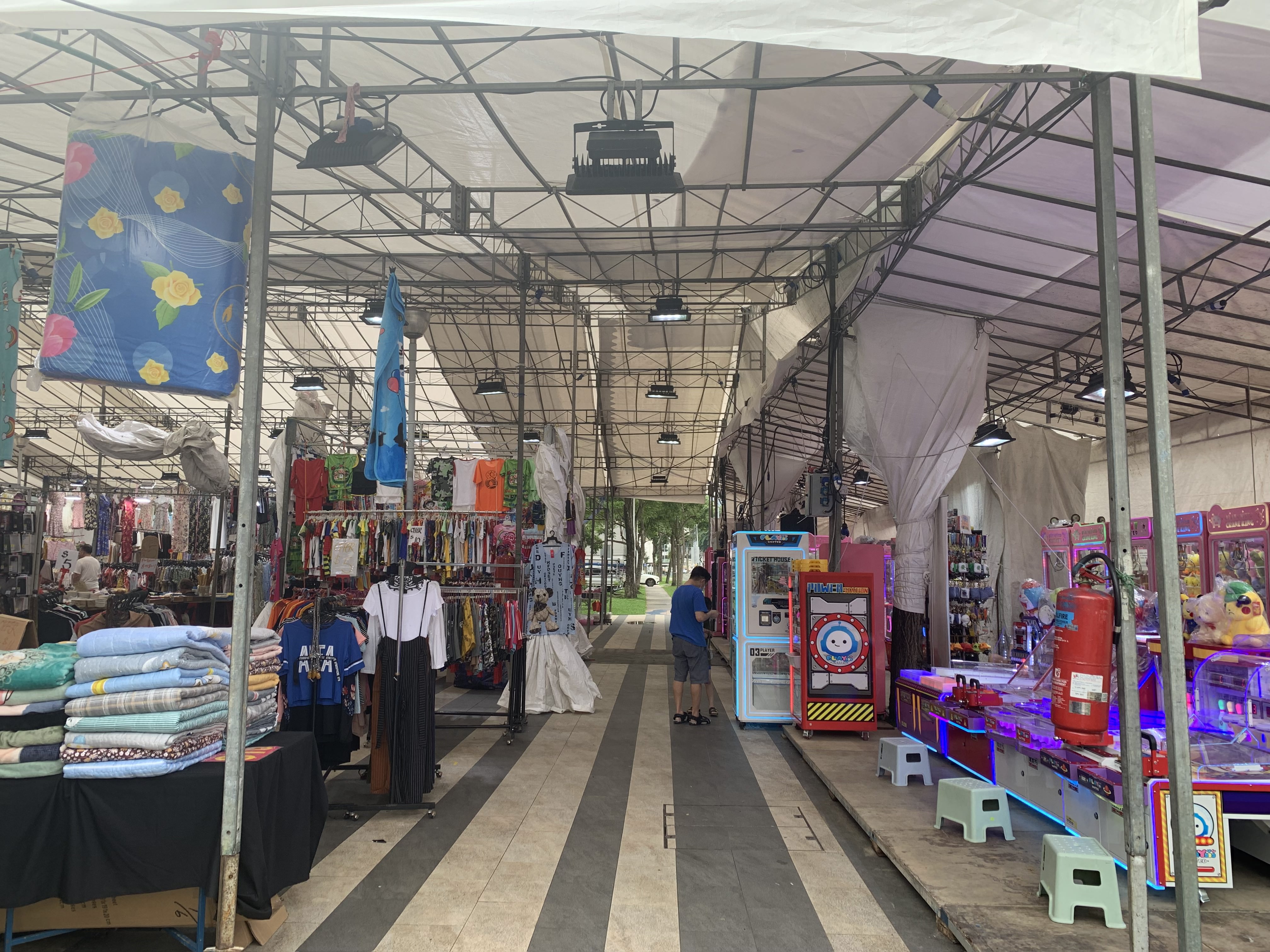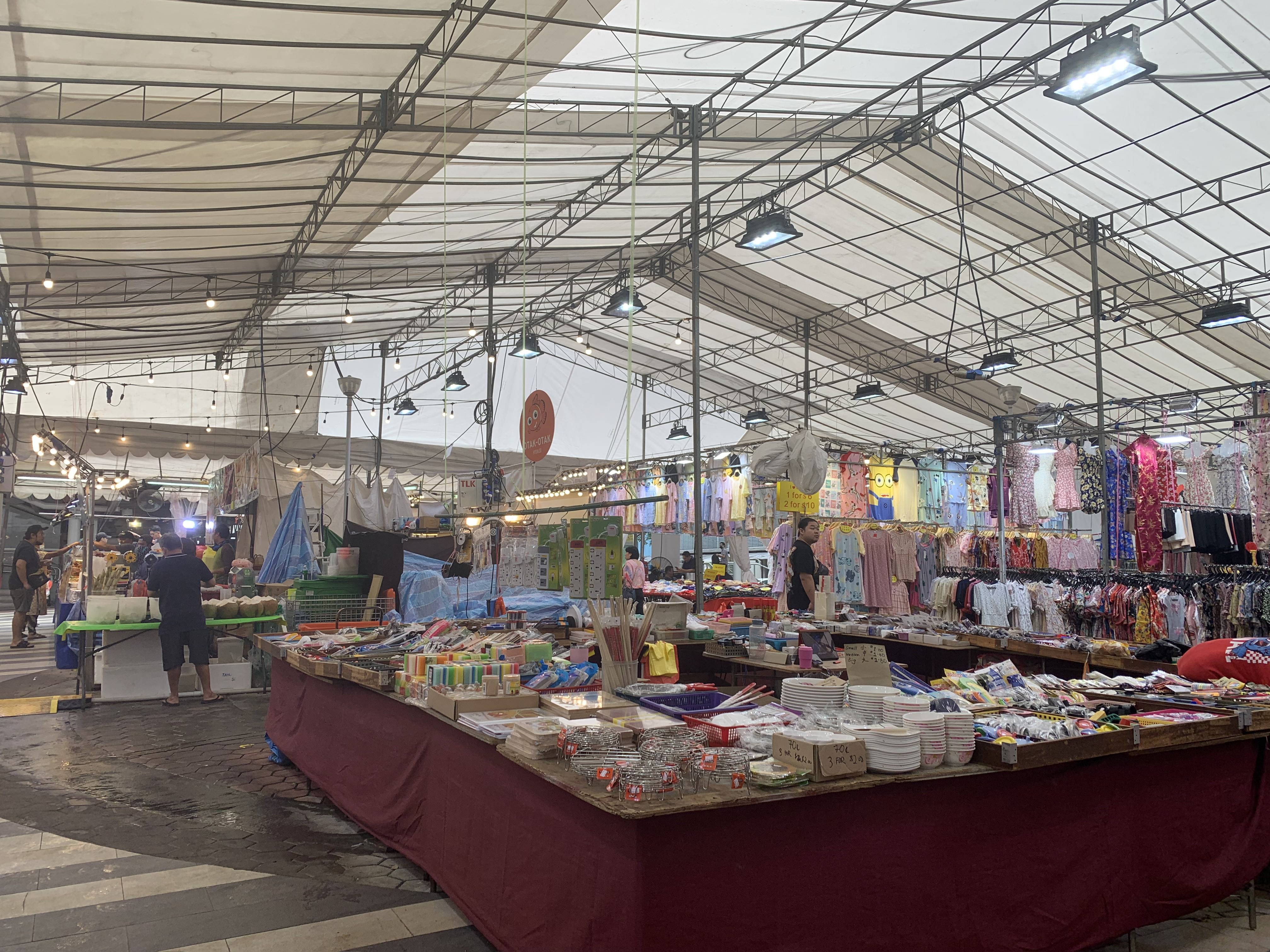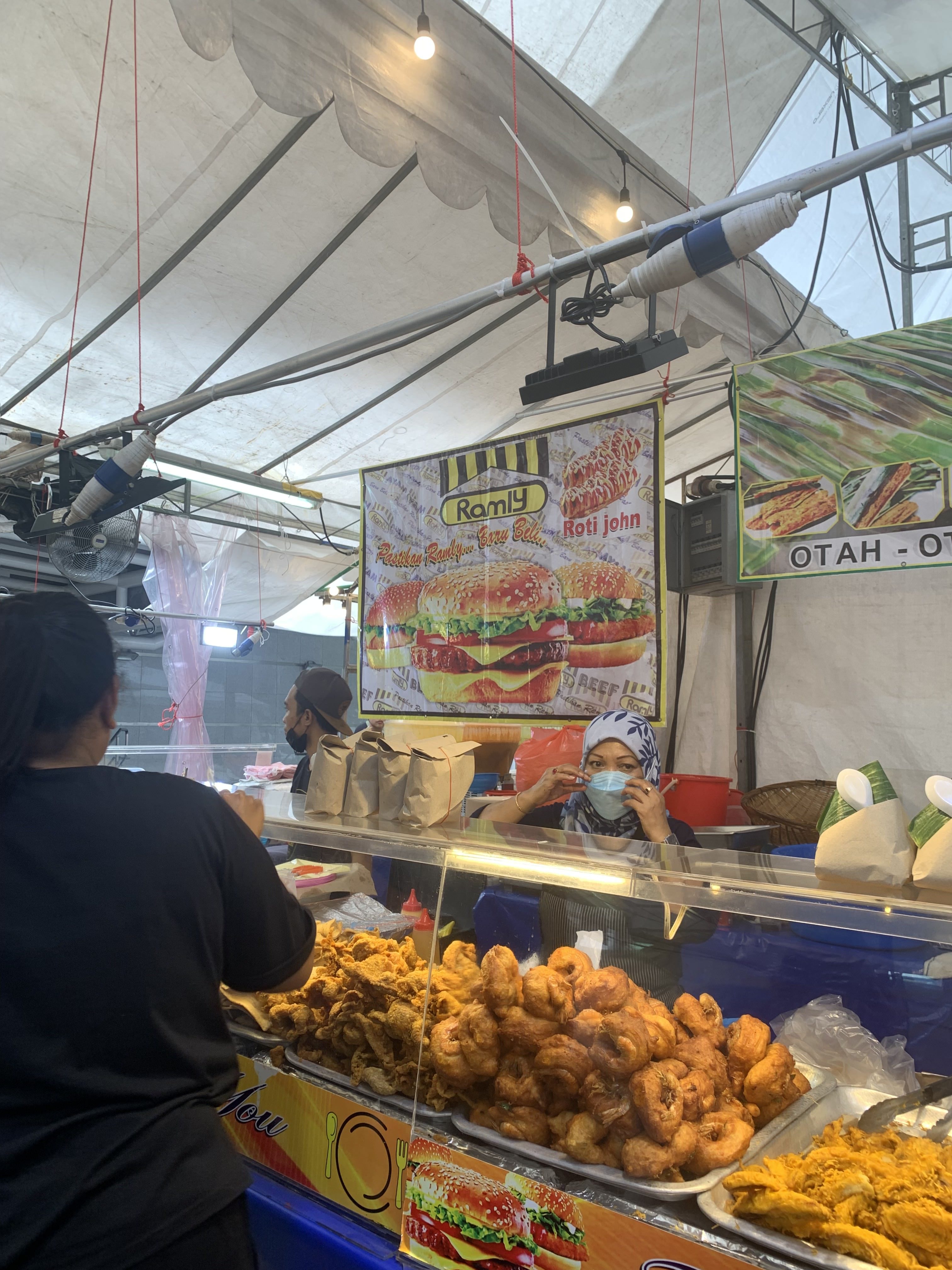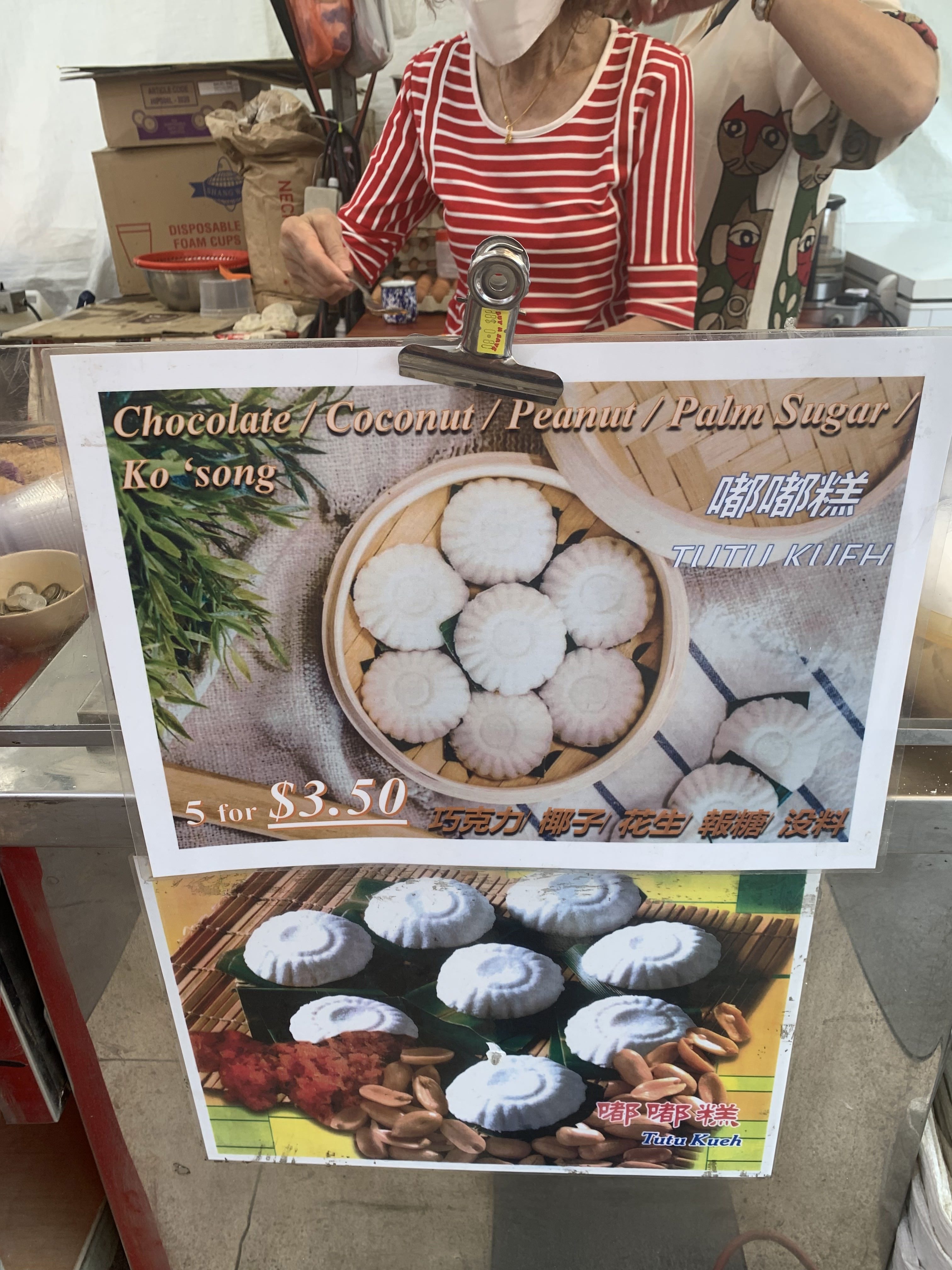 However, there are also distinct differences, as Tay Yu Jie, 29, business development manager for pasar malam organiser TLK Events and Lighting, points out:
"In the past, food selection for pasar malams would be more on the traditional side. Now, we have more variety and we try to bring in novel food concepts. We have also introduced staples such as Char Kway Teow.

While pasar malams used to be more 'come-and-go' and customers would 'dabao' snacks, there is also more emphasis on decorations and providing a place for customers to sit down today."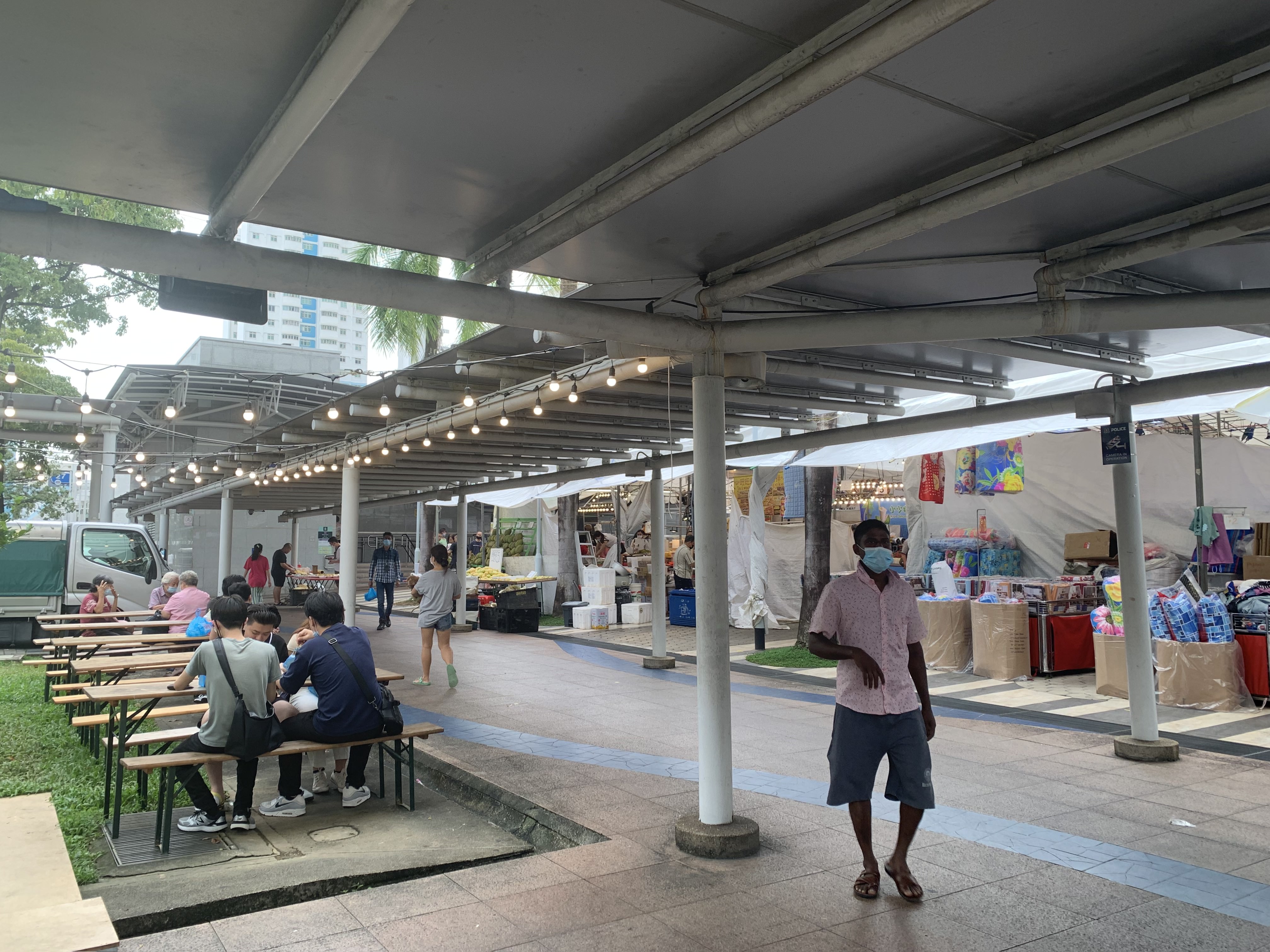 As the business development manager, Tay's role is to source and liaise with potential and existing vendors, as well as identify new opportunities for the company to venture into. TLK Events and Lighting, where Tay is an employee, has organised pasar malams in Singapore for 14 years, including at Tampines, Choa Chu Kang, and Geylang Serai.
At the pasar malam I visit in Boon Keng, I notice with interest that the stalls appear to now be organised in a much more orderly fashion – amongst the food vendors, one row is dedicated to the classics such as tutu kueh and Ramly burger, while another row serves the new foods, such as tornado potatoes and Thai milk tea.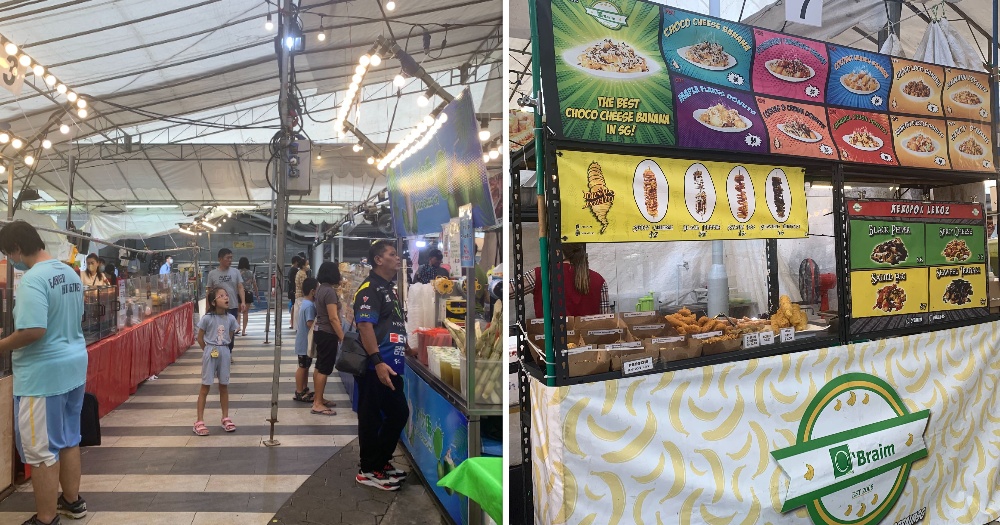 Ironically, that distinction is almost a reflection of the modern dilemma pasar malams face today – beyond the obvious space restrictions and logistical challenges.
That is, should pasar malam stalls continue to be set up in such a way to evoke nostalgia, or to promote novelty and variety of choice?
Tay divulges that for TLK Events and Lighting, a certain percentage of stalls continues to be set aside for traditional food items, in order to cater to customers who often visit specially for them.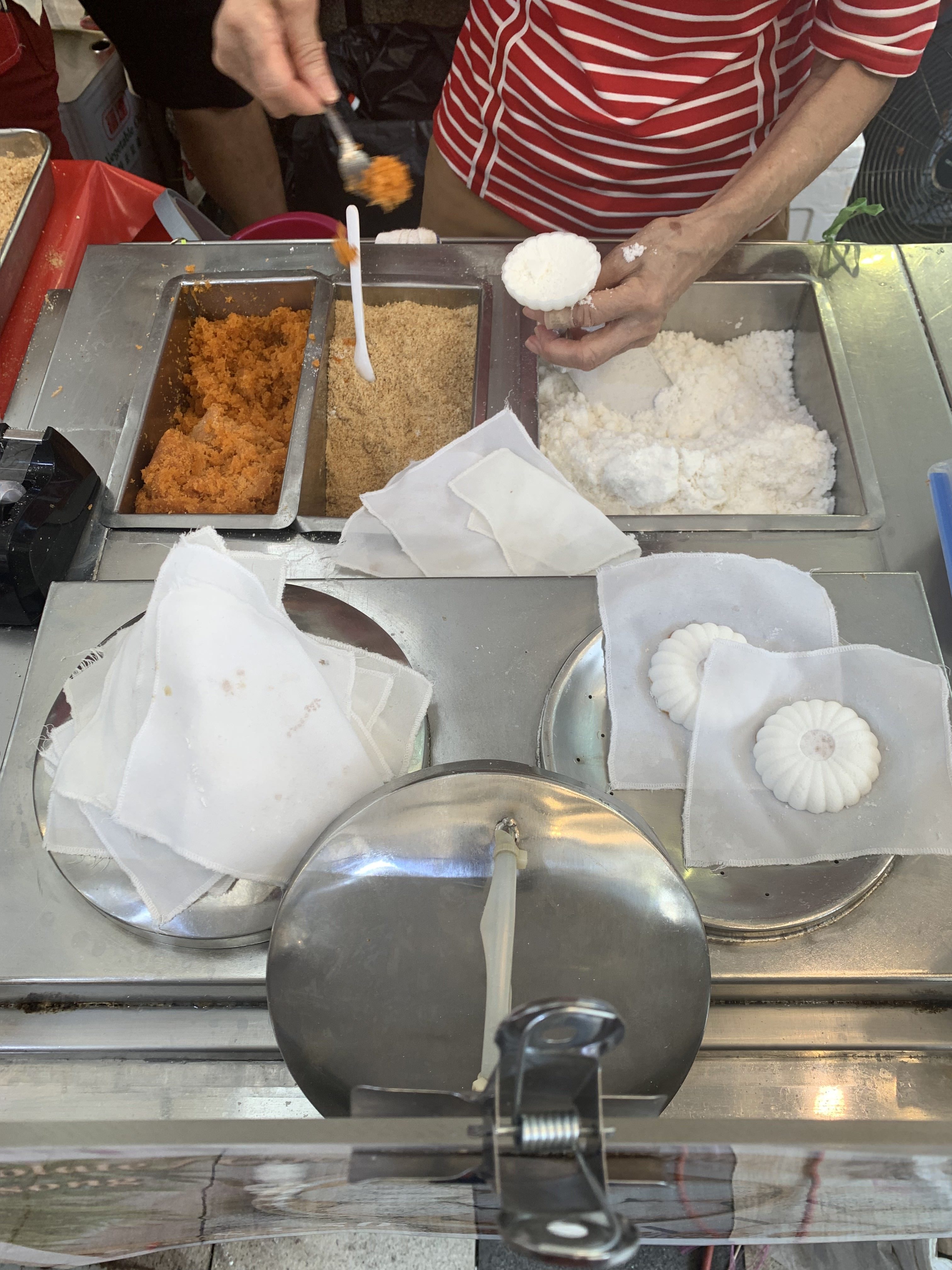 However, newer food stalls are also intentionally curated in order to appeal to younger customers, including "hipster food" and "snacks that have never been introduced into pasar malams before".
With more novel food concepts, the hope is that younger folks who visit will also post about these trends to social media, and attract more individuals to check out the night markets.
However, in response to this gentrification, some critics have bemoaned the loss of the pasar malams of old, and what it stands for.
Others have also raised concerns around increasing food prices at pasar malams, driven by higher rental costs and logistical problems, according to recent media reports.
Are pasar malams dying out?
Although there is now a boom of pasar malams due to pent up demand, Suriyah from The Original Vadai opines that this number is thus likely to decrease over time as challenges resurface:
"I think the more prominent ones like the Ramadan bazaar will still stay, because [people] confirm will go.

But smaller pasar malams, like the area around Bukit Panjang – that place got taken over – will go due to limited land space. I think over time, the number of pasar malams will decrease."
To Suriyah, having a back-up plan is important – and that is to find a permanent space, while operating at select pasar malams in Singapore at "good locations".
Doing so allows The Original Vadai to continue focusing on "differentiating the brand" at its physical stores, whilst maintaining the quality of its vadai across its businesses.
Suriyah encourages other pasar malam stall owners, especially those who hawk traditional foods, to do the same:
"Just start off slow and build it up. You can still do pasar malam stalls, but better to run a permanent one concurrently for whoever is really coming."
Beyond being prudent, Suriyah's business strategy perhaps sheds light into the unique role pasar malams have in supporting existing businesses – for some tenants, it can also offer exposure and a good point of entry into Singapore's F&B scene.
Through cultivating a following, successful tenants can then flourish into enterprises with a permanent physical presence; and I for one, wouldn't mind having more tutu kueh stalls around to patronise too.
However, realistically, The Original Vadai's mode of operations is also not a one-size-fits-all.
At Boon Keng's pasar malam, I speak to Lee, a 75-year-old tutu kueh operator, as well as Biede (not her real name), Lee's 55-year-old lady boss, who share that they have never had intentions of setting up a permanent space despite those around them doing so.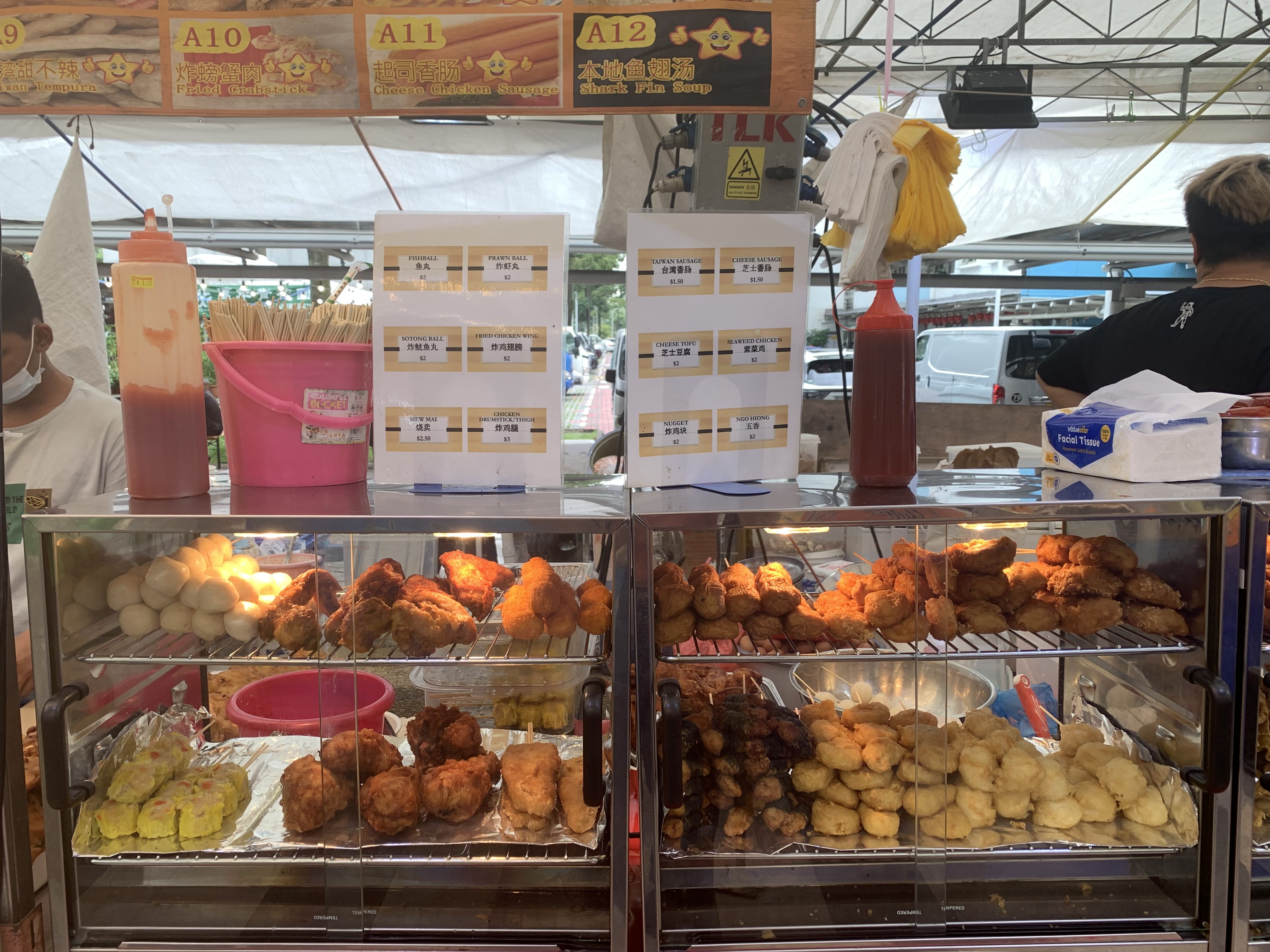 Biede has been hawking in pasar malams for 15 years, while Lee used to hawk ding ding candy (traditional malt candy) before switching to tutu kueh to help Biede out.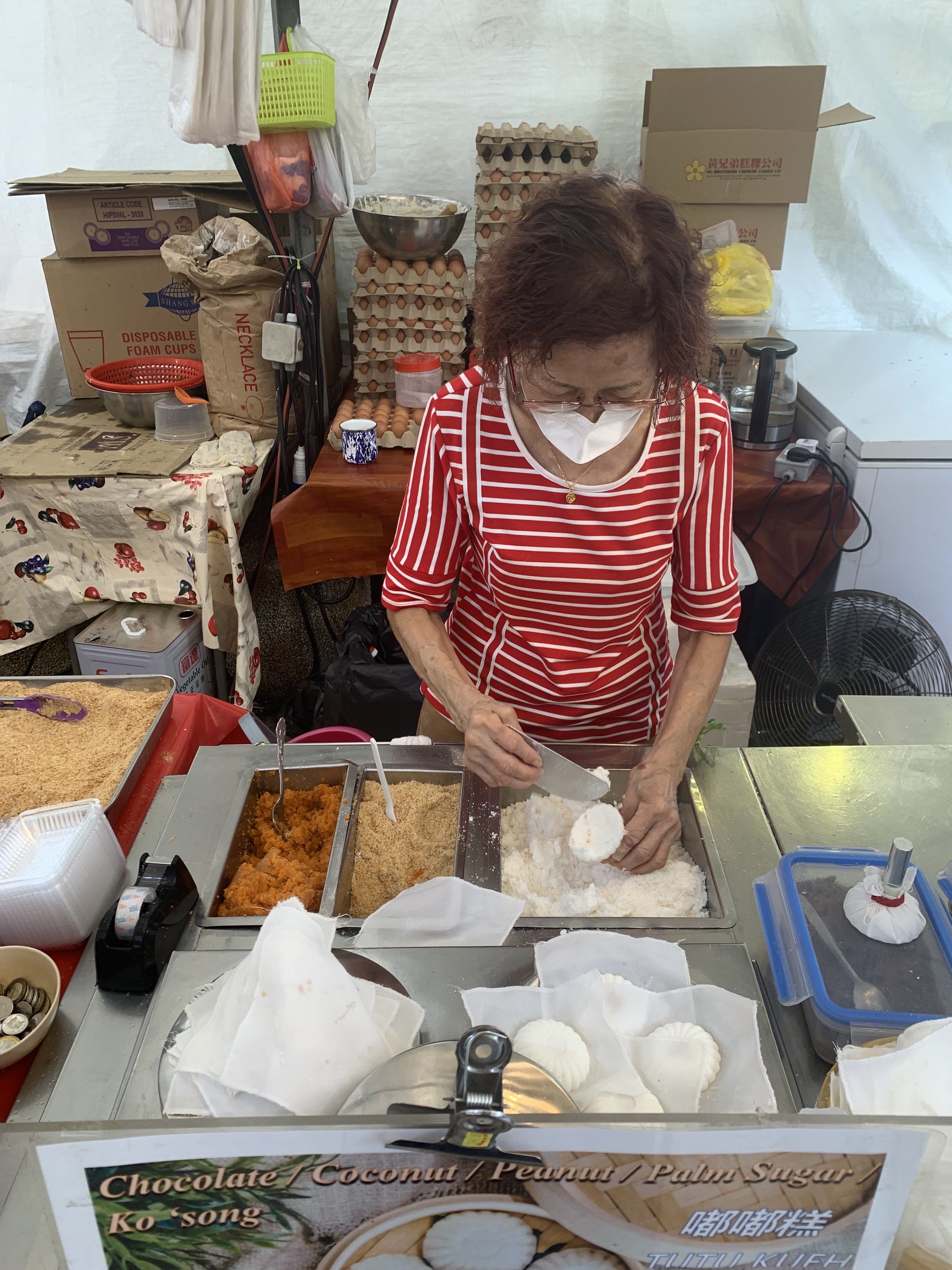 Biede laments that especially with rising costs of living, rent for permanent spaces can be very expensive, while Lee explains that she worries about employability if she changes jobs due to her lack of experience.
As such, both opined that they would much rather continue working in pasar malams, and would still prefer to be able to do "what they know best" in an environment they are familiar with today.
We should support pasar malams so they do not die out
Tay believes that pasar malams are here to stay, and hopes to emulate the night markets in Bangkok and Taiwan one day, which have successfully brought out their own country's unique culture while serving as a tourist destination.
Aside from providing a place where traditional food items, such as the Ramly burger, tutu kueh, and muah chee, can remain easily accessible to the public, Tay explains that pasar malams also help to "preserve the concept of street food" that is now rarely seen in modern day Singapore.
Tay, whose parents once hawked bags and accessories at pasar malams, shares further that the night markets also provide an alternative source of entertainment and excitement to Singapore's monolithic shopping centres, and a boisterous atmosphere that is hard to beat.
He elaborates:
"We hope we can continue to pass this culture and tradition down generations, so children, since young, can look forward to visiting pasar malams to play their favourite games, or eat foods like tutu kueh."
This stands out to me, because arguably, traditions change with the times. And with more planning, there is less of the spontaneity and animatedness that made pasar malams what it was in the past.
Already, we do see the shift towards creating this ideal, from the standardisation of pasar malam operations, to the careful cultivation of stalls to provide a mix of old and new.
However, I for one, still intend to go to pasar malams for my favourite traditional foods, and personally, wouldn't mind patronising some of the newer stalls while I'm there if it means support.
After all, pasar malams still play an important and unique role in Singapore's food ecosystem.
As I pay for my tutu kueh, Lee kindly reminds me to eat them while they are still hot.
And although the tutu kueh is not quite the same as I remembered, I savour each bite.
Top images via Lean Jinghui
If you like what you read, follow us on Facebook, Instagram, Twitter and Telegram to get the latest updates.