Follow us on Telegram for the latest updates: https://t.me/mothershipsg
Multiple customers have taken to Facebook and Google Reviews to voice their frustration about the order of their Chinese New year (CNY) gift hampers from Noel Gifts.
According to these complaints, the hampers they had ordered for delivery to either themselves or others did not arrive at the stipulated delivery dates in the middle of January 2023.
In addition, calls to Noel Gifts' customer service hotline appeared to have been unanswered.
The company also appears to have limited comments on their Facebook posts.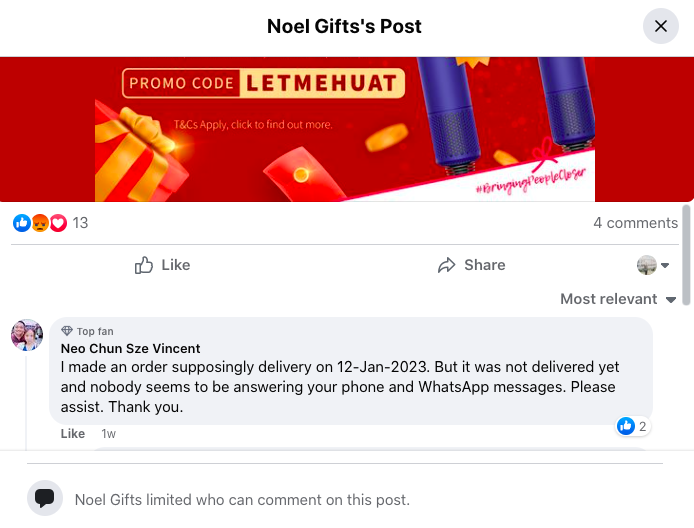 Hampers still not delivered even after three days, no follow-up from company
According to one Prudy Yeow, she had placed an order for a hamper on Dec. 26, 2022, for Jan. 15, 2023.
However, the hamper did not arrive on the scheduled date and remained undelivered as of Jan. 18.
In addition, there were no calls from Noel Gifts about the lack of delivery.
Yeow also alleged that when she sent WhatsApp messages to Noel Gifts for updates, she did not receive any specific information on the delivery date of her order. Instead, the company supposedly only apologised and replied that they were experiencing "overwhelming" orders.
Noel Gifts subsequently replied to her in private.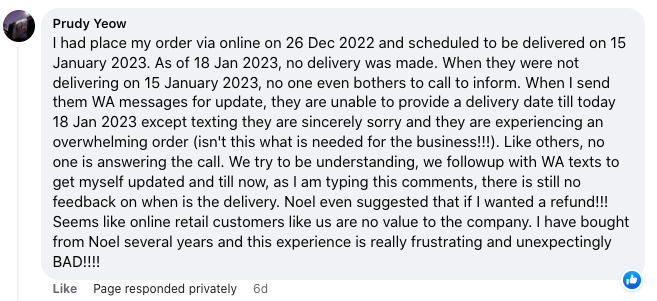 Yeow's claim of a failed delivery, a lack of notification about the failure, and a lack of response appeared to be echoed by several other commenters.
Another Louis Liu complained that he had placed an order for Jan. 9, but was not informed when the delivery failed to arrive on the stated date, and had yet to receive materialise as of Jan. 12.
Liu also added that he had yet to receive any specific answers pertaining to his delivery.

A review by a Jacky Wee on Google alleged that his hamper order still had not arrived for the intended recipient on Jan. 20, eight days after the delivery date of Jan. 12.
Wee also claimed that he did not receive a response by either email or WhatsApp.

Hampers supposedly be delivered by Jan. 30 latest with an apology letter
Another Facebook user, Ang Siu Wei, shared a response that was purportedly from Noel Gifts.
According to Ang, Noel Gifts replied that it was facing a high volume of enquiries.
The company also added that it was working to fulfil all CNY orders by Jan. 20, with Jan. 30 set as the latest date.
The reply also said, "We will include an apology letter to your recipient/s to be accountable for the later delivery."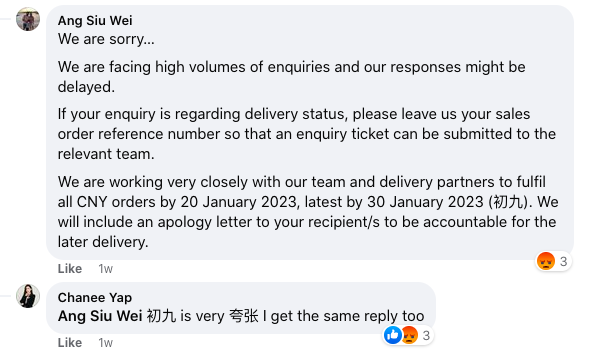 Noel Gifts cites lack of delivery personnel
In response to Mothership's queries, Noel Gifts said that it was facing a lack of delivery personnel and manpower to provide "prompt" responses.
"Moreover, the short runway of CNY with the unfavourable weather has further hindered our delivery efficiency," Noel Gifts added.
The company also shared a video, published by CNA on Jan. 18, about the challenges that gift companies faced in meeting orders for CNY.
The managing director of Joaquim Florist & Gifts, Kenneth Chee, was quoted as saying that his firm is receiving an average of 300-500 orders a day and is facing delays in deliveries from China and a shortage of drivers.
In apologising to its customers, Noel Gifts further stated:
"We have taken proactive steps to ease the other issues that have arisen and are getting back to our customers as fast as possible. We seek their kind understanding as we need time to reply to each customer on a case-by-case basis.

Once again, we are sorry for any inconvenience caused."
All images via Noel Gifts/Facebook and Google
If you like what you read, follow us on Facebook, Instagram, Twitter and Telegram to get the latest updates.