Follow us on Telegram for the latest updates: https://t.me/mothershipsg
A motorcyclist was caught on camera sliding on his bum across the road in Jurong on a rainy day after he apparently braked too hard and fell off his motorcycle.
The incident happened on Jan. 13 at about 3:45pm in Jurong Town Hall Road.
A snippet of the video showed the motorcyclist sliding in a seated position with his legs outstretched across the entire five-lane length of the yellow box.
A longer clip of the incident showed the rider getting up to this feet the moment he came to a stop and he walked back to his motorcycle.
His fall, which was supposedly due to him emergency braking, prevented vehicles making a right turn from moving forward.
The rider did not appear to have been hurt despite skidding on the asphalt.
Based on the video, the motorcycle spun on the road and came to a comeplete stop in the yellow box, even as the rider continued to slide on the road due to the momentum.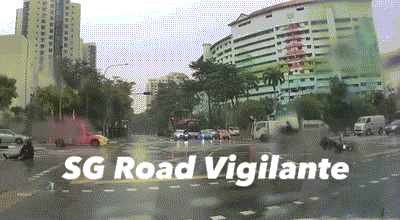 You can watch the video here:
The motorcycle displayed a probationary licence plate (P-plate), according to the video's caption.
Responses
Several commenters who responded to the video said they were amused by the rider's reaction, as he appeared to patiently wait to stop sliding before picking himself up.
They were impressed he kept calm and did not try force himself to come to a halt.
Others commented he was fortunate to not have slid into oncoming traffic.
Top photos via
If you like what you read, follow us on Facebook, Instagram, Twitter and Telegram to get the latest updates.