Follow us on Telegram for the latest updates: https://t.me/mothershipsg
A disgruntled customer recently penned a complaint about his abysmal experience at McDonald's and shared it on the Facebook group Complaint Singapore.
Crowd of customers and delivery riders waiting for food
Looking for a quick meal, the man dropped by the McDonald's outlet at Loyang Point to take away his food at around 9:40pm on Jan. 6.
After ordering, he went to the supermarket. But when he returned 10 minutes later, his order was not yet ready.
Instead, what greeted him was a growing crowd of customers and delivery riders at the collection point that he failed to notice before.
According to him, some were complaining that they had waited for more than an hour, and four to five people were requesting refunds.
Orders 'crowded' together
As he stood in the middle of the crowd, he could see a lot of prepared food in the holding area, where most of the food boxes were open and orders were crowded together.
Only one staff member was positioned at the collection counter, supposedly "very very slowly checking the order slips" while the others were busy with the delivery platform, he described.
One delivery rider even went in to help collect food, but he only did so for the delivery orders and neglected those who were queuing and waiting for their food.
About 30 minutes later, his order number got bumped into the "Now Serving" queue but "nothing was served," wrote the man.
Then, after about 10 minutes, his order number disappeared from the queue altogether.
Woman allegedly threw food
Some customers got impatient and went up to the staff to ask for their order, he wrote.
At one point, he supposedly witnessed a woman having a "tantrum" and throwing food around, causing pies and a fry basket to fall to the ground.
In response, the manager kept shouting at the woman to "relax".
The staff members were also not particularly helpful, simply telling customers that they would help to check on their orders.
The manager said: "We are all busy preparing your food, as you can see we are very busy, so wait."
"I can't remember if she got say 'please' or not as I was too hungry and annoyed," recounted the man.
Alleged poor food handling practices
The man also noted the McDonald's employees' alleged poor food hygiene practices.
Not only did they did not give customers enough fries with their order, he claimed to have seen them touch the fries with their bare hands during preparation.
They allegedly did not use tongs to handle the pies, there were burger boxes left open with buns inside and frozen patties were falling onto the floor, he detailed.
While the kitchen floor was a "mess", he also disapproved of how the staff was sweeping at the same time that others were preparing food.
"Seriously this is too much, the crew and manager really need to go back to training on how to handle food," wrote the man.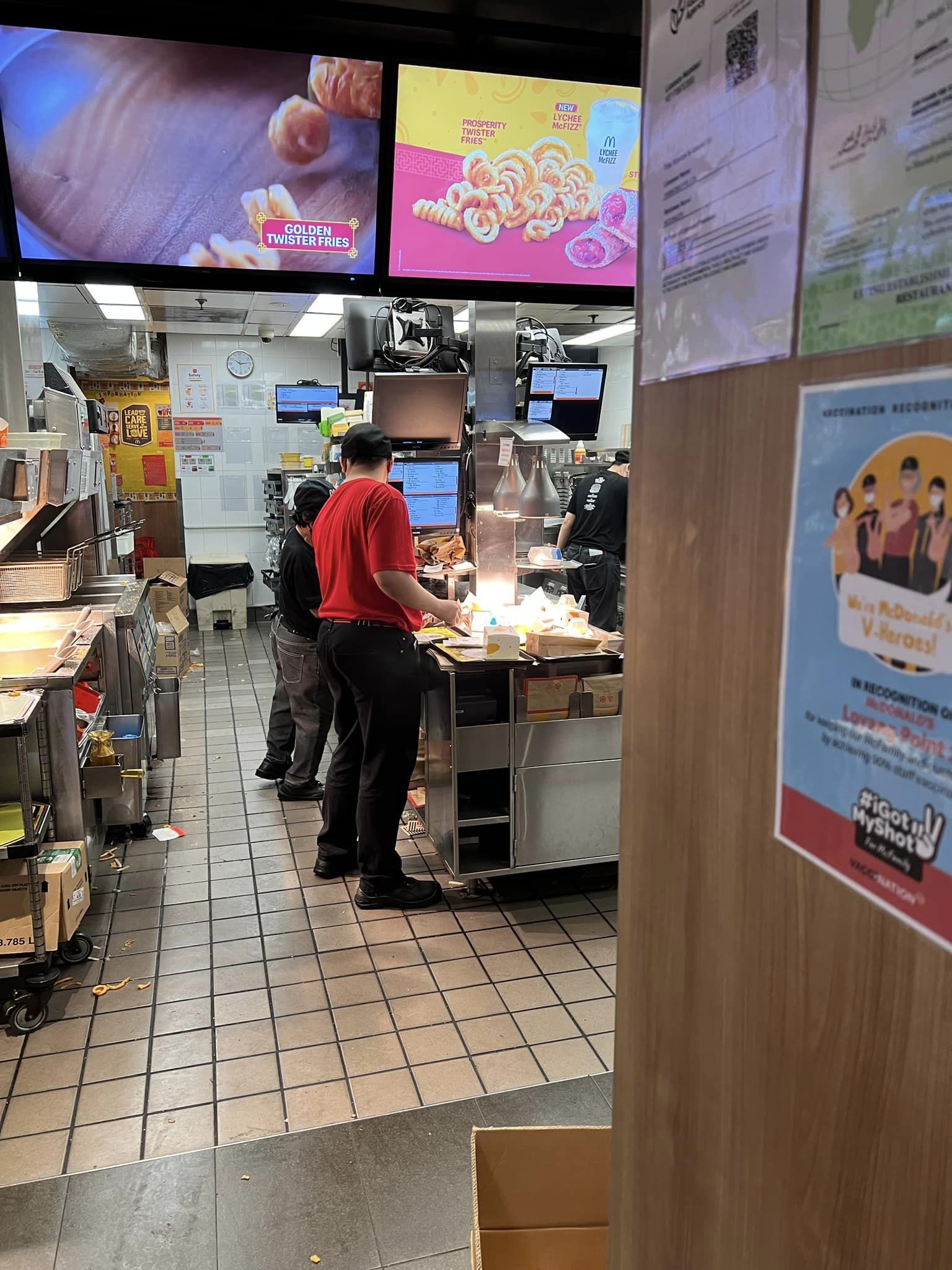 Somehow or other, the man finally received his food at 11pm.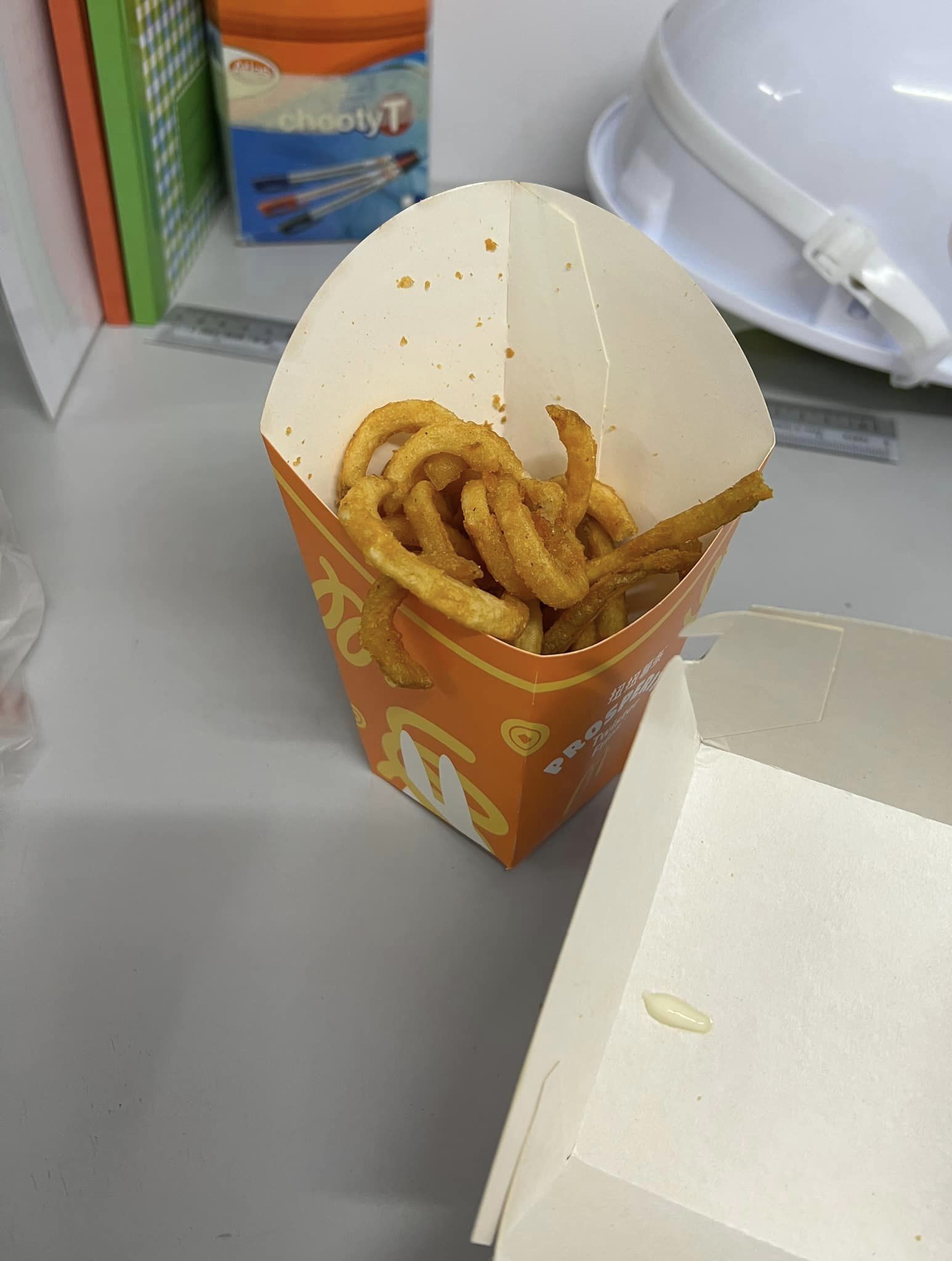 "Still need to pay for the one hour car parking fee," he lamented.
He wrote that he would never return to the outlet again.
Mothership has reached out to McDonald's for comments.
Related story
All images via COMPLAINT SINGAPORE/FB.
If you like what you read, follow us on Facebook, Instagram, Twitter and Telegram to get the latest updates.