Follow us on Telegram for the latest updates: https://t.me/mothershipsg
Chinese technological giant Ant Group announced on Saturday (Jan. 7) that its founder Jack Ma would no longer control the company after a restructuring.
Ant Group is affiliated with China's e-commerce giant Alibaba. It operates the world's largest e-payments platform, Alipay.
Ma's control through investment vehicles
In the statement, Ant Group described how Ma's voting power would be diluted among shareholders in a series of changes to Ant Group's shareholding structure.
Old structure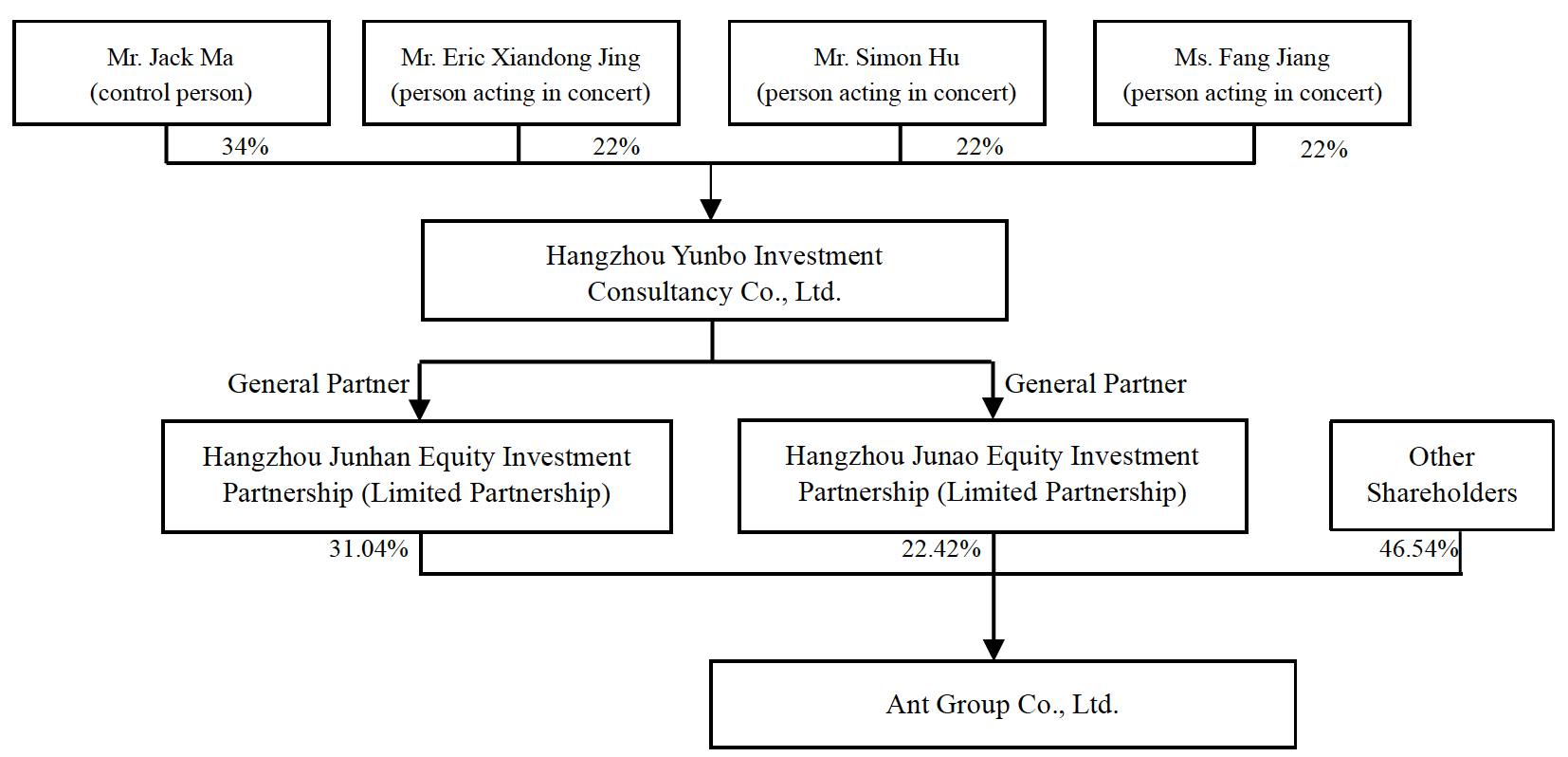 Presently, 53.46 per cent of Ant Group's shares are split between two investment vehicles: Hangzhou Junhan Equity Investment Partnership and Hangzhou Junao Investment Partnership.
One company -- Hangzhou Yunbo Investment Consultancy -- is a general partner to both investment vehicles.
At the top of Hangzhou Yunbo sits Ma and three other partners.
Ma owns 34 per cent of the equity interests of Hangzhou Yunbo, with the other partners owning 22 per cent each.
The four partners are tied together by an acting-in-concert agreement, which means they act in unison during matters that concern a vote. Ma is the "control person".
Under such a structure, Ma is able to make decisions for Hangzhou Yunbo and therefore exercise its rights as a shareholder of Ant Group.
This effectively means Ma, via Hangzhou Yunbo and the voting rights associated with 53.46 per cent of shares held by Hangzhou Junhao and Junao, indirectly controls Ant Group.
Other shareholders hold 46.54 per cent of Ant Group's shares.
Dilution of shareholders and independent voting
The new arrangement will see Ma and his three partners at the top of Hangzhou Yunbo terminate their acting-in-concert agreement, making them independent voters.
New structure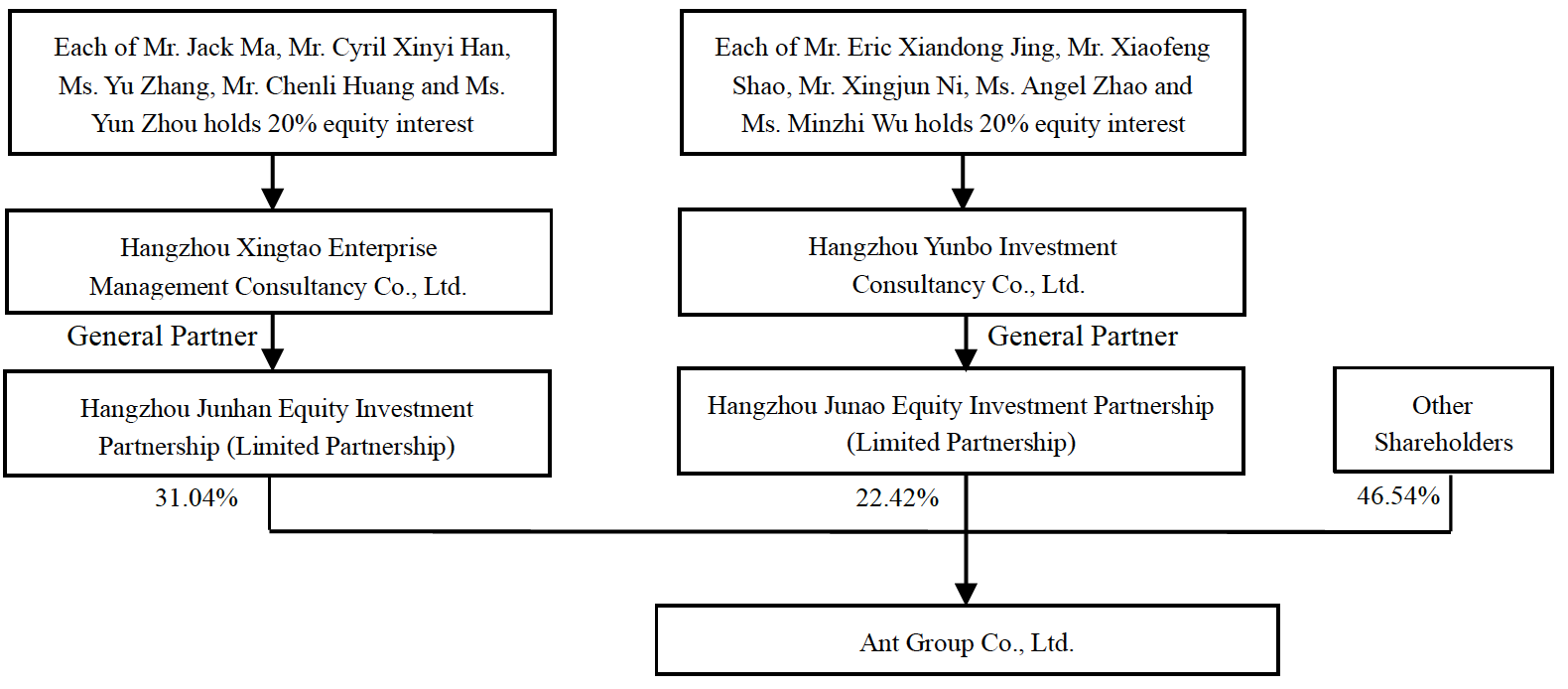 New equity partners will enter the picture, each holding 20 per cent of equity shares through equity transfers.
Hangzhou Yunbo will also relinquish partnership of investment vehicle Hangzhou Junhan, delinking the two entities.
Another partner investment group comprising Jack Ma -- Hangzhou Xingtao Management Consultancy -- will take its place.
Changes coming to Ant Group
Two key outcomes result from these changes.
First, no single entity will hold majority shares of Ant Group.
Second, with more equity partners each with equal equity shares and ability to vote independently, no single individual will hold majority voting power over matters concerning the investment vehicles and thus, Ant Group.
According to Reuters, Ma's voting rights will stand at around 6.2 per cent following the changes, down from over 50 per cent prior to restructuring.
Ant Group also shared that it will add a fifth independent director to its board, making independent directors the majority of its nine-member board.
Currently, Ant Group has eight board members, four of which are independent directors.
Transparent and diversified shareholding structure: Ant Group
The company shared that the restructuring will mean that "no shareholder, alone or jointly with other parties, will have control over Ant Group".
"As a result of the Adjustment, the shareholding structure of Ant Group will be more transparent and diversified, which will facilitate the steady development of the Company", Ant Group said.
Day-to-day operations will not be affected, Ant Group clarified.
While some analysts said that such restructuring could pave the way for Ant Group's IPO revival, it is more likely to lead to a delay, according to Reuters.
China's domestic A-share market requires companies who had just undergone a change in control to wait three years before they can be listed, Reuters wrote. The wait time is two years on Shanghai's stock exchange, and one year in Hong Kong.
Jack Ma's run-ins with Chinese government
This latest development comes after years of crackdowns brought against Ant Group by Beijing's regulators, which happened to take place after Ma openly criticised the Chinese government at a summit in Shanghai Oct. 2020.
This was then followed by the suspension of Ant Group's hotly-anticipated IPO in Nov. 2020.
It also follows a Reuters report in April 2021 which revealed that Ant Group, Ma, and Chinese regulators were in talks to explore ways to "draw a line" under Beijing's crackdowns on the business.
Related articles
Top image via Xinhua News
If you like what you read, follow us on Facebook, Instagram, Twitter and Telegram to get the latest updates.