Follow us on Telegram for the latest updates: https://t.me/mothershipsg
What started as a small bookcase with some books has turned into a full-fledged library under Blk 2 Holland Avenue.
One only has to walk past before being curiously enticed by the lights and sprawling bookcases at the void deck of this typical HDB flat.
Speaking to Mothership, the founder of HV Little Library, Kae Chee, shared how the community library under her block unexpectedly expanded from a small shelf of books.
Started with a personal collection of books
HV Little Library started with just a small bookcase and some of Kae Chee's own personal books on Aug. 5, 2022.
Kae Chee's brother-in-law donated the bookcase and spray-painted it to make it look more enticing. She also printed her own homemade sign and purchased some stickers to label the books.
The next day, Kae Chee came down to see an empty shelf left next to hers, and so she filled it with more books.
In the span of five months, the library has sprawled across the void deck.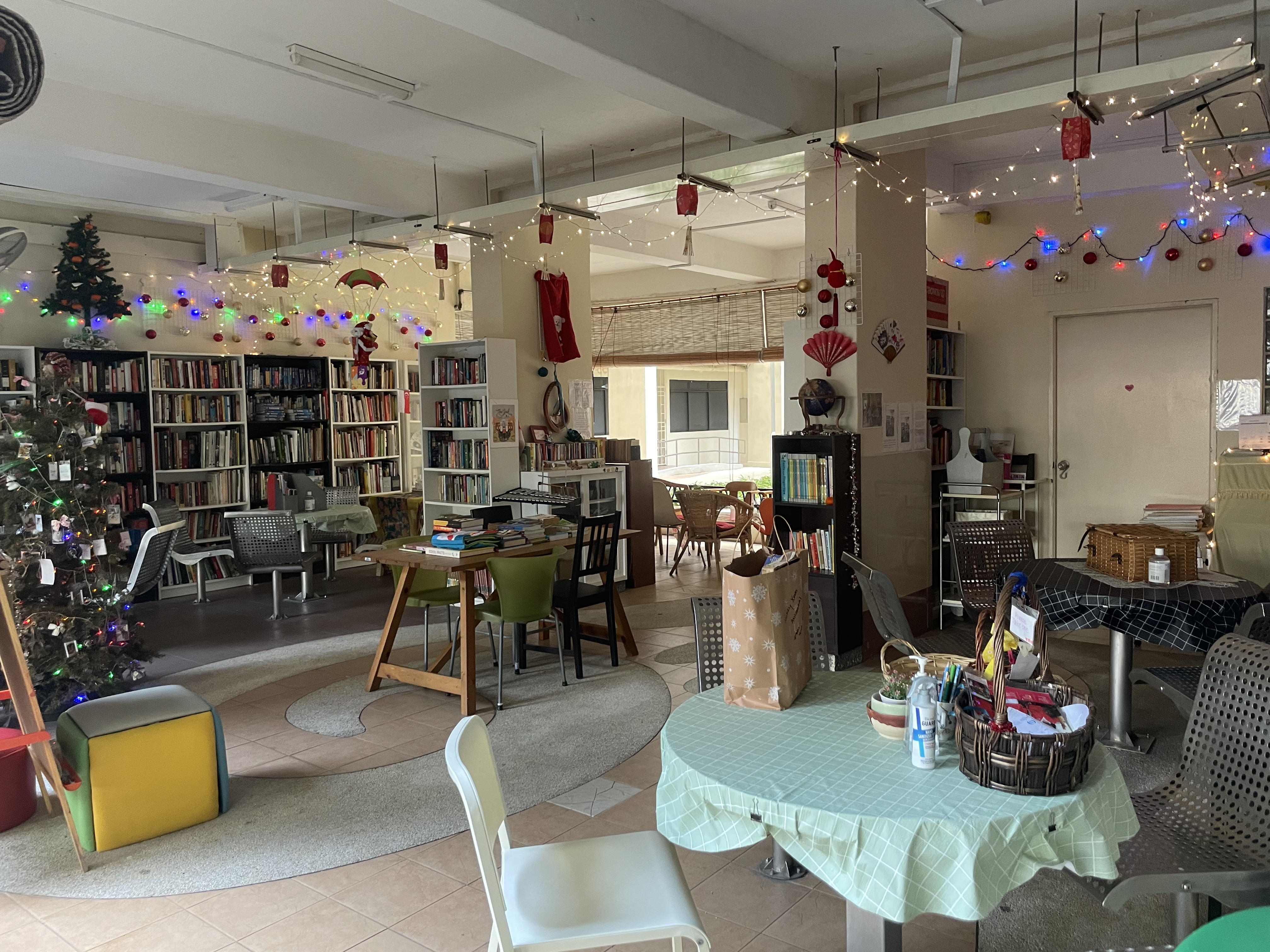 HV Little Library
The library contains a wide spread of titles that range from Chinese books to children's books to numerous genres of English books.
Cases are filled to the brim with books, and tables are scattered around the void deck so visitors can sit and read.
There is a certain rustic and homely charm to the place that draws people to it.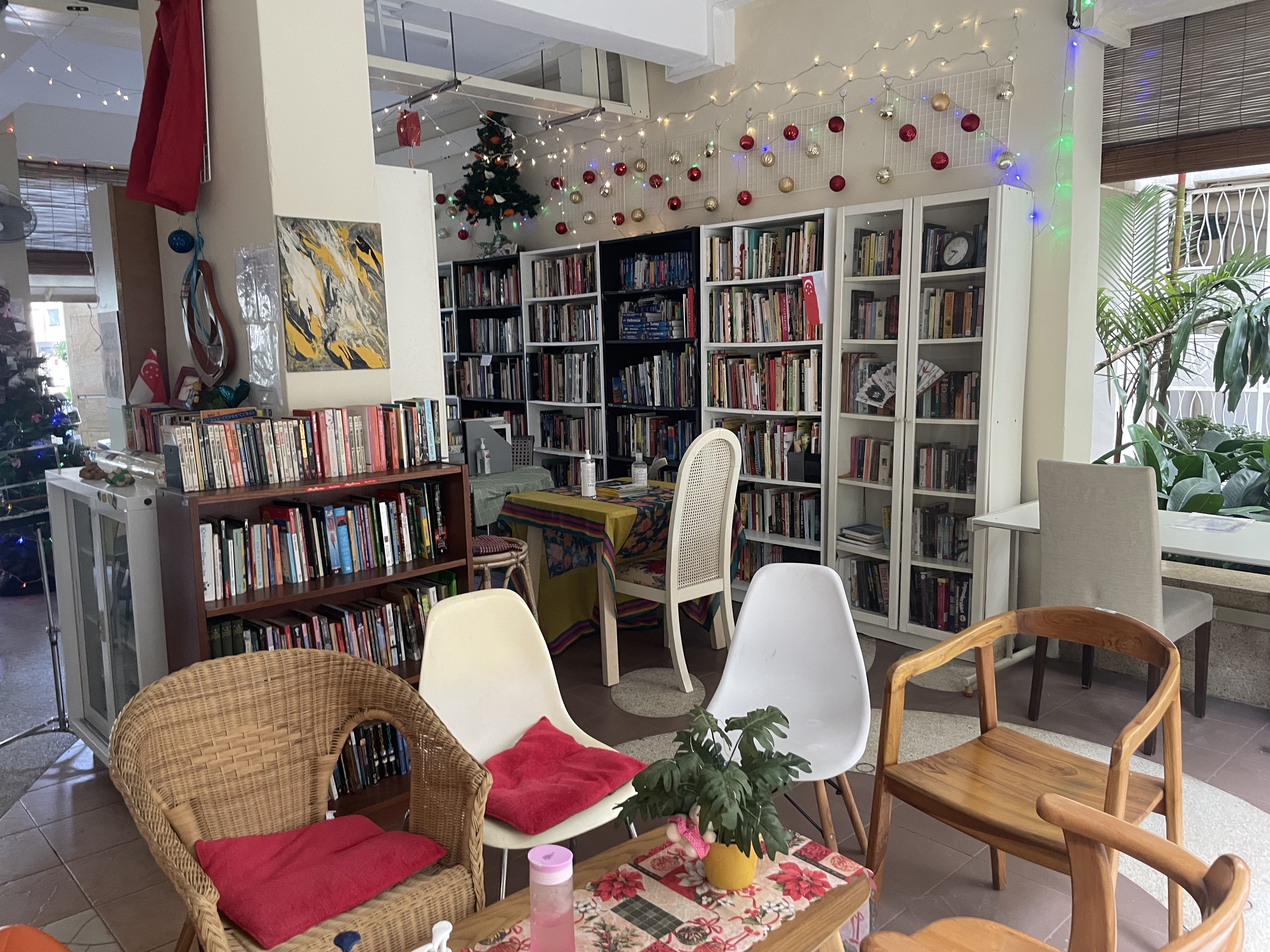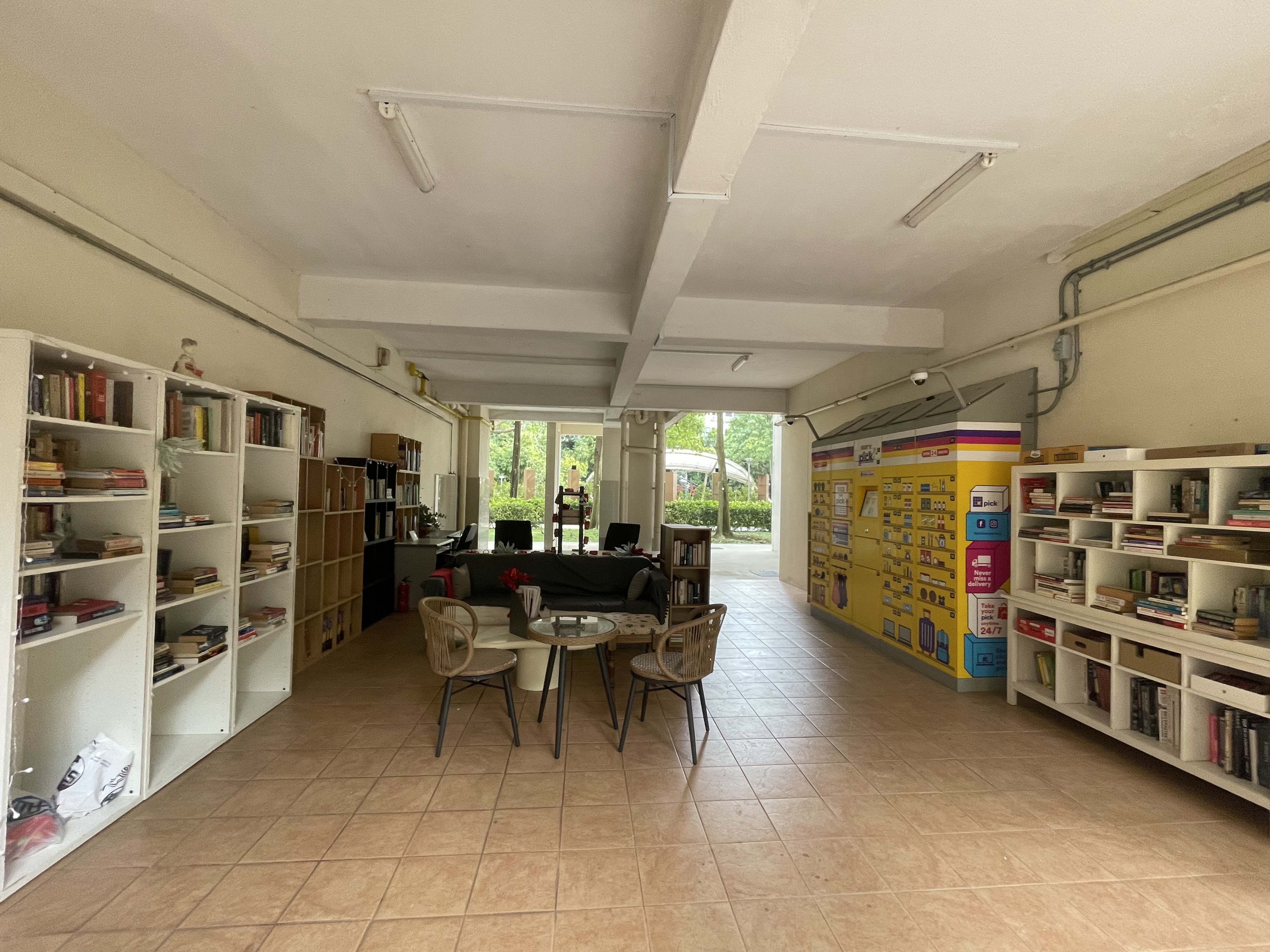 While she has labelled all the books with stickers, visitors can take any books home anytime. Of course, they have to return it after a while, but no one is there to check out the book.
The way the library expanded was not planned, as Kae Chee described the expansion as something "organic".
More than just a library
HV Little Library is run based on good faith, Kae Chee said.
Kae Chee explained that the library is not funded by anyone. Instead, it runs on donations.
From the wall decorations to books, everything in the library is given by residents living nearby and even those that do not stay around the area.
The extensive collection of Chinese books was donated by someone that did not live in Holland Village. Instead, the 600 books came from a resident in Toh Yi who heard about the library and wanted to support Kae Chee.
The plants that decorate the perimeter of the library were also kindly donated by residents of the area and visitors.
Some people also help tend to the plants and take care of them.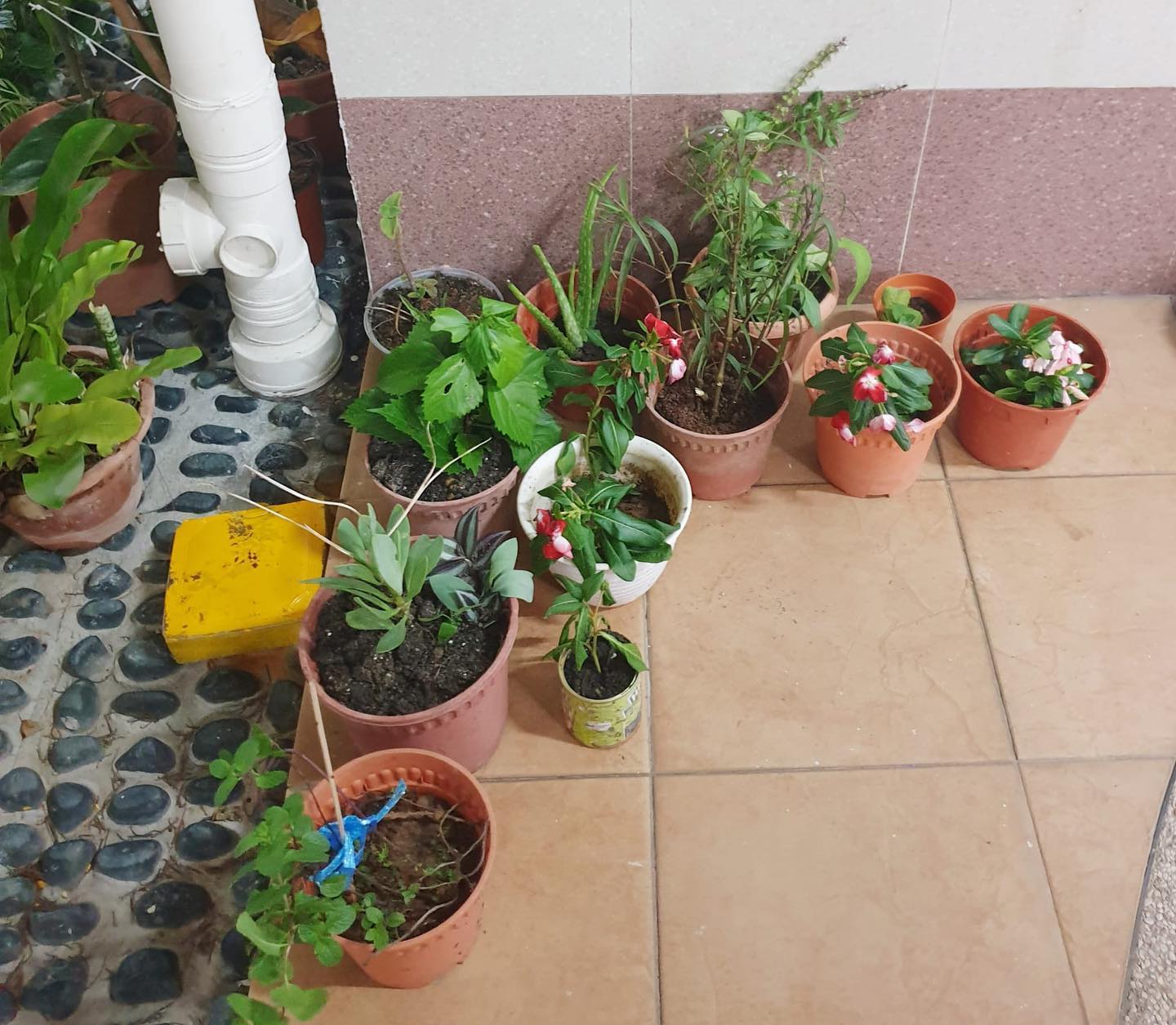 The television at the library was also a donated item. A group of uncles in their 70s then offered to help set it up and mount it on the wall, Kae Chee shared.
Those who donated books or shelves absorbed the delivery cost, so Kae Chee did not have to pay for that.
"People give out of love, be it in cash, effort or time, " said Kae Chee.
The library is a collective effort, and the community fuels it.
Problem solving
Little support was given to her from the Resident's Committee and not all residents are a fan of this library, Kae Chee shared.
Kae Chee has also received complaints about how the library is an "overkill" or a "fire hazard".
However, she strives to keep the place as neat and clean as she possibly can while serving the community.
When there was a leak in the area, Kae Chee fashioned a device to catch the leak using an umbrella and a plastic bag to protect the donation area.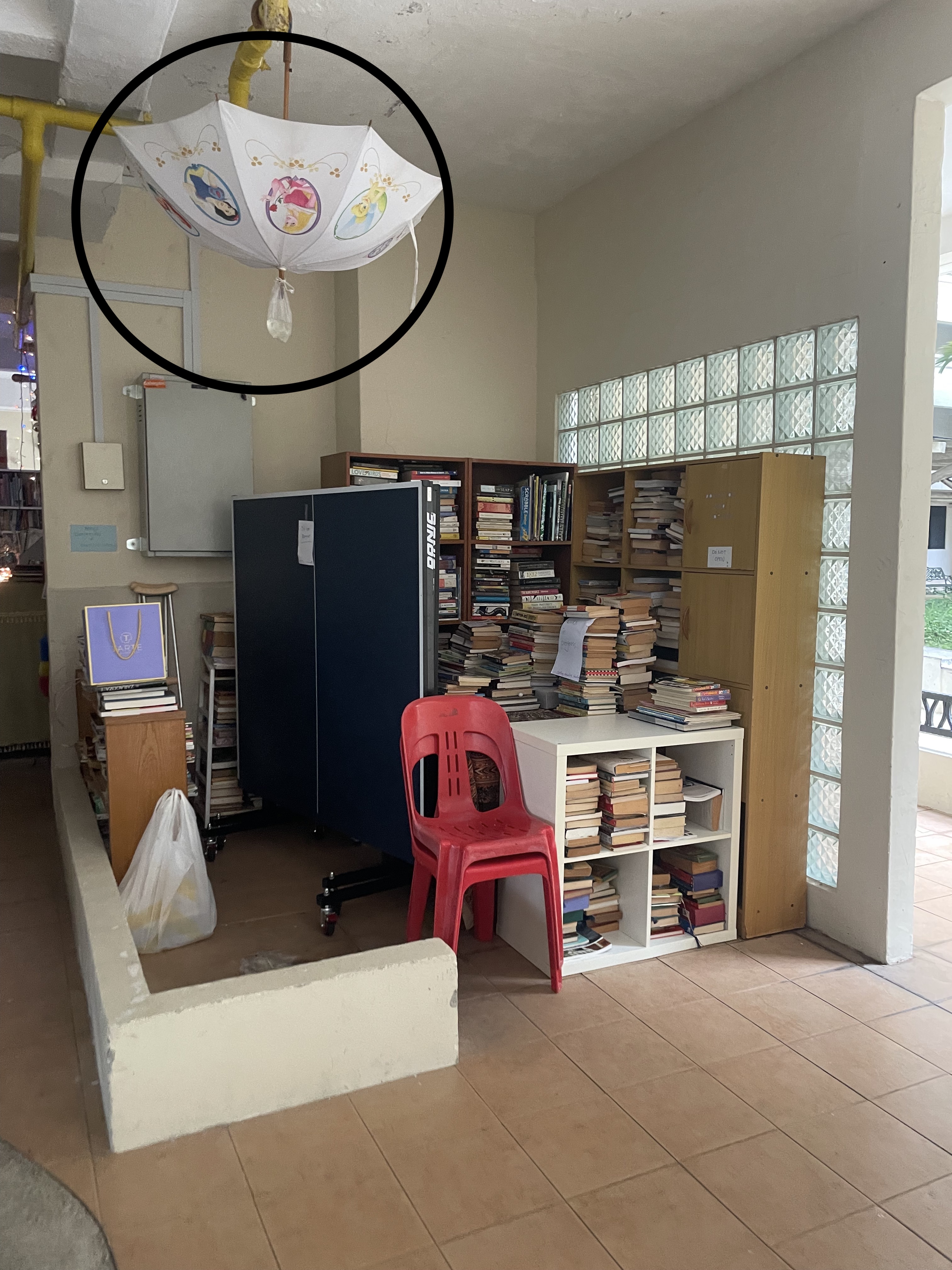 As the lights would only turn on at a specific time, she purchased camping lights for the library to keep the area lit before the lights came on.
There are two rooms along the corridor: a pantry and a toilet. Kae Chee cleans up the two rooms in her own time and stocked the place with snacks for patrons and toilet paper in case anyone needed to use the toilet.
Kae Chee said that she's doing this not because she's very free but she values the "kampung spirit" in this library.
"It is the gift of love, caring and sharing selflessly," she said.
An oasis
The library is an oasis, she described.
Through the library, Kae Chee got to know her neighbours around her and those who passed through the library. She never fails to greet someone when they set foot in the library and welcomes them to the place.
It's not just a place for people to borrow and return books, but also a place for people to come together and learn from one another.
For example, there is a sewing club started by a resident who teaches others basic sewing skills at the library.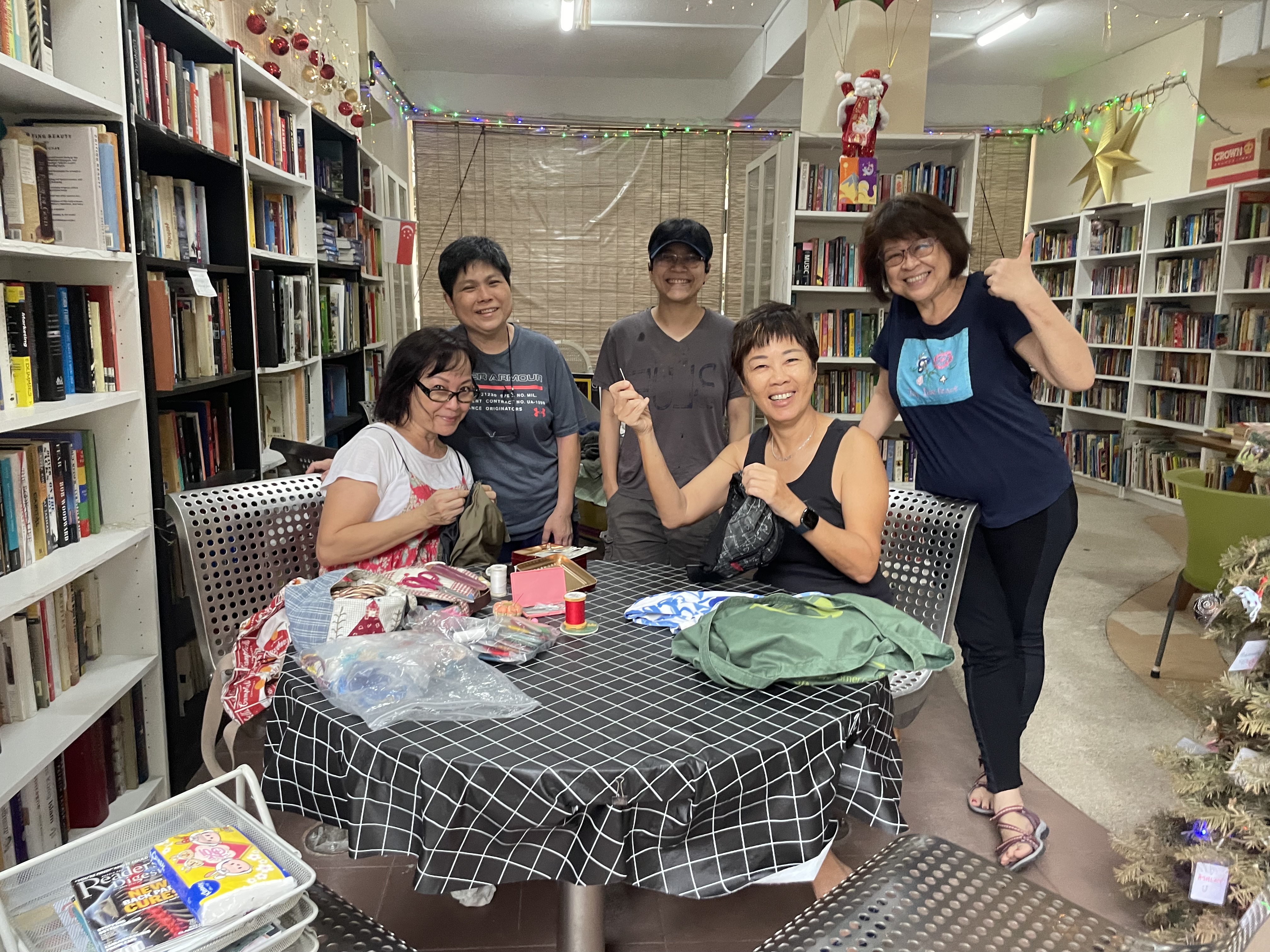 When someone donated a table tennis table, a neighbour offered his service as a retired table tennis coach to teach anyone interested in the sport.
People that are part of this "kampung" also look after one another and keeps tabs on each other.
For example, when Kae Chee was sick, residents dropped off food at her door and checked in on her to ensure she was doing okay.
When another resident fell ill, Kae Chee and some neighbours kept tabs on the resident and even provided updates to the resident's children.
Kae Chee spends much of her time at HV Little Library.
She would stop by the library at least five times a day, and her son often jokes that his mother is spending time at her "office".
Now, she has a "partner-in-crime", Yun, who supports her and manages the social media of HV Little Library.
She said while the maintenance of the library is a non-stop affair, it is a happy problem for her.
"It's for the residents and by the residents. Everybody comes along to enjoy it (sic)... It is a giving place," Kae Chee said.
With HV Little Library, she hopes young generations learn to not just love reading but also serve others in the community.
Top photos by Hannah Martens
If you like what you read, follow us on Facebook, Instagram, Twitter and Telegram to get the latest updates.