Follow us on Telegram for the latest updates: https://t.me/mothershipsg
A 60-year-old man nearly burned down his Yishun HDB flat on Jan. 18, Shin Min Daily News reported.
The fire was believed to have been caused by one of the five extension cords that the man used to power air pumps for his six fish tanks in his living room.
The man, surnamed Liang (hanyu pinyin), said he kept six fish tanks because he keeps more than 20 fish of various kinds at home.
Two of them are golden arowanas.
It was reported that the Singapore Civil Defence Force (SCDF) entered his flat just in time to put out the fire before it could spread further.
Neighbour alerted authorities, evacuated residents
The incident reportedly happened on Wednesday at around 5:20pm.
When Shin Min arrived at the scene, the fire had already been put out, and SCDF and police officers were seen conducting investigations.
It was Liang's neighbour who first noticed that a fire had started in the fish owner's unit.
The woman shared with Shin Min that she noticed something amiss when she smelt smoke.
The moment she saw white smoke coming out of Liang's flat, she immediately called the police.
"As the smoke quickly turned black, I was worried the fire would spread, so I asked other residents one-by-one to evacuate," she said.
Liang's next-door neighbour also told Shin Min that he smelt burned plastic initially, but did not pay much attention to it.
It was until other residents alerted him about the smoke coming out of Liang's flat that he realised that a fire broke out.
"As Liang lives by himself and wasn't home when the fire occurred, SCDF entered the flat forcibly upon arrival and put out the fire," he said.
Fire started from an extension cord: Liang
Speaking to Shin Min, Liang shared that the fire started from one of the extension cords in his living room.
He explained that he bought the extension cords two years ago for around S$10 each to power the air pumps that pipe air into the fish tanks.
He admitted to Shin Min that he did not think a fire could have been started because of his fish-keeping.
According to Shin Min, five extension cords could be seen in Liang's living room, extending all the way from the entrance of the flat to the end of his living room.
The one that short-circuited was reportedly charred, and other items on the table, such as fish food and water filter, were partially burnt.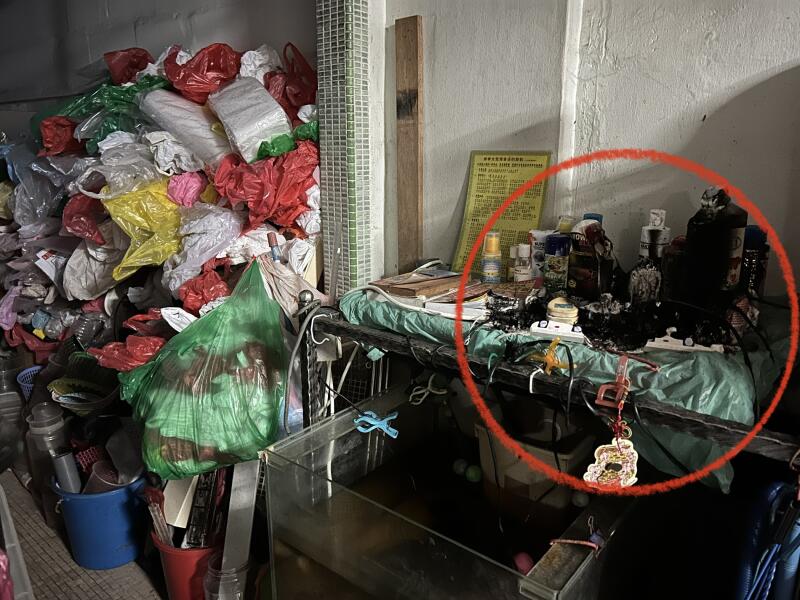 However, the fire did not spread further.
Nevertheless, Liang said the incident has traumatised him.
He said he no longer dares to turn the electricity on and off as casually as before.
He added that he believes he might have done something wrong, now that he thought back about how he used the extension cords at home.
Piles of items found in Liang's flat
According to Shin Min, Liang's flat was filled with items he had hoarded that made evacuation difficult in the event of a fire.
His living room was observed to have been filled with piles of old newspapers, books, CDs, and plastic bags.
There was only enough space for one person to walk through, it was also observed.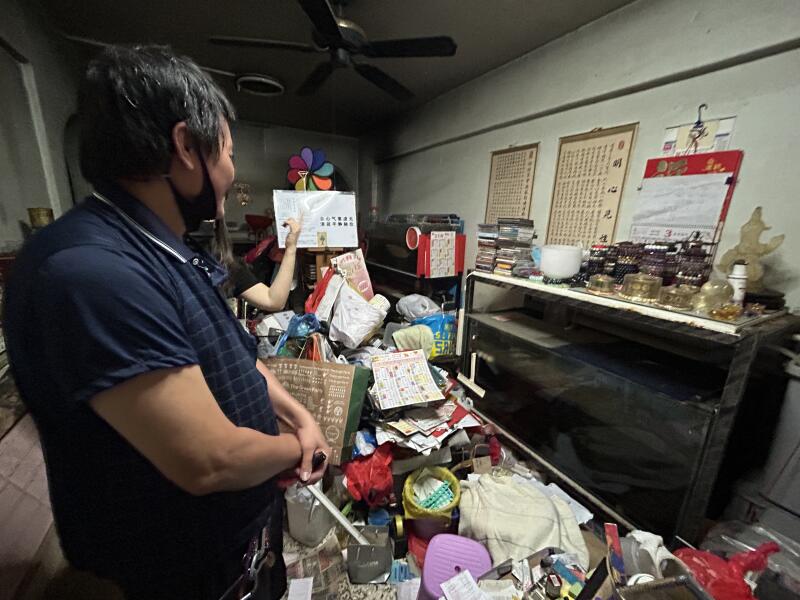 Liang explained that the items in his home piled up as he is too exhausted from work every day to tidy them up.
"SCDF officers have also advised me to tidy them up, so I will come up with a solution as soon as possible. I am also very thankful for the help offered by my neighbours. They helped me keep my home," said Liang.
Fire might be caused by short circuit: SCDF
SCDF told Shin Min that when the team arrived at Liang's flat, firefighters forcibly entered the premises and used two compressed air foam backpacks to put out the fire.
No one was injured in the incident.
SCDF also said preliminary investigations suggest that the fire might have been caused by a short circuit.
Top images via Shin Min Daily News' Facebook page
If you like what you read, follow us on Facebook, Instagram, Twitter and Telegram to get the latest updates.