Follow us on Telegram for the latest updates: https://t.me/mothershipsg
A hotel guest who got into an argument with hotel staff over his missing laptop, which was apparently stolen, ended up driving his car into the lobby, according to AFP.
The incident happened at the Jinling Purple Mountain Hotel in central Shanghai, with video footage showing the extent of the damage.
Based on a comment posted on the local police's Weibo account, the incident took place at around 11:20am on Jan. 10 and the guest was a 28-year-old man surnamed Chen.
His laptop was reportedly found outside the hotel subsequently.
Wrecking havoc
Chen first smashed his white Audi sports car, a convertible Audi A5 Cabriolet, through the main glass doors of the hotel.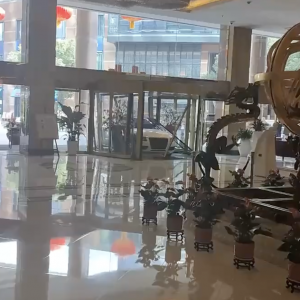 He then reversed the car and broke through the glass doors.
He proceeded to swerve around, knocking over hotel property while driving around the lobby.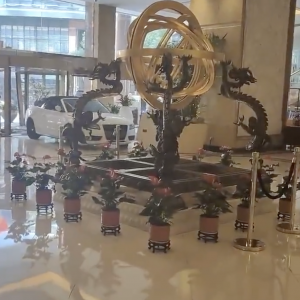 Chen's car finally came to a stop after crashing into another set of glass doors.
The vehicle had its flashing hazard lights turned on.
On Jan 10 a car crashed into the lobby of Jinling Purple Mountain Hotel Shanghai (上海金陵紫金山大酒店) in Lujiazui, Pudong after the driver, a guest at the hotel, had a spat with hotel staff over his notebook computer which purportedly went missing in his room. pic.twitter.com/ExOaAPTtJK

— Byron Wan (@Byron_Wan) January 11, 2023
In one video, witnesses could be heard saying, "What's going on?"
The phrase "I have no idea!" was also heard.
According to Hangzhou News, a witness who was dining nearby also happened to record the incident, noting that many on site were apparently shocked when the car suddenly appeared in the lobby.
Hotel staff tried to stop him
Hotel staff were also seen chasing after the car and shouting at Chen to tell him to get out.
They reportedly also tried to break the car window in order to grab the keys to unlock the door.
Some of them were seen grabbing something that looked like the base of a standing lamp or a retractable queue pole to hit Chen's car window with.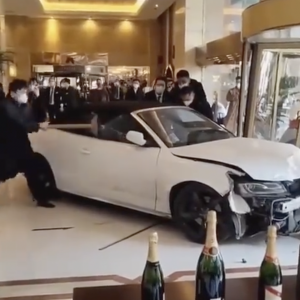 The car window was eventually broken.
After the door was opened, hotel staff repeatedly asked Chen to get out of the car.
Some apparently grabbed him and shouted:
"What are you trying to do?!"

"Are you crazy?"

"Do you have any idea what you've done?"
No casualties were reported though several items in the hotel lobby were damaged based on the local police's comment.
Chen's laptop was later found outside the hotel and he has been detained by the police.
Top image via Twitter/@Byron_Wan & Weibo
If you like what you read, follow us on Facebook, Instagram, Twitter and Telegram to get the latest updates.