Follow us on Telegram for the latest updates: https://t.me/mothershipsg
For many of us, seafood is an important part of our diet.
Besides nutritious values, it also adds a refreshing flavour to our meals.
However, for one Chinese man who goes by his Weibo username, Y1xuan, his recent seafood feast almost cost him his life.
On the evening of Jan. 16, Y1xuan shared on Weibo that he came across a suspicious-looking octopus that had several blue rings all over its head and body at a hotpot restaurant in Shenzhen, China.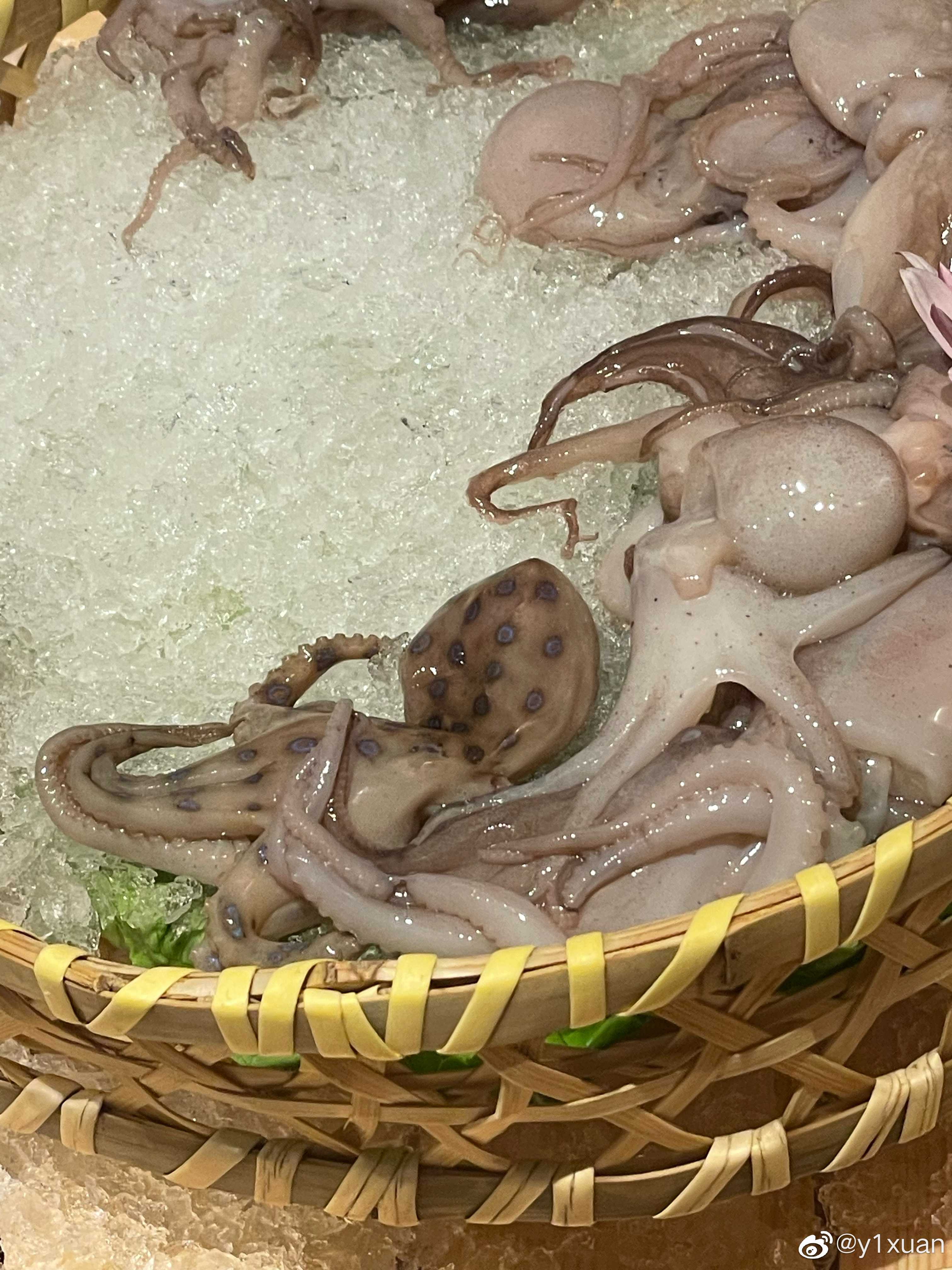 He then tagged Bowu Magazine, a science blogger, and asked whether the said octopus was a blue-ringed octopus and whether it was safe for consumption.
Y1xuan also mentioned that he would be waiting anxiously online as he was already in the midst of enjoying his hotpot.
Within an hour, Bowu replied and confirmed that the creature was indeed a blue-ringed octopus, one of the most venomous animals in the world, according to the Smithsonian National Museum of Natural History.
If humans come into contact with the neurotoxin it produces, we could suffer from respiratory arrest and motor paralysis within minutes, which could then lead to cardiac arrest.
Additionally, Bowu also explained that the octopus' toxin is so strong it won't break down even when heated.
Bowu thus warned everyone to take extra care not to consume the pictured octopus.
Luckily, Y1xuan told a fellow netizen who was concerned about his well-being that he did not end up eating the venomous animal, and it had already been removed from his dinner table.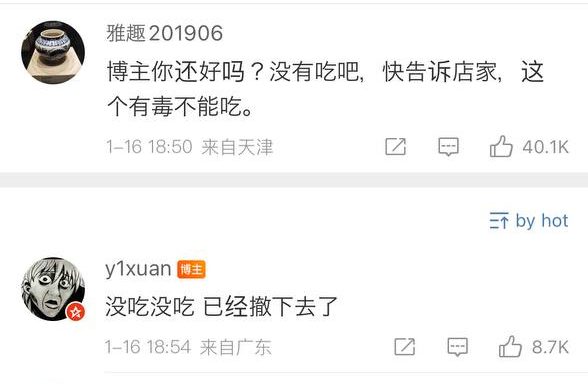 Similar incident posted the next day
However, Y1xuan doesn't seem to be the only lucky fella who avoided consuming the deadly invertebrate.
On Jan. 17, another Weibo user, Yezijihemalatang, also posted a photo of her holding a blue-ringed octopus against the sink.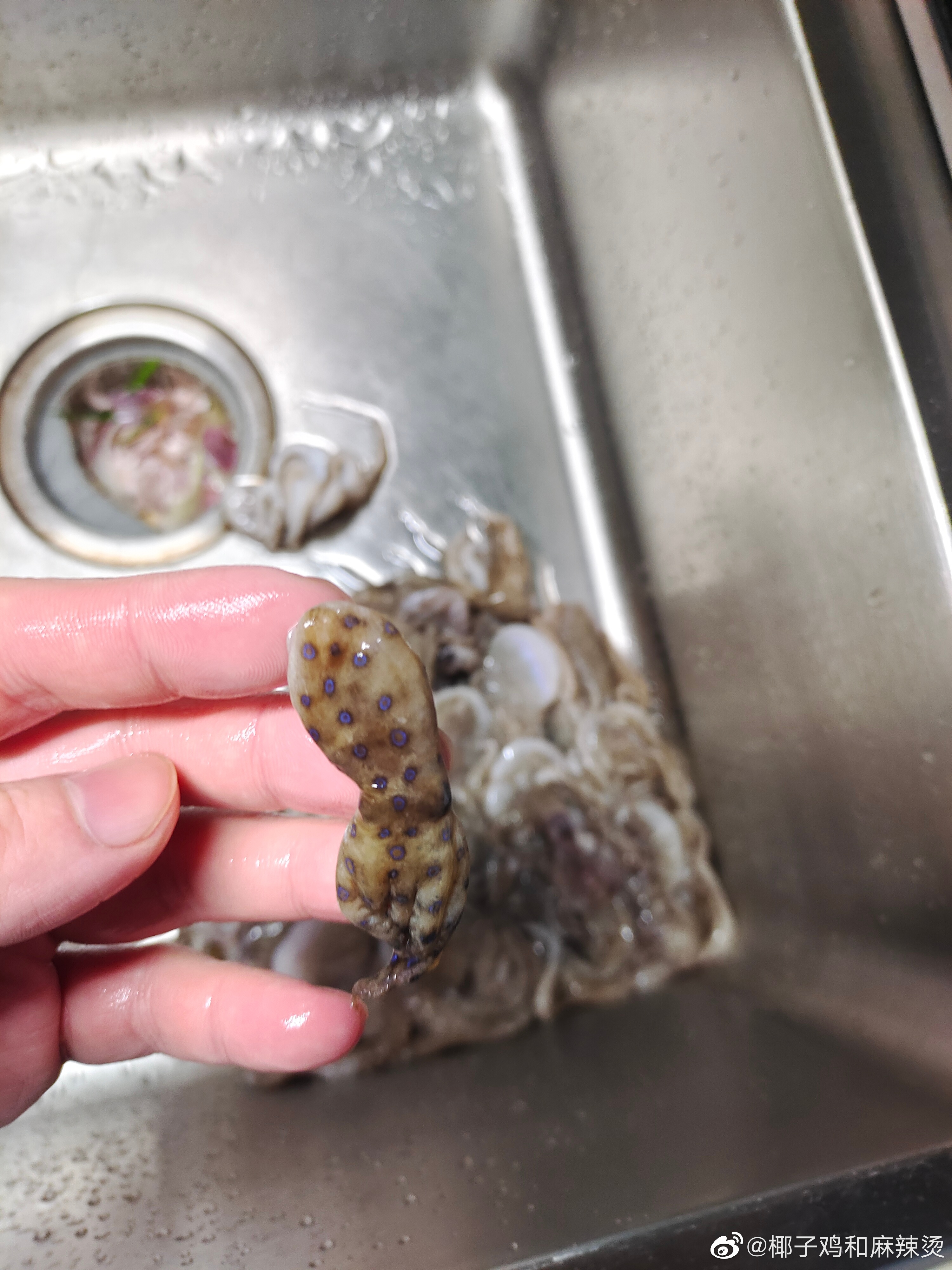 She shared that her family bought a box of frozen octopuses from a Sam's Club outlet in Shenzhen and discovered one with blue rings inside.
As her family was unsure about what the octopus was, they threw it away before cooking it.
She also tagged Bowu and asked people in Shenzhen to stay vigilant when buying octopuses.
The next day, Bowu confirmed Yezijihemalatang's speculation that the octopus was a blue-ringed octopus on Weibo.
Bowu said it was easier to identify because it was much fresher and had much bluer rings than the octopus served at the hotpot restaurant.
Discovery not unprecedented, must stay vigilant: Bowu
In response to the enquiries, Bowu shared that there were records of blue-ringed octopuses found together with their harmless counterparts in academic literature and on the internet. 
In an interview with Chinese news outlet, Fengmian News, Bowu's editor also explained that the venomous animal could be easily located in southeast and southern parts of China.
However, the editor clarified that the possibility for the public to come across blue-ringed octopuses remains low, so they need not worry too much about it.
Sam's Club's and manufacturer's response
Speaking to Chinese news outlet, Jiemian News, Sam's Club shared that the company takes food safety seriously and conducts checks on its supplier's products rigorously in accordance with Chinese laws and regulations.
The supermarket chain also claimed it had launched another investigation into the supplier after learning about Yezijihemalatang's recent experience.
Sam's Club said it could confirm the octopuses were caught in Chinese seas, and the production process included filtering out blue-ringed octopuses.
The supermarket chain also added that when the Shenzhen Administration for Market Regulation conducted a check on the outlet where the blue-ringed octopus was bought, the authorities didn't uncover any irregularities. It had also not received any similar complaints from other customers previously.  
In another statement issued by the manufacturer of the octopuses, the seafood company also claimed that its staff members are certified personnel who are trained to pick out poisonous species during the production process, including blue-ringed octopuses.
The company denied that there was any blue-ringed octopus in their frozen products, and they insisted the deadly invertebrates were never mixed in previous batches.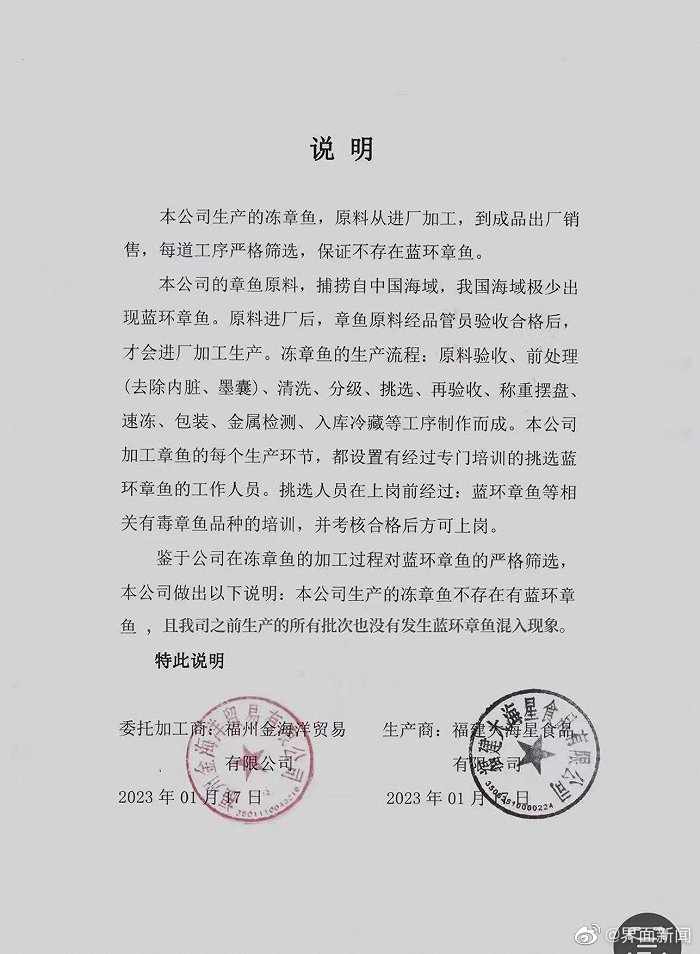 Sam's Club has reached out to affected customer
One day after releasing their statement on the octopuses, Sam's Club contacted Yezijihemalatang and her family, according to the Weibo user.
The spokesperson reportedly told her that the supermarket chain had conducted thorough checks overnight after receiving her feedback and didn't spot any blue-ringed octopuses.
She said the spokesperson also apologised to her and clarified that the supermarket chain's intention behind its statement was to relieve the public's worry. Sam's Club also promised that they would pay more attention to food safety management in the future.
No blue-ringed octopus found during checks: Shenzhen's authority
According to Shenzhen Administration for Market Regulation, officials had conducted an on-site check on Jan. 17 at the Sam's Club outlet where the blue-ringed octopus was bought.
The outlet was able to provide all necessary documents, including licences for its octopus supplier and manufacturer, as well as quality assessment reports.
Additionally, the administration has also examined the stocks at all 27 Sam's Club and Walmart outlets in Shenzhen, and no blue-ringed octopus was found.
Nevertheless, the regulator said they have sent out a reminder to the public not to consume seafood that is unknown or unfamiliar to them via its official channels.
The administration has also called on businesses to conduct checks on all products and boost their capability in filtering out risky ones.
Top images via Weibo
If you like what you read, follow us on Facebook, Instagram, Twitter and Telegram to get the latest updates.