Follow us on Telegram for the latest updates: https://t.me/mothershipsg
Malaysian Prime Minister Anwar Ibrahim visited Singapore on Jan. 30 for his first official visit to the country since taking office.
Bouquets
Anwar, who is also Finance Minister, was greeted at Changi Airport by Singapore's Foreign Minister Vivian Balakrishnan, as he arrived for his one-day visit.
Vivian's wife Joy Balakrishnan presented former Deputy Prime Minister Wan Azizah Wan Ismail with a bouquet of flowers.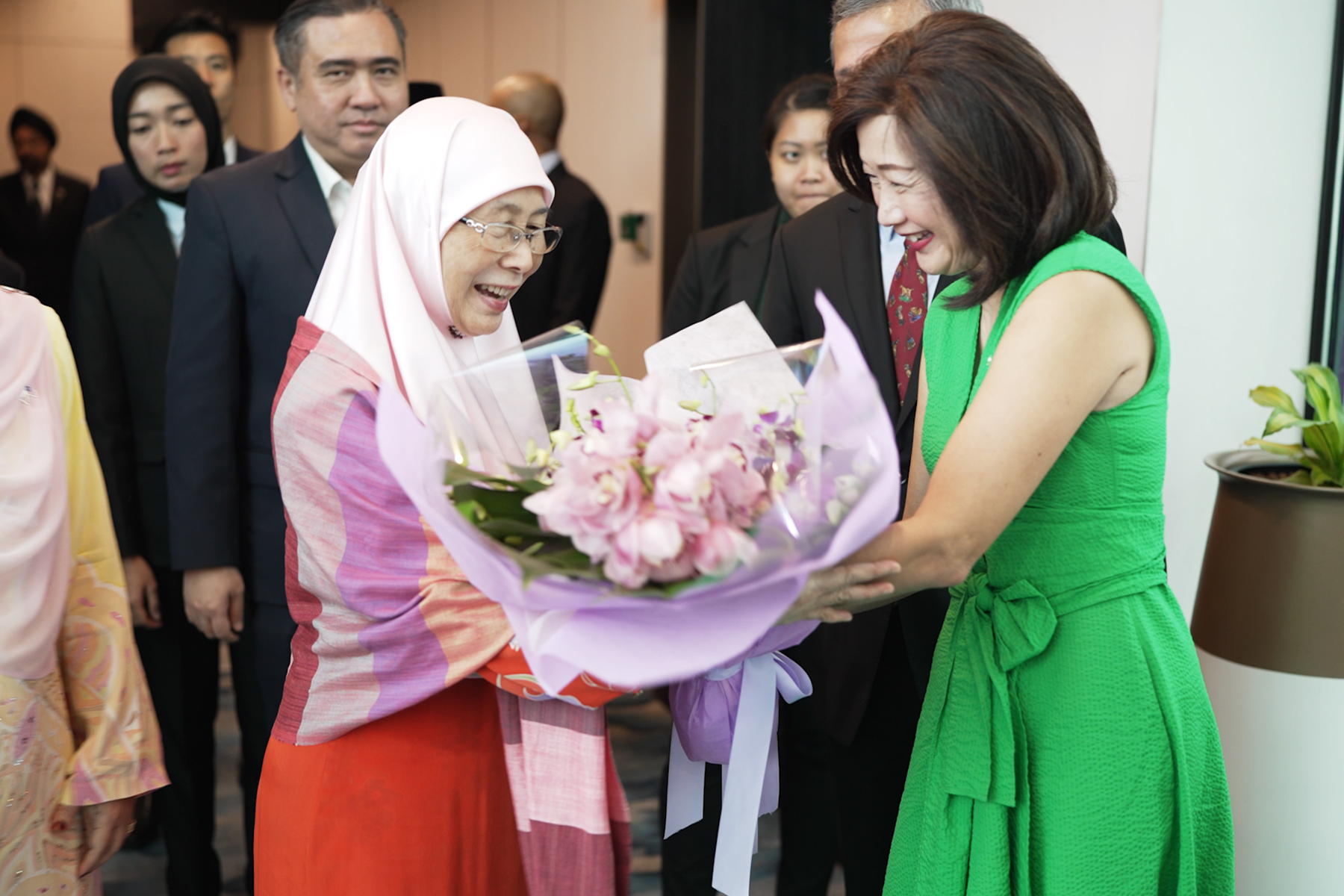 Besides Wan Azizah, Anwar is accompanied on his visit by Foreign Minister Zambry Abdul Kadir, Transport Minister Anthony Loke, International Trade and Industry Minister Zafrul Tengku Abdul Aziz, as well as Communications and Digital Minister Ahmad Fahmi Mohamed Fazil.
Also joining them are state leaders for Sarawak and Johor, Haji Abdul Rahman Zohari and Onn Hafiz Ghazi.
Cooperation frameworks
Anwar was hosted to an official lunch by Prime Minister Lee Hsien Loong at the Istana. According to Yahoo, he also called on President Halimah Yacob following the welcome ceremony.
He also had an orchid named after him and his wife, the Dendrobium Anwar Azizah. 
The two leaders signed three agreements, the frameworks of cooperation in Digital Economy and Green Economy, as well as a memorandum of understanding on cooperation in the fields of personal data protection, cybersecurity, and digital economy. 
The frameworks of cooperation were signed by Singaporean Minister for Trade and Industry Gan Kim Yong and Tengku Zafrul, in the presence of PM Lee and Anwar.
The FoC for digital economy cooperation, aims to facilitate greater interoperability and collaboration on digital economy issues, and also seeks to serve as a pathfinder agreement for Asean.
The FoC on green economy addresses a number of decarbonisation efforts. This includes exploring collaboration on standards and technical references for electric vehicle charging standards.
Archipelagic fellows
The visit has been highly anticipated since PM Lee invited Anwar to visit Singapore in his congratulatory message after Anwar was appointed Prime Minister in November 2022.
It comes after visits by Anwar to fellow archipelago states, Indonesia and Brunei, earlier in January.
Anwar's visit to Indonesia as his first state visit comes as part of a tradition Malaysian PMs visiting Indonesia first, but he also shared that he had a very personal connection to the country.
He was quoted by Nikkei as saying Indonesia had a "special place in his heart".
His visit to Brunei took on a similar complexion to his Singapore visit, where he also witnessed the signing of digital and green economy agreements.
Anwar was last in Singapore in 2018, after his Pakatan Harapan coalition took power, although he did not hold an official position at that time.
During that visit he also met with PM Lee.
Anwar is expected to complete his visits to all of Malaysia's neighbours next month with a visit to Thailand, according to Bernama.
He is expected to discuss unrest in the Southern Thai provinces that border Malaysia.
Related Stories
Top image via Ministry of Foreign Affairs, Singapore
If you like what you read, follow us on Facebook, Instagram, Twitter and Telegram to get the latest updates.