Follow us on Telegram for the latest updates: https://t.me/mothershipsg
Disneyland is allegedly coming to Melaka, Malaysia in 2027, reported several news outlets including one in Singapore that ran a syndicated story from the Malaysian press.
As per the report that report, State Heritage and Culture Committee chairman Muhammad Jailani Khamis announced that the development of the theme park in Malaysia would be the first in Southeast Asia, following the likes of the ones in Shanghai, Paris and Tokyo.
However, there has been no official statement by Disney Parks or The Walt Disney Company regarding plans for a Disneyland theme park in Malaysia.
What the Malaysian politician said
Jailani claimed that "Disneyland has been in the planning", and they are looking at the district of Jasin as a possible site for the theme park.
The size of "The Happiest Place on Earth" in Malaysia will supposedly be between 150 to 200 acres.
The article attributed a Bernama piece as the basis for its story, which was also carried by the New Straits Times.
Jailani was speaking to reporters on Nov. 16 after signing a Memoranda of Understanding for a 22km long "Maglev" transportation system.
These trains running on an electromagnetic system will connect Melaka's tourist hubs, as well as the development of any future theme park.
No announcement of future Malaysia park by Disney
However, a check of both the Disney Parks news blog and The Walt Disney Company newsroom site reveal no announcements of a park opening in Malaysia.
Back in September 2022, fans had gathered for the biggest Disney convention, D23, in Anaheim, Los Angeles.
During D23, there was a Disney Parks panel where the head of Disney Parks, Josh D'Amaro, outlined future plans for Disney Parks worldwide.
While announcing the addition of new attractions, character meet-and-greets and re-themes to Disneyland and Walt Disney World, D'Amaro also shared plans for Disney's International Parks.
Updates on international parks, but nothing on Malaysia
Shanghai Disney Resort will have a new land, a Zootopia Land.
Hong Kong Disneyland will have a new Frozen-themed land scheduled to open in the second half of 2023 and a new Walt Disney statue.
Paris Disneyland will have a new promenade for its Frozen land and a Tangled attraction will be added to its garden area.
Tokyo Disney Resorts will add a new land called Fantasy Springs featuring landmarks and rides from Frozen, Tangled and Peter Pan.
In addition, Space Mountain will undergo a transformation in 2024, and a new plaza will be constructed by 2027.
But despite all these major announcements of Disney's international parks, there was no announcement of a new Disneyland and Disney resort in Malaysia.
Highly unlikely
Moreover, there is usually a long lead time between official announcement of a park and its opening.
For example, contracts for Tokyo Disney were signed in 1979, and the park opened in 1983.
Disney announced Shanghai Disney in 2010, and the park opened in 2016.
So, while it is possible that one Malaysian politician may be privy to a major development helmed by one of the world's biggest companies, and let slip the truth while speaking at a press conference at an unrelated event -- and we could be waving to actors dressed up as Gaston and Jack Sparrow in Melaka five years from now -- the fact remains that Disney itself has not released official word on this supposed park, which would be its fourth in East Asia and fifth outside of the U.S.
Fake news?
Smaller Malaysia news outlets have cast doubt on the Disneyland opening in Melaka story within hours of the piece's appearance.
One point they highlighted was the RM2 billion (S$602 million) cost supposedly needed to build Melaka's Disneyland, which is comparatively much lesser than the costs needed to build other Disneyland theme parks in Asia.
Shanghai's Disneyland, which spans about 963 acres -- about five times bigger than Malaysia's -- was built at a cost of 24.6 billion yuan (RM15.6 billion or S$4.7 billion).
Meanwhile, Disneyland Hong Kong which covers 68 acres of space on Lantau Island is said to cost US$3.6 billion (RM16.4 billion or S$4.93 billion).
The nail in the coffin that Malaysia is getting a Disneyland is fake news?
New Straits Times has taken down its report of the story.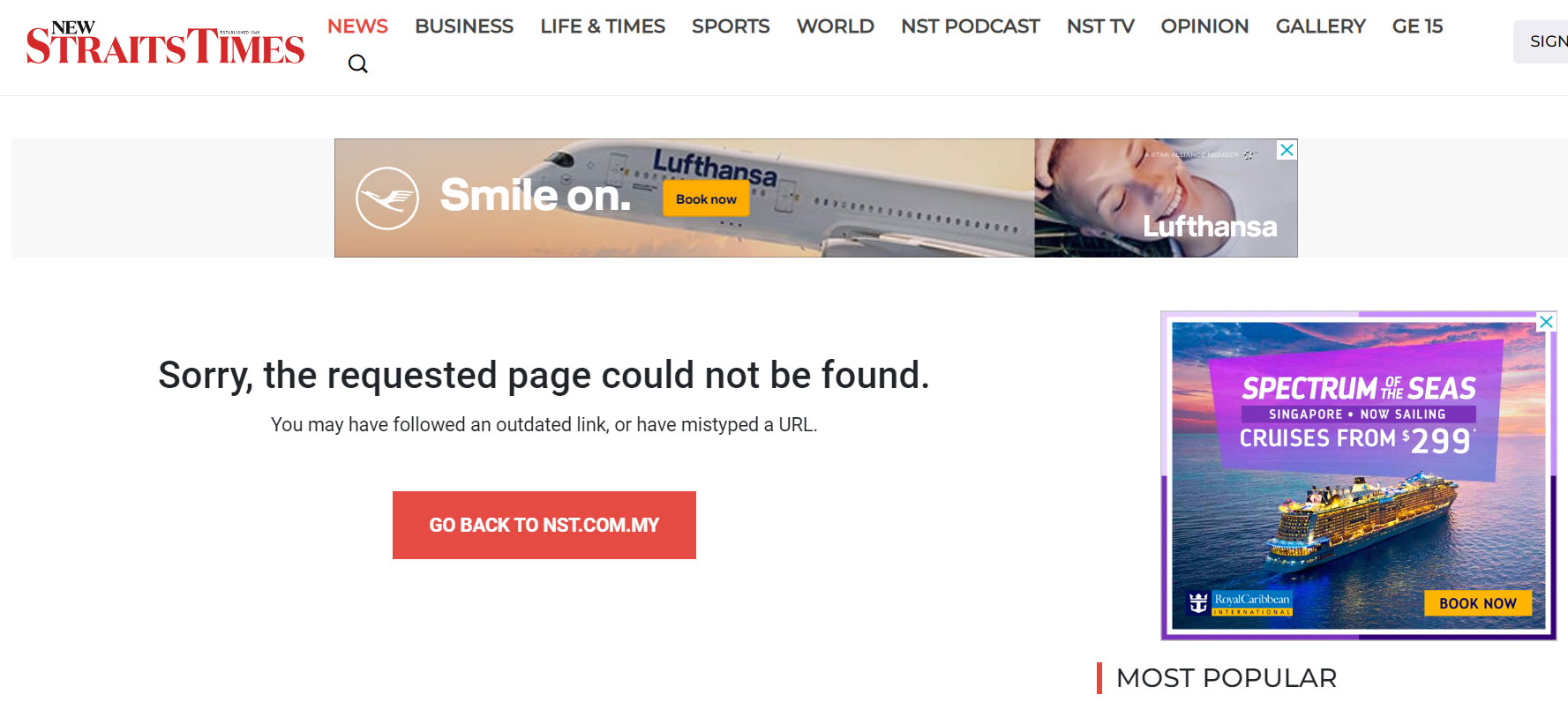 Other clues that point to a non-story can be found in the press conference video, as produced by Melaka TV.
The video of the press conference consisted of a presentation that had an animation of a theme park featuring a Minions character -- which is not part of Disney.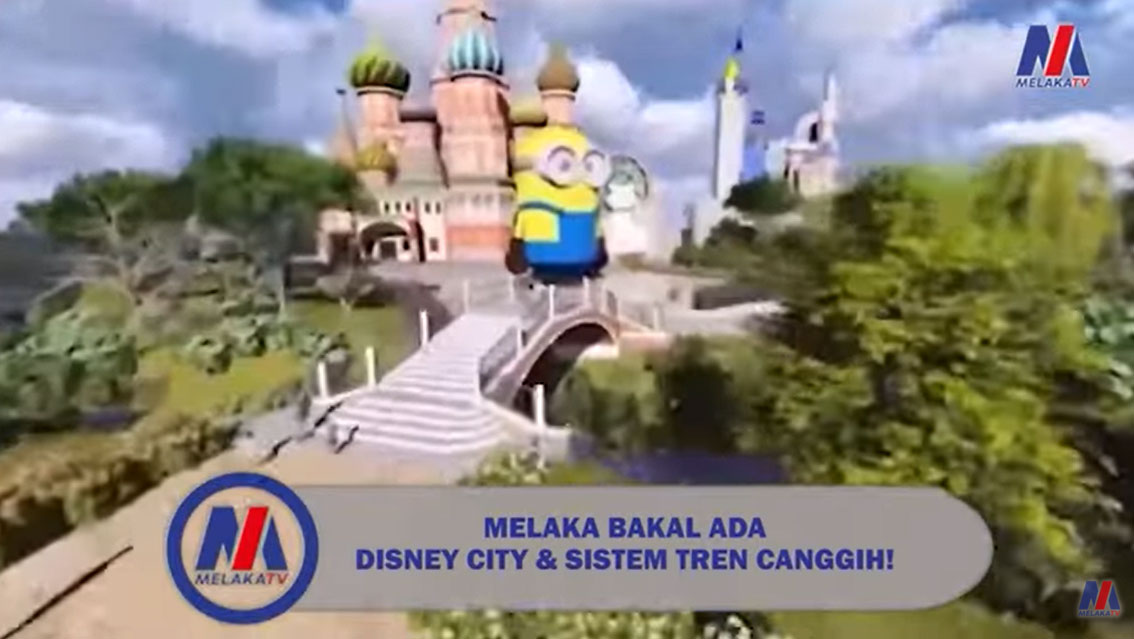 The rights to Minions are owned by Universal Pictures.
Mothership has contacted the Walt Disney Company and Disney Parks for comment, and will update this story when they reply.
In response to media queries from elsewhere, a CNN Southeast Asia correspondent said in a tweet -- that has since been deleted -- that Disney responded: "There are no official plans for a Disney themed park in Malacca, earlier reports were purely speculative and misinformed."
To clarify: My tweet has now been deleted on orders of Disney. But the original clarification I made from reaching out and reporting still stands -- There are no official plans for a Disney themed park in Malacca, earlier reports were purely speculative and misinformed.

— Heather Chen (@heatherchen_) November 17, 2022
She added:
https://twitter.com/heatherchen_/status/1593150975023656960
Top photos from Google Maps
If you like what you read, follow us on Facebook, Instagram, Twitter and Telegram to get the latest updates.