Follow us on Telegram for the latest updates: https://t.me/mothershipsg
A man found numerous abandoned cats at Marsiling Park two nights ago (Sep. 11).
In "complete disbelief"
The man, named Safu, said that he was working out in the area around midnight.
He told Mothership that there had been no cats in the area, but he later noticed five cats next to the curb where a vehicle was parked a few minutes before.
Four of them were kittens, which he believes are a litter belonging to the only adult cat.
The cats appeared extremely lost and confused, and one of them tried to enter the drain in fear.
When he found the cats, Safu said he was in "complete disbelief" and immediately called his friend for help.
His friend's uncle, being a cat lover, volunteered to come down and brought cat carriers to help trap the cats.
The cats were all successfully rescued and caged with the exception of one kitten which escaped.
Last kitten was rescued with the help of a TikTok user
Safu shared the incident on TikTok, which attracted many commenters asking to adopt the cats.
In response, he said that he will need to follow up with the authorities to find the culprit before doing anything else.
Others also offered to help look for the last kitten, which was eventually found by one user and her fiancé.
They volunteered to help search for the kitten in the area the following evening and managed to secure the cat, which had a red collar on.
They were unable to take the cat in, but Safu managed to meet them to pick it up and reunite it with the rest of the cats.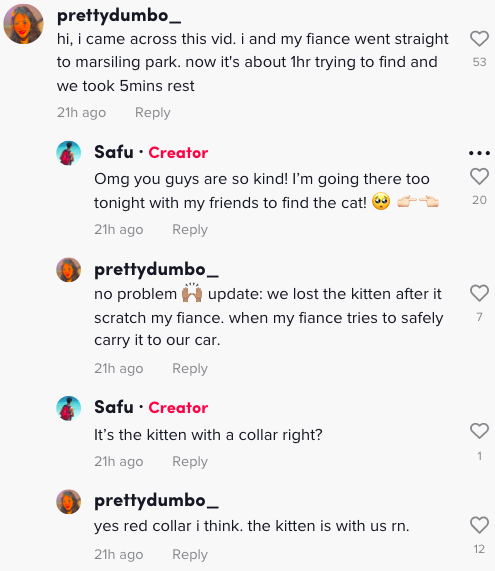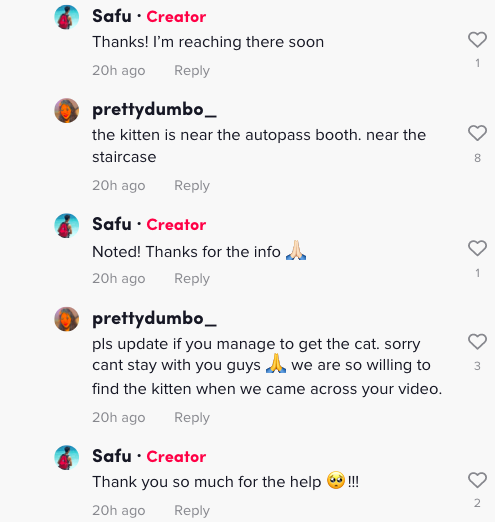 Police report made
Safu's friend's uncle is currently fostering all the cats, which are doing well.
None of them are sterilised so they have made an appointment to do so, Safu told Mothership.
He called the Animal and Veterinary Service (AVS) hotline and lodged a police report about the incident the next day.
He added that that Marsiling-Yew Tee Member of Parliament Zaqy Mohamad is following up on this with the National Parks Board (NParks).
According to Safu, there is a CCTV which faces in the direction of where the incident took place.
In response to Mothership's queries, AVS said that they are in touch with the member of public who reported the case and is currently caring for the cats.
Investigation into the case is ongoing.
"AVS takes a serious view of pet abandonment and will take appropriate enforcement action, when there is evidence," said AVS group director Jessica Kwok.
AVS is currently seeking the public's feedback on its proposed strategies for the management of pet and community cats in Singapore to better protect their health and welfare.
Cat abandonment in Singapore
NParks investigated 225 cases of alleged pet abandonment in 2021, a number that has been rising in the past five years.
Half of these cases involve cats.
Earlier this year, animal shelters reported a 30 per cent increase in pet abandonment since Covid-19 restrictions eased.
Under the Animals and Birds Act, anyone who is found guilty of pet abandonment can be imprisoned for up to 12 months, fined up to S$10,000, or both.
If you witness a cat abandonment, the Cat Welfare Society (CWS) recommends taking photos of the incident.
You can make a police report and contact AVS via its online feedback form or 24-hour hotline 1800 476 1600.
Related stories

Top images by @imsafuw/TikTok.
If you like what you read, follow us on Facebook, Instagram, Twitter and Telegram to get the latest updates.