Follow us on Telegram for the latest updates: https://t.me/mothershipsg
77-year-old Singaporean granny, Lynn Soh, is a Taekwondo practitioner with a black belt.
Black belt is the highest achievable rank in Taekwondo, with nine levels in total. To achieve the first black belt, one must be able to spar, defend against opponents and break two three-inch boards with any kick or blow, according to Active SG.
The sprightly senior started attending classes at Ildo Taekwondo Academy in Bukit Timah only around four years ago.
She managed to gain her first black belt in May 2020, faster than other younger trainees, the academy noted.
Chanced upon Taekwondo
Soh told The Straits Times (ST) that she chanced upon a Taekwondo warm-up class while she was shopping at Bukit Timah Shopping Centre in 2018.
She thought the warm up activity fits her well as she had some knee issues back then.
More specifically, she was diagnosed with sciatica -- a pain that radiates along the sciatic nerve, extending from the lower back to her hips and to each leg.
She recalled she could not squat and felt "so miserable".
Inspiration
Fast forward to today, Soh has won several medals at Taekwondo competitions and is now gunning for the second black belt.
Her legs no longer ache and she does not have to take medication for her pain anymore.
She can also do a 180 degree split, a vast improvement from before when she could hardly do a 45 degree split.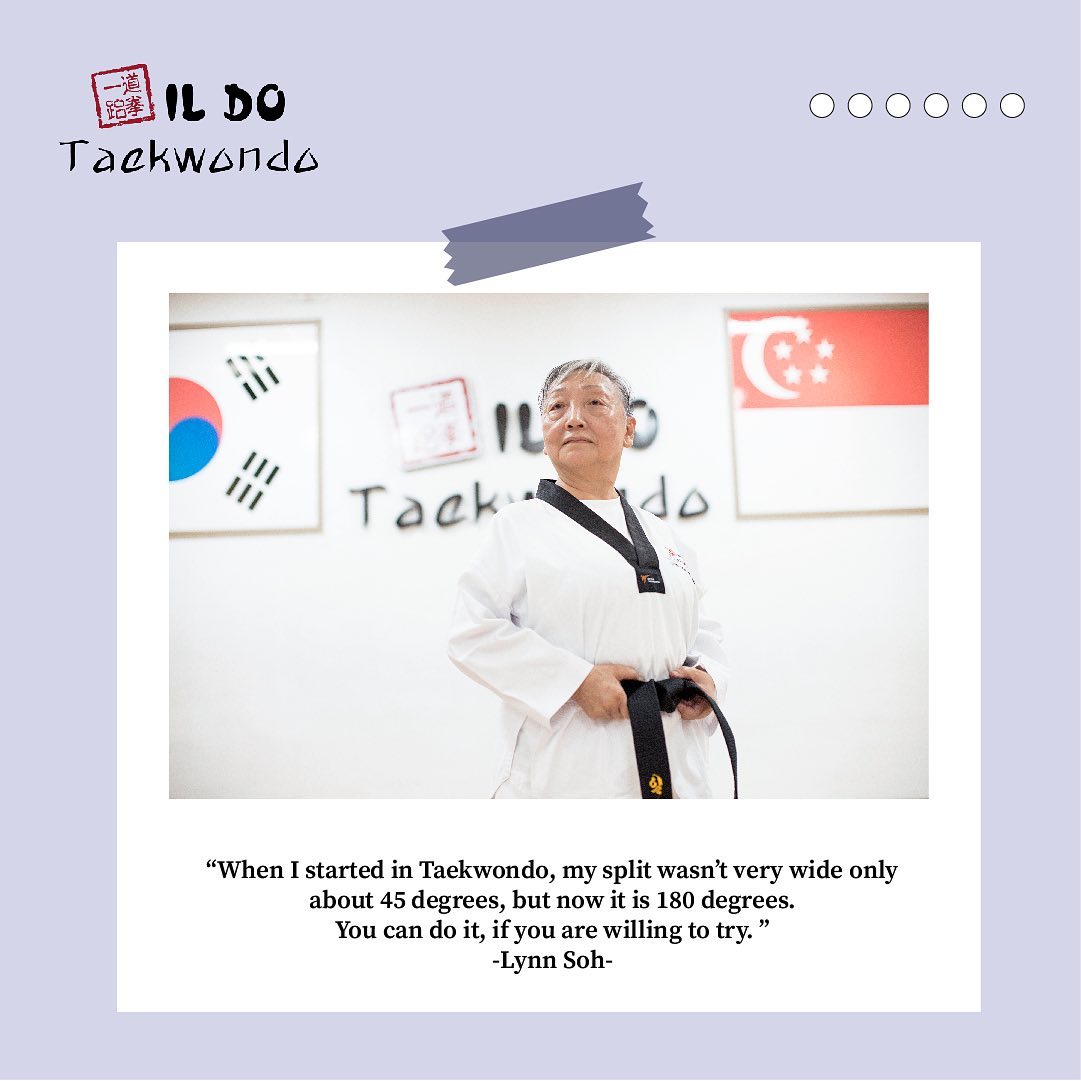 In the ST video, you can see Soh squatting and attempting a high kick with ease.
While Soh is the oldest student in the academy, she definitely is an inspiration to others, even to her coach Paul Lee.
"I feel so proud," Lee commented, adding that he would use Soh as an example to encourage his own parents to stay active.
And here's a piece of advice from Soh to all elderly folks:
"Please don't wait. Go for it. Don't say no, the more you say it, the more you look at the ceiling on your bed."
What an inspiration.
All images via Ildo Taekwondo Academy/Facebook
If you like what you read, follow us on Facebook, Instagram, Twitter and Telegram to get the latest updates.