Follow us on Telegram for the latest updates: https://t.me/mothershipsg
It started, as do most things these days, with a trip down the TikTok Hole.
The algorithm gods decided that what I needed, of all things, were videos of people skating with wild abandon along streets, and in parks, along the docks, and just being carefree — all set to soaring background music.
And indeed so.
Maybe after two very restrictive years, this is just a projection of my desire for freedom or maybe I was just bored, I dunno. But I found myself absolutely smitten with the skating videos that started appearing more frequently on my For You page, and even more so with the idea of skating.
And so without a second thought, I went online and dropped S$169 on a pair of Rollerblade Zetrablade Skates.
I really like the colour (a very versatile black) and that very cool "Rollerblade" emblazoned across its carbon fibre frame.
Of course, it was an impulse buy, but I told myself that I would use it all the time because I had resolved to master inline skating — or at least until I become proficient enough to appear on someone's For You page.
And even though I was S$169 poorer, it was some consolation that the Zetrablade — according to the shop — is a "smart choice for casual skaters looking at an entry-level skate".
I do pride myself on making sm0rt choices.
What wasn't as smart though was attempting to pick up skating on my own, with a little help from YouTube tutorials.
How difficult can it be, amirite?
Famous last words, guys. The next thing I knew, I was 1) heavily bruised from my failed attempts to execute the T-Stop (a "basic" braking technique which is anything but) and subsequently, 2) stranded at the corridor outside my house for nearly half an hour because my life would flash before my eyes whenever I attempted to move in those demonic skates.
Surprisingly, it wasn't hard to get recommendations for skating classes. Almost everyone I asked knew a friend/cousin/sibling who took up skating recently (perhaps they too were gently nudged by the TikTok algorithm) and one of these recommendations led me to Lu Zixing and Eugene Ow.
A winning formula?
At 21, both are final year students at Singapore Polytechnic who love the sport so much that they spend their weekends giving private skating classes to both adults and kids.
The draw is that both Lu and Ow travel to wherever their students are to hold the class (a major consideration if, like me, you live in Bukit Panjang, known to some as the Backside of Singapore) and charge only a fraction of what a school might charge.
Depending on the package that you choose, a private skating class with Lu or Ow at a location of your choice can cost between S$34.20 and S$38. A private lesson at a skating school will set you back anywhere between S$80 and S$120.
(Of course, we're comparing different things — maybe not apples and oranges but apples and certified organic apples — but it's undeniable that price is a huge deciding factor, especially for those looking for an introduction to skating.)
Lu said, "Our first student came to us and said, 'Actually your classes are very cheap. Have you thought about marking up your price?'"
"He actually offered to pay extra money!" Ow interjected.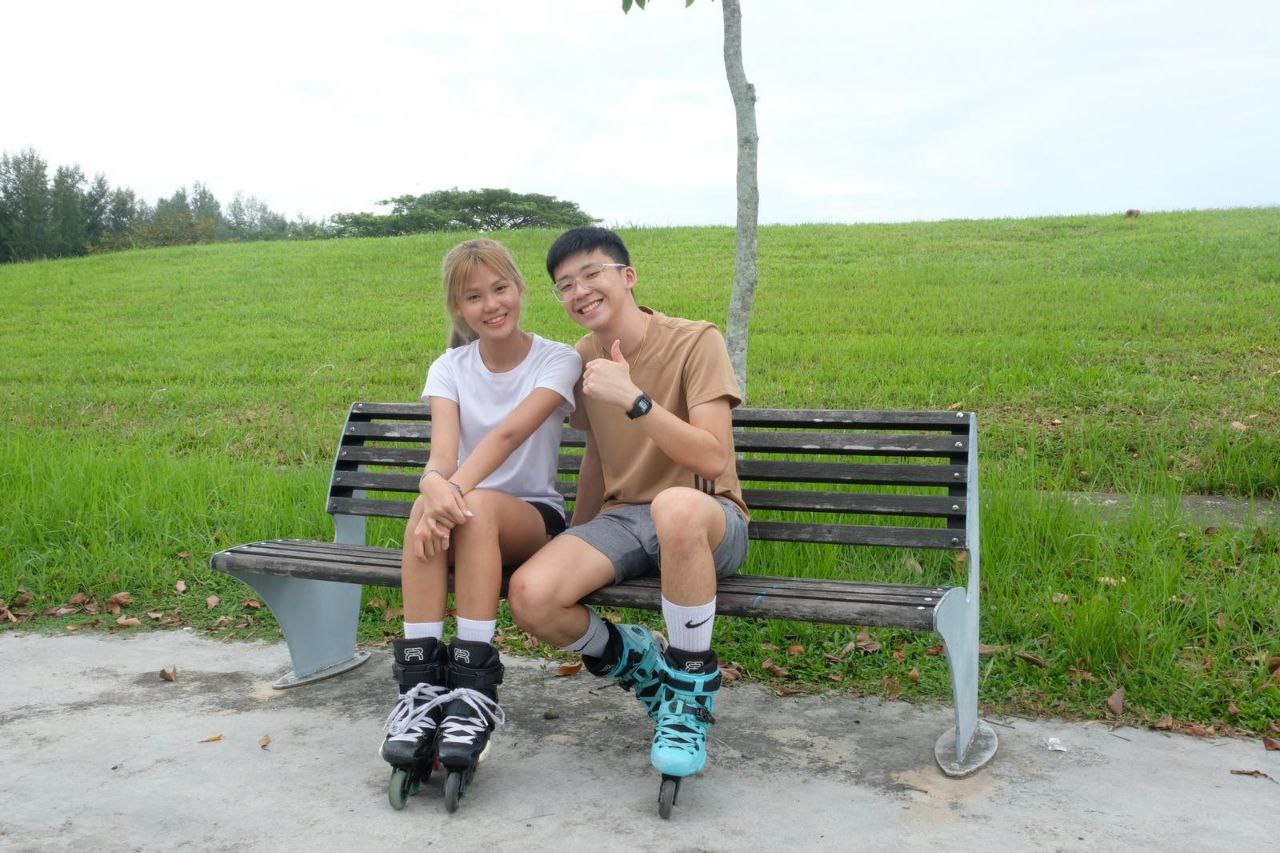 Why so cheap? For Lu, it's quite a simple reason. To her, skating lessons are like enrichment classes in that "they are for you to learn and get more knowledge" and she doesn't feel that they should be too unaffordable.
It appears to be a winning formula; both their weekends have been booked solid since they started in July 2021.
And even though Lu and Ow advertised their lessons on social media, all their students so far have come to them through word of mouth, interestingly through the massive grapevine that is the mummy groups. And, of course, there is a waitlist.
Providing a better learning experience
There's a bit of a backstory here too.
The couple used to teach group classes at a skate shop. And while the take-up rate was good, the pair didn't find the set-up conducive for learning.
There were too many students jostling for the attention of one instructor, all within a limited period. Since every student progresses at a different pace, it was hard to ensure that each one received the coaching that they needed.
"When you're taking a lot of kids and the space isn't very big, you can't expect to get a lot of attention," Ow pointed out.
"Think about it. If I have 10 kids and only one hour, I can only spend six minutes per kid...I mean the kids have fun, they go crazy, but learning-wise...it's not justifiable."
And so when pandemic restrictions hit, forcing Singaporeans into a listless monotony of Work From Home And Nothing Else, the pair found an opportunity.
"We started this business because we wanted to provide a better learning experience for students," said Ow.
At the same time, the pair realised that people were more open to trying new things and picking up new hobbies during that period. And thus, SG Skate Club was launched.
A typical weekend would see them hold hour-long classes across the island from 8am to 8pm, with 30-minute travelling intervals between classes
Today, Lu and Ow handle about 33 students between them, with most of them taking one-on-one lessons. The pair also offers group classes for those who are so inclined, but the group size is capped at four students each.
Oldest student is 54 years old
To be honest, I was just a tiny bit afraid that I would end up making a fool of myself during lessons. Being more than a decade older than my instructors, I am definitely less agile, more fragile, and way less coordinated.
Ow, however, pointed out that those in their 20s to 30s generally find it easier to pick up a new sport because they are more coordinated and they're not so afraid to fall.
That's not to say that older folks can't or shouldn't take up skating.
Lu and Ow's oldest student is a 54-year-old "uncle" and according to the pair, it's quite a different ball game when it comes to teaching older students.
Adult learners take instructions very well. But they often get bogged down by the technical details — like bending their legs or keeping their feet shoulder-width apart — that they forget to experience the sport.
"Sometimes adults are so focused on what they need to do, they get so tensed up. In the end, they can't do it," said Lu.
Older students also tend to be more afraid of falling and that hinders them from pushing their limits.
(From someone who has fallen more times than I care for throughout my lessons, falling is inevitable. If you're terrified of falling, you might want to invest in a butt pad. Your tailbone might thank you.)
The couple's youngest student is four years old. According to them, most kids aren't held back by the fear of falling but they tend to get so easily distracted. The plus side is that most kids won't overthink a particular trick.
So how were the lessons?
It's always a good indication when time flies during lesson time. The lessons, which were engaging and fun, never really felt that they were an hour long.
It also helped that my instructor (Lu) was incredibly patient and encouraging — not once did she scream at this recalcitrant student who refused to practise in his own free time overworked employee who has no time to practise outside of class.
Now, aside from being able to traverse the corridor outside my house without a near-death experience, I've picked up several basic tricks like the Forward Swizzle, the A-Frame Turn, the Toe Roll, the Single Leg Raise, and the Plow Stop — not quite TikTok ready, but a personal achievement nonetheless.
The only trick that eludes me still is that damned T-Stop.
No worries, Lu said that many adults can't master it even after six lessons. Maybe that can be my mid-year goal.
Aside from this, learning how to skate has been an invigorating experience, particularly because it broke the routine of working life (work, eat, Netflix, sleep, repeat), one that I unknowingly settled into over the years.
Now, I find that I am more open to trying new things and picking up new skills — perhaps picking up a new instrument or learning a new language. Yeah, maybe I'll do that this year, right after I'm done with that T-Stop.

If you like what you read, follow us on Facebook, Instagram, Twitter and Telegram to get the latest updates.