Update: Chicken Hotpot has responded with a public statement. 
Follow us on Telegram for the latest updates: https://t.me/mothershipsg
If you thought your sibling was a tattletale, Chicken Hotpot might just trump them.
An Instagram post by National University of Singapore (NUS) student Koh Xiuwen details a fiasco with the Sengkang eatery, which had contacted her school after she published a negative review on her personal Douyin page (Jan. 3).
Koh's reviews described how the eatery in Compass One had charged her for a side dish of peanuts that she thought was complimentary, as is the custom at certain restaurants.
While the student paid for the S$2 side dish, she also told the service staff that her group of diners were not informed of the charge beforehand.
The waitress, according to Koh, allegedly responded rudely by saying: "This is how we do it at our shop."
When Koh provided the feedback that Chicken Hotpot should indicate that the dish is a payable item, the waitress supposedly ignored her from that point onwards.
Besides the Douyin review, Koh also relayed her experience via their online feedback form.
That escalated quickly
While Koh might have been expecting a call from the eatery over her feedback, she instead received a call from NUS.
She explained that out of habit, she had left her student email in the contact field of the feedback form.
Koh had believed that it would only be used for the eatery to contact her, in order to improve their standards.
The school then told Koh that Chicken Hotpot had contacted them, but Koh did not reveal what the exchange entailed.
The student felt that the merchant's motive was to pressurise her into removing the review, over fears that her academic life at NUS would be affected.
NUS told Koh that the incident would have no impact on her as a student.
She added:
"I firmly believe no consumer should feel threatened or afraid to post their experience feedback. Such behaviour can be extremely unhealthy for the commercial scape in Singapore and should not be condoned in case it sets an example for other merchants to follow in dealing with bad reviews.

It also implicates data privacy and collection."
Koh said she reached out to the waitress after the call from NUS, and the waitress had apologised for her prior attitude.
Although Koh expressed her understanding, she also requested an explanation on why the eatery's person-in-charge had allegedly tried to pressure her via her school.
However, the waitress said their boss is apparently refusing to communicate as he is "very angry" over the Douyin review, which he feels has "seriously damaged their image".
The text exchange took place on Jan. 6, three days after Koh made the Douyin video.
Koh added that Chicken Hotpot eventually refunded her the cost of the peanuts, but clarified that it was never about the money for her.
On Jan. 14, Koh retroactively submitted her experience to Google Reviews as well:
You can view her Instagram post here (screenshots below).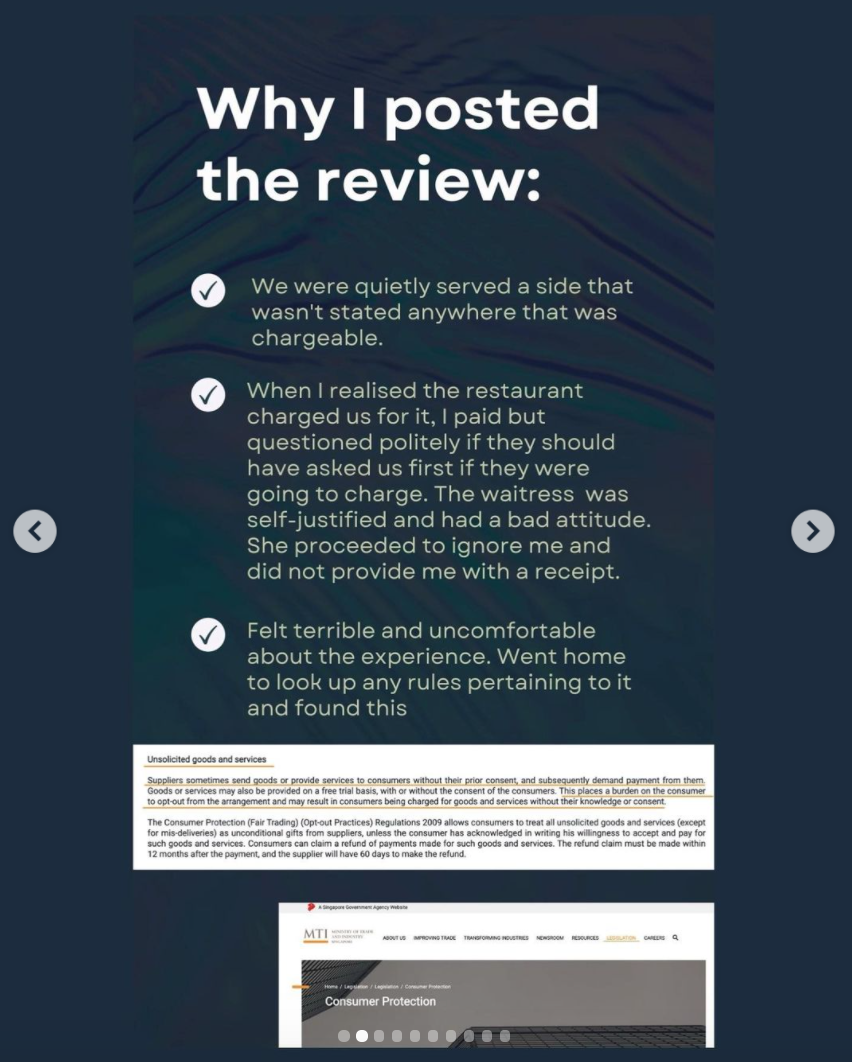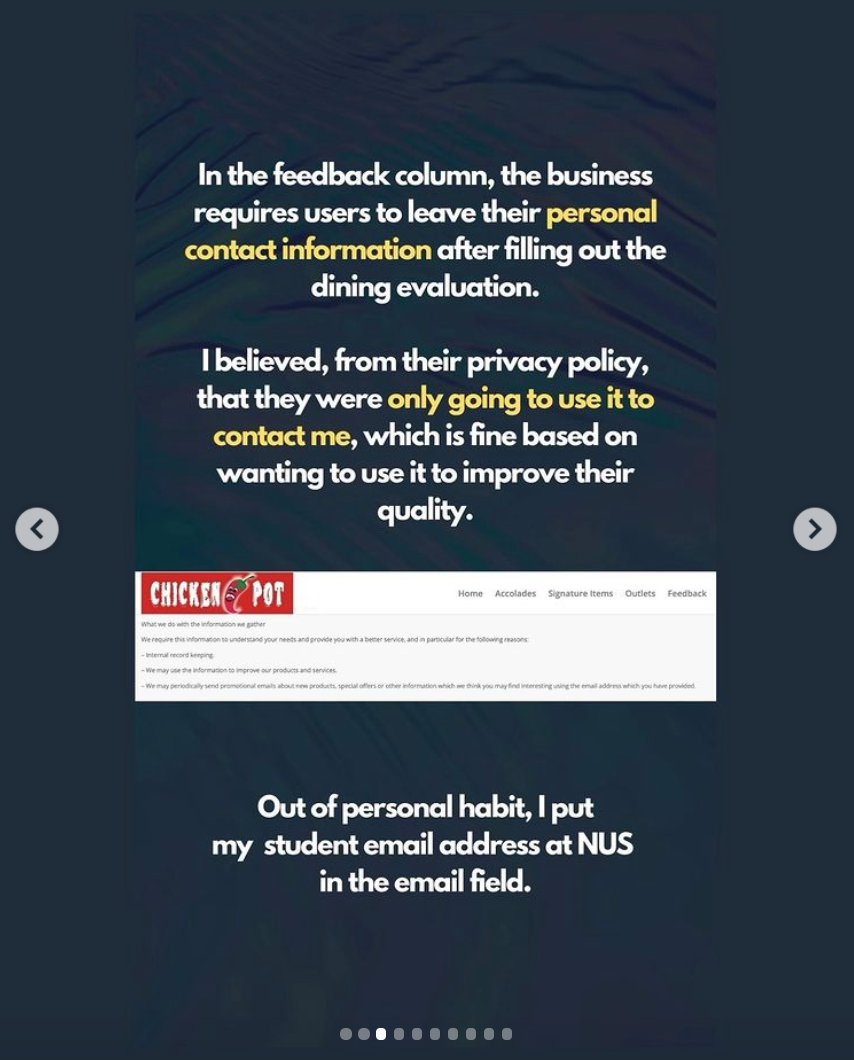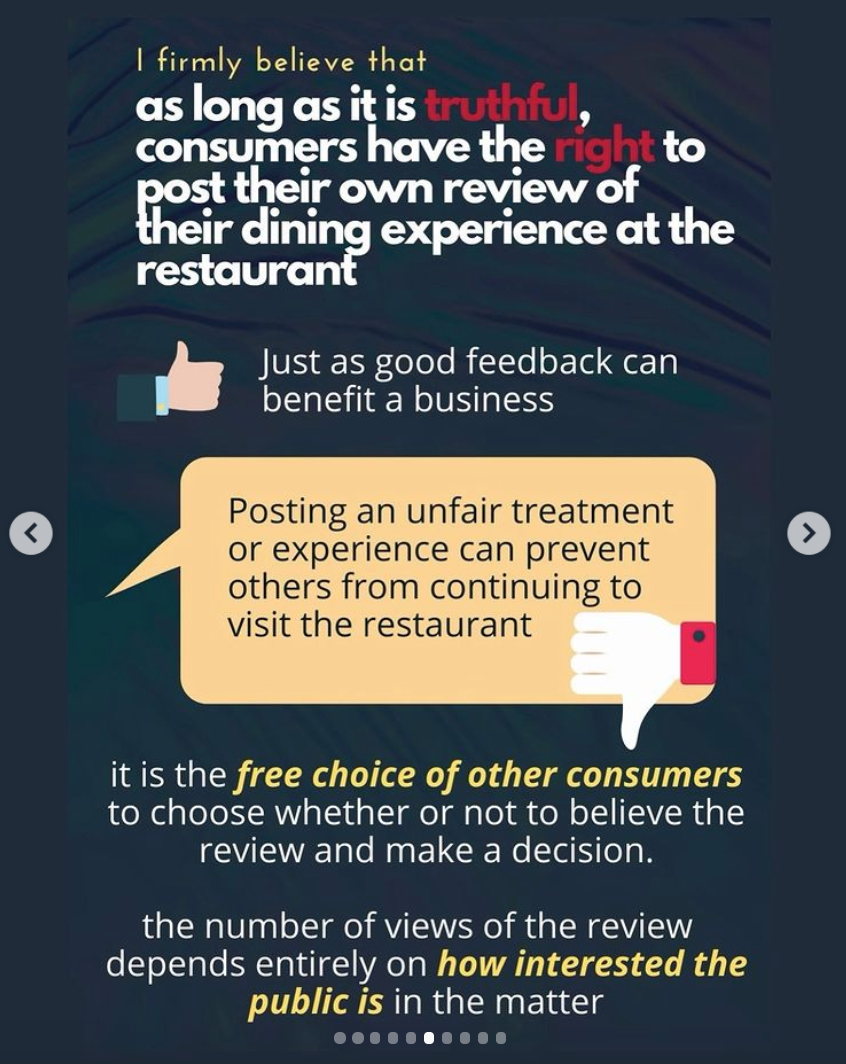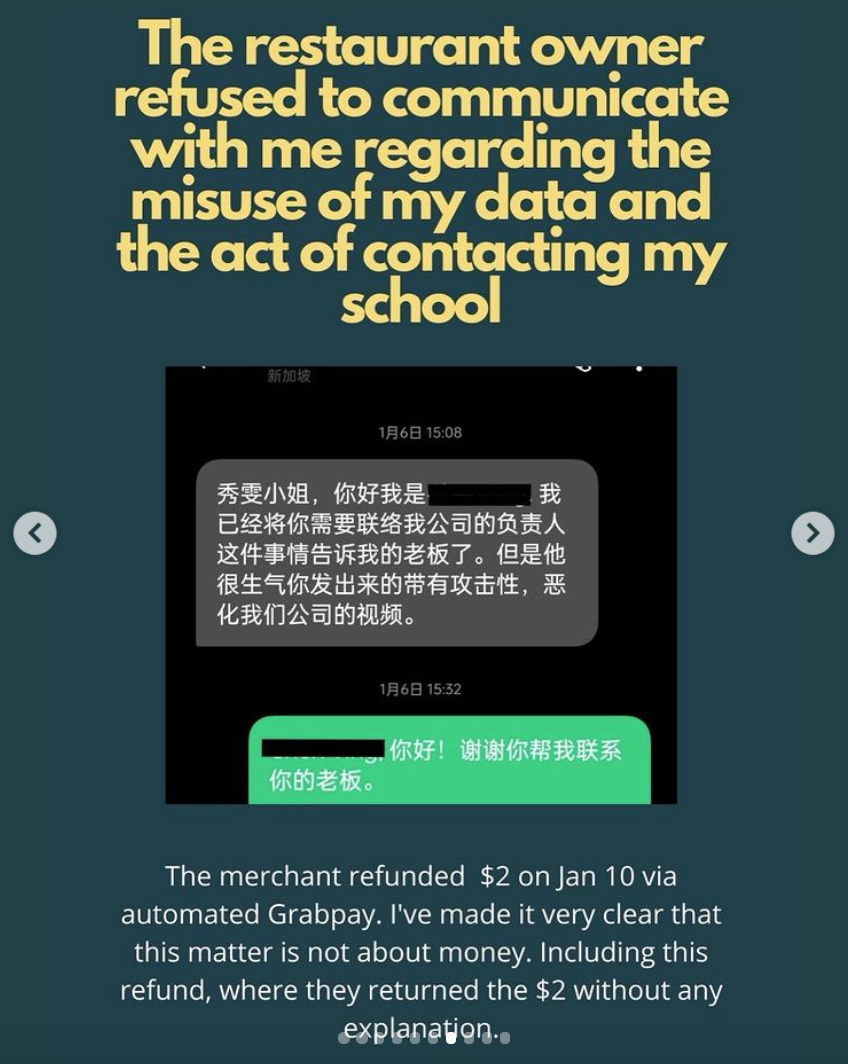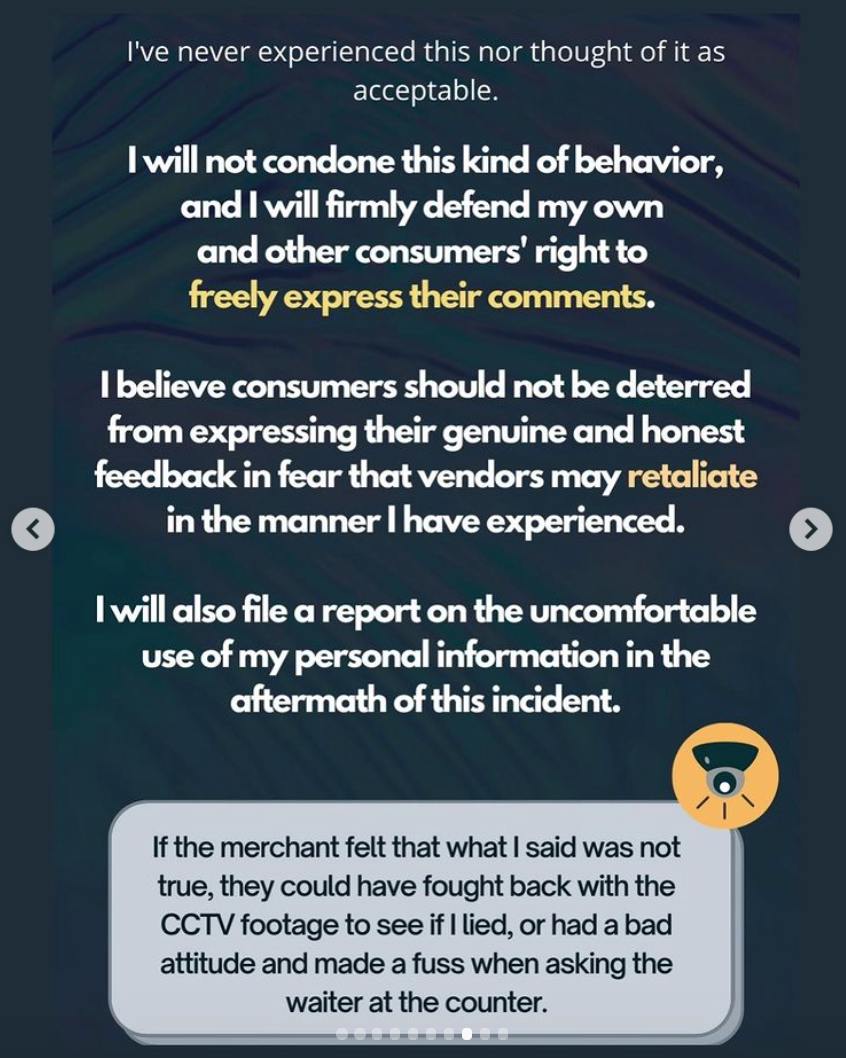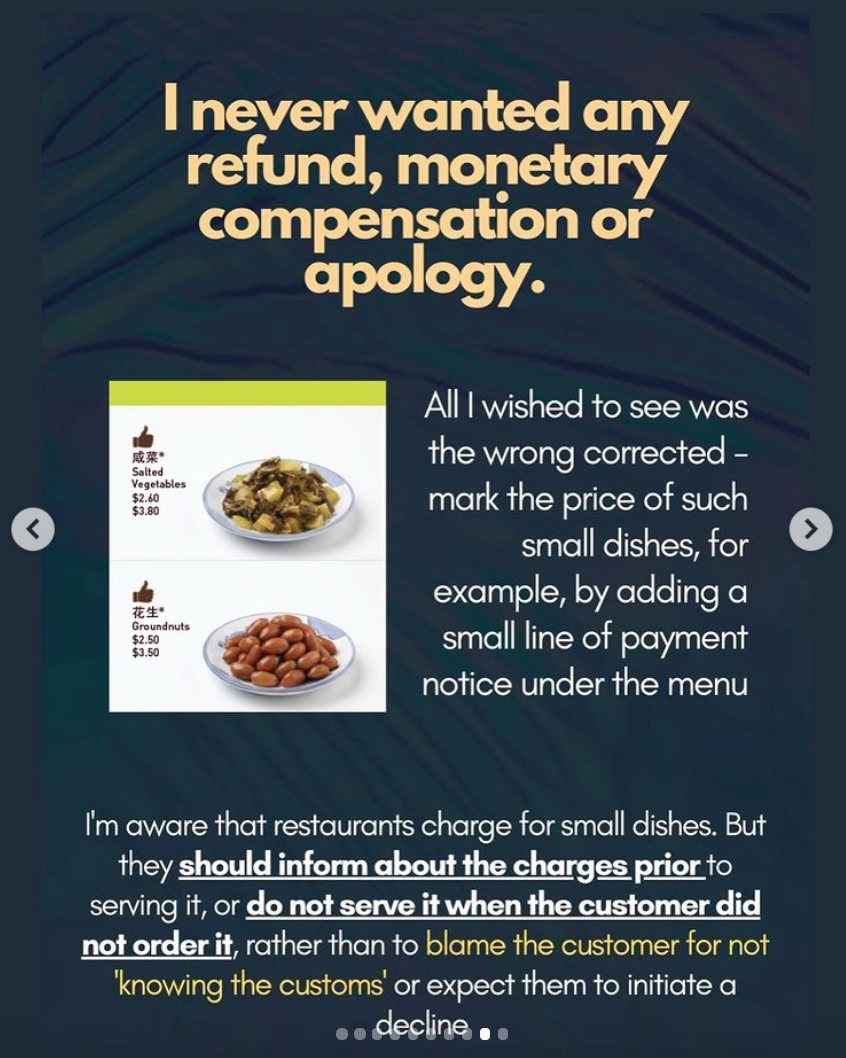 No official statement from Chicken Hotpot
While Mothership has reached a spokesperson for Chicken Hotpot, he refused for his email responses to be published, and added that he is not sure if the eatery will be releasing an official statement.
Among the three queries we sent, only the first was addressed.
1) What did Chicken Hotpot contact NUS for?
2) Has the situation with the customer been resolved? If yes, how?
3) If Chicken Hotpot has any response to the customer's Instagram post?
The spokesperson subsequently said that he would provide an account of the situation, but requested for more time.
Potential violation of personal data act
The eatery's post-review action in reaching out to the educational institution of the woman could be a breach of the Personal Data Protection Act (PDPA), which provides a baseline standard of protection for personal data in Singapore.
According to the Personal Data Protection Commission (PDPC), PDPA recognises both the need to protect individuals' personal data and the need of organisations to collect, use or disclose personal data for legitimate and reasonable purposes.
PDPC wrote on its website: "A data protection regime is necessary to safeguard personal data from misuse and to maintain individuals' trust in organisations that manage their data."
Top image via @xiuwen_imnida/Instagram, TB Foo/Google Maps
If you like what you read, follow us on Facebook, Instagram, Twitter and Telegram to get the latest updates.