Follow us on Telegram for the latest updates: https://t.me/mothershipsg
[Editor's note: This story has been amended to include a Facebook post by the elderly man's grandson.]
An elderly man was spotted at the void deck of Block 423 Pasir Ris Drive 6 sitting on a small stool next to several bicycles parked neatly in a row.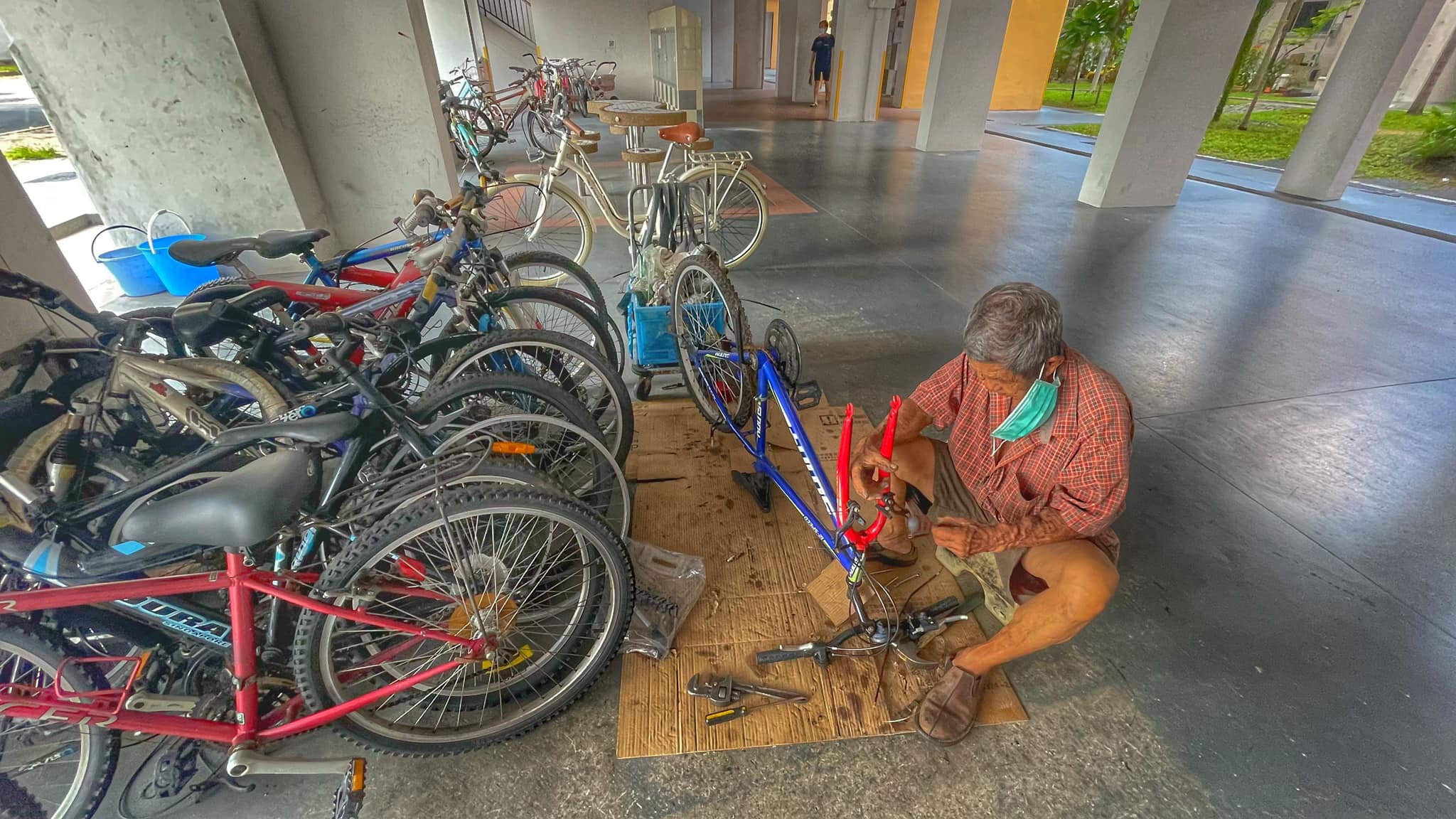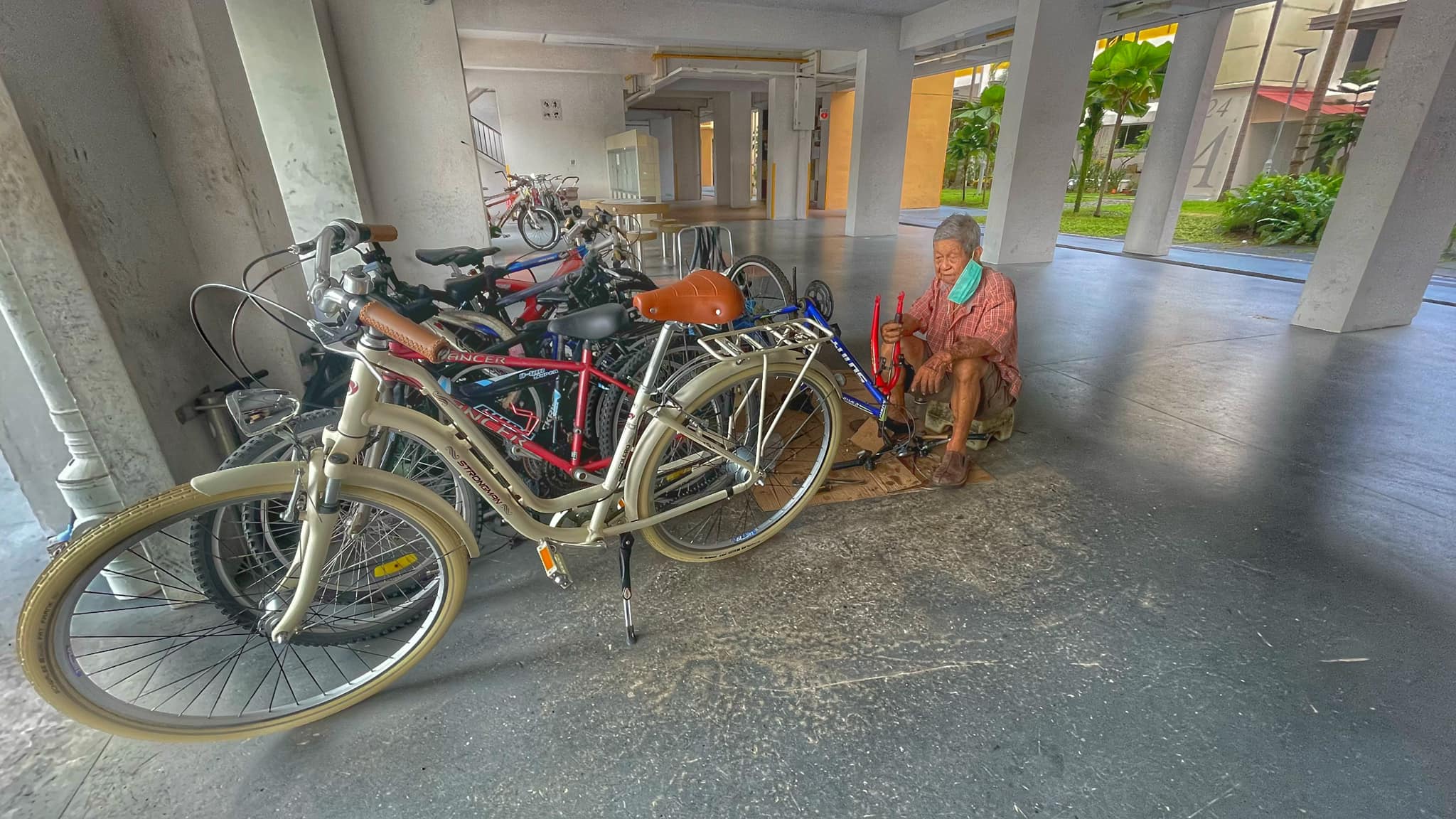 It turns out, the 83-year-old man is a bicycle repairman with over 30 years' experience fixing two-wheelers, according to a post in the SG PCN Cyclist Facebook page.
The person who saw the elderly man chanced upon him in the area.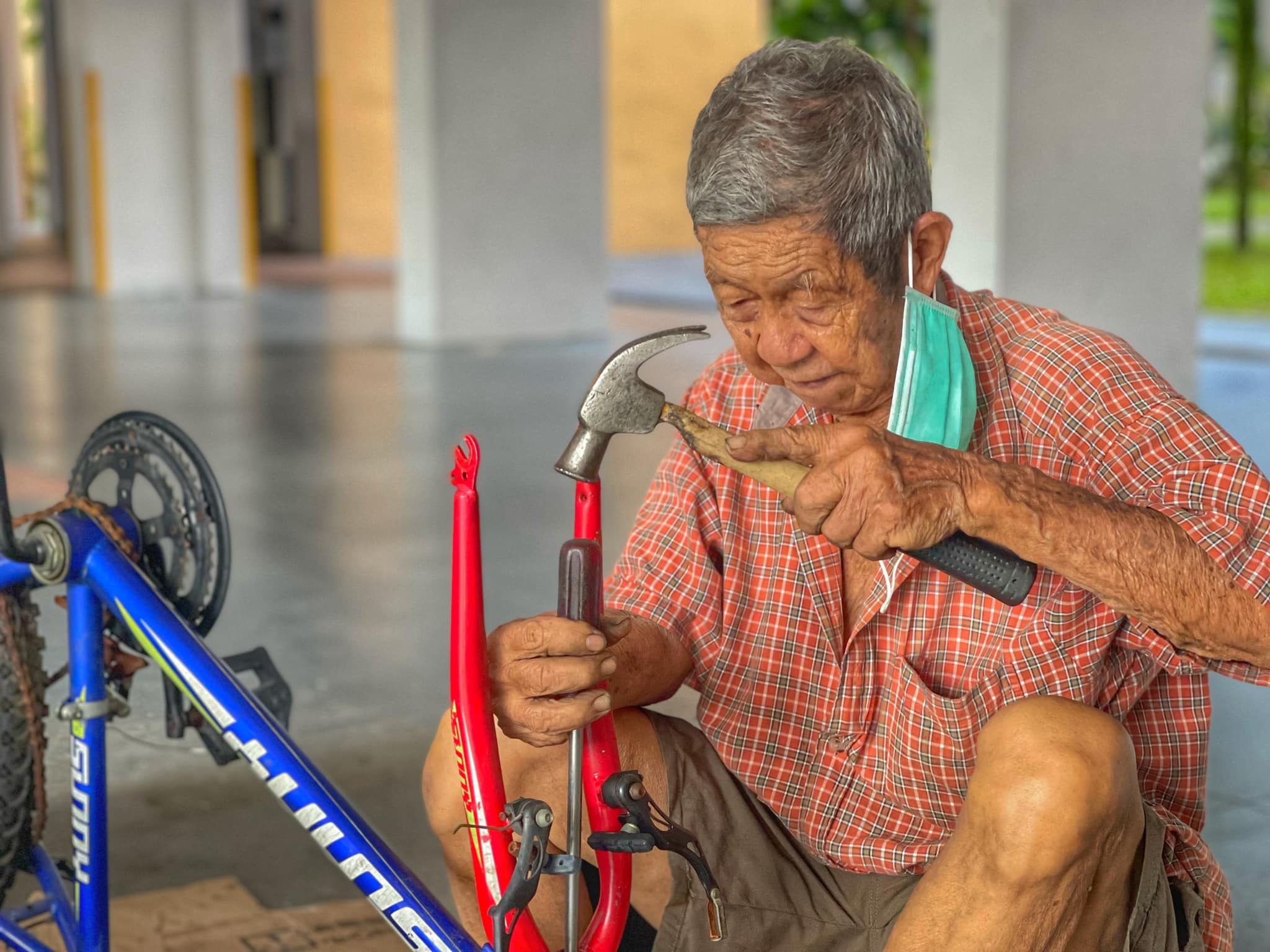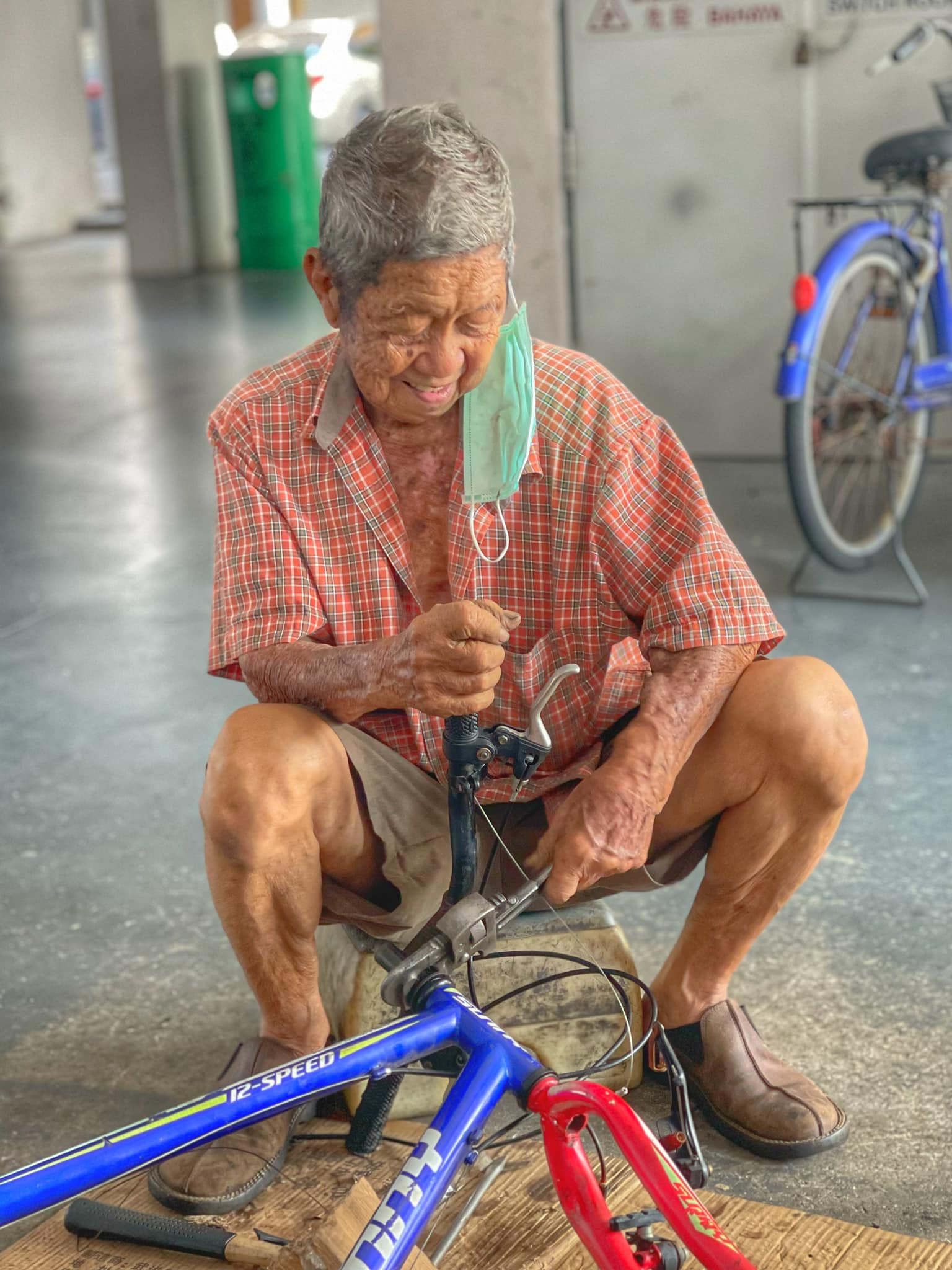 Still working at this age
The post also claimed that the man is still working now as he has to pay for his monthly kidney dialysis.
An as a result of having to undergo regular treatment, the elderly man operates out of the same spot most days, except when he has to go for kidney dialysis on Monday, Wednesday and Friday.
A family member of the elderly man has reached out to Mothership.sg.
It turns out the elderly man retired more than 20 years ago but is still repairing bicycles now as a hobby and as a way to pass the time.
Members of the public are urged to not overwhelm the elderly man with servicing needs.
A regular in the area
According to comments on the post, the elderly man has been operating in Pasir Ris for close to two decades.
One commenter said he supported the elderly man's business back in 2005 when he lived nearby.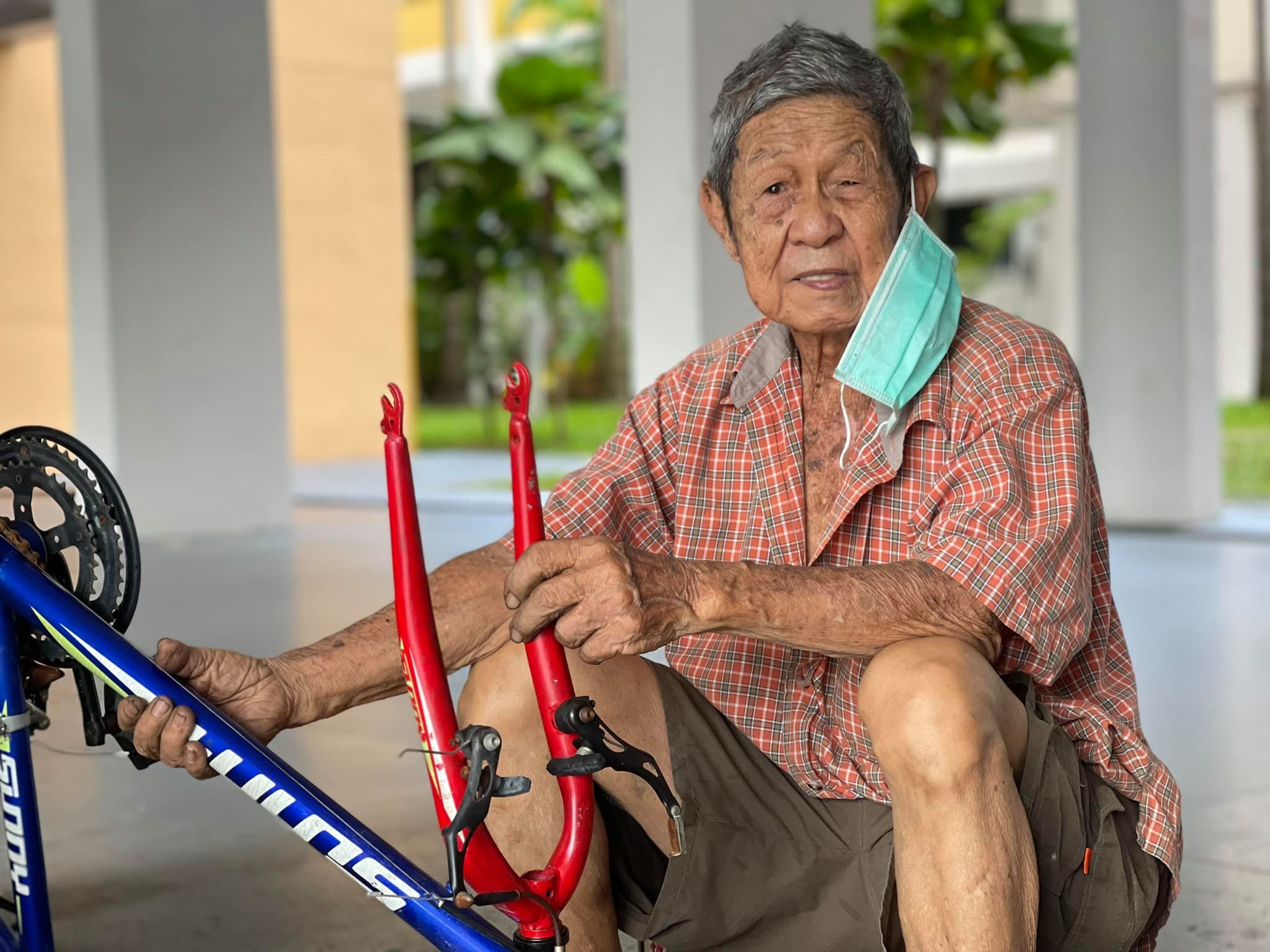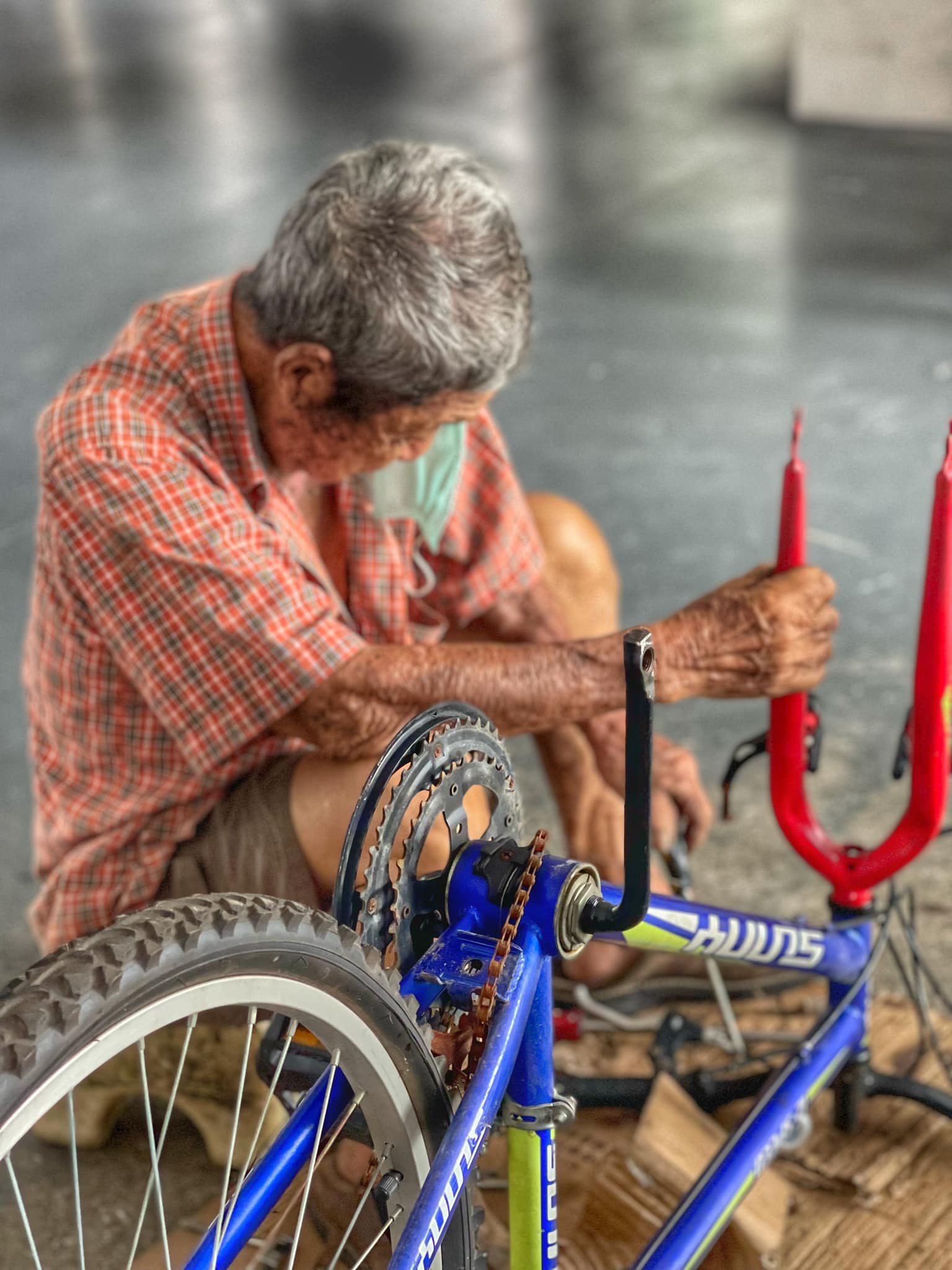 However, one comment said those who wish to let him repair their bicycles should be patient as they cannot expect him to work as fast as bicycle shops that offer the same services.
Another comment said the elderly man also sells second-hand bicycles and they can support him in other ways.
The post has since received overwhelming responses, with many commenters asking about the location and wanting to offer to pay the elderly man a visit.
Grandson responds
Writing on Facebook on Nov. 16, the elderly man's grandson, Gabriel Lim, wrote:
Hi everyone, this is Gabriel and I'm the grandson of the "Bicycle Uncle" that all of you have all been so concerned about.

Firstly, thank you all for the concern and kindness that you have shown towards my grandfather.

We are really thankful for all the love shown towards him and the family would like to take this opportunity to clarify the situation as some people have gotten the wrong idea about the whole situation.

1) No Financial Aid Is Required

While he is indeed undergoing kidney dialysis, he is a private patient and all the bills are covered by his insurance plans and the remainder is picked up by the family members.

We are grateful to see some people volunteering to start a fund raiser for him but we are financially stable.

We want to make it clear that we do not need any financial help of any sorts.

As some of us are financial consultants, we have done what is necessary to ensure a good quality of life for him in his old age. We have actually arranged for a domestic helper to look after both him and our grandmother over the last couple of years.

2) Please Respect His Desire To Be Self-sufficient

It has come to our attention that some individuals have dropped red packets off to bless our grandfather and we thank you for the good intention.

However, his choice to help the community with bike repairs stems from his desire to earn his own expenses.

Though the family members do give him a monthly allowance, he refuses to accept the allowances as he feels that he is capable of taking care of himself.

3) Please Do Not Intentionally Support His Business

This might sound odd but even though we respect his desire to be independent, his health is our primary concern.

He actually does not need to work for his living expenses, and if you bring your business to him, with his nature, he will want to do a good job.

By intentionally supporting him, he is actually going to end up working longer hours and exhaust himself unnecessarily. We sincerely ask that you refrain from doing so.

As such, our family would like to thank all of you for your concern and ask that you stop sharing the post and let life return to normal for our grandfather!
All photos via
Follow and listen to our podcast here
If you like what you read, follow us on Facebook, Instagram, Twitter and Telegram to get the latest updates.