Follow us on Telegram for the latest updates: https://t.me/mothershipsg
During the debate on the proposed Foreign Interference (Countermeasures) Bill on Monday (Oct. 4), Minister for Law and Home Affairs K Shanmugam refuted several claims made by critics of the Bill.
Speaking in Parliament, Shanmugam brought up two people specifically: PJ Thum, Managing Director of socio-political site New Naratif, and freelance journalist Kirsten Han, the site's co-founder and former Editor-in-chief.
In his speech, Shanmugam also rubbished claims made in a recent commentary by Thum, who claimed that the bill could theoretically be used to launch a "stealth coup" organised by Shanmugam, in order to make the Home Affairs Minister the "most powerful man in Singapore".
Discussions about Singapore politics cannot be funded by foreign entities
During his speech, Shanmugam brought up the fact that New Naratif received funds from foreign entities like the Open Society Foundations (OSF), founded by American billionaire George Soros.
Shanmugam said that the organisation has a history of getting involved in the domestic politics of countries, and that the Accounting and Corporate Regulatory Authority (ACRA) had previously rejected Thum and Han's attempts to register a company to organise "democracy classroom" sessions in Singapore.
Such "democracy classroom" sessions focusing on Malaysia were organised by New Naratif, supported by the U.S. Embassy in Kuala Lumpur.
"Make no mistake about it: We will say no to that in Singapore. You can organise democracy classrooms, we have no issues. Anyone can organise, anyone can criticise the current state of democracy. But it cannot be funded by Soros, or the U.S. Embassy, or any other embassy," said Shanmugam.
PJ Thum and Kirsten Han
PJ Thum comments about Malaysia independence day
Shanmugam also went in depth into Thum and Han's previous activities, pointing out that both individuals have publicly made known their desire for foreigners to influence Singapore politics.
He claimed that Thum wants Singapore's Independence Day to be on Sep. 16, which is Malaysia Day.
Shanmugam was referring to a Facebook post Thum made in 2018, where he commemorated Malaysia's Merdeka Day, and wished Singaporeans a "happy unofficial independence day".
Thum had also met with then-Malaysian Prime Minister Mahathir Mohamad, where he urged Mahathir to "take leadership in Southeast Asia" for the promotion of democracy, human rights, freedom of expression and freedom of information, and expressed desire for Singapore to become a part of Malaysia again.
In a post in 2019, Thum said he felt that the day of independence from the British Empire deserved to be celebrated as a "milestone of progress", and that it was "ludicrous" for the government to accuse those who celebrate it of treason.
Thum also responded via Facebook on Oct. 4 to Shanmugam's comments: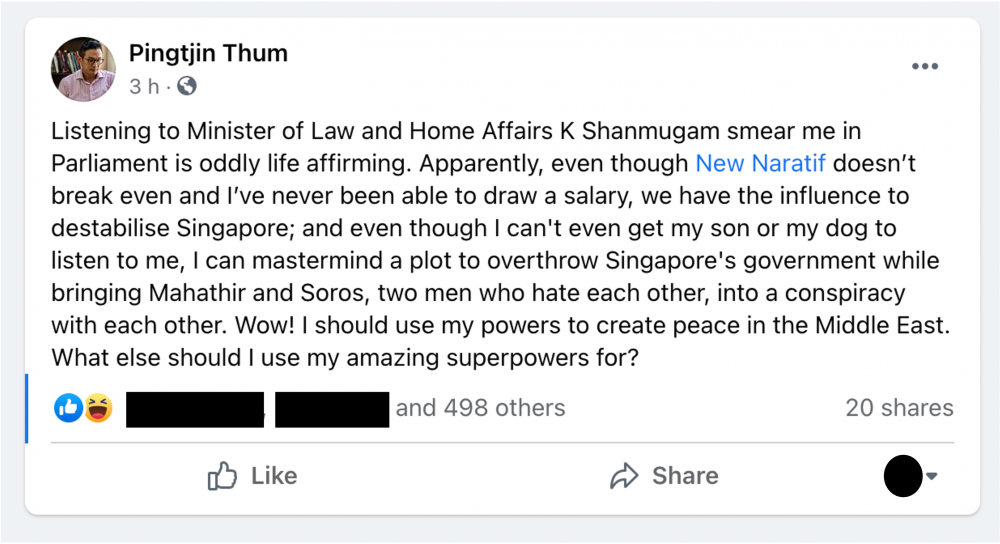 However, Shanmugam did not say that Mahathir and Soros were conspiring together.
Kirsten Han's views on foreigners
Moving on to Han, Shanmugam said that Han once described social movement as "the work that goes into potentially one day having 500,000 people in the streets".
According to Shanmugam, she also said this: "When the government says foreigners should not influence domestic affairs, or foreigners should not bring their country's politics into Singapore, we should push back on that as well, because why not, because solidarity is important".
Shanmugam added that Han has publicly made known her view that Malaysians should be able to influence Singapore politics, which is something the Singapore government does not agree with.
In a blogpost in 2019, Han said her references to Hong Kong, made in 2016 at a forum on civil disobedience and social movements, had been taken "completely out of context."
She said that her point was that "500,000 people on the streets is not a useful KPI (key performance indicator) to use in measuring the strength and maturity of a country's civil society - the communities, the networks, and the solidarity between them are far more important".
These are the things needed whether half a million people take to the streets to protest or not, and if there are democratic processes that work, there's no need to protest, she added.
Han also responded on Twitter on Oct. 4:
This is the transcript of the speech that I gave that Shanmugam referred to, claiming that I want 500,000 people out in the streets. It's a gross misrepresentation of what I said: https://t.co/6An0Xp8WtN

— Kirsten Han 韩俐颖 (@kixes) October 4, 2021
Shanmugam on activists' opposition to FICA
According to Shanmugam, the foreign funding that Thum and Han receives is why the pair are mounting their own disinformation campaign on the proposed FICA.
He pointed out that Han has been posting on social media extensively as of late, with over a hundred social media posts on the topic.
Han, along with others including Terry Xu had also organised a petition, centred on email templates for individuals to write to their respective Members of Parliament, presumably to show their displeasure about the bill.
Suggesting that someone would use FICA to launch a coup in Singapore is "living in fantasy": Shanmugam
Shanmugam also brought up Thum's recent commentary on New Naratif, which called proposed FICA bill a "stealth coup" by Shanmugam.
In his commentary, Thum said that the law would make Shanmugam, or any future Home Affairs Minister, "the most powerful man in Singapore".
Shanmugam said that the commentary requires "a turn of mind, completely at odds with reality, and living in fantasy", for one to think of a coup in Singapore.
He pointed out that any Home Affairs Minister has far greater powers under other legislations, if one's intention is to launch a coup, than the proposed FICA.
These legislations include the Internal Security Act (ISA), the Criminal Law (Temporary Provisions) Act, and the Maintenance of Religious Harmony Act, which include the powers of detentions.
Compared to these laws, Shanmugam said that FICA is a mere "toy gun", as it merely provides for powers to give directions.
He said that there is "no limit to the absurdities and fantasies that some will put out", and that an Oxford education "does not immunise one from spouting such nonsense", presumably referring to Thum, who studied at the University of Oxford.
Require publications to reveal nationalities of authors for transparency
Shanmugam also brought up Terry Xu, the editor of The Online Citizen, who used foreign writers to write "incendiary articles" about Singapore, without a byline to identify such authors.
For example, during the 2019 Hong Kong protests, TOC writers wrote many articles calling for Singaporean civil servants to follow the example of their Hong Kong counterparts, and take to the streets.
Shanmugam said that most readers would assume that such articles were written by local writers, when they are in fact penned by foreign writers, who are supposedly incentivised to write more incendiary stories in order to get paid.
He said that FICA will not stop Xu, or any others from doing similar things in the future.
However, FICA would allow the Home Affairs Minister to issue a transparency directive, requiring the publication to tell Singaporeans who the article was written by, and what nationality the author holds.
"We all want transparency, right?" said Shanmugam.
Follow and listen to our podcast here
Top image via MCI/YouTube.
If you like what you read, follow us on Facebook, Instagram, Twitter and Telegram to get the latest updates.