Follow us on Telegram for the latest updates: https://t.me/mothershipsg
August 2021 was the wettest August for Singapore in the last 41 years, with a monthly total rainfall of 426.2mm.
This has surpassed the record highest August rainfall of 346.6mm in 1996.
Why was August 2021 so wet?
According to Meteorological Service Singapore (MSS), the wet weather was due to the influence of three elements over the equatorial region:
1. Negative phase of Indian Ocean Dipole
The Indian Ocean Dipole refers to the difference between sea surface temperatures over two areas; in this case, the tropical western and eastern Indian Ocean. The dipole oscillates in three phases – positive, negative and neutral. A negative phase is when the sea surface temperature over the eastern Indian Ocean is warmer.
Warmer sea surface temperature will mean more water vapour in the atmosphere ,which leads to the formation of rain.
The region in the east, where Singapore is located, will be warmer and have more rainfall.
In contrast, areas to the west of the Indian Ocean will be drier and cooler.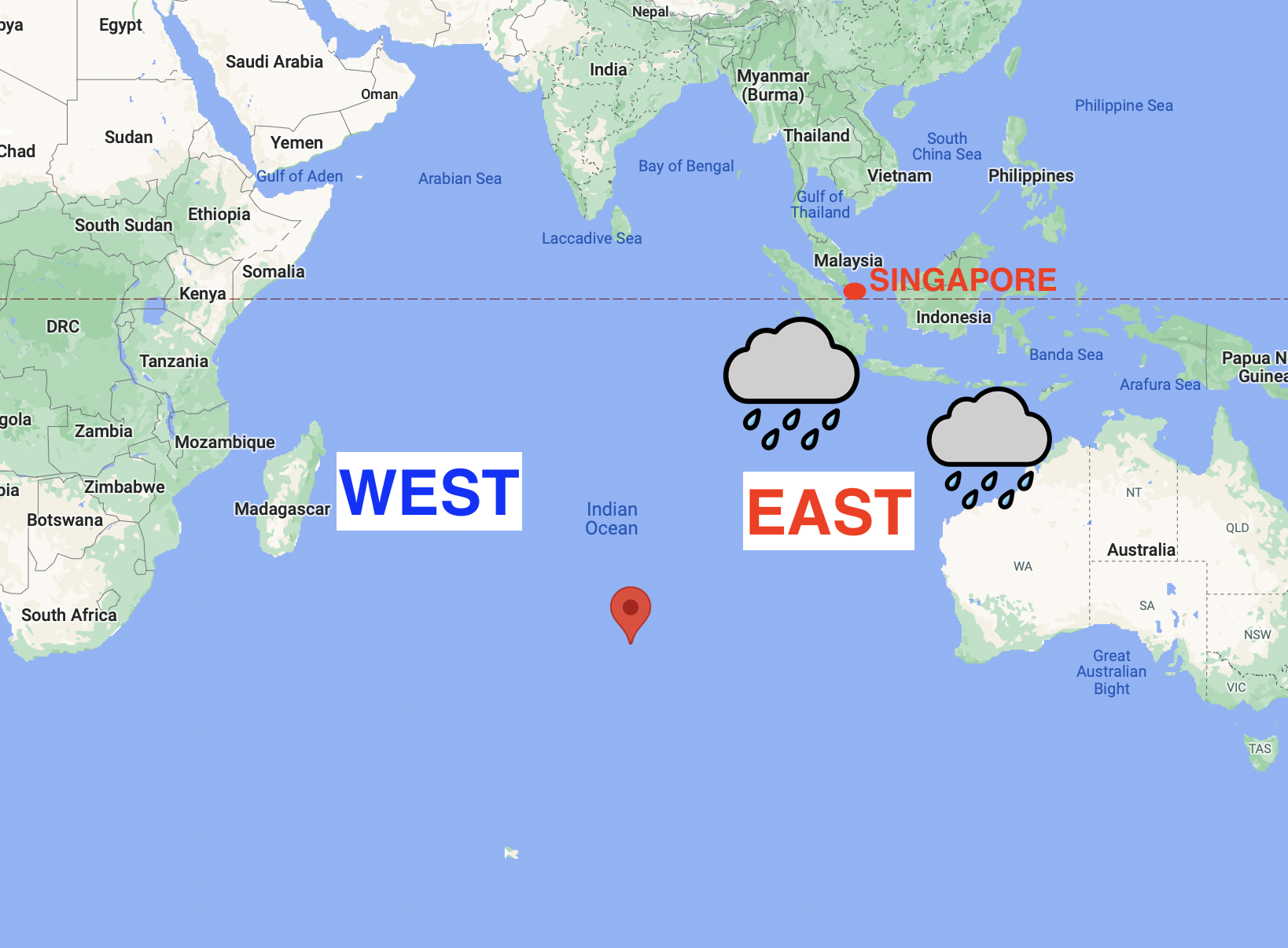 2. The convergence of surrounding winds
MSS highlighted that the convergence of prevailing winds from the south and west-northwest brought widespread moderate to heavy thundery showers over the island on August 20 morning.
The rain was heaviest over the central, northern, and eastern parts of Singapore.
More than 100mm of rain fell over several areas including Hougang, Choa Chu Kang, Pasir Ris, and Ang Mo Kio that morning.
3. The passage of a wet phase of Madden-Julian Oscillation
The Madden-Julian Oscillation is characterised by a large-scale "pulse" of wind, with rain clouds, that move eastward around the global near the equator with a typical cycle of 30-60 days.
Most rain in the northern and western parts of Singapore
MSS said that rainfall in August 2021 was well-above average islandwide, with most rain falling in northern and western Singapore.
The highest anomaly of 240 per cent (!) above average was recorded at Bukit Panjang.
The highest daily total rainfall for August 2021 was recorded at Mandai on August 24, at 247.2mm. It surpassed the previous record highest daily total rainfall at 191.8mm for August which was recorded at Changi on August 22, 1983.
The total rainfall for August 2021 recorded at the Changi climate station was 293.6mm. This is the second highest August rainfall after August 2008 (at 327.3mm) since 1980.
The Changi climate station also recorded a total of 24 rain days in August 2021, well above the long-term average of 14 days for August.
[Editor's note on Sep. 2: There was a typo in the earlier version of press release. We have updated the article according to the revised advisory.] 
Related stories

Top image via Singapore Laughs/Facebook
If you like what you read, follow us on Facebook, Instagram, Twitter and Telegram to get the latest updates.