Follow us on Telegram for the latest updates: https://t.me/mothershipsg
Kwek Yu Xuan, possibly the world's smallest baby, was born weighing a mere 212g at the National University Hospital (NUH) on June 9, 2020.
To put things into perspective, Yu Xuan weighed less than a typical packet drink (250g).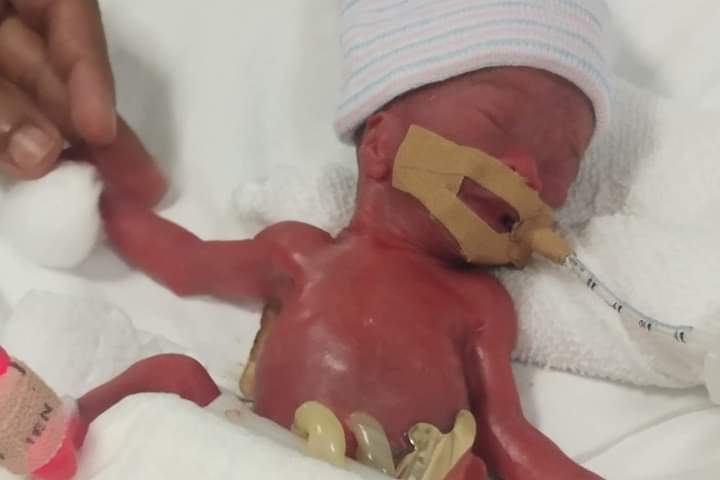 She was only discharged after 13 months, on July 9, making her the longest-staying baby at NUH.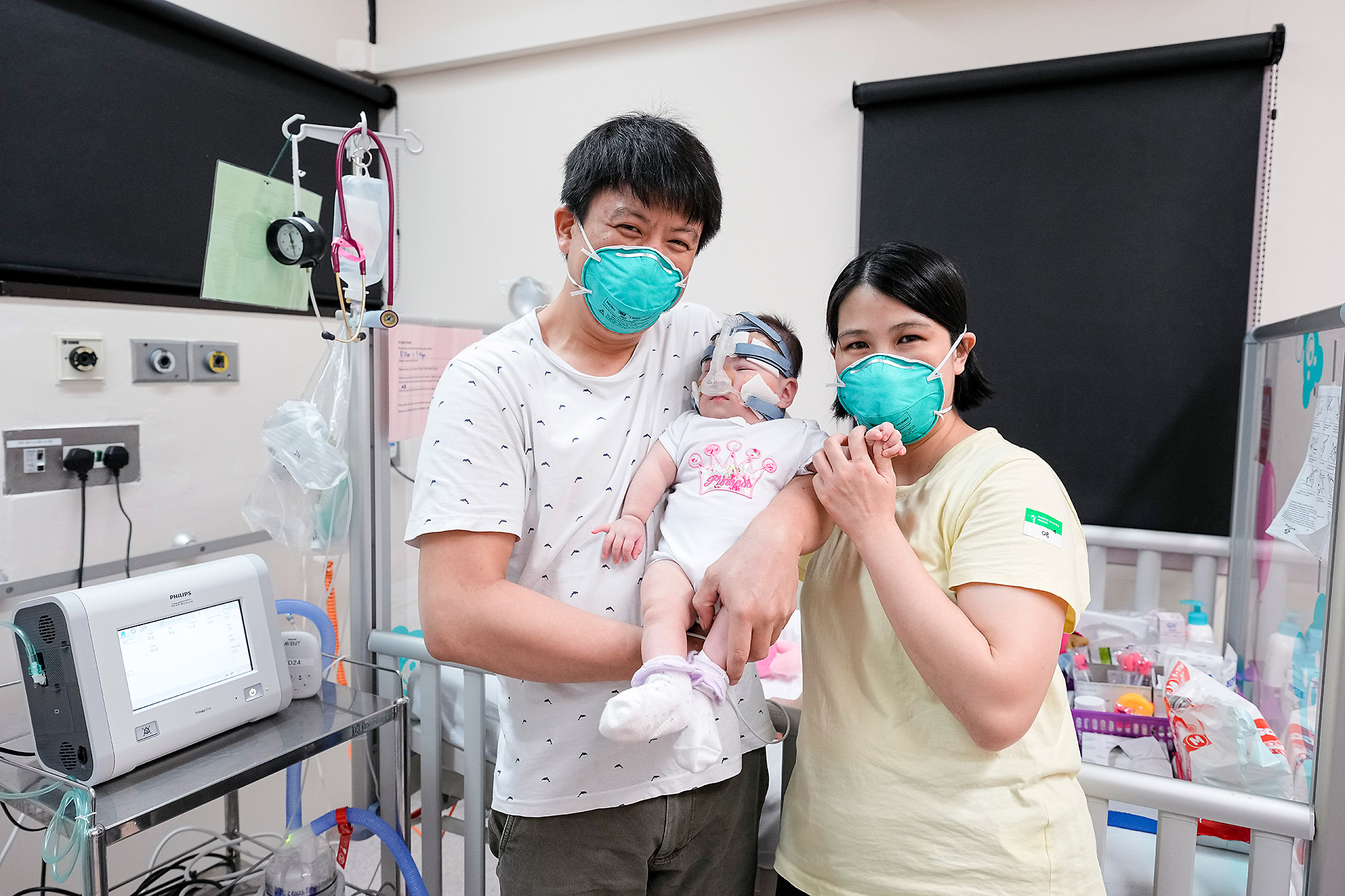 33g lighter than previous record holder
The NUH medical practitioners involved in Yu Xuan's delivery and hospital care spoke to the media for the first time on Aug. 7 afternoon.
The panel consisted of:
Zhang Suhe, advanced practice nurse and nurse clinician,

Yvonne Ng, senior consultant, Department of Neonatology

Zubair Amin, associate professor and head of the neonatology department at Khoo Teck Puat–National University Children's Medical Institute
They were joined by Yu Xuan's father and mother: Kwek Wee Liang and Wong Mei Ling.
Zhang, who was part of the team caring for the infant, recalled that she had never seen such a newborn baby so small in her "22 years of being a nurse".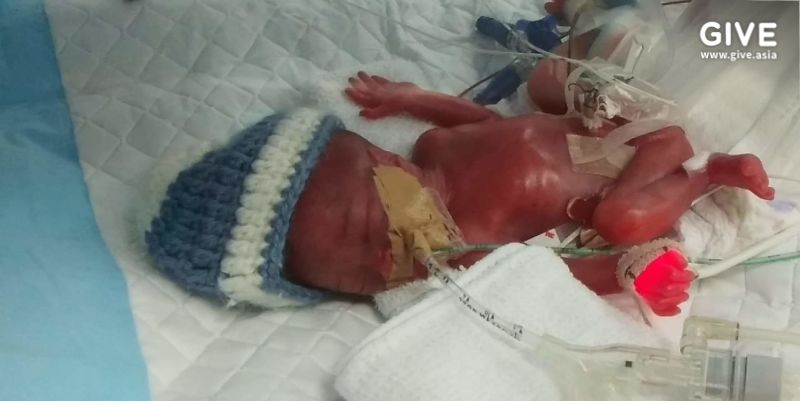 Born at 24 weeks and six days, or three months premature, doctors were expecting newborn Yu Xuan to weigh around 400g to 600g.
Recalling the experience, Ng said: "We expected her to weigh 400, 500 or 600g, but she came up to just 212g."
Another premature baby at NUH, born at 23 weeks and six days, had weighed 345g.
Yu Xuan was 33g lighter than the previous record holder for the world's tiniest baby, who was a newborn girl weighing 245g in the United States in December 2018, according to the Tiniest Babies Registry by the University of Iowa.
Yu Xuan measured 24cm tall, and had a head circumference of 17.8cm at birth.
NUH's longest-staying baby
For context, a gestation period is typically 40 weeks long, and babies born before 37 weeks are considered premature.
Babies born before 28 weeks, like Yu Xuan, are considered severely or extremely premature, and are expected to remain warded in the hospital for four to six months.
However, due to her "extreme small size", Yu Xuan was hospitalised for a total of 13 months, making her NUH's longest-staying baby.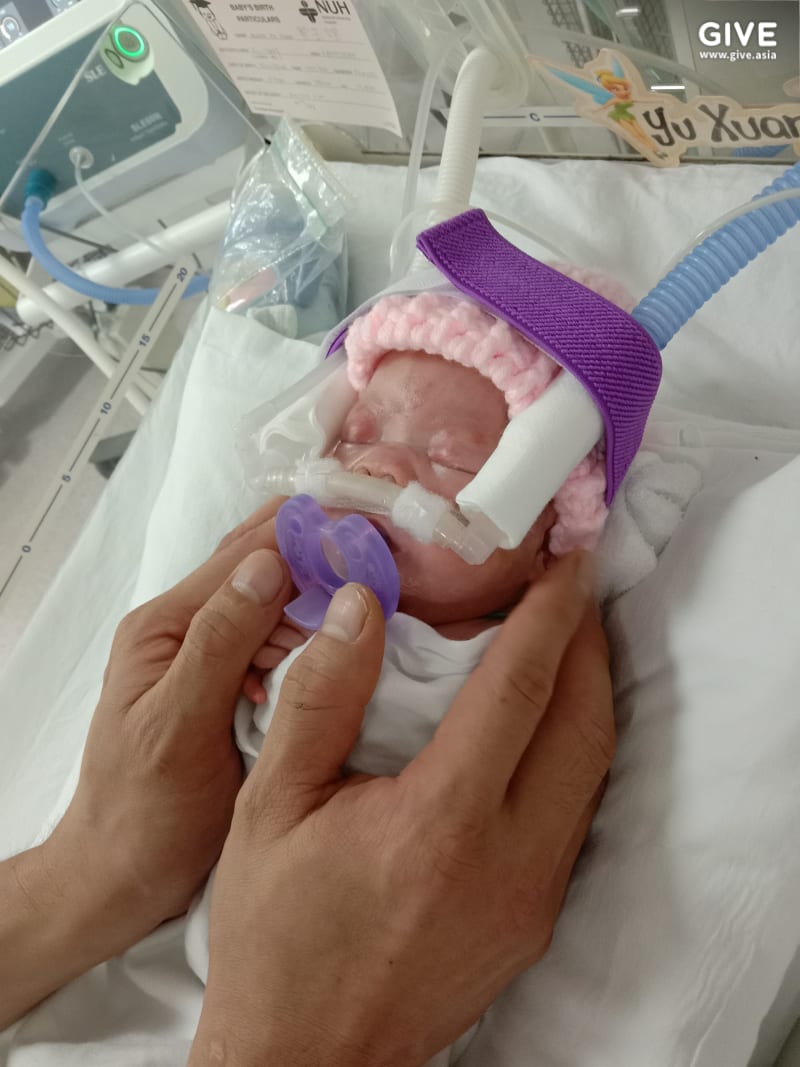 Born with health complications, she had to rely on multiple treatments and machines for her survival, said NUH.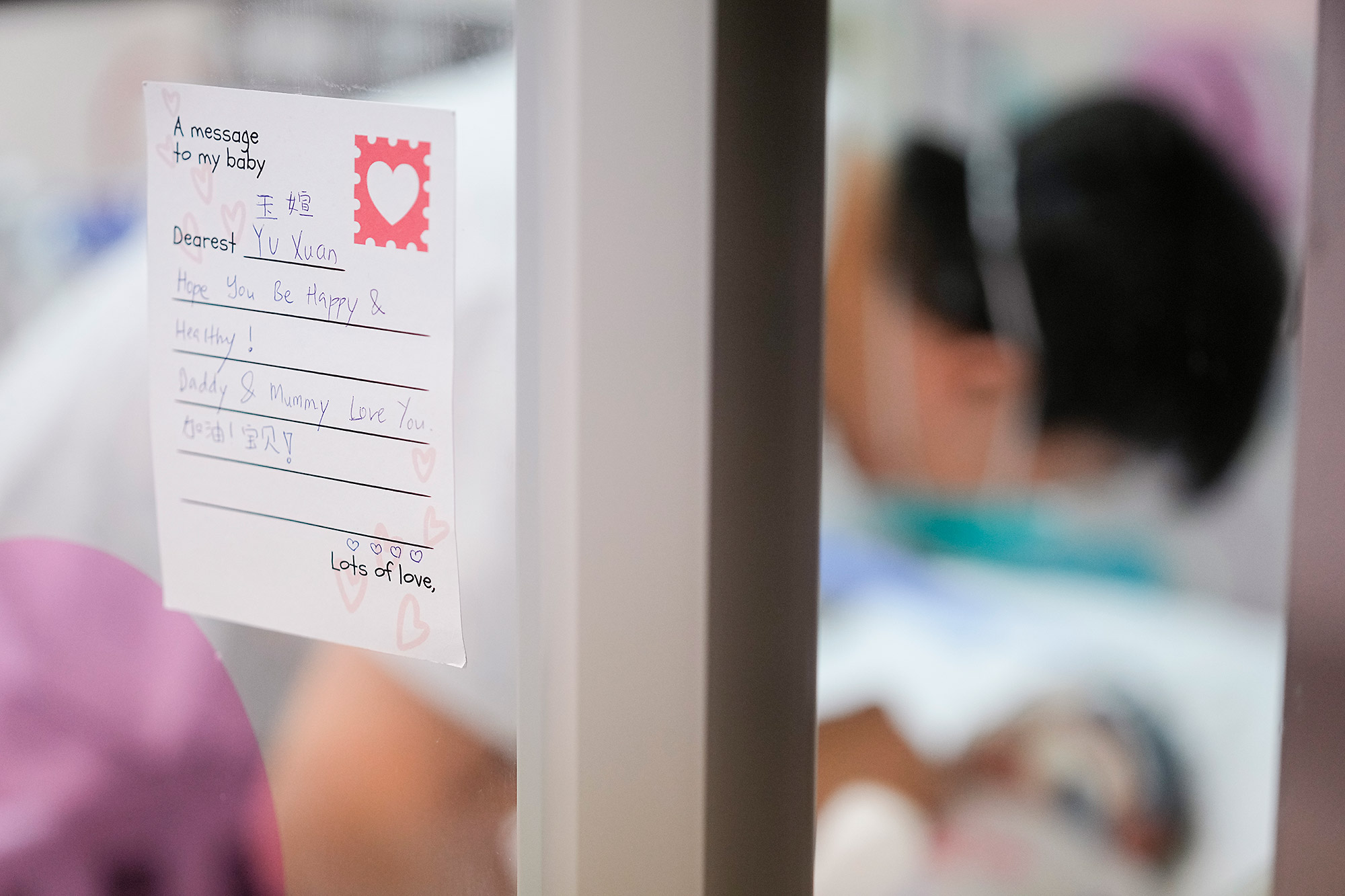 She was admitted to the neonatal intensive care unit, and placed on a ventilator for her first seven weeks as her lungs were underdeveloped.
After which, Yu Xuan was extubated, or had her breathing tubes removed, and was placed on nasal prongs with ventilator assistance.
Yu Xuan also required laser therapy for her eyes, because of severe retinopathy of prematurity, a potentially blinding eye disorder.
Workarounds had to be made
In addition, workarounds had to made for "tiny" Yu Xuan during her hospitalisation as the care team were ill equipped to caring for a baby "so small".
Ng said: "We needed to innovate and find some improvised methods to deal with a baby this small because this is the first time we experienced somebody this tiny."
For example, Yu Xuan's medication had to be calculated down to the decimal point.
Yu Xuan's tiny stature made inserting tubes into her body challenging, where the smallest available breathing tube measuring 2mm wide had to be used.
However, there were no diapers that would fit the infant within Singapore, and the care team had to source for options overseas, only to find one that did not supply to Singapore.
As a result, newborn diapers, which were as big as Yu Xuan, had to be cut and pieced back together to fit her.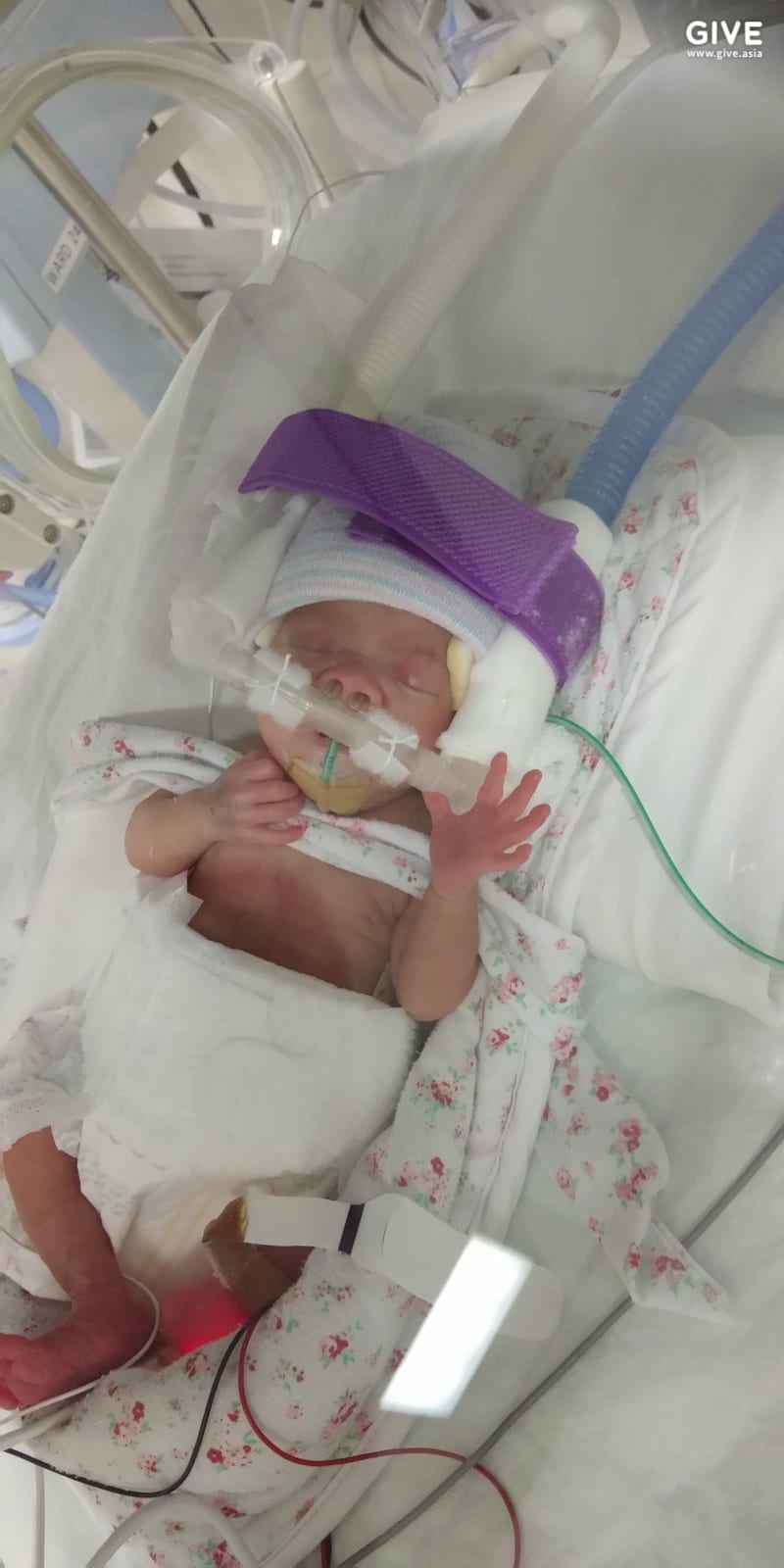 Fragile skin
The diaper also had to be stitched together in an intentional manner such that it does not come into direct contact with Yu Xuan's skin, said Zhang.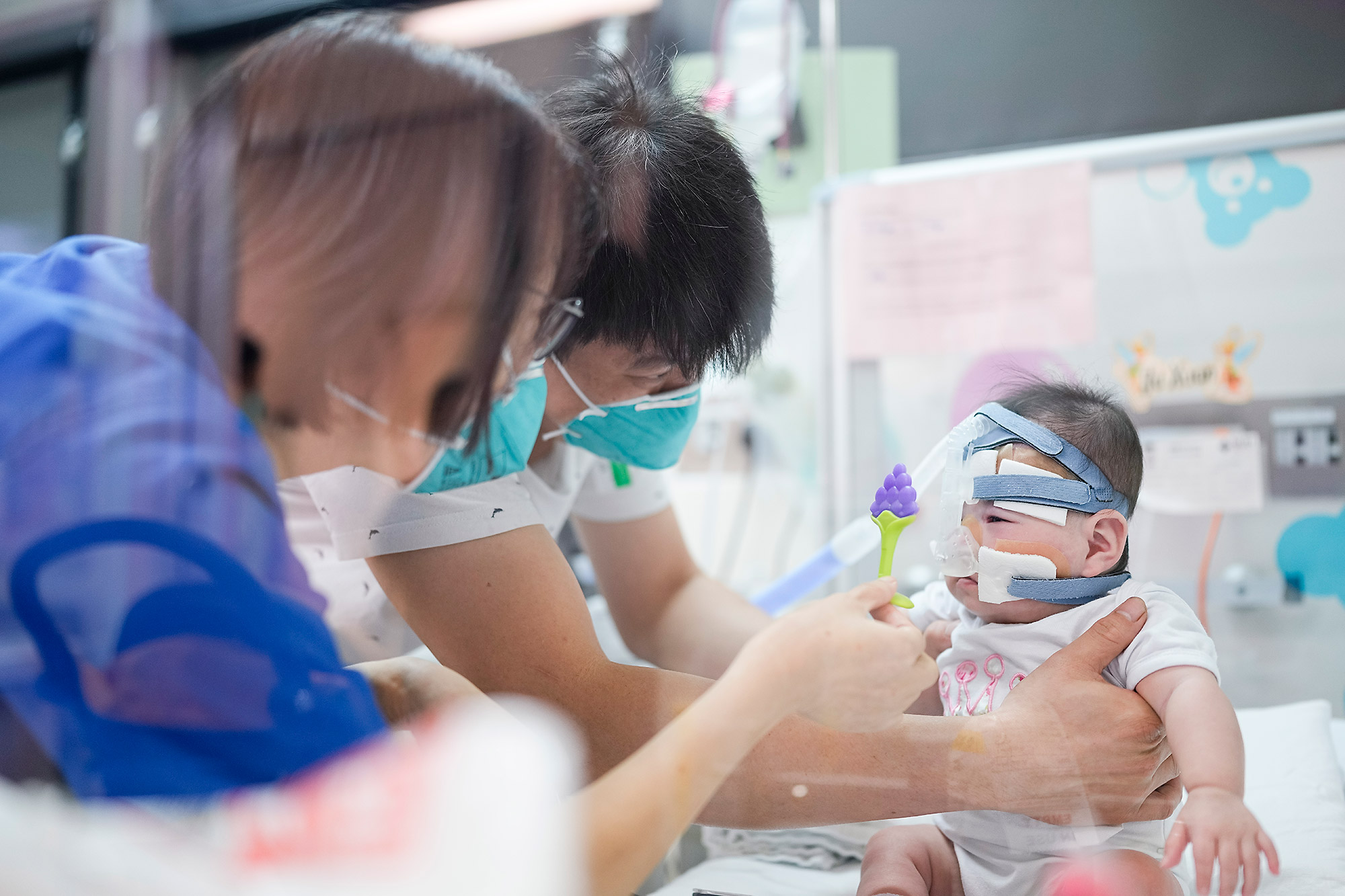 This was because the newborn's skin was extremely fragile and thin and the baby had to be handled extremely carefully.
Probes used to monitor the baby's condition and left on for too long could cause a dent, which, in turn, could result in a sore and an open wound, and carry the risk of infection.
Thankfully, Yu Xuan did not suffer from any infections, said Ng.
Besides chronic lung disease and pulmonary hypertension – two conditions commonly associated with extreme prematurity – Ng also said that Yu Xuan had no major health issues and will get better with time.
After her breathing capability and heart function were assessed to be strong enough, Yu Xuan was finally discharged on July 9, weighing 6.3kg and measuring 61cm.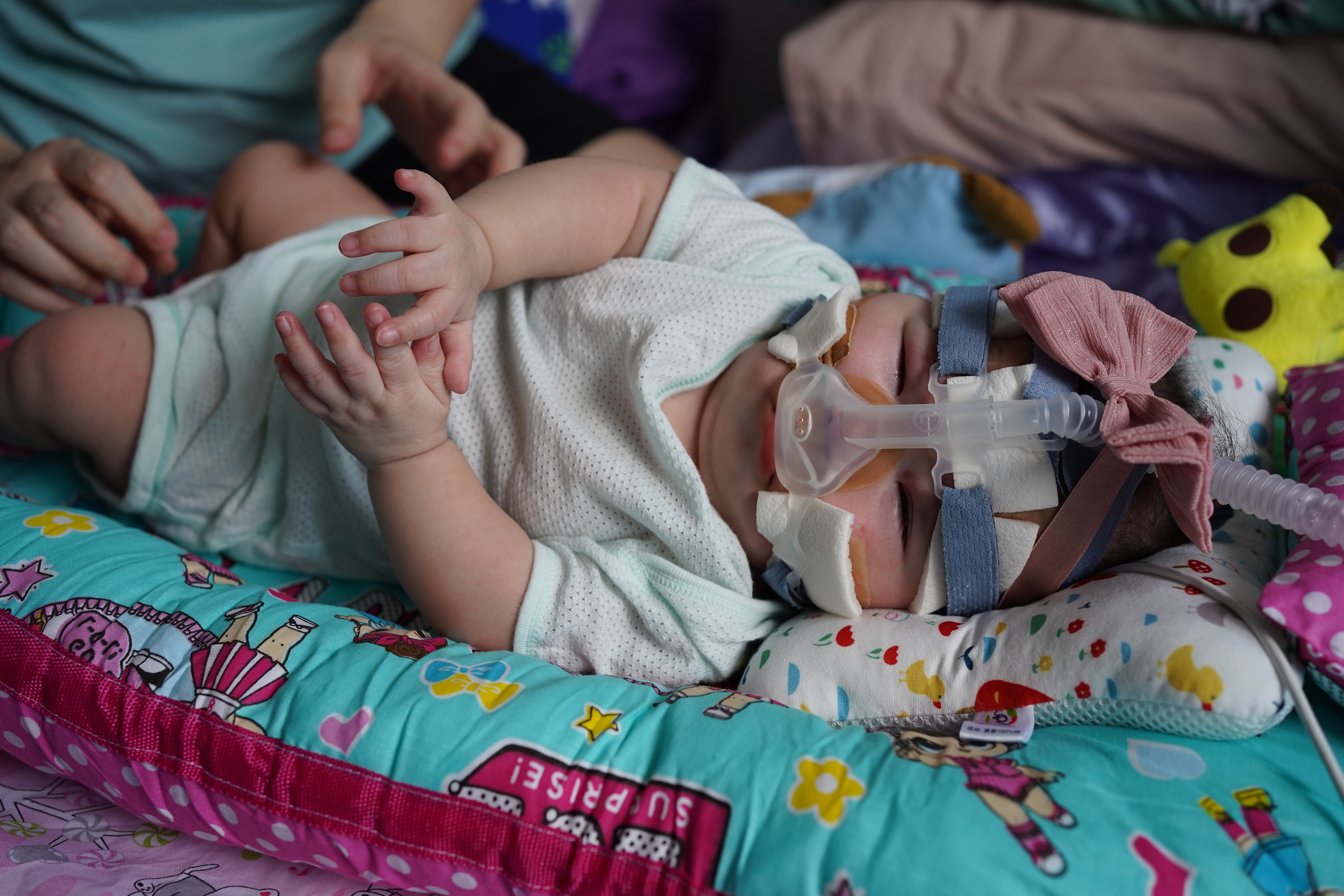 Unexpected delivery
Yu Xuan's parents, both of whom are Singapore permanent residents, had initially intended to return to Malaysia to deliver Yu Xuan.
They wanted to reunite with their first child, a four-year-old residing in Malaysia.
However on June 8, after experiencing excruciating pain in her abdominals for about two hours, Wong was rushed to NUH's Accident & Emergency unit.
The medical staff found Wong bleeding and with preeclampsia, or high blood pressure during pregnancy. She was 24 weeks pregnant.
In a bid to regulate her blood pressure, Wong had to go under the knife for an emergency Caesarean section, and delivered Yu Xuan on the next day.
Support from donors
Wong admitted that she was worried about not being able to afford an emergency Caesarean section.
As she was rushed to NUH, Wong said she toyed with the idea of being transferred back to Malaysia, where she could deliver Yu Xuan affordably.
She was an administrative assistant in an insurance company, while her husband, Kwek, was a technician.
Upon her friends' suggestion, Wong took to crowdfunding platform Give.asia and shared her plight in July 2020.
Within six months, the couple had received some S$323,000 from donors by January this year.
This allowed Wong to pay off Yu Xuan's hospital bills, which NUH said amounted to over S$200,000.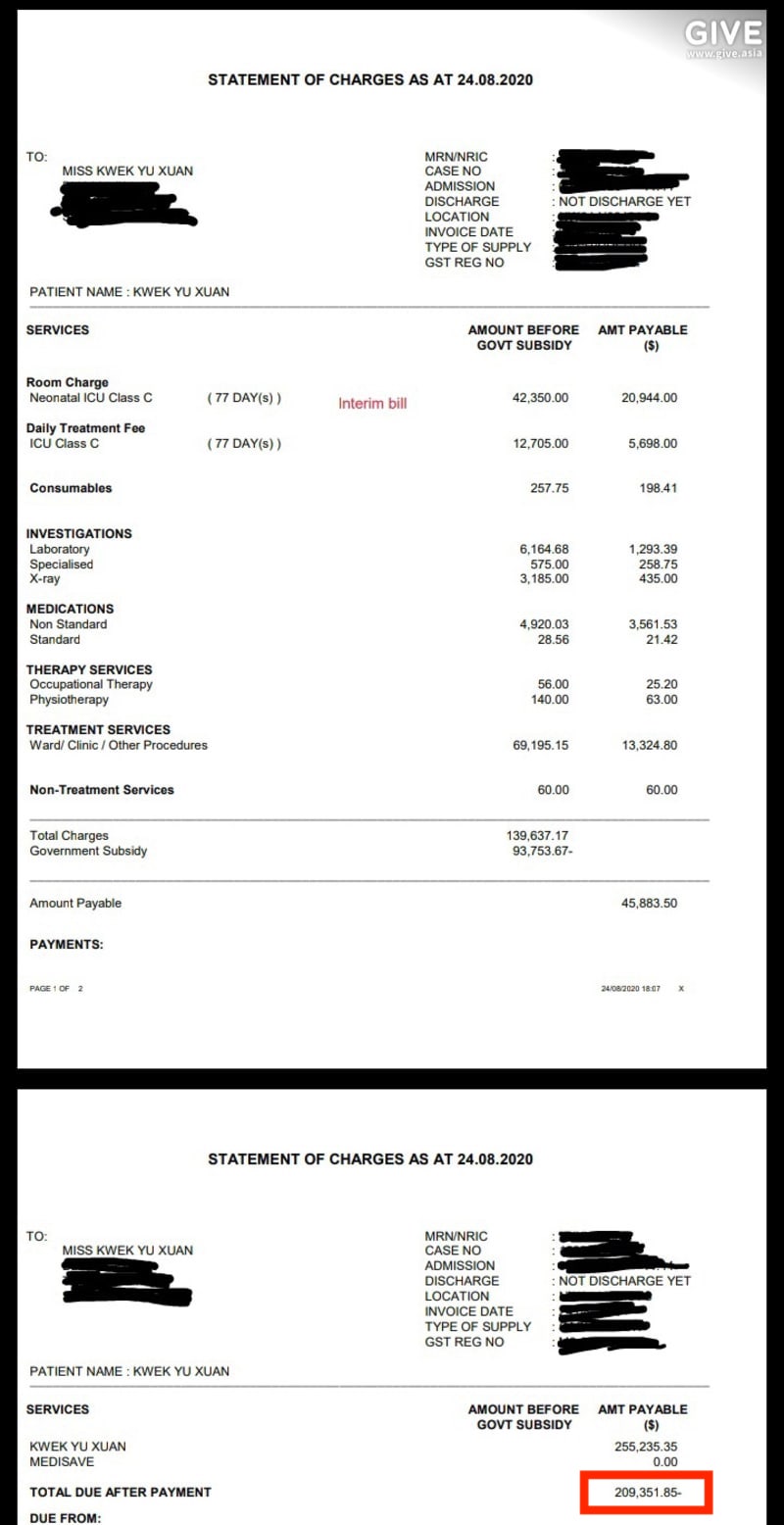 Wong shared that the couple will be keeping half of the remaining proceeds for Yu Xuan's ongoing outpatient treatment.
While Yu Xuan has come a long way from her 212g days, the 14 months old baby continues to require ventilation for oxygen assistance while at home.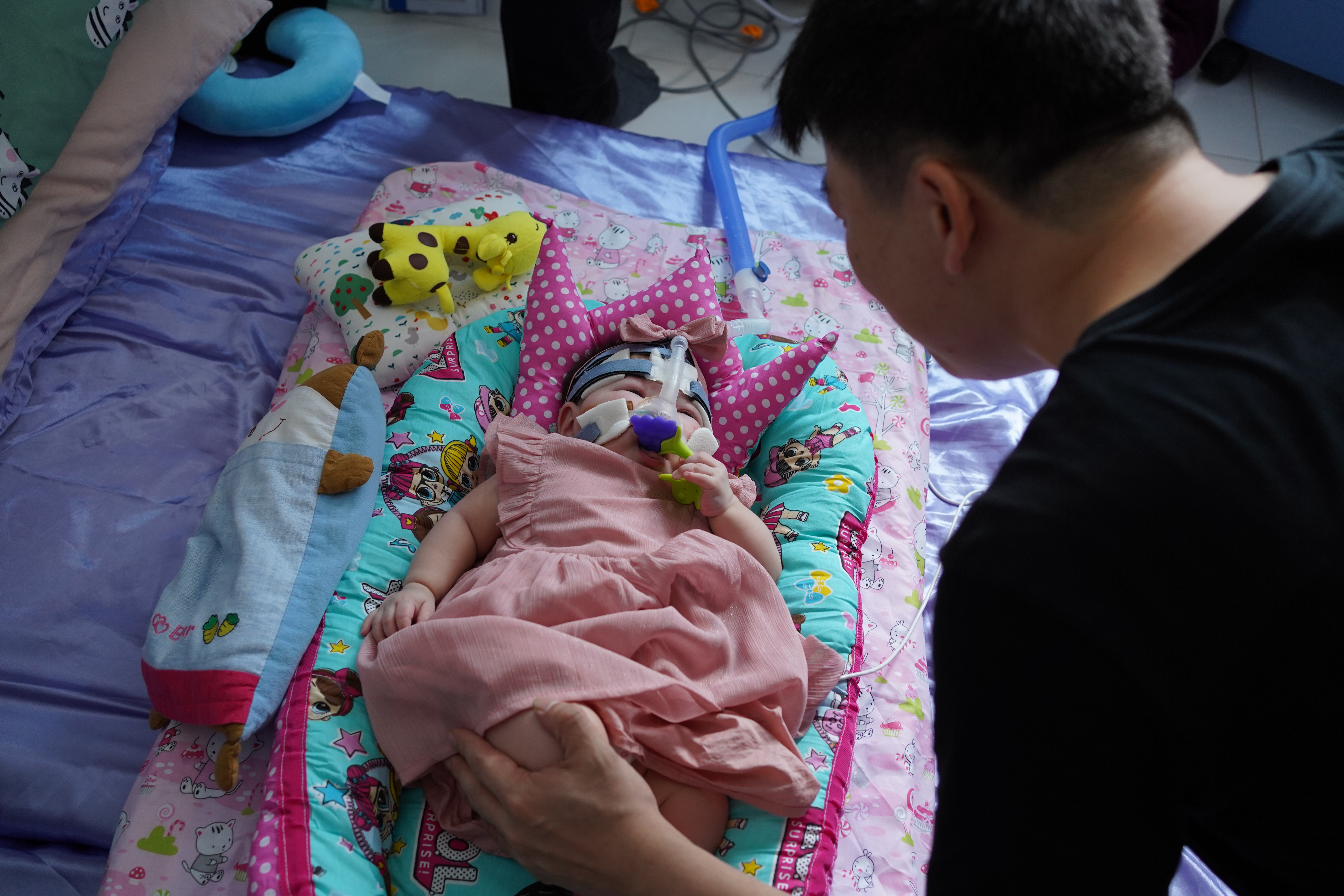 Zubair said,
"Premature babies born at 24, 25 or 26 weeks will have a delayed development compared with a full-term baby. They need time to catch up, but she is progressing. Right now she can turn herself both ways, she can interact, she can smile… So, we are happy that she is progressing."
The other half of the proceeds will be given back to Give Asia by the couple, who wish to help other families caught in similar situations, said Wong.
Wong also expressed her gratitude for NUH's medical staff, who she said was like family,  for taking very good care of her daughter.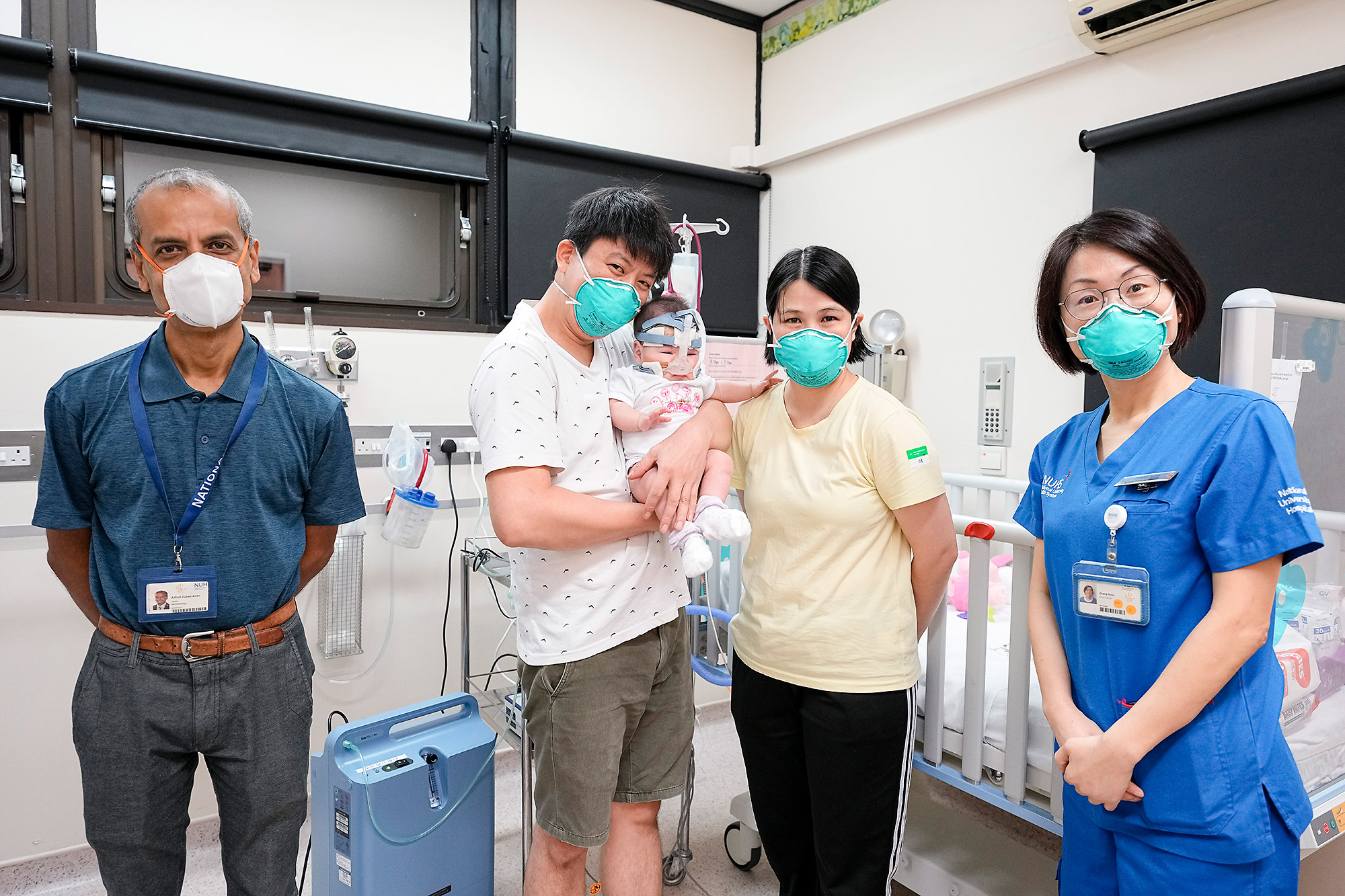 Other related stories:
Top image from Give Asia website and courtesy of NUH
Follow and listen to our podcast here
If you like what you read, follow us on Facebook, Instagram, Twitter and Telegram to get the latest updates.