Follow us on Telegram for the latest updates: https://t.me/mothershipsg
Malaysian rapper Wee Meng Chee, better known as Namewee, has been banned by Chinese social media site Weibo.
The ban took place after the 38-year-old uploaded a post that supposedly offered "suggestions" to the Taliban on how to "stabilise their rule over Afghanistan", reported Malaysian Chinese-language newspaper China Press.
Though his post was titled "Measures that the Taliban have to take to stabilise Afghanistan", Chinese netizens were furious as they interpreted his comments as insinuating the situation in China.
Namewee: "Ban Facebook, Youtube, Google"
In a post that has since been deleted, Namewee raised eight "recommendations" to the Taliban to secure their rule over Afghanistan, including "banning Facebook, Youtube, Google, and other evil online media, to prevent citizens from interacting with people outside of the country".
"If there are any citizens that are unsatisfied with the government, (the Taliban) should build a prison to re-educate these people, and invite foreign media to interview them, while forcing them to act like they're happy with the circumstances", he wrote.
Namewee also mentioned that the Taliban should "set up their own official news sites, messaging apps, and social media to broadcast official news, and tell the citizens that those criticising them are fake news fabricated by evil foreign powers".
"The Taliban should erect huge statues of their leaders, paste slogans everywhere on the streets, and brainwash the students in school by telling them how great the Taliban leaders are", he added.
The rapper further said the Taliban should also "encourage their citizens to blast people who criticise their rule online".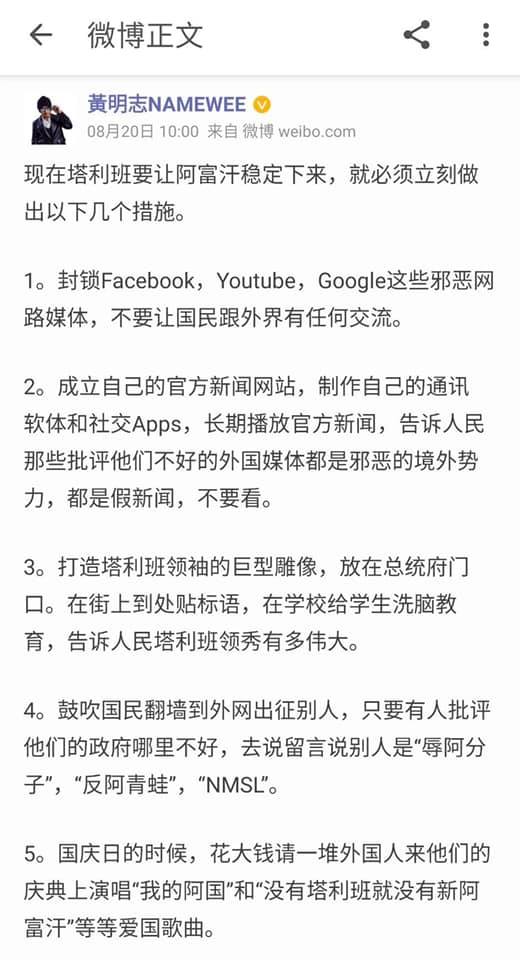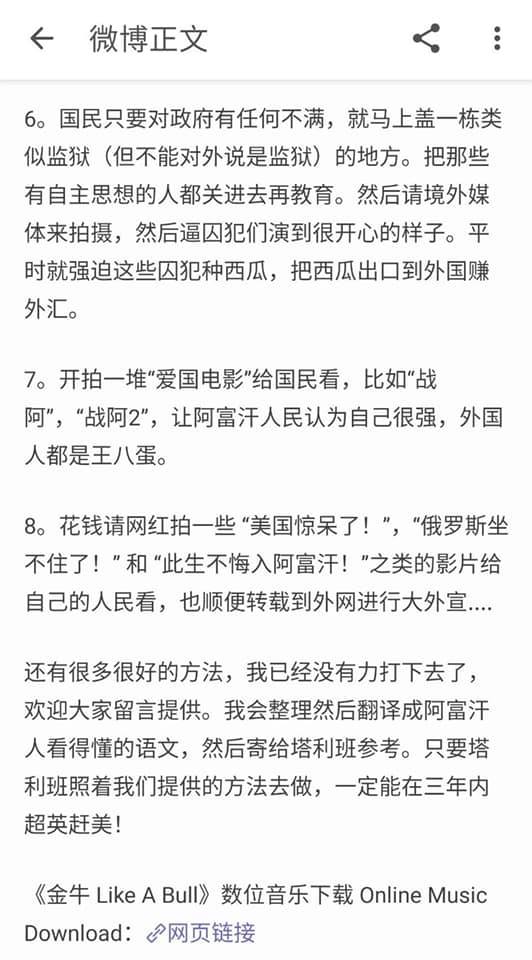 Netizens' reactions
A quick search revealed that Weibo's censorship apparatus has kicked in and effectively removed discussions surrounding his post. His page now says it's unavailable for viewing as Weibo has received "complaints over violation of the law and Weibo's terms of usage".
Some comments could still be seen, however, with a netizen writing, "How dare you oppose the party".
Meanwhile, netizens in a Facebook group, "Motherland China will become the number one superpower", celebrated his ban.
A comment read, "He's a traitor to the Han people, his songs aren't that good, he's anti-China and supports Taiwan's independence, he's not a good person."
Discussions elsewhere on Facebook yielded different comments, however, with netizens responding to the news with memes that poked fun at Chinese president Xi Jinping.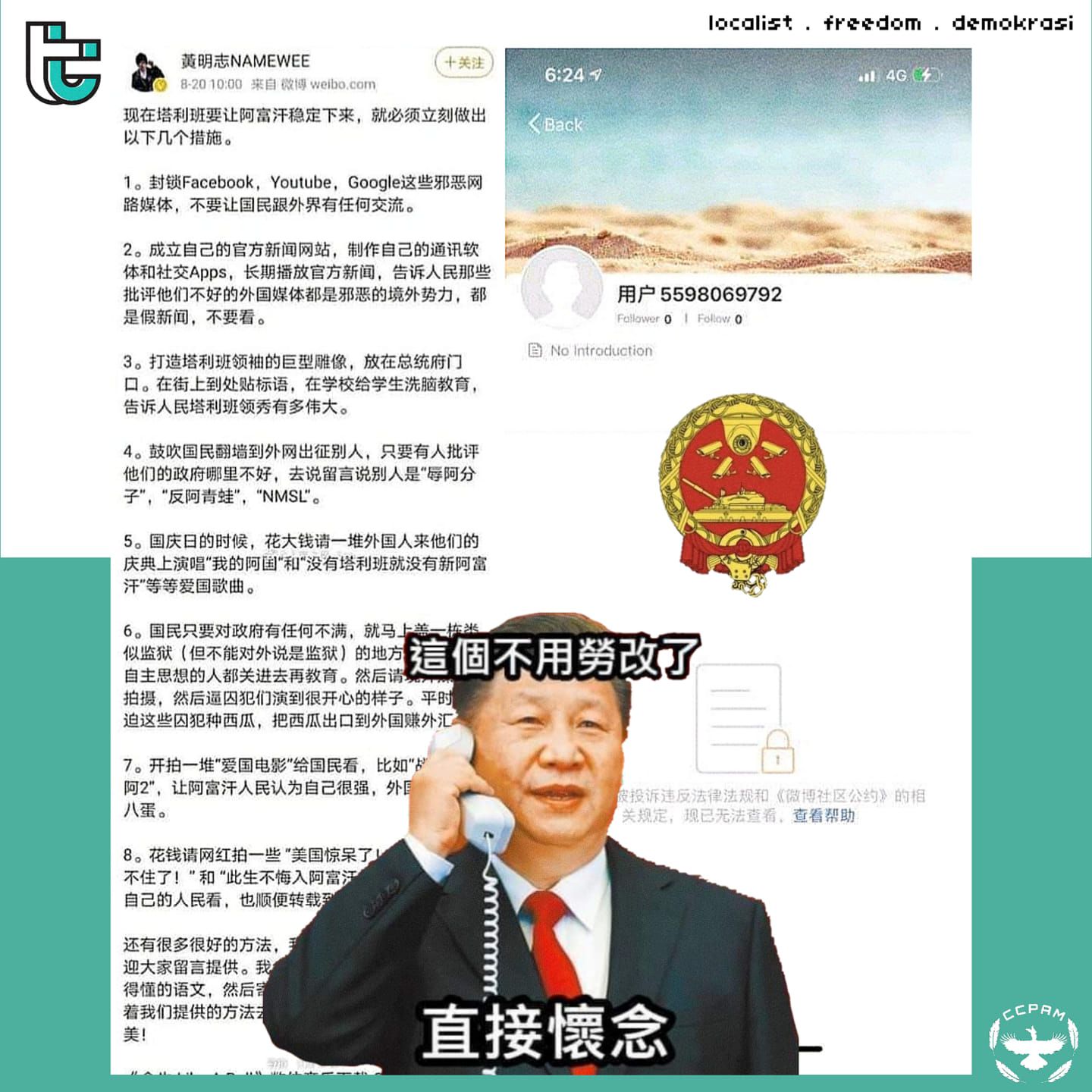 The meme read, "No need to put him (Namewee) in the labour camp, he will be in our memories."
Yet another comment read, "Xi Jinping dislikes this post."
Another commenter wrote, "He's (Namewee) just giving recommendations to the Taliban, why did (the Chinese) take offence? Seems like they admitted to it."
One netizen also pointed out that the post had no mention of China at all, but Chinese netizens were triggered nonetheless.
He said, "The post didn't even mention China, what are they angry about?"
At the time of writing, Namewee has yet to make any response to the situation on his social media.
Follow and listen to our podcast here
Top image via Namewee/Facebook
If you like what you read, follow us on Facebook, Instagram, Twitter and Telegram to get the latest updates.