Follow us on Telegram for the latest updates on Covid-19: https://t.me/mothershipsg
Amelia (not her real name) was perplexed, then vexed when she received an email from a tuition agency which tried to recruit her as a private tutor.
According to the email, many parents were requesting for MOE teachers to teach tuition classes outside of school.
A recruitment email wouldn't be a problem for most, except that MOE teachers like Amelia are not allowed to provide tuition services outside of work, unless they have approval to do so.
In fact, the tuition agency said in its email said that it was well aware of the "new regulations imposed on teachers giving private tuition outside", assuring Amelia that her "profile and tuition matter" would be kept private and confidential.
The agency went one step further to claim that "many teachers including key personnel" have registered to become its tuition teachers.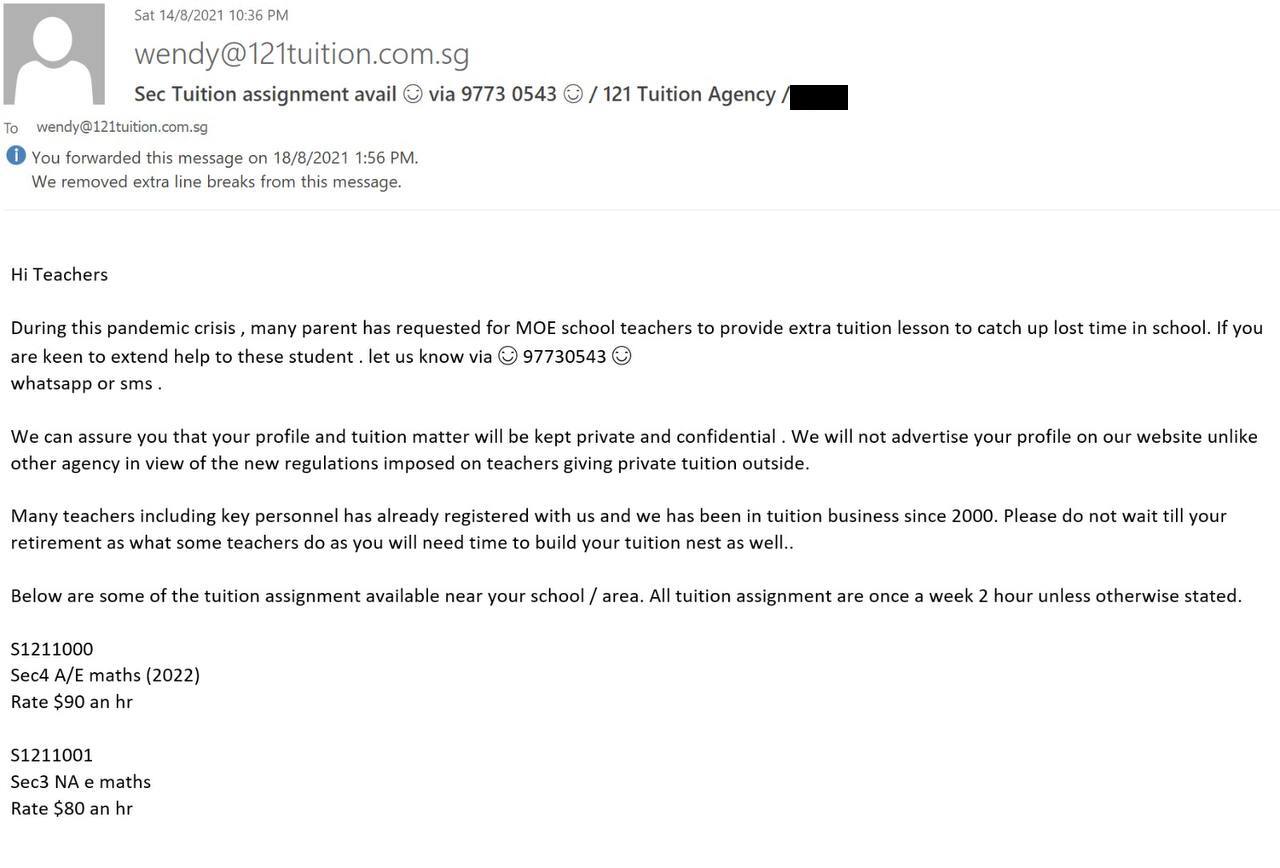 Amelia, an MOE teacher of two years, told Mothership that it was the first time she encountered such cold-emailing tactics like this. The email was sent directly to her school email address.
However, she later found out from her colleagues that the practice was not new, and it was in fact, "very common".
Not allowed
In a recent commentary on Singapore's "endless love affair with private tuition", CNA reported an MOE spokesperson had confirmed that the new regulations concerning teachers providing tuition services outside of work took effect on Jan. 1, 2021.
The guideline which previously allowed teachers to participate in paid tuition not exceeding six hours a week, was removed following a review by the Public Service Division.
According to MOE, existing guidelines on public officers are meant to ensure outside activities that they participated in do not distract them from their core duties.
Amelia pointed out
"In the email, the agency states that they will not publicise the teacher's profile given the new regulations, which is extremely unprofessional as they are implicitly saying they are condoning the violation of our code of conduct for their own benefit.

This is when public servants are [already] constantly reminded that we have to uphold the integrity and reputation of the service, and seek prior approval.

In the end, if found out, the disciplinary consequences are faced by the public servant themselves."
Aggressive marketing tactics
The email also highlighted the school Amelia is from, and specifically showed her tuition assignments in her area. The very personal nature of this "head hunting" exercise made Amelia uncomfortable. 
Amelia explained that if it was a random mass message with only details of tuition assignments, she would have ignored it, considering the frequency of spam calls today.
However, the marketing tactics employed in the email were problematic as well.
"First, they use perceived peer pressure tactics, mentioning that 'key personnel' have also registered with them. It's like trying to insinuate that since your supervisors are doing so, it's okay for you to do it too. This is not true or factual."
She added that telling teachers to start building a "tuition nest" as early as possible and to not wait till retirement also reinforced a very skewed belief, that "teachers can't do anything else except tutoring, and tutoring is the only way towards a comfortable retirement".
John (not his real name), another MOE teacher who received a similar proposition, told Mothership that he does not like the duplicitous nature of it:
"It's disguised as 'doing good' or 'helping people', but you're really just helping to line your own pocket right? If you really wanted to help and help alone, you'd give it for free."
Layers to the tuition industry
When asked why some teachers might end up leaving for the tuition industry anyway, both responded candidly that it was indeed quite a sad reality.
However, just like in any other job, teachers leave for a variety of personal reasons.
These could include a desire to have better control of their time, greener financial pastures, or just feeling "jaded" from the workload, which can range from planning lessons, to organising extracurricular activities, or serving as part-time counsellors.
John added that because most of the teaching is done "beyond" the classroom, such as when teachers take the time to focus on their students' character development, he can understand why some leave, as sometimes, the hours relative to the pay just "ain't worth it".
Comparatively, if one has kids or other family commitments, moving to the private tuition industry might offer that work-life balance, and a remuneration that corresponds with the difficulty of the task.
As a teacher who starts work at 6:45am and leaves at 6:30pm on most days, Amelia also admitted that there can be a limit to the amount of time school teachers can spend with students, or expose them to the type of learning they might need.
In this way, there remains a gap for the tuition industry to fill, catering to two groups of students: Struggling students or slower learners who need extra time after school for practice, and those who need extra enrichment and other experiences that schools cannot provide.
For Amelia and John, however, there is an issue when tuition agencies charge exorbitant fees promising results, and employ unethical and false marketing tactics to draw teachers in.
Amelia said that these types of tuition agencies should be reined in, as it drives a competitive "kiasu" mindset in parents, forcing anxious parents to rely excessively on tuition in order to make sure their children stay ahead.
This, in turn, disrupts the supposed level playing field that public education is supposed to provide, leaving students more stressed than ever.
"Tuition centres providing help to students who are truly struggling or those that can excel further is enough. There is no need for the current S$1.4 billion industry that exists."
A deeper issue at stake?
Going back to the MOE circular, it is not that teachers cannot provide tuition. Rather, Amelia clarified, one must seek approval from the principal.
"They'd likely ask you why – for example, are you cash-strapped? Have lots of free time? Who are you giving it to?

And with each reason, there's a deeper issue behind it. For example, if you have free time, then are you performing your duties in school to the best of your ability?

If you're giving it to a family or a friend, it might be okay, but if it is under an agency or tuition centre, it might not be since you're working for another 'boss'."
To address the attrition of teachers to the tuition industry, Amelia added that the issue was likely a systemic one, like other industry experts and ministers have pointed out.
"A societal shift in mindset" on what a teacher's role should be is needed, given the workload, stress, and burgeoning mental health concerns for teachers.
John pointed to the current salary structure as another place for improvement, explaining that despite the calibre of people the profession generally attracts, the teachers' pay, while above median, does not meet market rates.
"It's been said that the target recruitment pool for teachers is the top 30 per cent of each cohort. I'm quite sure that the teacher's pay, while above median, is not in the top 30 per cent range."
He added that while MOE has emphasised and done a good job with picking more teachers who actually want to teach nowadays, it also needs to be recognised that teachers are in demand, especially because of their experience.
"The real deal is keeping them [the teachers] after they become super experienced: That's when they're heavily in demand elsewhere too."
"Nothing wrong"
In response to queries from Mothership, the owner of 121 MOE tutor agency, Lawrence Tay, said that recruiting MOE teachers to give private tuition is normal, and there is nothing wrong about it.
The agency, which is registered in Singapore and advertises to parents looking for MOE teachers only, pointed out that for parents with children who pressured to perform in school, tuition is a necessity.
Tay said that the agency's clientele typically consists of two types — the "more educated" locals who want the "best education" for their kids, as well as parents from overseas (e.g. China) who have settled down in Singapore.
For the latter, tuition is also very important, as most have only one kid, with their kid "going to the elite schools".
Wanting their kids to do well, these two groups of parents want the best teachers, and it is these customers the tuition agency caters to.
To meet the demand — which according to Tay, can go up to having five enquiries a day — the agency advertises for MOE teachers via "Google, flyers, SEO, word-of-mouth, and email marketing".
Acknowledging the rule that teachers' cannot give paid tuition without approval, Tay added that it is upon teachers' requests, that the agency does not advertise their profiles on the website.
"This is the teacher's request, they do not want agencies to advertise their profile on the website. They want to keep a so-called low-profile mah.

With the new rule they're worried, so they reach out to us [to stop advertising their profile], and I think that's fair lah. As a teacher, they have their concerns, and they don't want to have trouble. Actually, we're just addressing their concerns."
Top image via MOE Singapore Facebook and Amelia (not her real name)
Related stories:
Follow and listen to our podcast here
If you like what you read, follow us on Facebook, Instagram, Twitter and Telegram to get the latest updates.