If you're reading this, chances are you're thinking of applying for a part-time job or a contract job in the midst of a very challenging economy and job market.
Whether it's something to get a bit more side income, or a temporary job before you find something more permanent, here's your guide to scoring one.
Don't copy-paste your resume - cater it to the job

Don't spray and pray - look at what the job wants, and adjust your resume accordingly. Adjust your resume to fit the job - state your skills and experience that reflect specific requirements that they've set, or at least show that you have that potential to learn and fit quickly into the company culture. Do list out your achievements with relevant statistics as proof. For example, instead of saying your graphic was well-received on social media, say that your graphic was shared over 1,000 times across three social media platforms.

Put in the same amount of effort in your search as you would for a full-time job

Your application should be treated with the same kind of seriousness you'd give to a full-time job application. Go the extra mile where possible to stand out from the rest. Do your homework and find out about the challenges that the company is facing. Even if it's a part-time position, show that you can be the one to meet their needs.You may also want to consider very seriously what you want from the job. Does the job have benefits? How much time do they require to work a week? Where is your work located, and do you have to travel across the island? With these questions in mind, you'll be more prepared to undertake the job.

Put the effort into making it easier for them

Besides using crucial keywords, make it easier for your recruiter to read your resume. Make sure your contact details are prominently featured, and be sure to look at submission requirements, such as if they need your resume in a PDF or .doc format. Remember to keep things simple, consistent and readable. Avoid jargon, and keep your application understandable for the average person. Feel free to throw in a few creative design elements or graphics, but make sure to standardise your fonts and make it easy for the company to skim through your resume.

Strategise: use timing - and social media! - to your advantage

Your social media platform shouldn't be ignored - it helps employers to find you, and enables you to network with those who can lead you to the job that you are looking for. Of course, tailor your social media platforms to be professional, and use it to showcase strengths in your personality and character that you wouldn't be able to otherwise demonstrate in a traditional resume.

The Snatchjobs AppCan't keep track of all the tips? Not to worry, you might want to try out this particular app to help you in your job search.A little background on Snatchjobs: Snatchjob is behind the largest Telegram job portal with more than 115,000 subscribers to date. Be sure to subscribe to their Telegram channels for part-time and full-time jobs to be updated with the latest job postings.With their huge network, Snatchjobs helps job seekers and recruiters to approach the recruitment process with a simple and effective way of getting the job, and allowing companies to find the best candidate for the position.
Registered users get full access to app features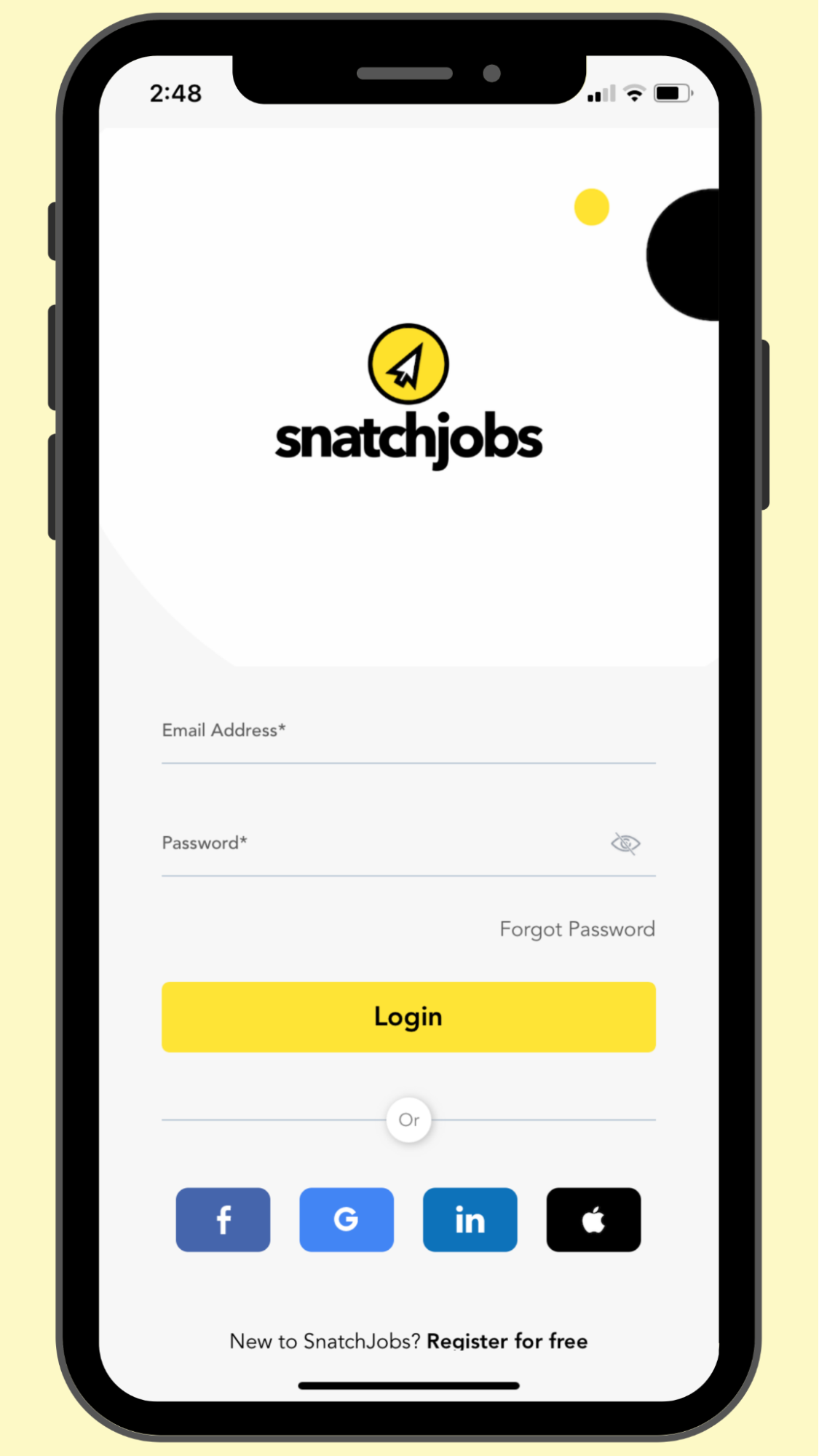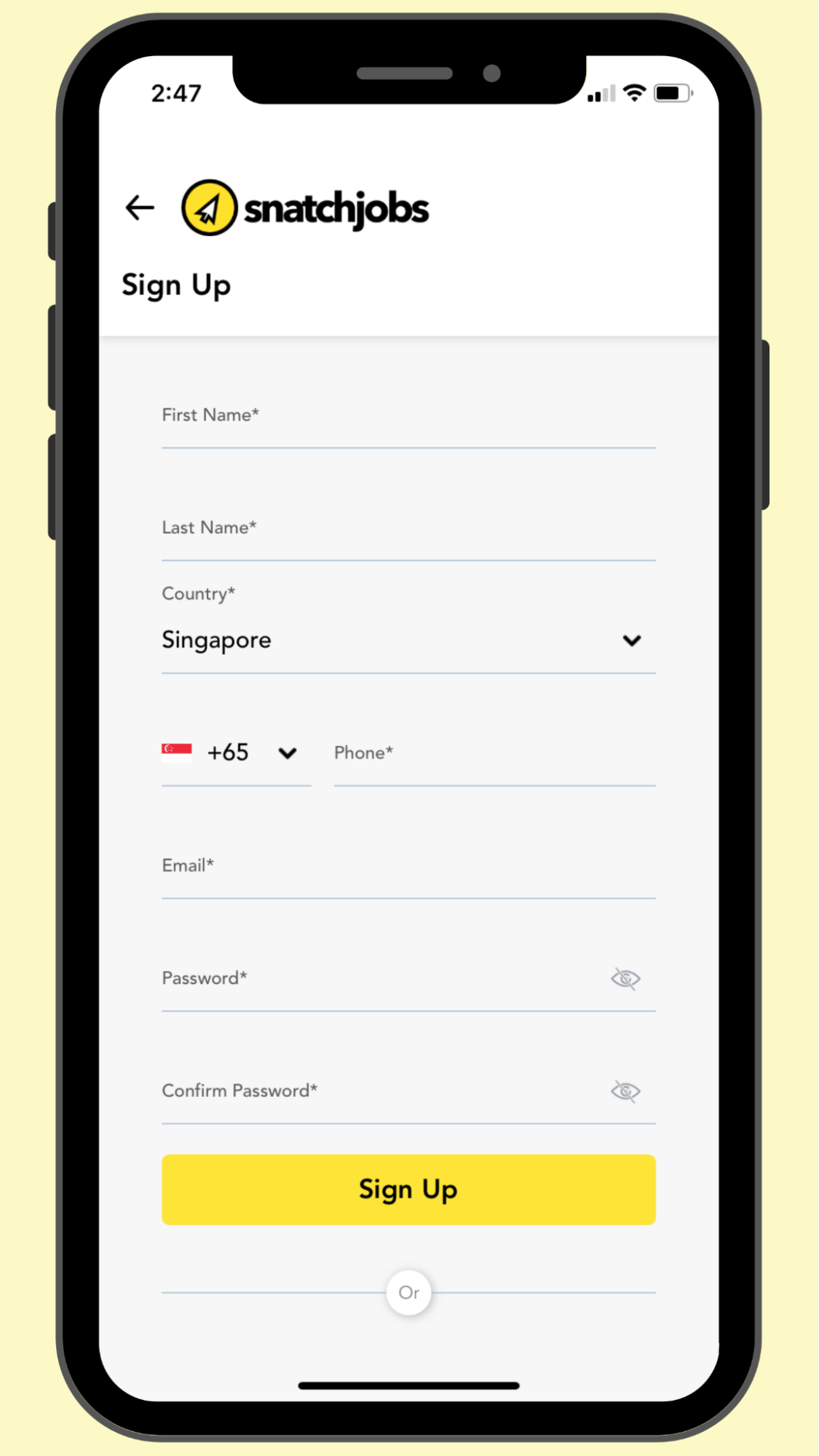 Registered users on the app can access a wide range of features which increases their chances of getting shortlisted, such as uploading a resume, building a professional profile, and being alerted to job postings.
What's more, you don't need to re-submit your particulars each time you apply for a job.
Via the app, job seekers will have access to exciting job opportunities across full-time, part-time, internship and contract roles.
Customising job alerts and saving jobs
Users can customize job alerts, which will notify users once the app has found a job that suits their particular needs.
Under the Snatchmatch tab, you can customise job matching alerts with your preferences, such as specialisation, skills and preferences (which includes location, job title, salary, companies and job alert frequency).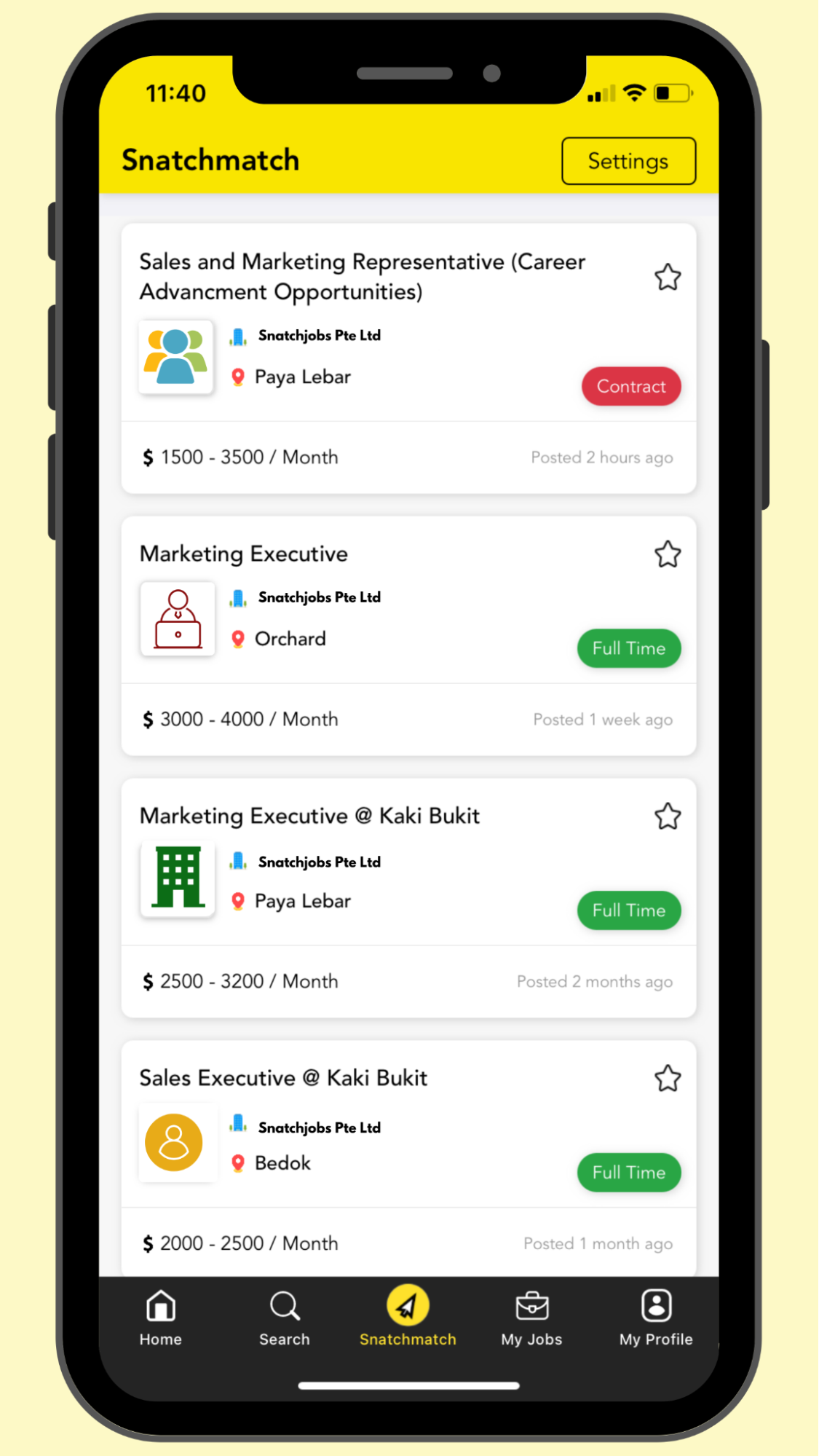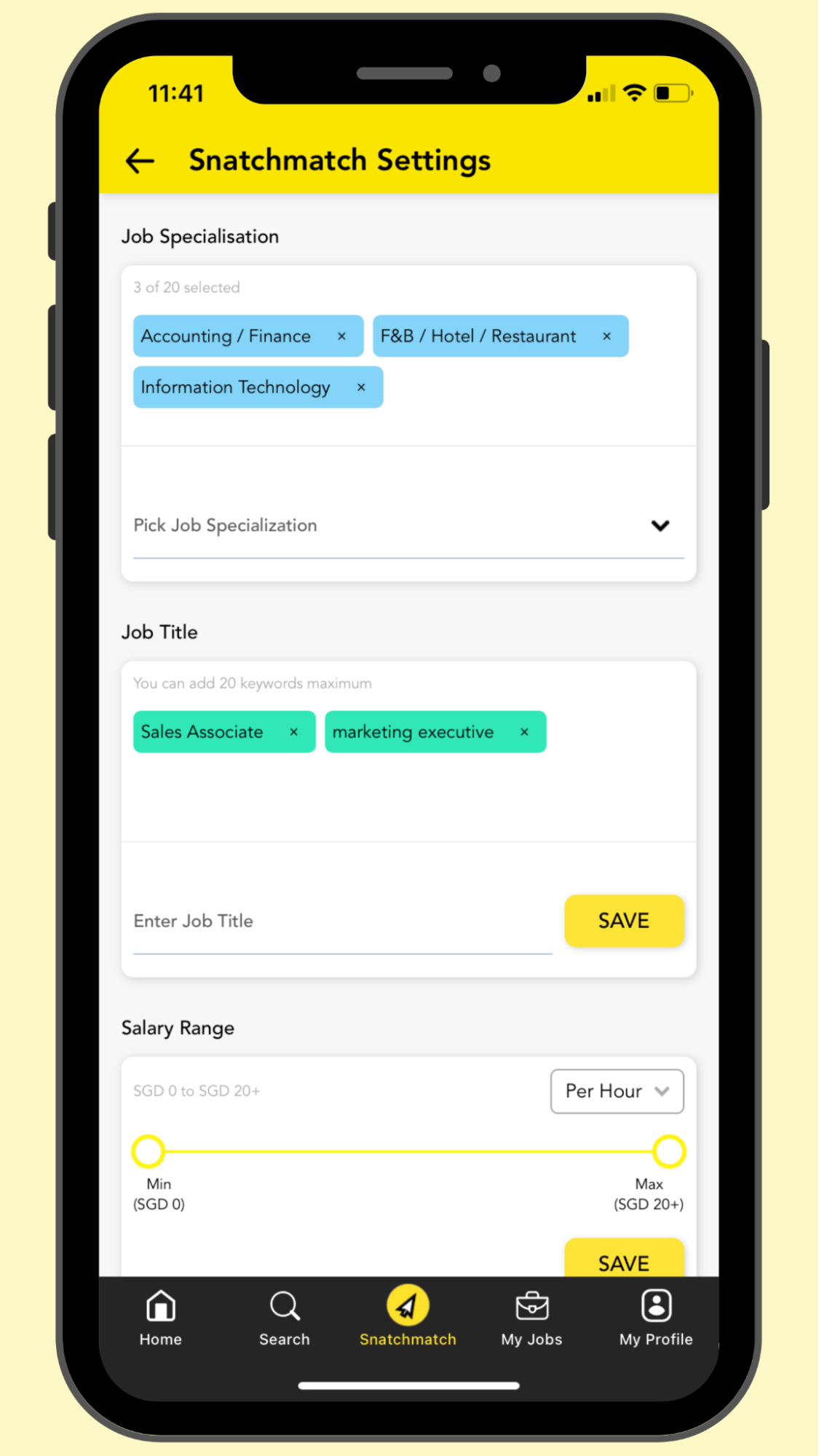 The app also offers features like Snatchchat for you to contact employers on your hiring process or clarify your doubts with them.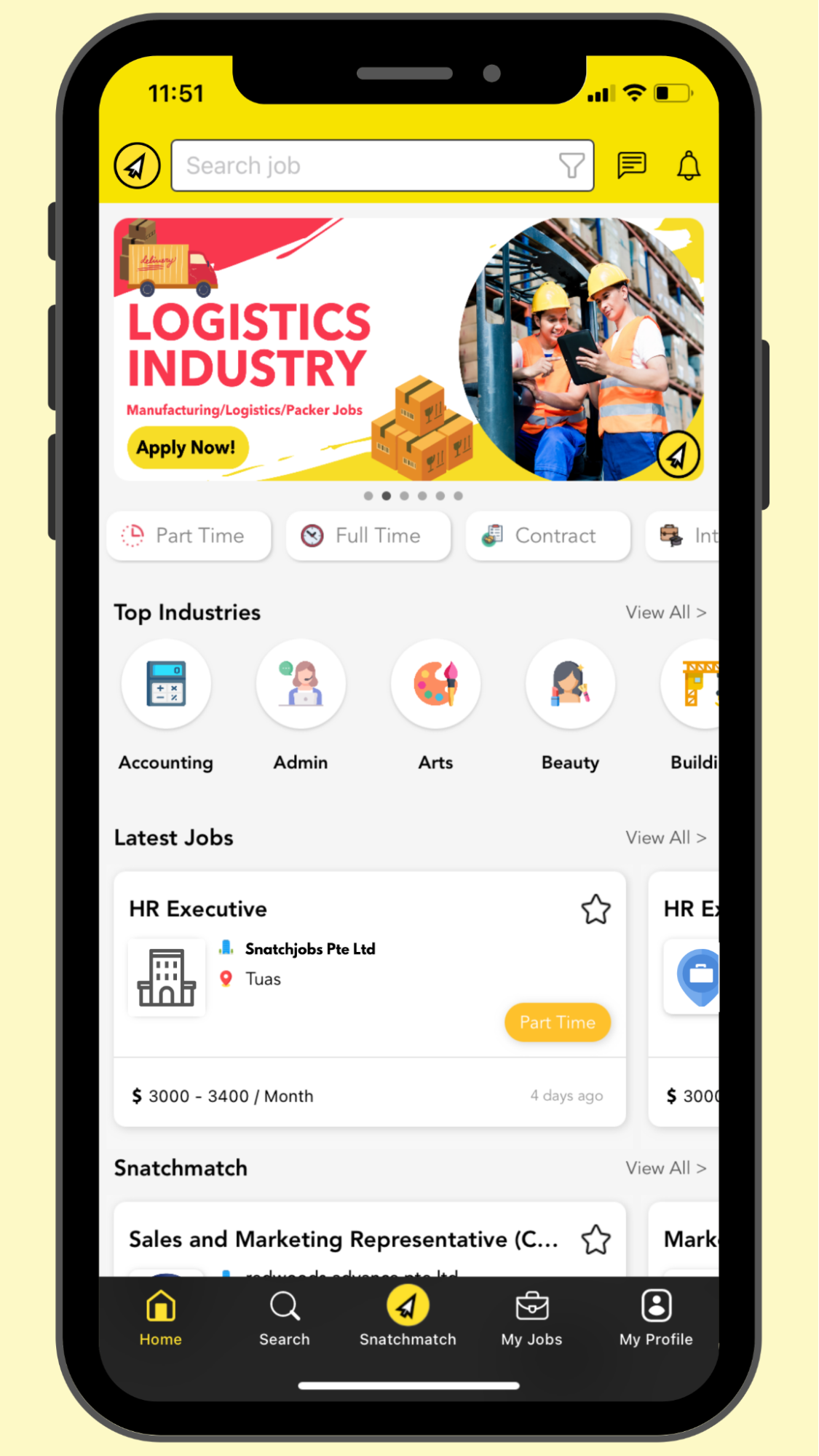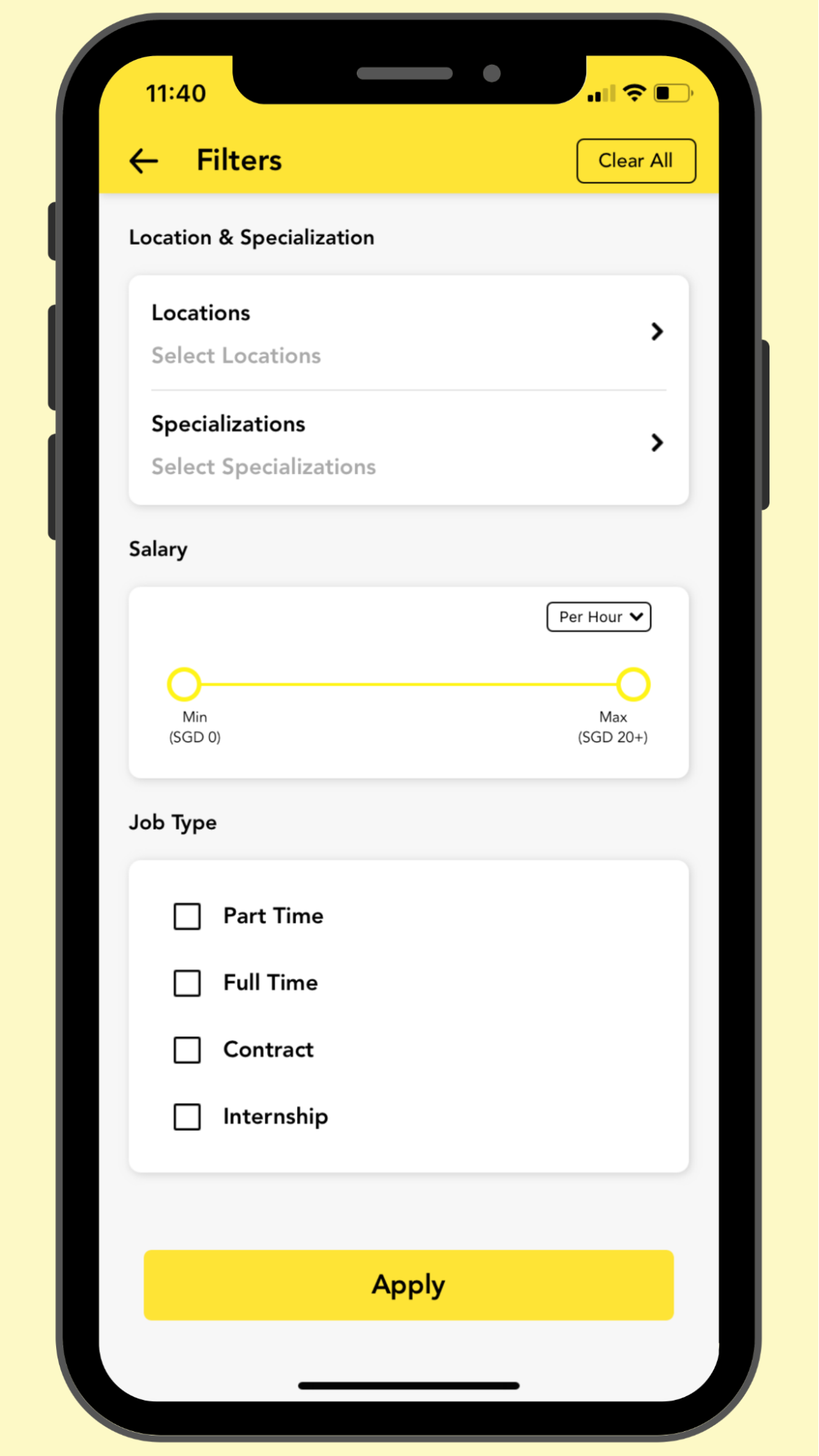 Not only does it allow you to look out for specific jobs in the various industries, it also informs you of the jobs you've applied to, if you've been shortlisted, upcoming interviews and even if you've been successfully hired.
You can also save the jobs that you like, by clicking the star Icon on the job detail page. All saved jobs can be found under "My Jobs" tab.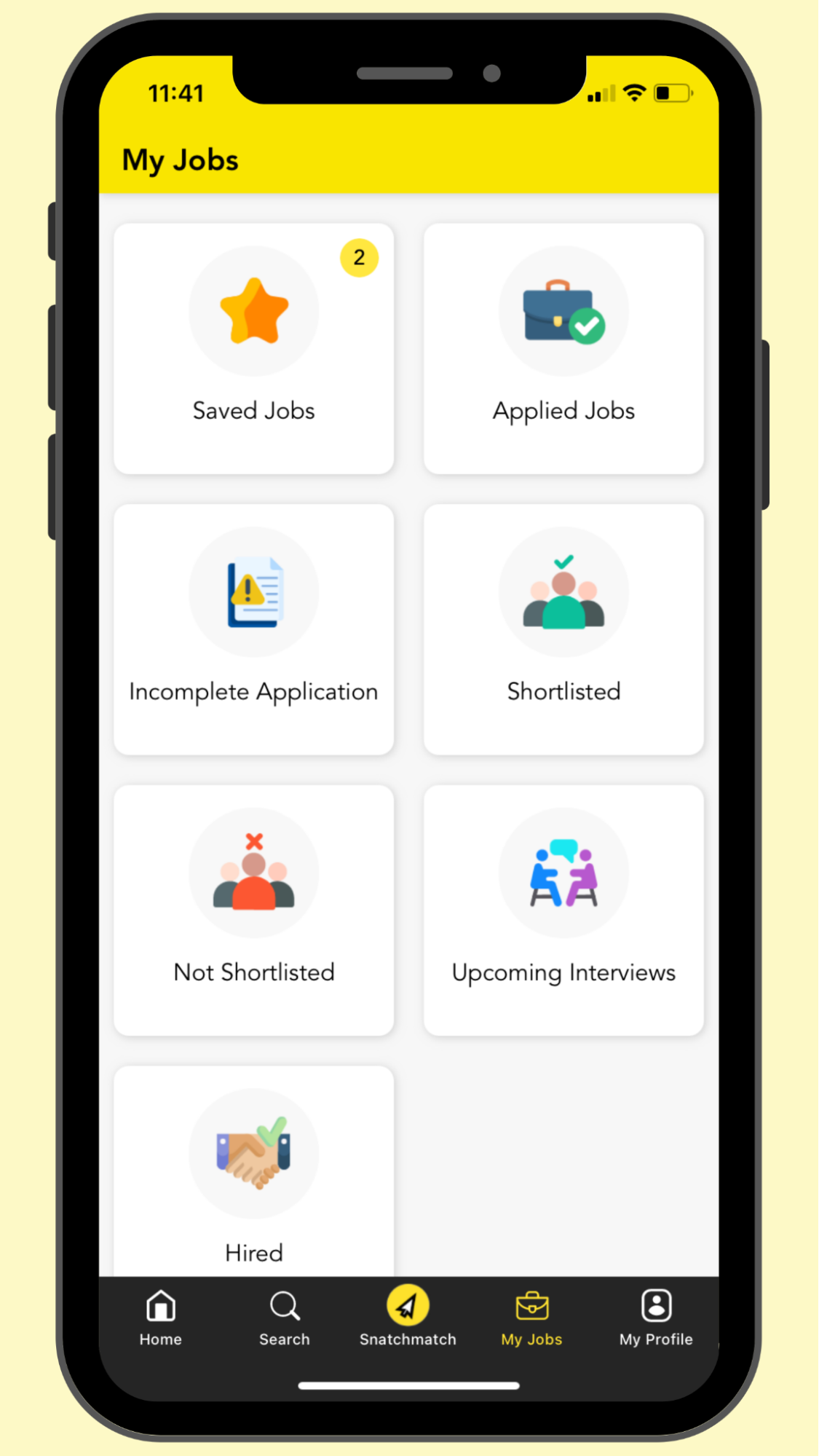 Customising job alerts and saving jobs
Under the "My profile" tab, you can build a professional profile. You can edit individual sections of your profile to best reflect your professional experience.
Always ensure your profile and resume are updated with your latest work experience and qualifications, to give employers a good insight of what kind of candidates you are, while highlighting your skills and expertise to show what you can bring to the table.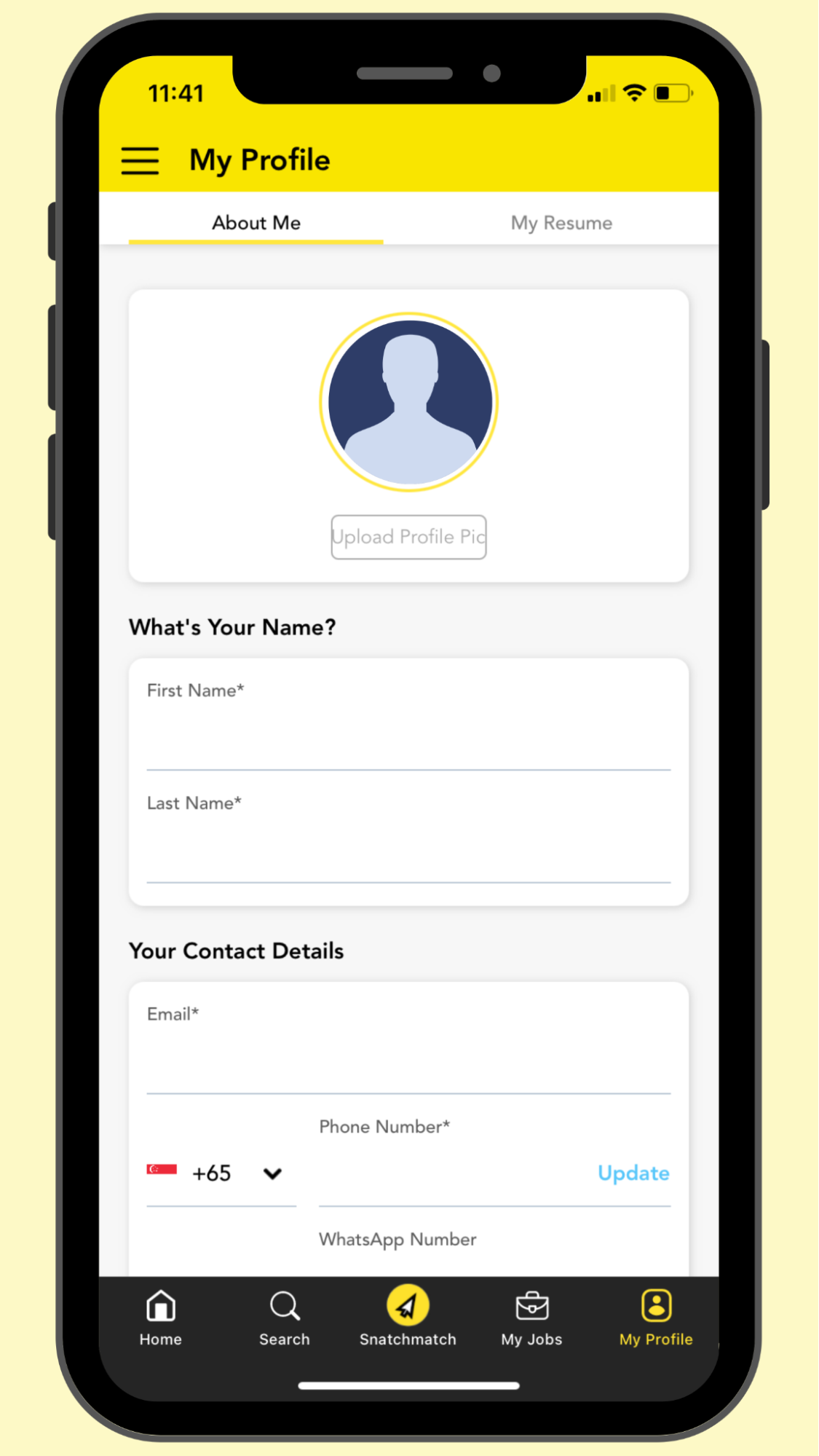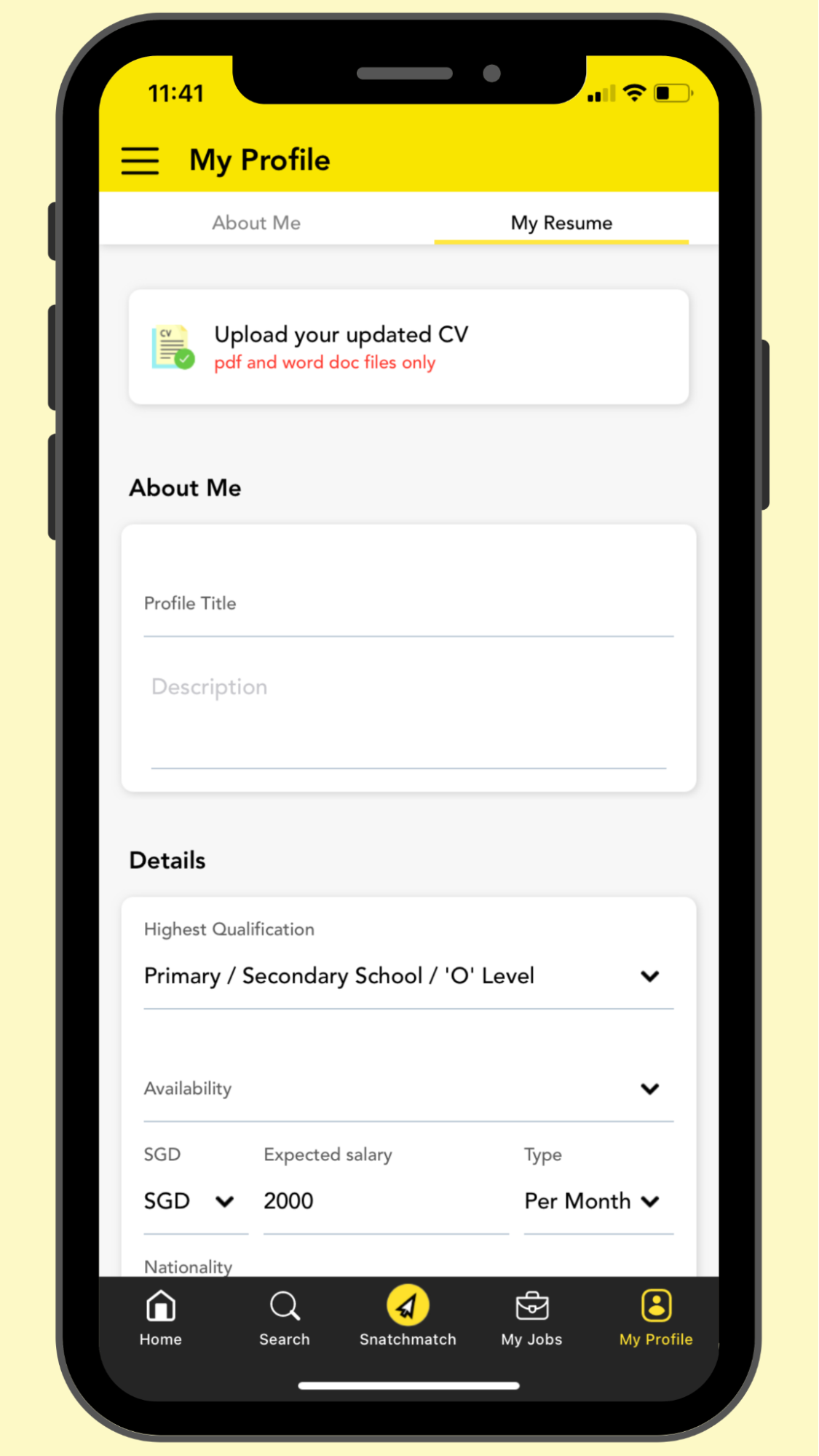 Snatchjobs Telegram channels
Besides downloading the app, you can also join SnatchJobs' Telegram channels to keep yourself posted on both part-time and full-time job opportunities at your own convenience.
When you see a job listing that you wish to apply for, you can simply select "View Job" or "Apply Now" where you will be directed to the Snatchjobs web page to apply.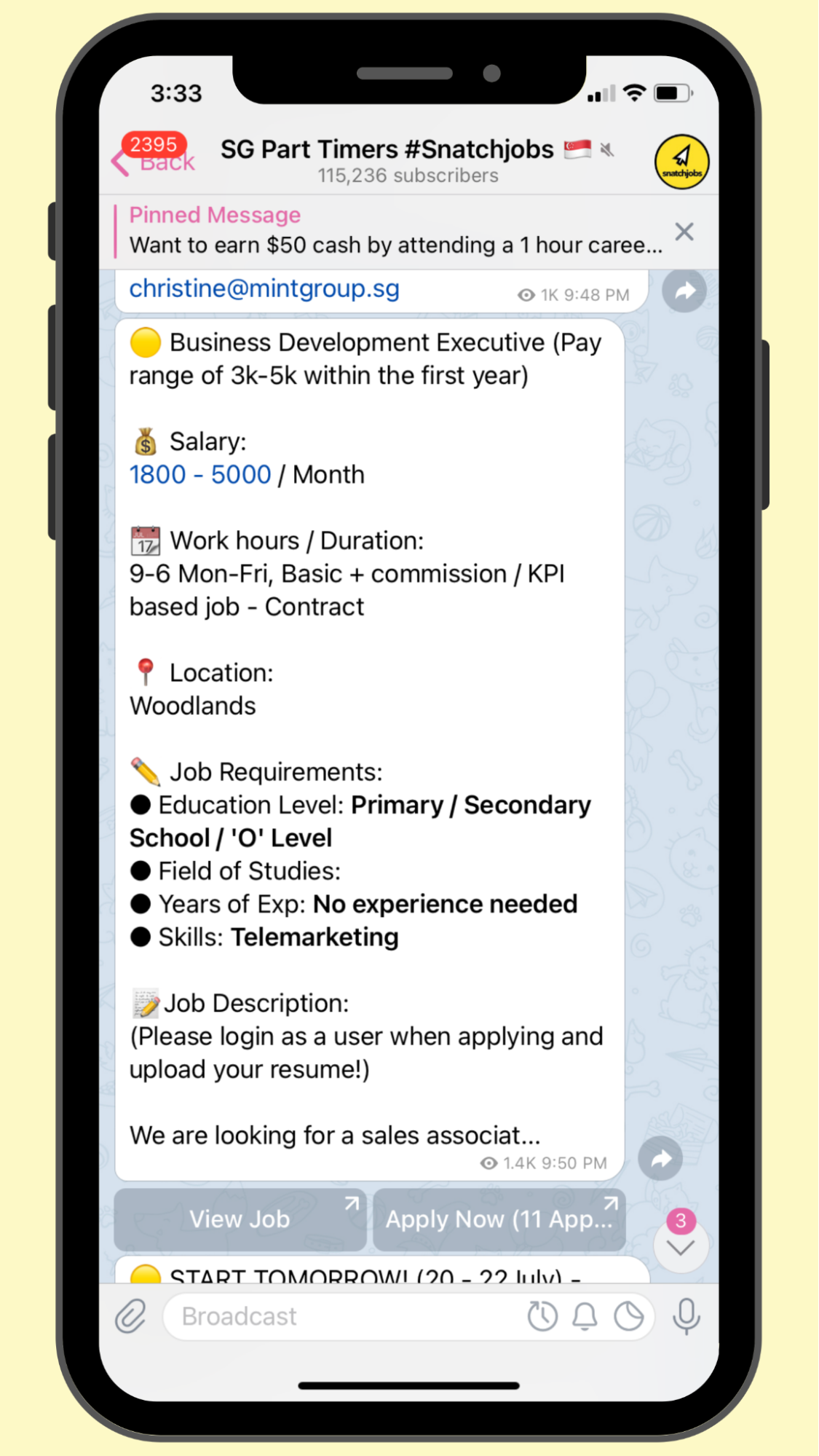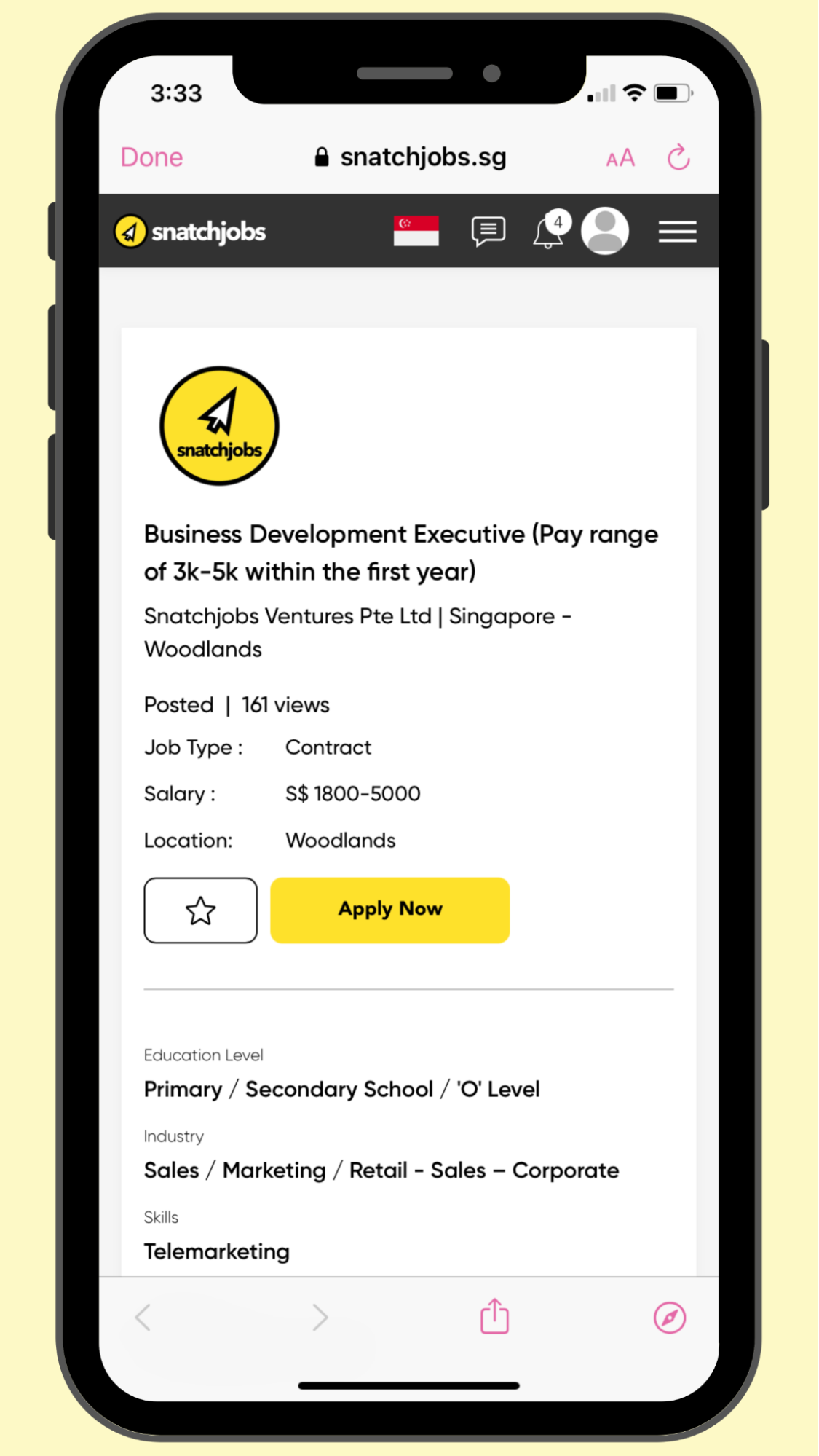 With the Snatchjobs app, you can easily apply for jobs and monitor your application status in real-time.
Download Snatchjobs App and Snatch a job with them today!
For more information, check out their website here.
Top image via Snatchjobs and Getty Images Pro
This article is brought to you by Snatchjobs, which made this writer wish she had this app when she was looking for a job years ago.
If you like what you read, follow us on Facebook, Instagram, Twitter and Telegram to get the latest updates.