Shake Shack is opening its seventh outlet at Gardens by the Bay on August 28, at 11am.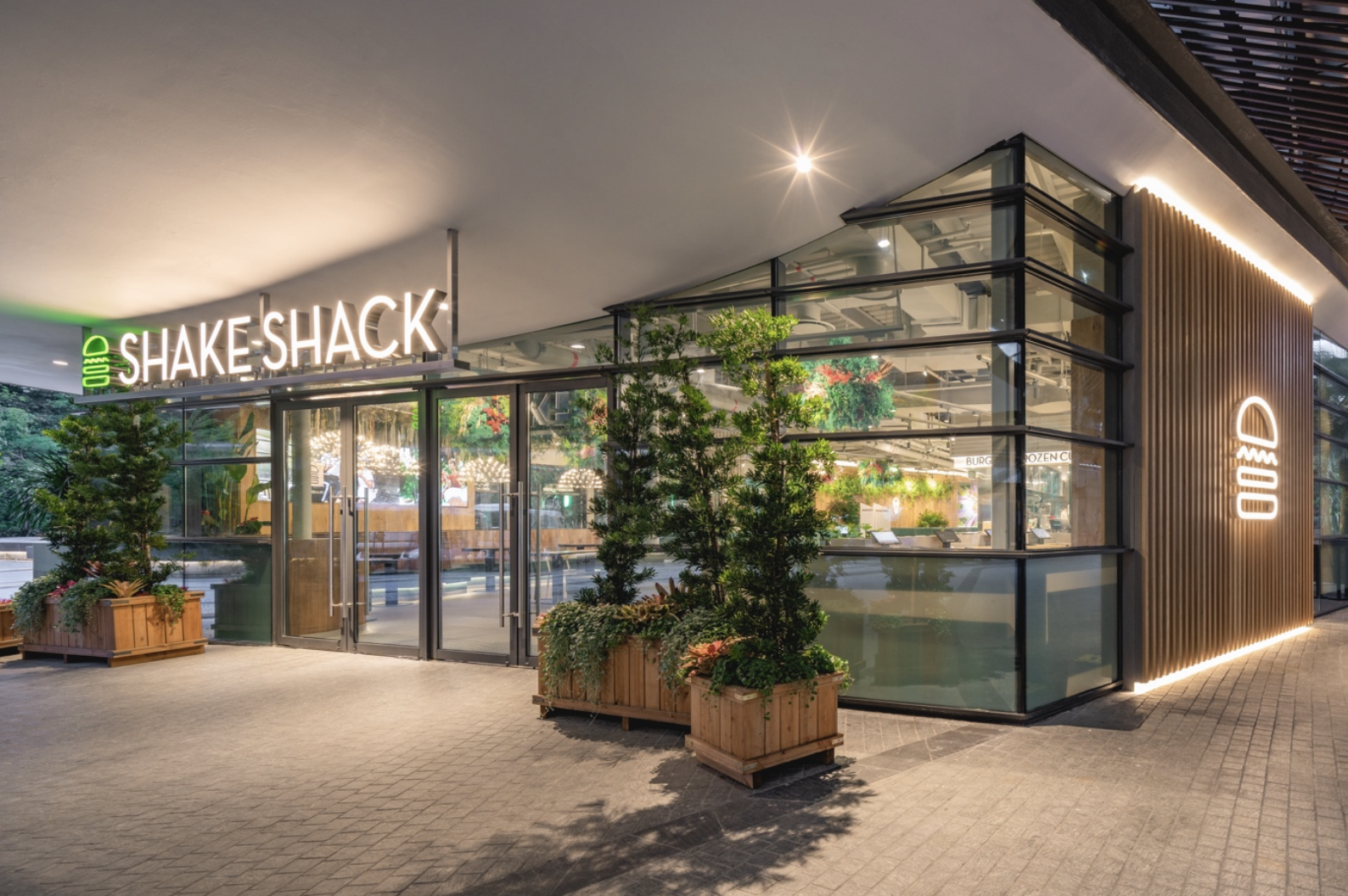 To celebrate the new opening, the burger chain is releasing a a new Roasted Garlic menu.
Available for a limited time till October 15, the items will be launched first at the Gardens by the Bay outlet on August 28, while the other outlets will be selling them from Sep. 3.
Two concretes—frozen custard desserts—exclusive to the Gardens by the Bay outlet will also be available from August 28.
Limited time Roasted Garlic menu
The highlight of the menu is the creamy roasted garlic mayo that is made from scratch.
The limited time menu features two items - and Roasted Garlic Fries and Roasted Garlic Mushroom Burger.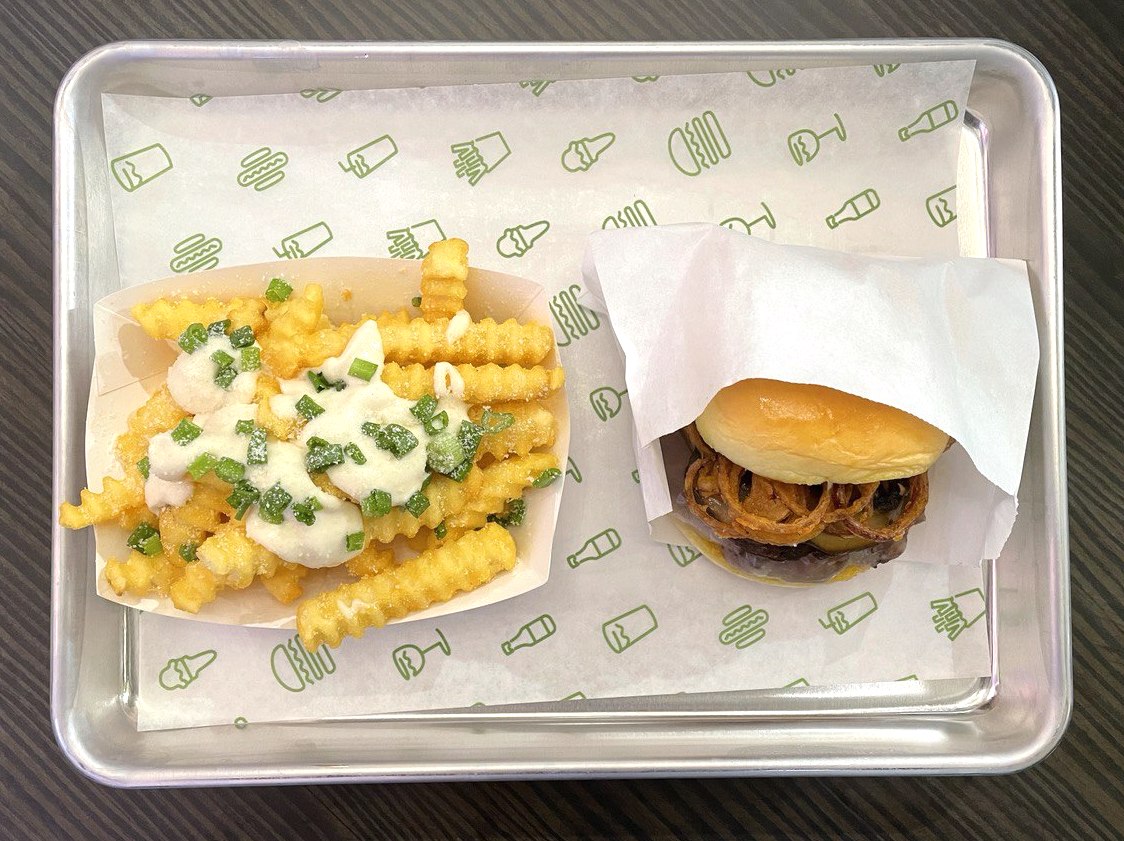 The Roasted Garlic Fries (S$6.50)  is topped with roasted garlic mayo, parmesan and a sprinkle of fresh scallions.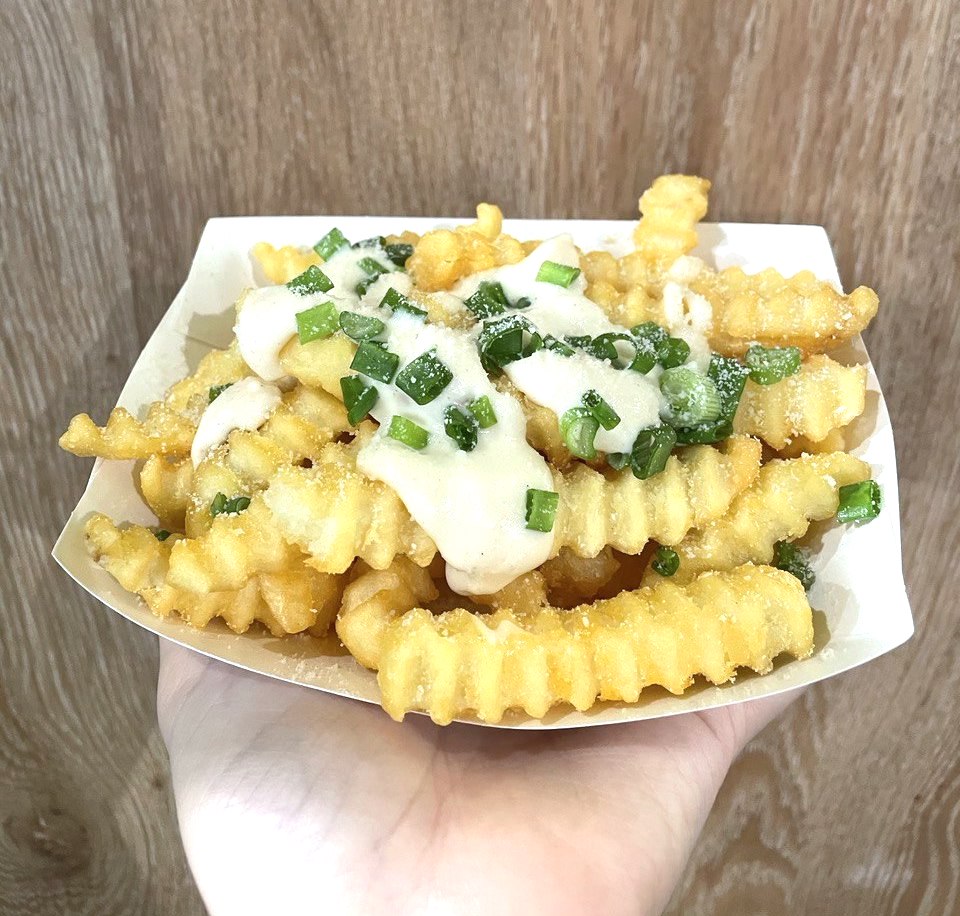 Despite its name, we found that the garlic taste and smell subtle, not overpowering.
The sauce can be quite salty when heaped on in excess though, so... don't.
We tried the Roasted Garlic Mushroom Burger (S$12.50) next. You can also get it as a double for S$16.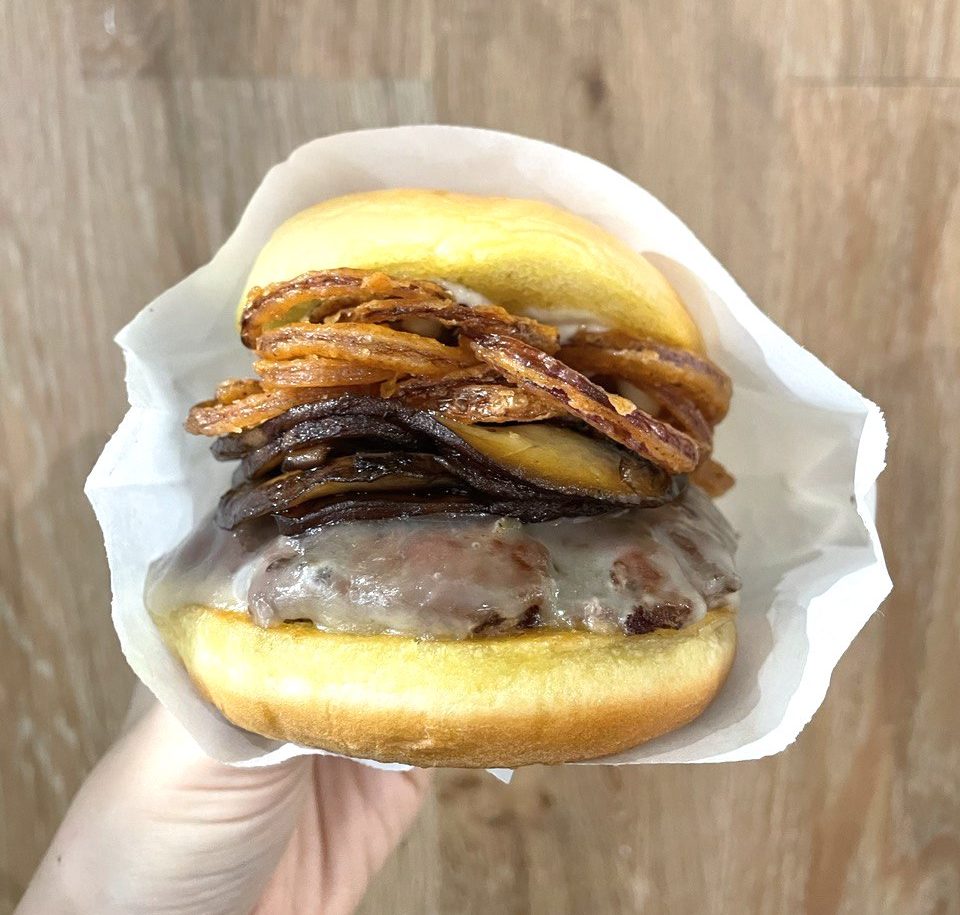 Made with hormone-free Angus beef, provolone cheese, sautéed portobello mushrooms caramelised in butter, crispy fried shallots and roasted garlic mayo, the Roasted Garlic Mushroom Burger also did not boast an overly strong garlic taste or smell.
The taste of beef and mushrooms were the first flavours to hit us, while the fried shallots adds a more varied texture to each bite.
But unless you're a fan of mushrooms and/or fried shallots, the classics are probably a safer bet.
Concretes
Concretes are custard/ soft serve desserts served at Shake Shack.
Inspired by the the gardens and plants from around the world at Gardens by the Bay, two new concretes featuring the same vanilla custard base make their debut as Gardens by the Bay exclusive menu items.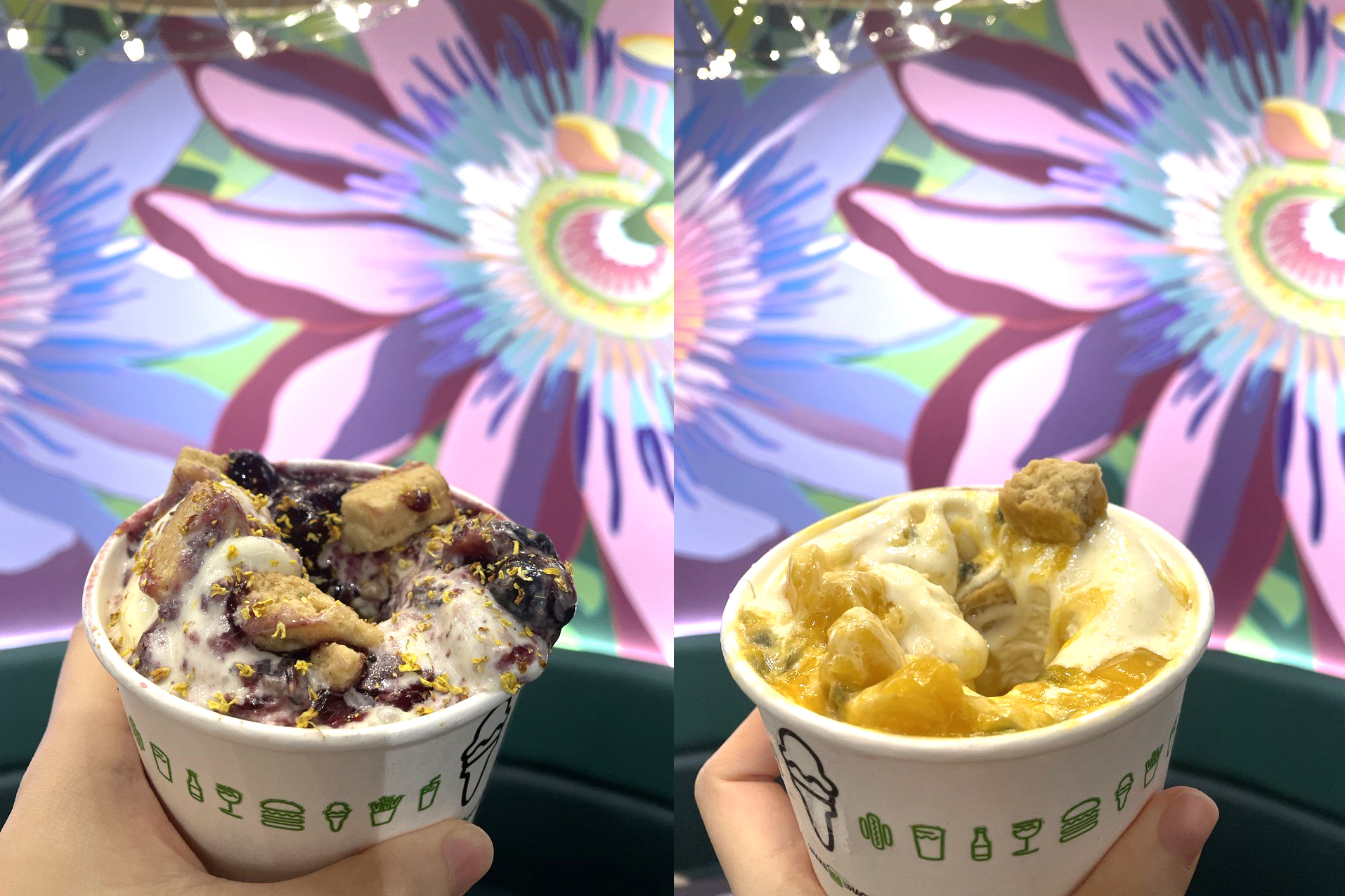 Blended with forest berries jam and shortbread, the Berries by the Bay (S$7.50/S$9.50) is topped with fresh blueberries and dried osmanthus flowers.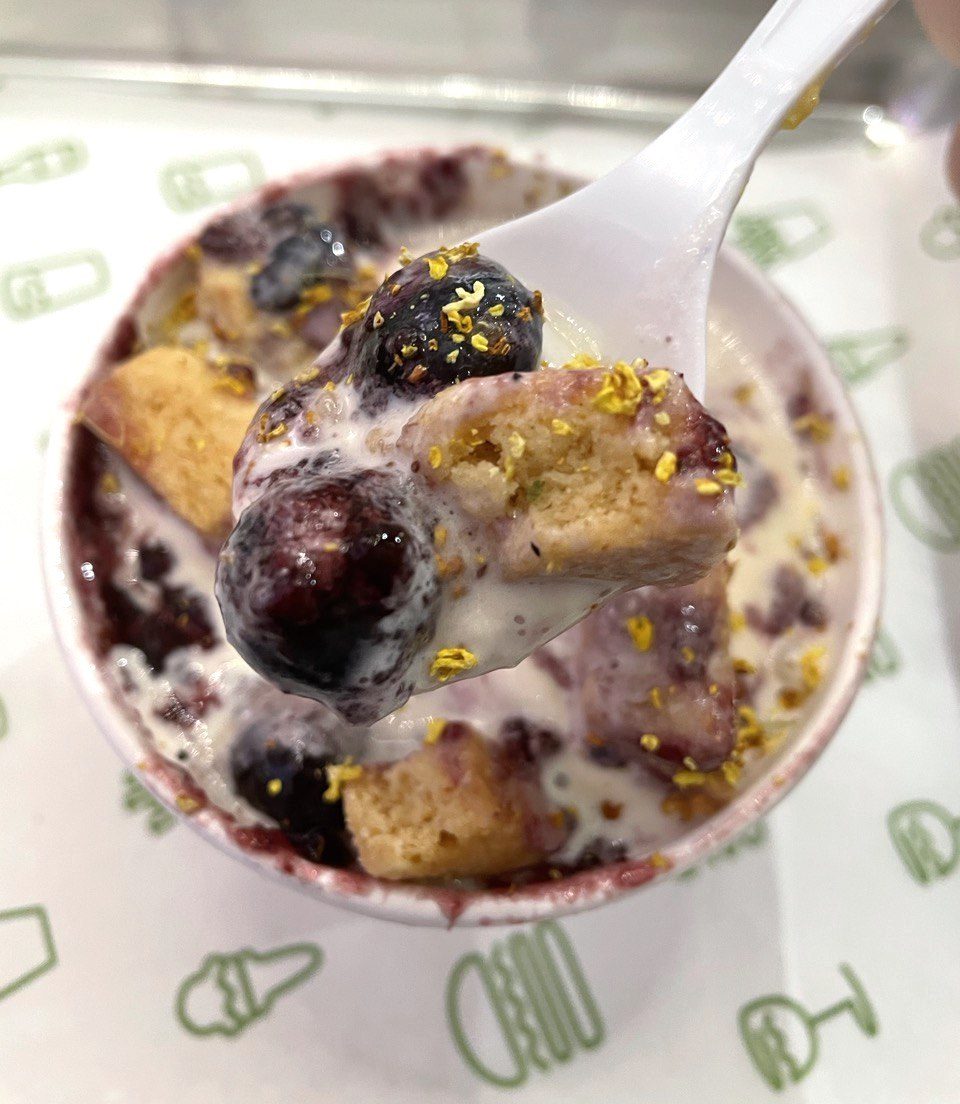 The dried osmanthus acts more as a garnish as the berries come across much stronger.
Featuring mango chunks, passionfruit bits, and shortbread, Tropic Like It's Hot (S$7.50/S$9.50) offers a more tropical fruity twist.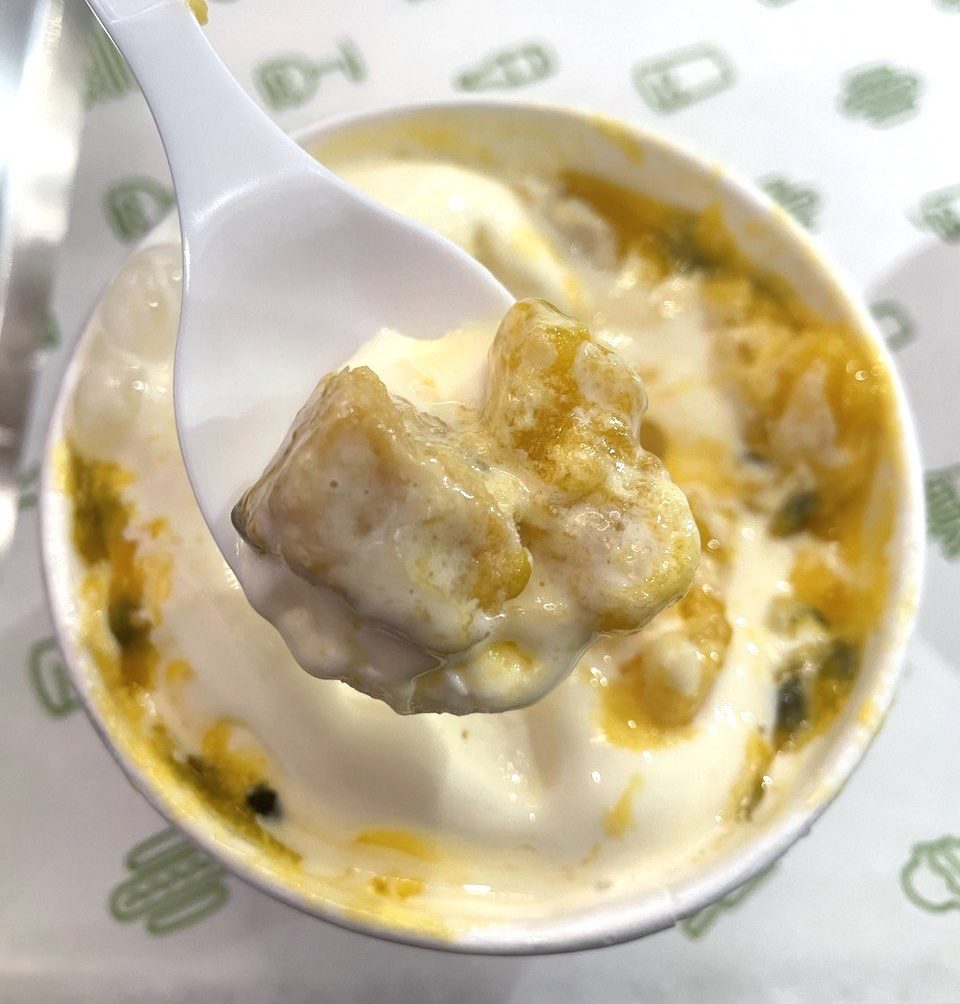 We struggled to choose a favourite between both concretes.
Despite their differences, the tartness of the fruits in both flavours cuts through the sweetness and creaminess of the custard, making it easy to go back for more without feeling that they were cloyingly sweet.
While the shortbread added some crunch, we didn't really care for it and would have preferred more fresh fruit.
Facade and interior
Shake Shack is located by the Shuttle Stop, near the entrance of the Flower Dome.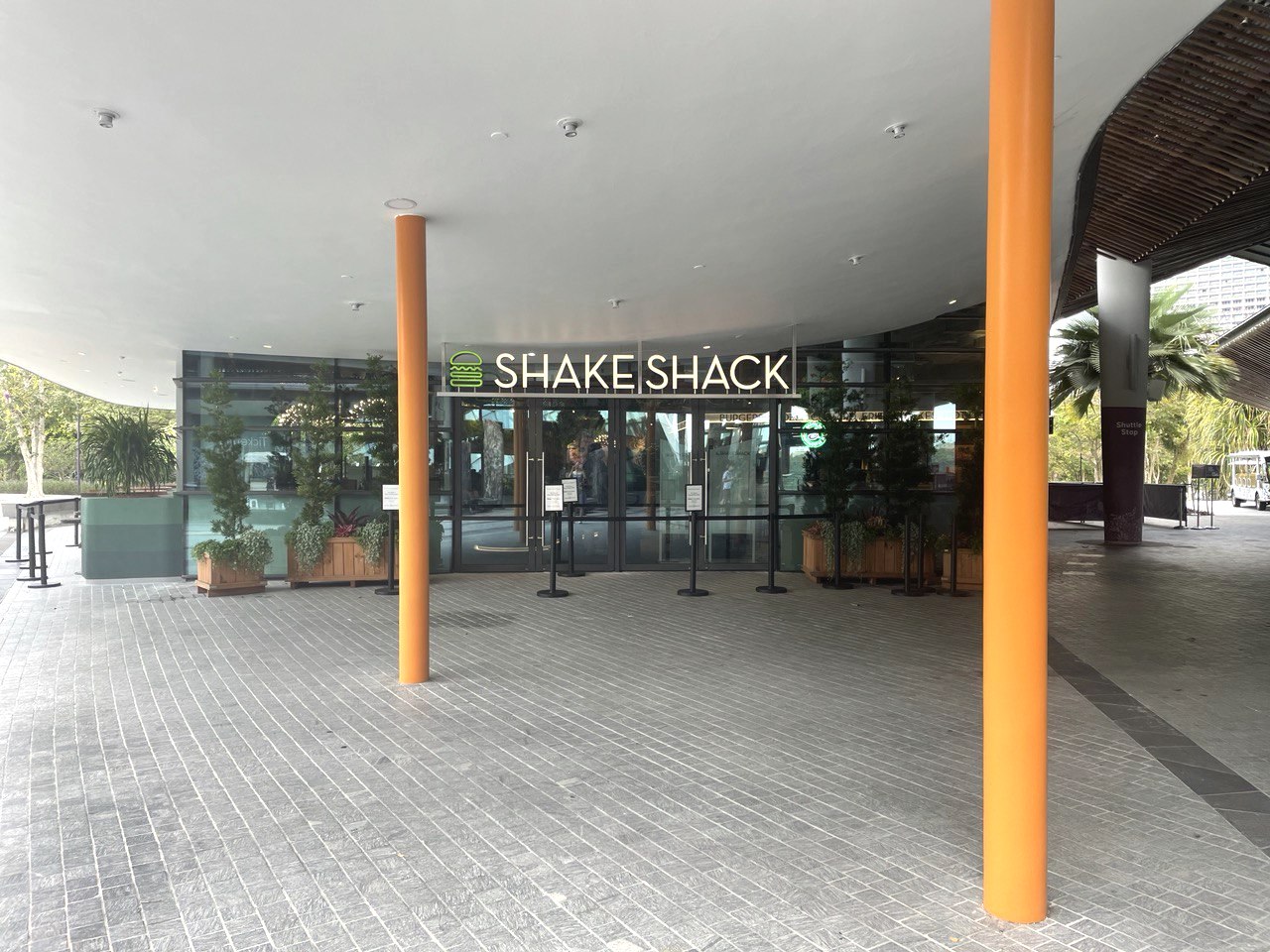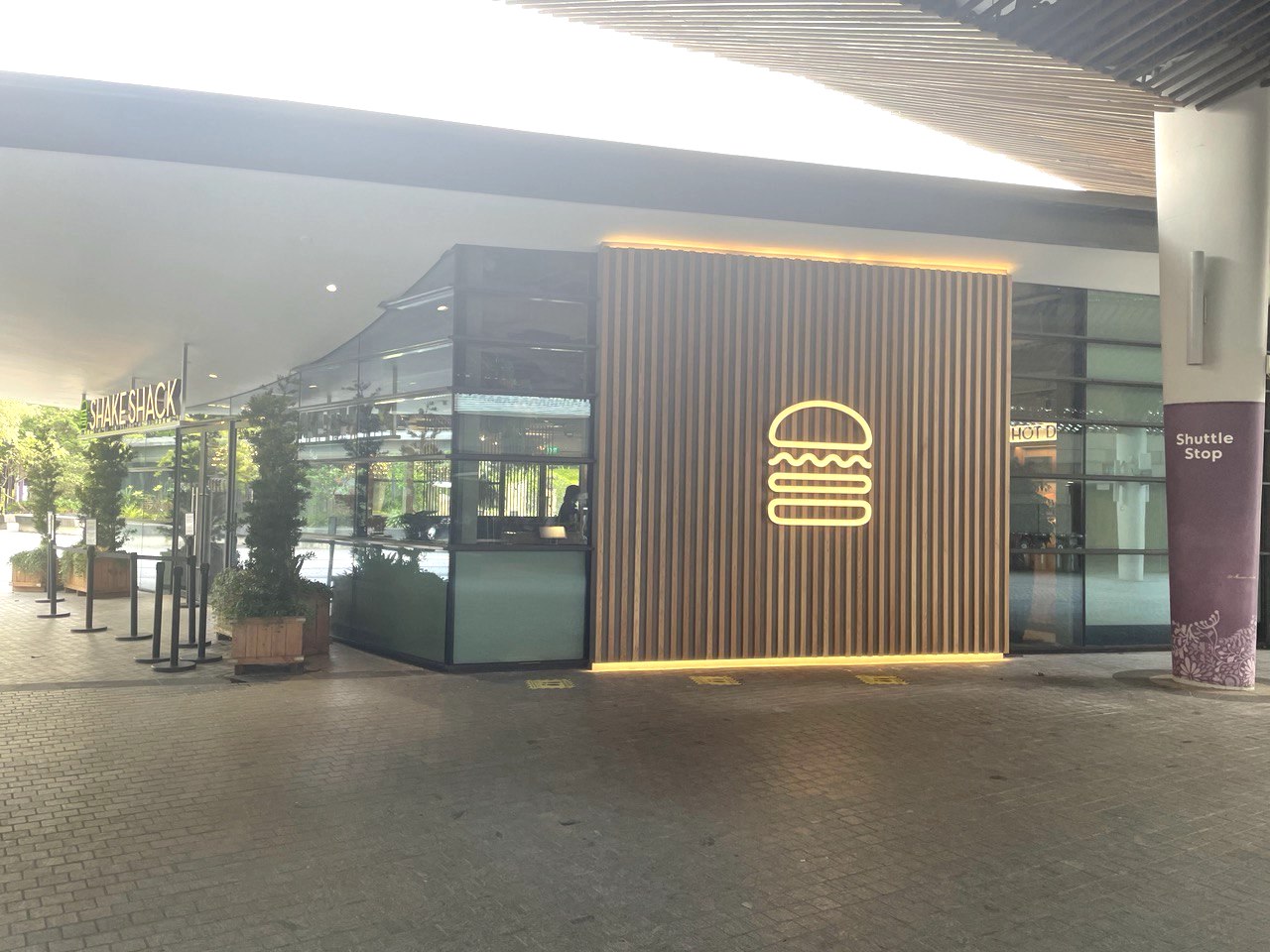 The seventh outlet has a seating capacity of 115 with current safe distancing restrictions,
Seating options are available both indoors and outdoors.
Upon entering, you can make your orders via the e-kiosks or physical counters on the right.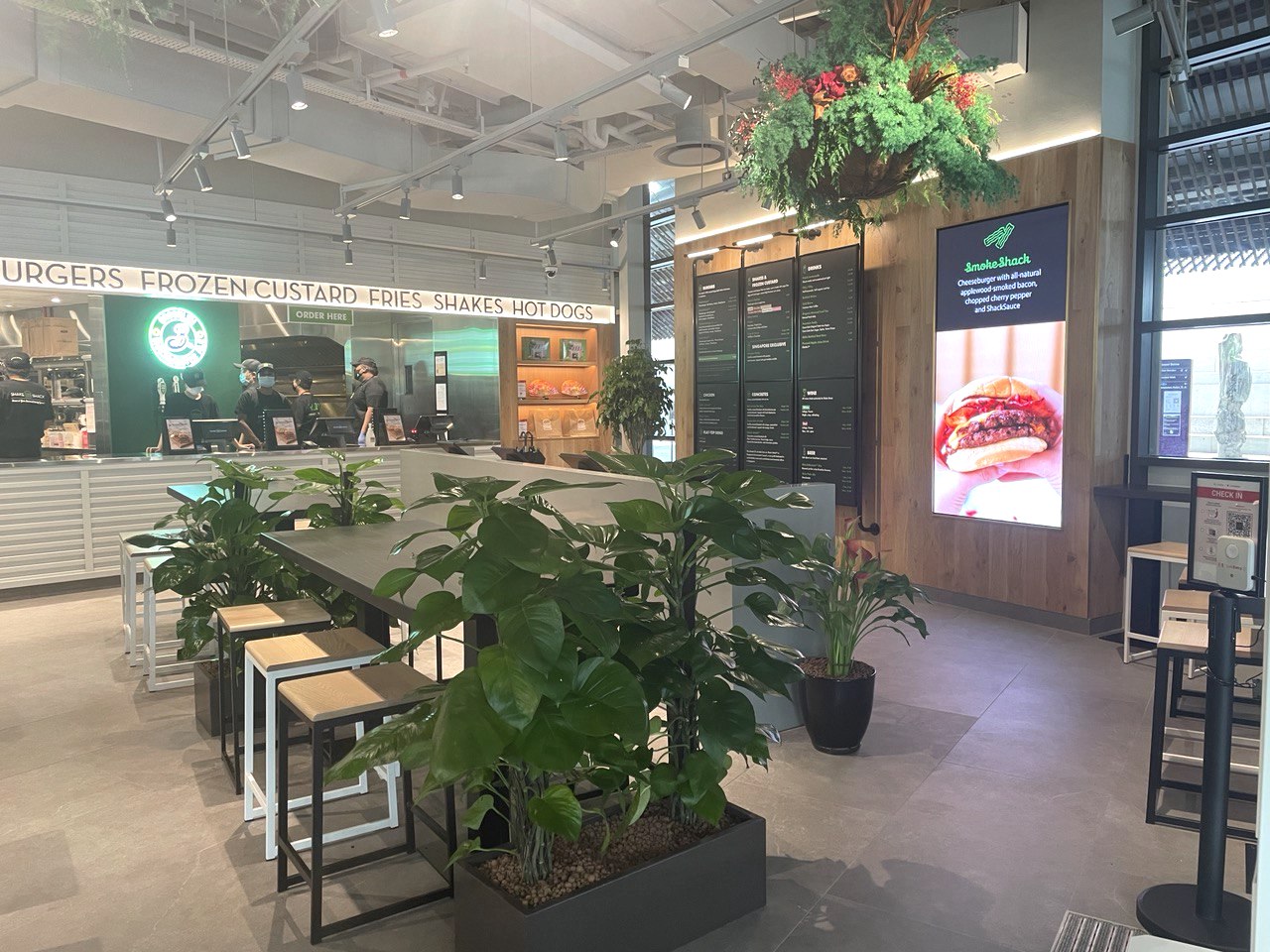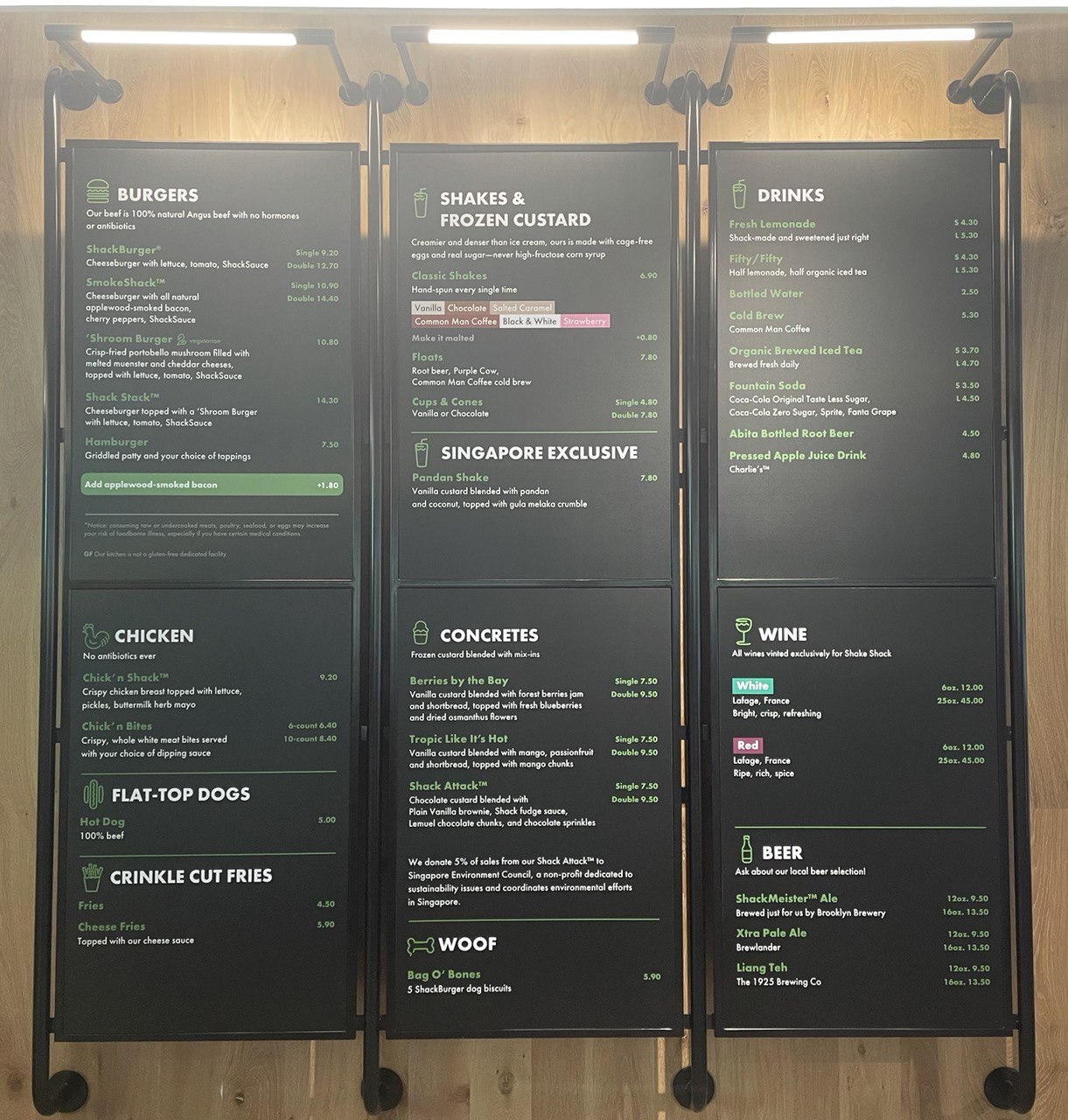 The indoor area is decked out with coral bells, home-grown calla lilies, curtains of amaranths and asparagus ferns, with an eye-catching floral chandelier in the middle.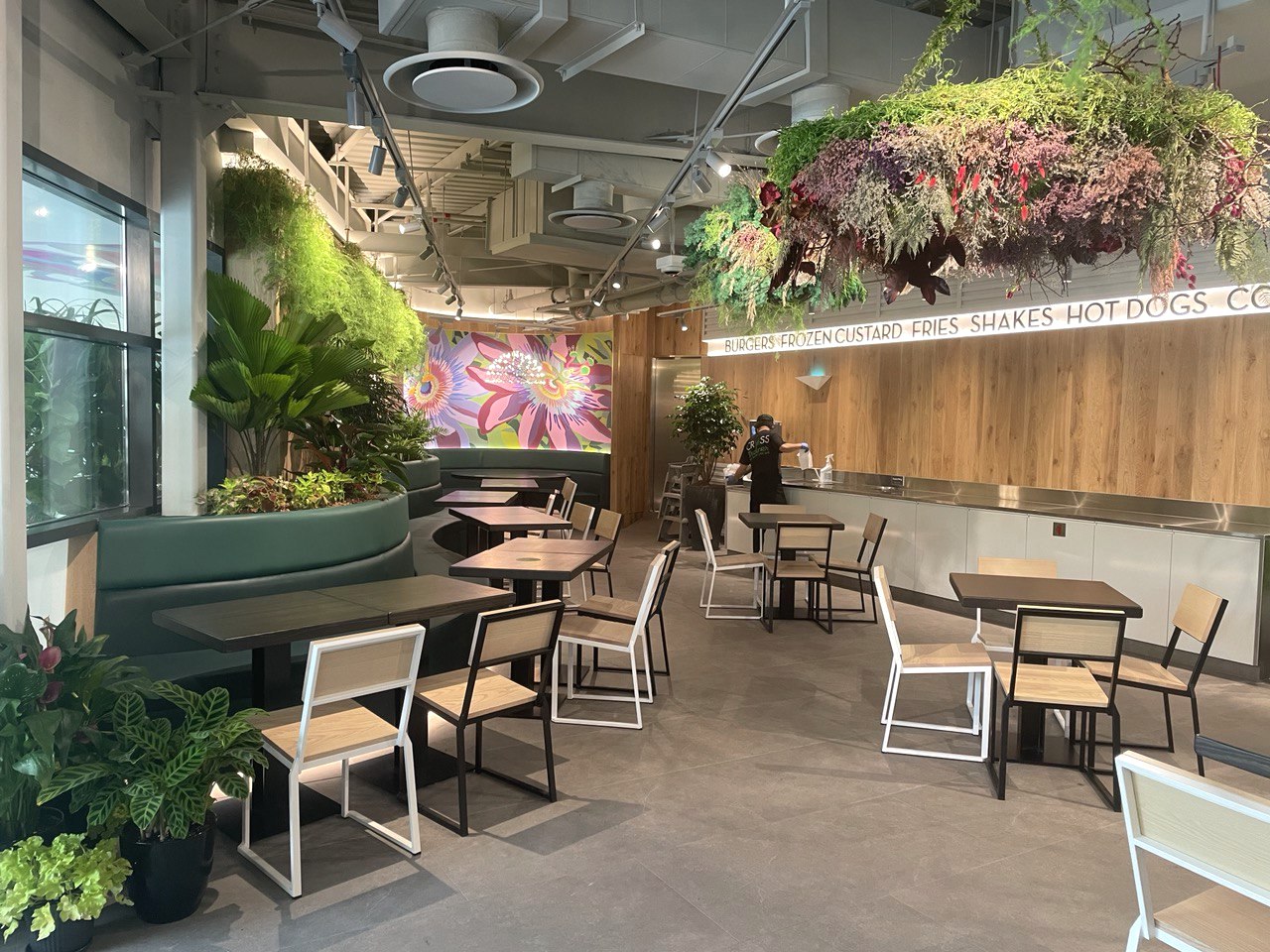 Check out the round table at the back with the vibrant floral mural and light fixture.
There are a variety of seating options outside too.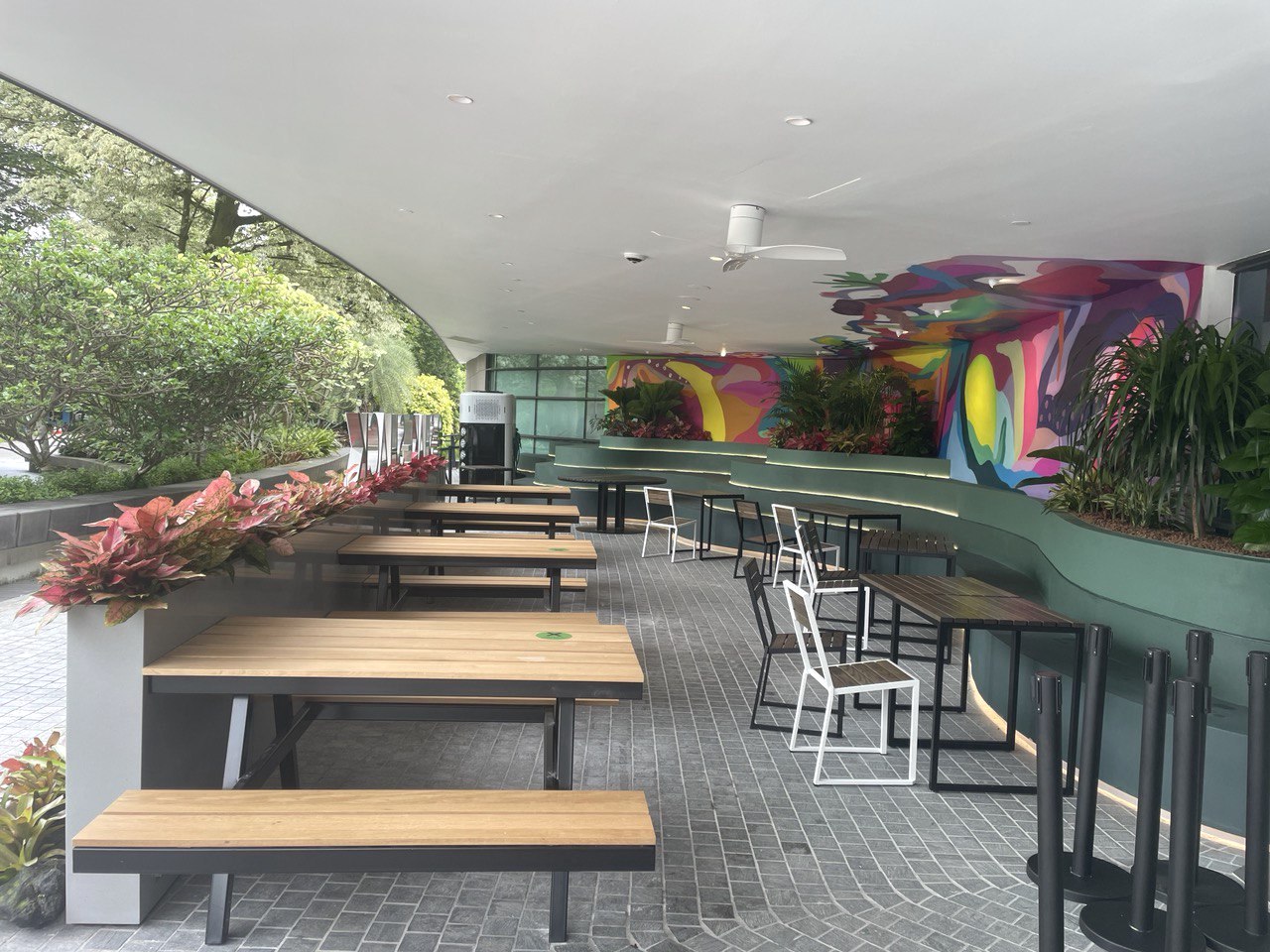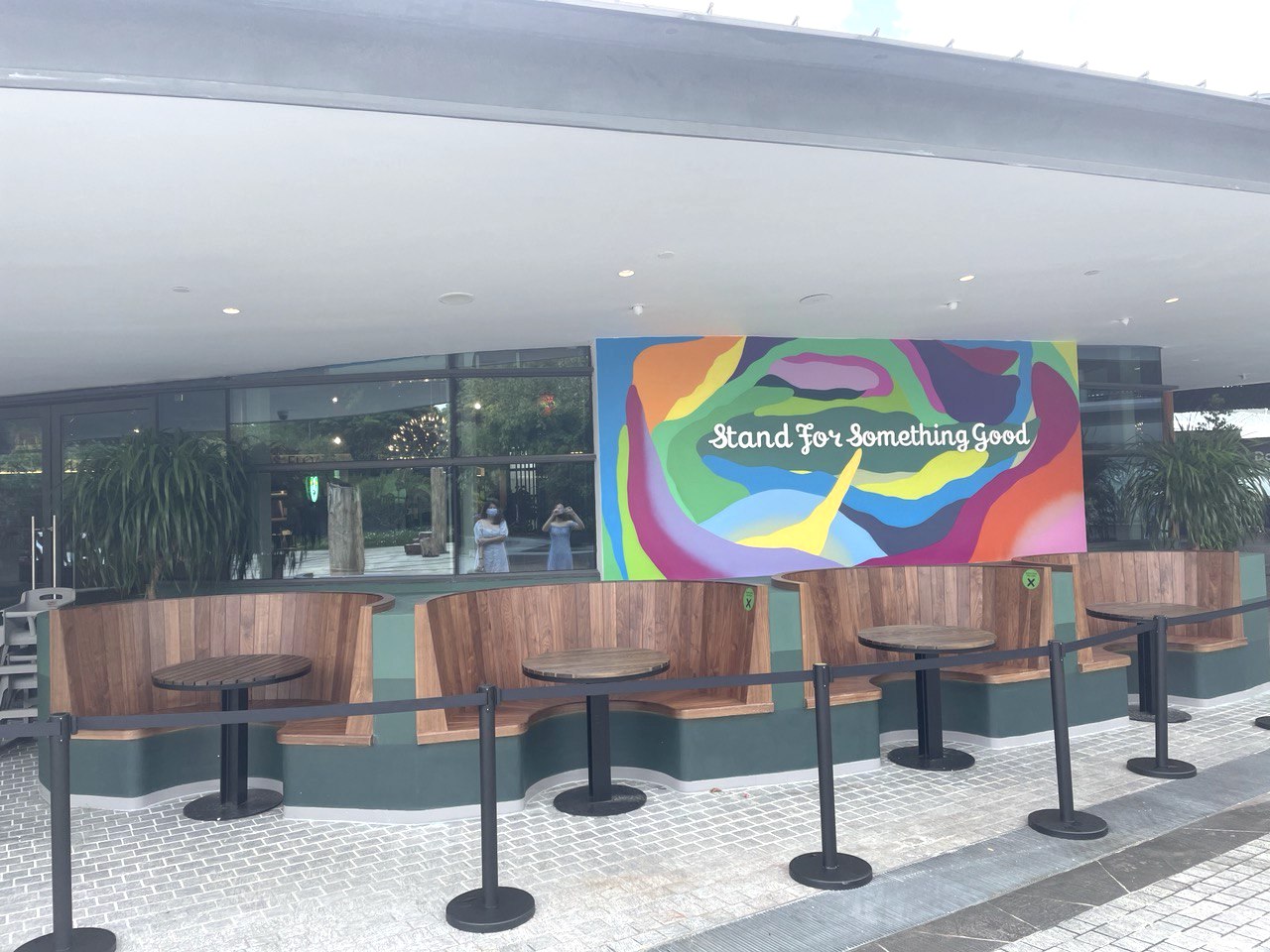 The venue features florals and foliage curated by the horticulturists behind Gardens by the Bay.
Bromeliads (a kind of plant) line the main and front entrance while the outdoor seating is decorated with bedded and hanging foliage.
It also displays murals by local artist Soph O.
Shake Shack at Gardens by the Bay
Address: 18 Marina Gardens Drive #03- 02/03, Singapore 018953
Opening date: August 28, 11am to 9pm.
Opening hours:
11am to 8pm, Monday to Thursday.
10am to 9pm, Friday to Sunday.
Top images by Karen Lui.
Free things here 📣❗️
Hi there! Are you a small-business owner of an existing/upcoming F&B concept/space in Singapore? Email us at [email protected] with more information (introduction, menu, photos etc.) on your business for potential editorial (free!) coverage.
While it is not possible for us to respond to each and every one of you due to our limited manpower, rest assured that each pitch will be carefully read through and considered.
See you in our inbox!
If you like what you read, follow us on Facebook, Instagram, Twitter and Telegram to get the latest updates.