Follow us on Telegram for the latest updates: https://t.me/mothershipsg
The Taliban has taken over Afghanistan in a matter of weeks, and is now establishing their rule over the Afghan people.
The swift development of events since the United States pulled its forces from the country after a 20-year-long occupation have grabbed attention worldwide.
In a now deleted tweet, Malaysian politician Muhammad Khalil Abdul Hadi took to Twitter to "congratulate the people of Afghanistan and the Taliban-led government for their victory", on Aug. 18.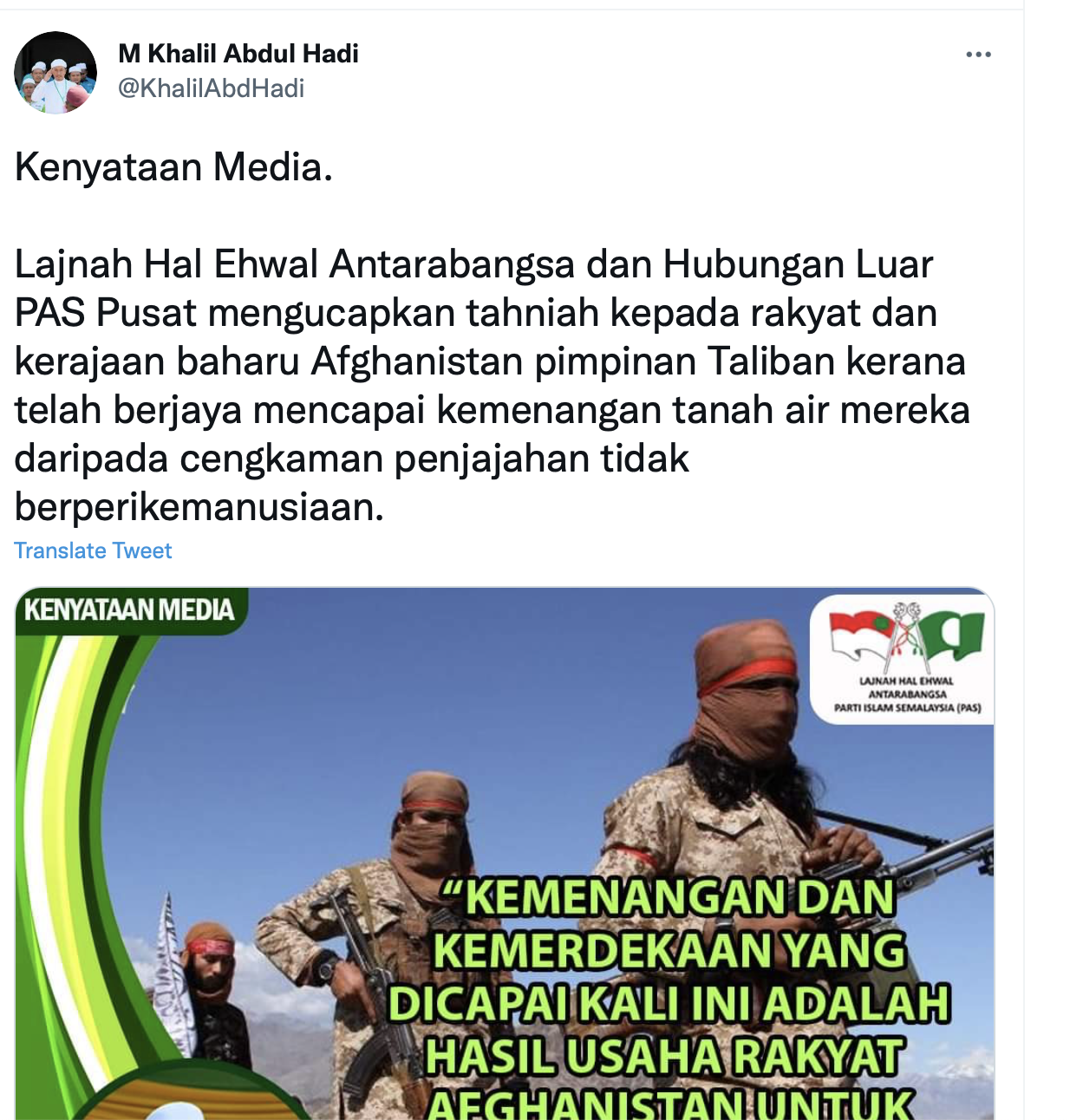 The 44-year-old made the remark in his capacity as the head of PAS' (Malaysian Islamic Party) International Affairs and External Relations Committee. 
He added that the "victory and independence" were a result of the Afghan people's "efforts in liberating their country from inhumane colonisers".
Khalil also expressed hope that "the new government of Afghanistan and its people will work together to develop the country and achieve prosperity, peace and progress based on the sharia and Islamic values".
Although his original tweet has been taken down, his statement remains on Harakah Daily, a news site that's run by the PAS.
Speaking to Malaysiakini, PAS information officer Mohd Shahir Abu Hassan claimed that Khalil's tweet was deleted by Twitter, and not Khalil.
Malay Mail further reported that Facebook has removed Khalil's post from public view and issued a 24-hour ban from posting or commenting, due to violations of the platform's community standards.
Blasted by M'sian netizens
His "congratulatory message" has since drawn flak from Malaysian Twitter users, many of whom questioned if the PAS was supporting the Taliban.
PAS nak sokong Taliban?

Can you guys get your head right? Why don't you just concentrate on domestic matters.

US and allies decided to leave Afghanistan. There was no battle that was won.

Now we see Muslims running away from Taliban Muslims in Afghan. How can that be right?

— Shahril Teoh (@shahril_teoh) August 18, 2021
Another commenter told Khalil to move to Afghanistan instead, and that the PAS is not wanted in Malaysia.
Abang pindah la Afghan. Kiteorang tak nak PAS di Malaysia

— artdeep🔺 (@buynselljpeg) August 18, 2021
PAS' message comes as scenes of civilians flooding the Kabul airport to flee the country circulated widely on the Internet recently.
Meanwhile, many Afghans fear that Taliban's rule would mean a return to past harsh practices, reported Reuters, although it's worth noting that the Taliban has substantial support among the people as well. 
During their rule from 1996 to 2001, women could not work and punishments such as public stoning, whipping and hanging were administered.
Who is Khalil?
Khalil is the eldest son of PAS' current president, Abdul Hadi Awang.
He won the post for PAS' youth chief in 2017 uncontested, and held the position till 2019, as per Astro Awani.
The eldest of 14 siblings, he has been involved in politics since 2006, after completing his undergraduate studies in Yemen.
He completed secondary school in Pakistan and also holds a degree in Islamic Studies from the University of Portsmouth, U.K.
Read more:
Follow and listen to our podcast here
Top image via AFP/Getty Images & @khalilabdhadi/Twitter
If you like what you read, follow us on Facebook, Instagram, Twitter and Telegram to get the latest updates.