You know what's better than a wellness retreat? A wellness home.
Yes, it's a thing and you can own one soon.
Parc Greenwich, an upcoming Executive Condominium (EC) in Seletar, is designed to give homeowners a resort-style feel, complete with lush greenery and soothing sounds of water.
It's as if you are returning to a resort every day after work.
How's that for a life?
You do not want to leave home
Typical modern condominiums are of weird shapes (the units in this EC is as block-ish as they get) and facilities are almost cookie cutter.
But not Parc Greenwich.
Just look at this beauty.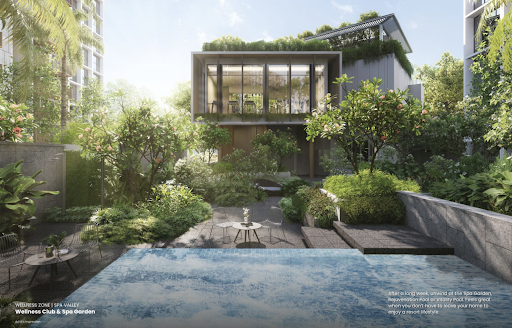 In the developer's (that's Fraser Property Singapore, by the way) own words:
"Specially designed as an exclusive space for well-being, the 3-storey Wellness Club is one of Parc Greenwich's most unique features… At Parc Greenwich, wellness is carefully thought out for everyone."
TL;DR: This is the main selling point of this EC, so please pay close attention. Thank you very much.
Level 1 features a 6.5m high-ceiling (very important) Village Hall that offers a flexible, multi-purpose space for all things wellness: be it badminton (physical wellness), yoga (physical plus spiritual wellness), parties, celebrations and even seminars (social wellness).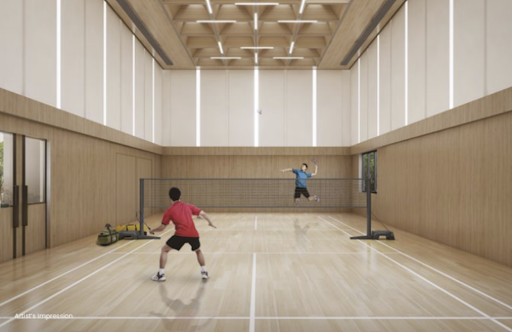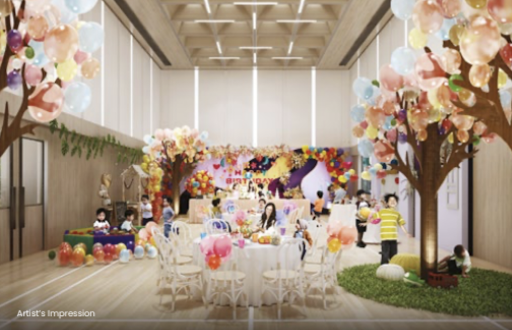 Level 2 has a gym and fitness deck. Nothing fancy but one can imagine how one can melt away all the calories so as to be the better version of oneself.
And at level 3, a Parkview Deck and Parkview Pavilion await to extract oxygen (read: take your breath away) with stunning views of the landed enclave in Seletar Hills.
Perfect for yoga.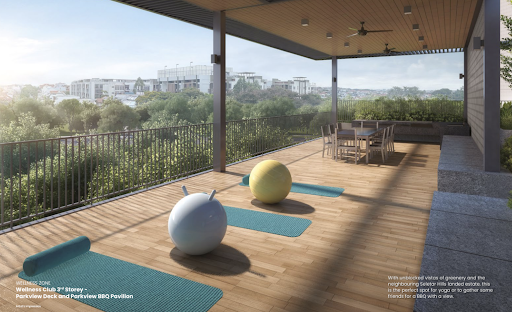 Anyway enough of the Wellness Club, here's the Spa Garden.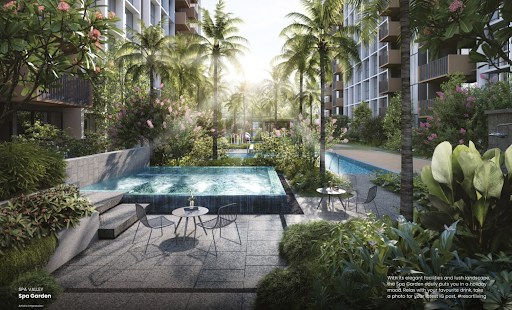 Check out all the greenery surrounding the pools and jacuzzis.
Swimmers can enjoy a leisurely swim in the 50m pool too. For those who desperately need a tan, they can also relax under the sun on the lounge chairs available.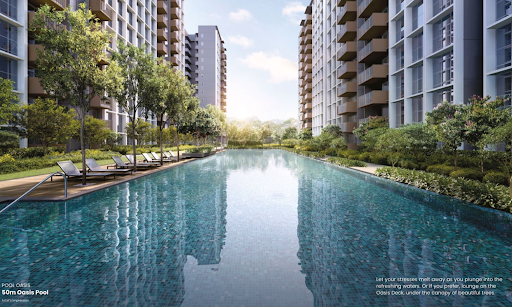 The Wellness Club and Spa Garden are part of the 52 wellness and lifestyle facilities that Parc Greenwich offers, in eight separate recreation zones.
Other just as important facilities
Want to be a masterchef but don't want to make a mess of your kitchen? Try the "Parc Room" which features a well-equipped kitchen and dining area. Come to think of it, it's only polite for you to clean the kitchen after use. So, just use it for its various kitchen appliances.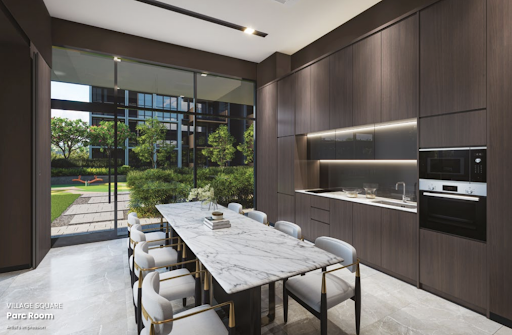 You can Netflix and Chill (not in the traditional sense, please take this more literally) at the "Greenwich Room", where you can catch up on the latest shows while lounging on the comfortable couches available in the room.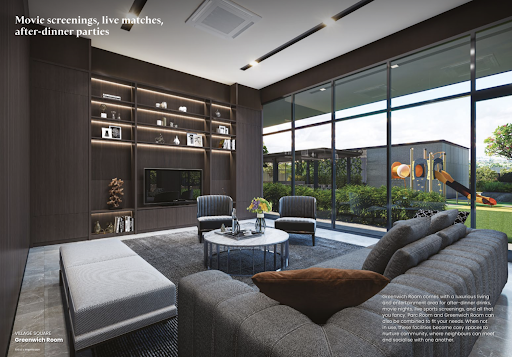 There's a Champs Club where residents can play darts and pool too, if you haven't been to a pub for awhile.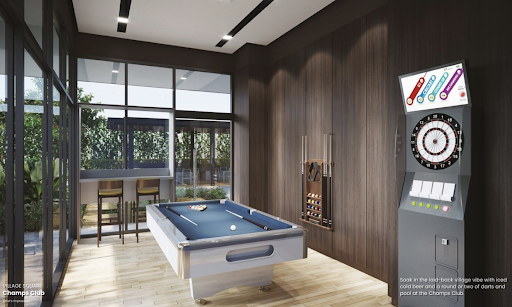 Parents, you'd be glad that there are plenty of facilities like a kiddy splash pool and a "Play Nest" that's filled with toys for kids to expend all that boundless energy so that they can sleep through the night.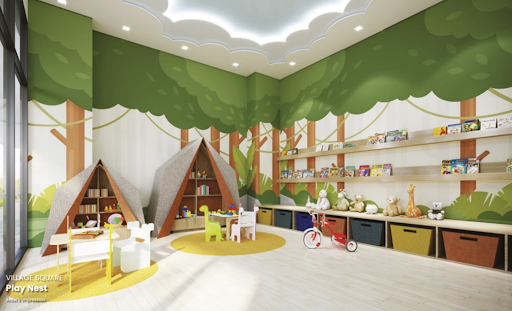 If furry pets are your kids, you'd be pleased to find a pets corner.
And lastly, if you have ambitions to retire as a farmer, there's a "Herbs Garden", where you can help curate and plant herbs and other plants.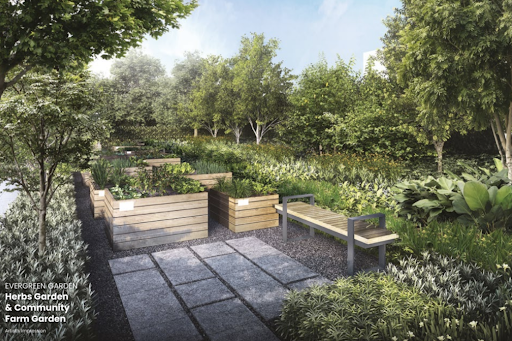 Suffice to say, the developer would like you to know that these facilities are rare and certainly not the norm for an EC.
Location, location, location
While the appeal of residential projects near MRT stations are much touted, the opportunity to live opposite landed enclave in Seletar Hills and near Punggol Nature Walk -- away from the hustle and bustle -- is and should be a unique selling point by itself.
And if you are the type who cannot live without malls, Greenwich V and Seletar Mall are just minutes away as well.
The future growth area includes places like the Northcoast Innovation Corridor, Seletar Aerospace Park or Regional Centre, Punggol Digital District, and the upcoming Sengkang West Industrial Park.
Not bad, not bad at all.
Call 81292122 to register for an appointment, or visit the website for more information.
All images via Frasers Property Singapore
This piece that's brought to you by Frasers Property Singapore reminds the writer to work on his wellness.
Developer: Fernvale Lane Pte Ltd. Developer's License No. C1389. Lot No. LOT 05278V MK20 at Fernvale Lane. Tenure of Land: 99 years leasehold commencing on 8 June 2020. Expected date of vacant possession: 10 June 2026. Expected date of legal completion: 10 June 2029. Encumbrances: Caveat in favour of Malayan Banking Berhad.
If you like what you read, follow us on Facebook, Instagram, Twitter and Telegram to get the latest updates.