Follow us on Telegram for the latest updates: https://t.me/mothershipsg
You know that popular (but scientifically false) saying that says, that lightning never strikes the same place twice?
For one student living in Nanyang Technological University's (NTU) hostel, "lightning" — in the form of monkeys stealing her personal belongings — did indeed strike twice, within the span of just a little more than a week.
Monkeys stole handheld vacuum cleaner from Shopee
A student living in NTU's Crescent Hall posted videos of her encounters with the monkeys on TikTok from the account @notdazedd.
The first video, which she posted on Aug. 15, showed a screenshot of her posting in NTU's lost and found Telegram group about her missing Shopee parcel.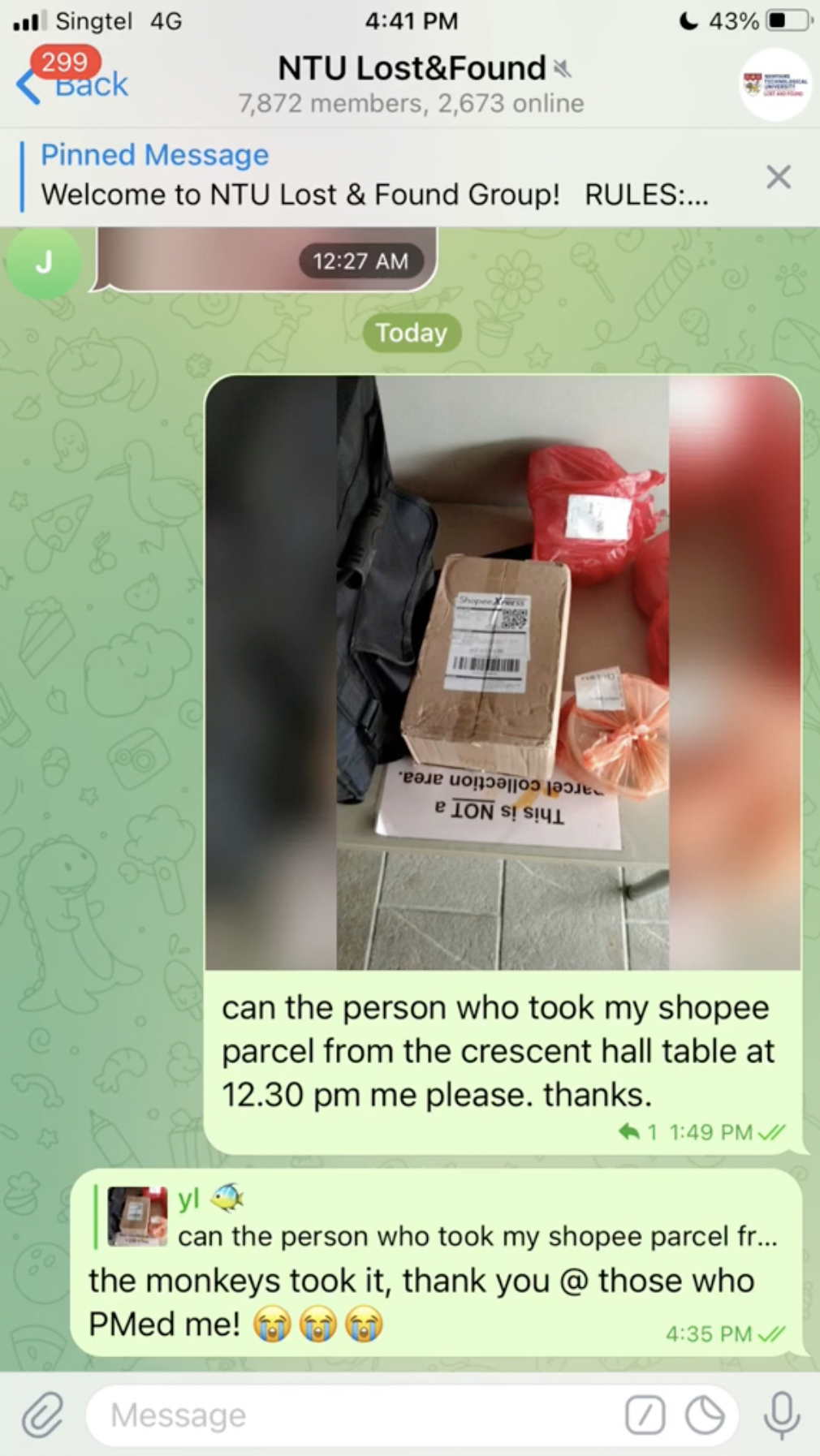 She then displayed a private message conversation between another student and herself, in which the other student said that he had seen a friend's Instagram Story showing monkeys going through a parcel at Crescent Hall.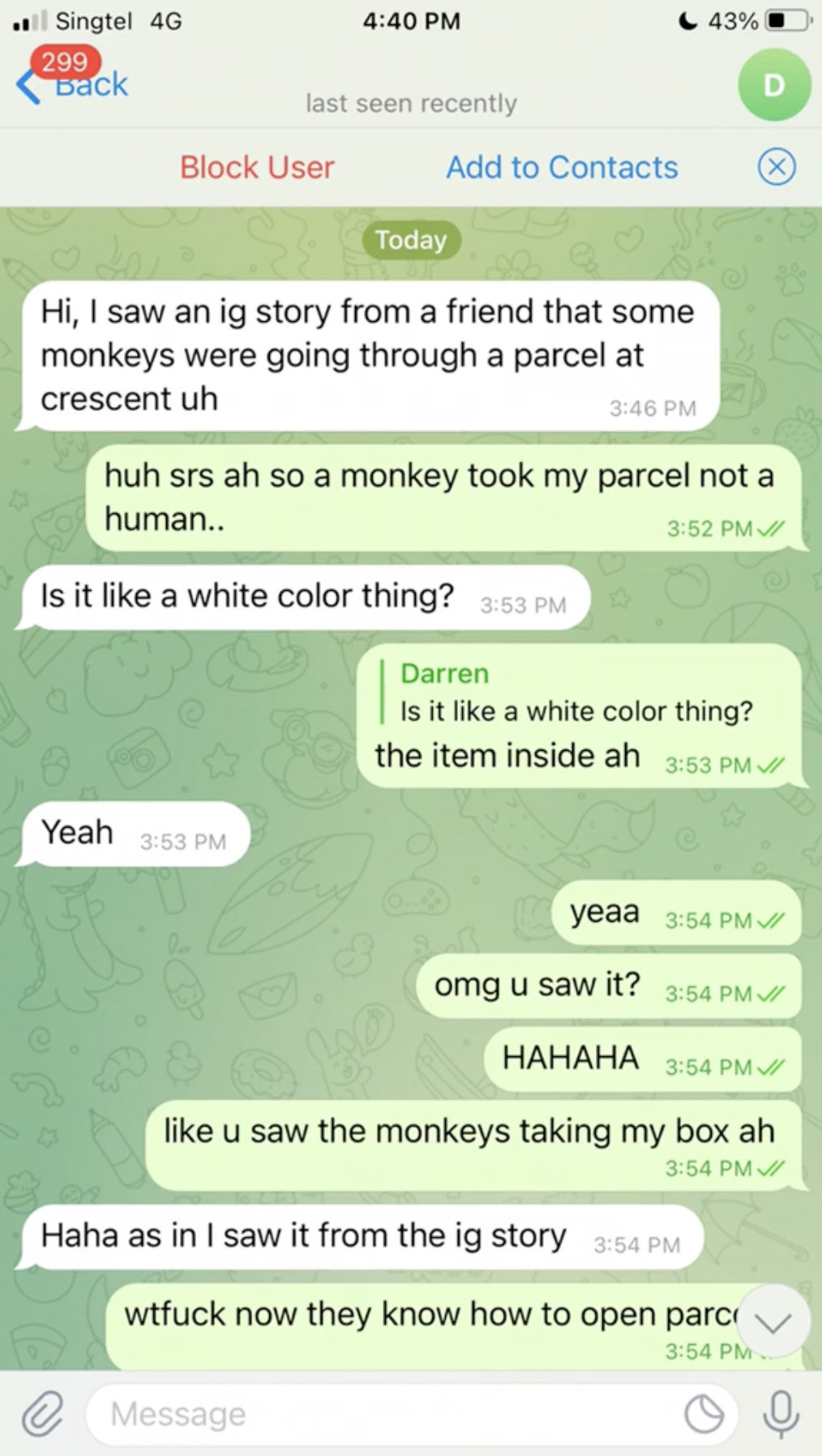 Here are some clips from the Instagram Story of the monkeys after having ripped apart the student's parcel, which contained a handheld vacuum cleaner that cost S$17.99.
Monkeys enter her room and steal her food
Unfortunately for the student, her monkey encounters were not over, and were about to get even more up close and personal.
On Sunday (Aug. 22), she posted two more videos of her experience with monkeys entering her room and stealing her food.
She shared a recording of one monkey slyly making its way into her room through the open window, as the student could be heard lamenting quietly in the background, "Noooo! Go away..."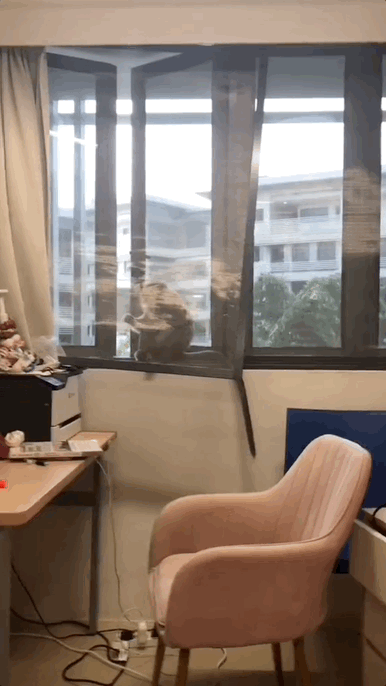 It then suddenly leapt onto her bed, startling the student and causing her to scream and run out out of the room and into the corridor.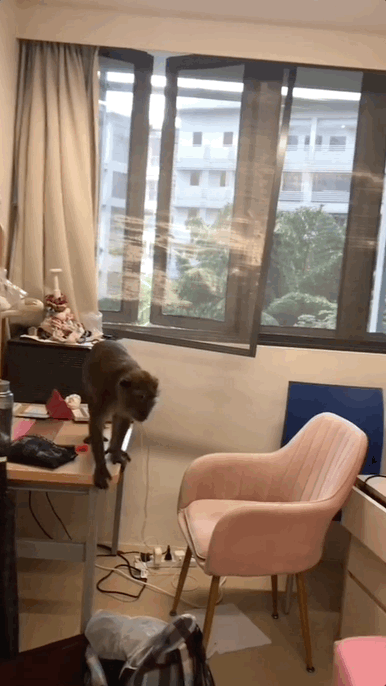 Another video showed the aftermath of the room invasion; two monkeys perched on the ledge outside of the student's window, snacking on food that they stole from her room.
One was eating her bread:
While another tried to gnaw on an egg.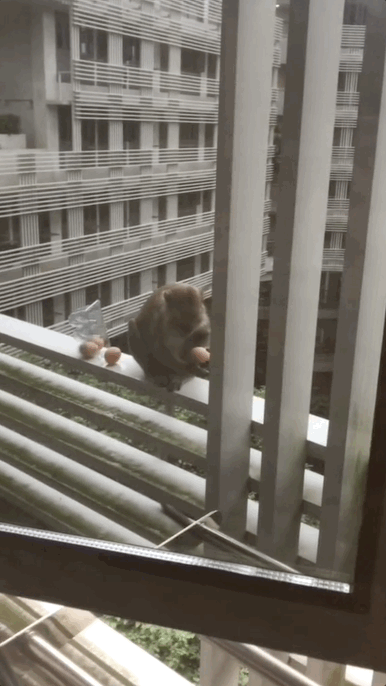 Felt "completely traumatised" afterward
In a clarification video that she posted early on Tuesday (Aug. 24) morning, the student provided a bit more context and explanation for the incident.
Responding to comments that had asked why she didn't close her windows, she explained that while she usually keeps her windows closed, she had opened them that day as she was studying next to them.
However, she fell asleep while studying so it didn't occur to her to close the windows before she took a nap.
She also said that she took a video of the encounter rather than calling campus security for three reasons. Firstly, because she was trying to remain calm and quiet, in order to not agitate the monkeys.
In addition, she didn't want to leave her room, in case the monkeys took her valuables.
And thirdly, she said that campus security would take 15 minutes to arrive, so she decided to just wait out the monkeys to take her food and leave, which only took five minutes.
She also expressed that she was emotionally affected by some of the comments:
"I was honestly really shocked and affected by some of the window comments, that somewhat suggested that I was asking for the monkeys to enter my room.

But I guess that there was a lack of context for my actions which were captured in the videos, which led to some assumptions being made."
She thanked everyone who had checked in on her, asking if she was okay.
She assured viewers that while she was "completely traumatised" on Sunday and even developed a fever because she was so shocked, all is well now.
Top photos via TikTok / @notdazedd.
Follow and listen to our podcast here
If you like what you read, follow us on Facebook, Instagram, Twitter and Telegram to get the latest updates.