Follow us on Telegram for the latest updates: https://t.me/mothershipsg
Kannan S/O Kunjiraman's professional career in soccer is long behind him.
Yet, he still remembers the roar of the crowds and the piercing sound of the whistles blowing during the national games and football league matches that he used to take part in.
A former national striker, Kannan represented Singapore for 12 years and played alongside famous names like Fandi Ahmad.
The star striker became a household name in his time and brought home a slew of awards throughout his football career.
However, all that came to an end in 1995.
That year, he was convicted of conspiring with two others to bribe then-national goalkeeper David Lee with S$80,000 to concede a goal in a Malaysia Cup match.
He spent 14 months behind bars and was handed a lifetime ban on taking part in football management or membership or activities under the Football Association of Singapore (FAS).
More than two decades later, Kannan still faces the repercussions of his mistake.
Last year, he received a letter from the FAS, informing him that it received a complaint that Kannan was involved in football management and football activities at the Indian Association Singapore.
In particular, the association said that Kannan was involved in promoting football, refereeing, organising tournaments, and playing football socially at the Indian Association.
FAS gave him another warning:
"You are not allowed to partake in any football related activities either directly or indirectly. Any violation of the ban will be treated very seriously by FAS."
Since then, Kannan has stopped playing the sport that brings him "joy and happiness" completely.
But on Aug. 13 this year, he decided to fight for his freedom to play soccer and sent an appeal to the FAS to lift his lifelong ban.
His glory days
Sadly, Kannan left the soccer scene a couple of years before I was born, so I knew next to nothing about the national footballer.
I did a quick search on the famous "K.Kannan", and a flood of newspaper articles surfaced, naming him a "star striker", "top marksman" and "top scorer".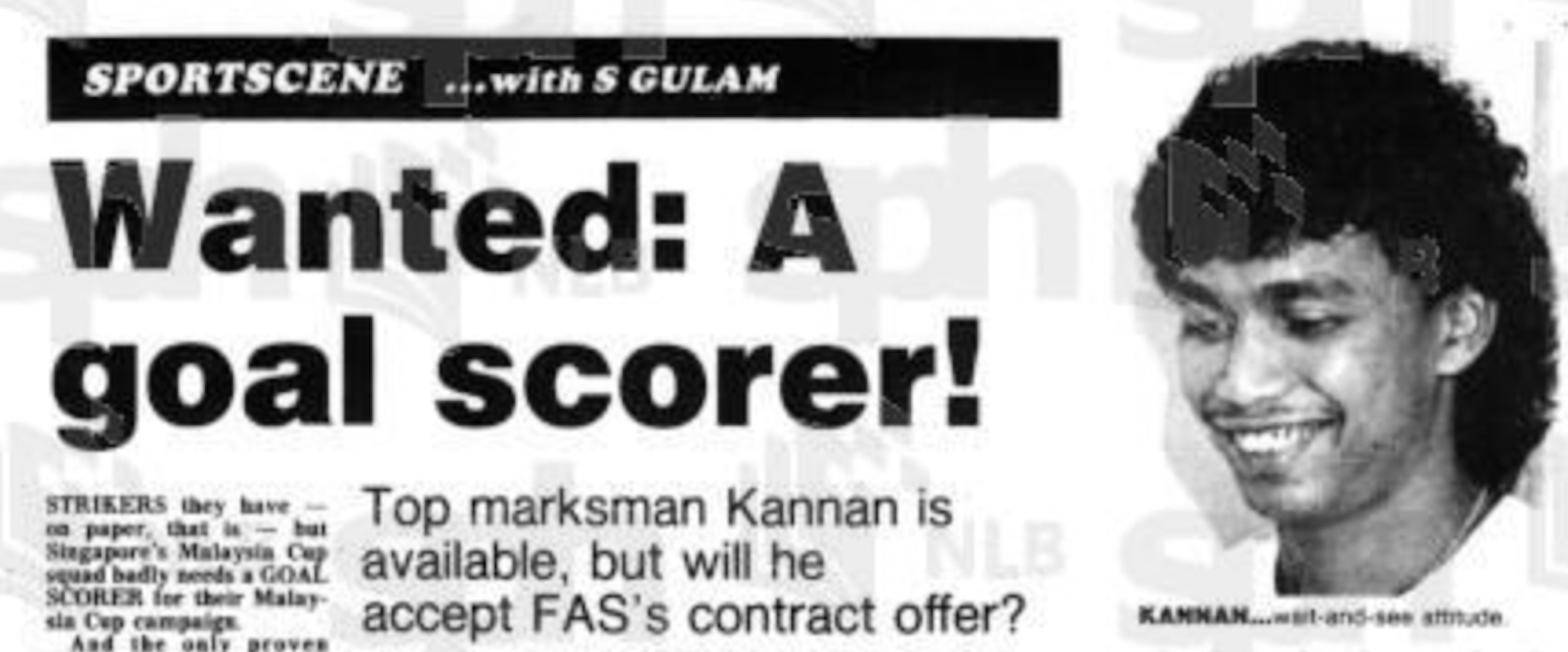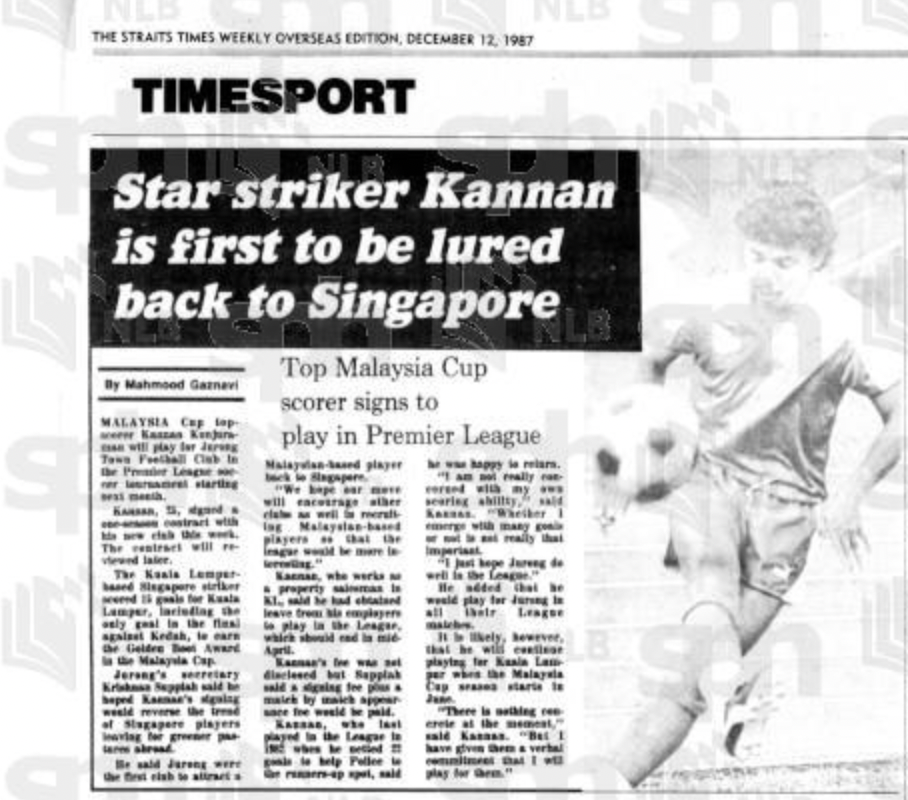 Speaking to Mothership, Kannan said that he had always dreamed of becoming a football player since he was a little boy.
He used to play on the football field in school. After school, he'd move to the basketball court near his home to play some more.
"Soccer is always an interest (of mine). Whether I was playing or just watching."
And the love for the sport didn't stop there.
He pursued it, mastering the skills that got him into the under-16 National Team in the Lion City Cup, where Singapore won the bronze in 1978.
And during that particular tournament, he scored five goals, winning himself the prestigious Golden Boot award.
In the following year, he represented the Singapore Youth Team in the Asian Youth Tournament, and in the next, he was drafted into the Singapore National Team for the Pre-Olympic Tournament.
He also represented the Singapore National Team in the SEA Games not once, but twice in 1981 and 1983.
And the list doesn't stop there.
In the next couple of years, Kannan signed as a player for the Kuala Lumpur Football Club (KLFC) and made great achievements in the Malaysian Cup, earning him another Golden Boot award for scoring 15 goals in a season.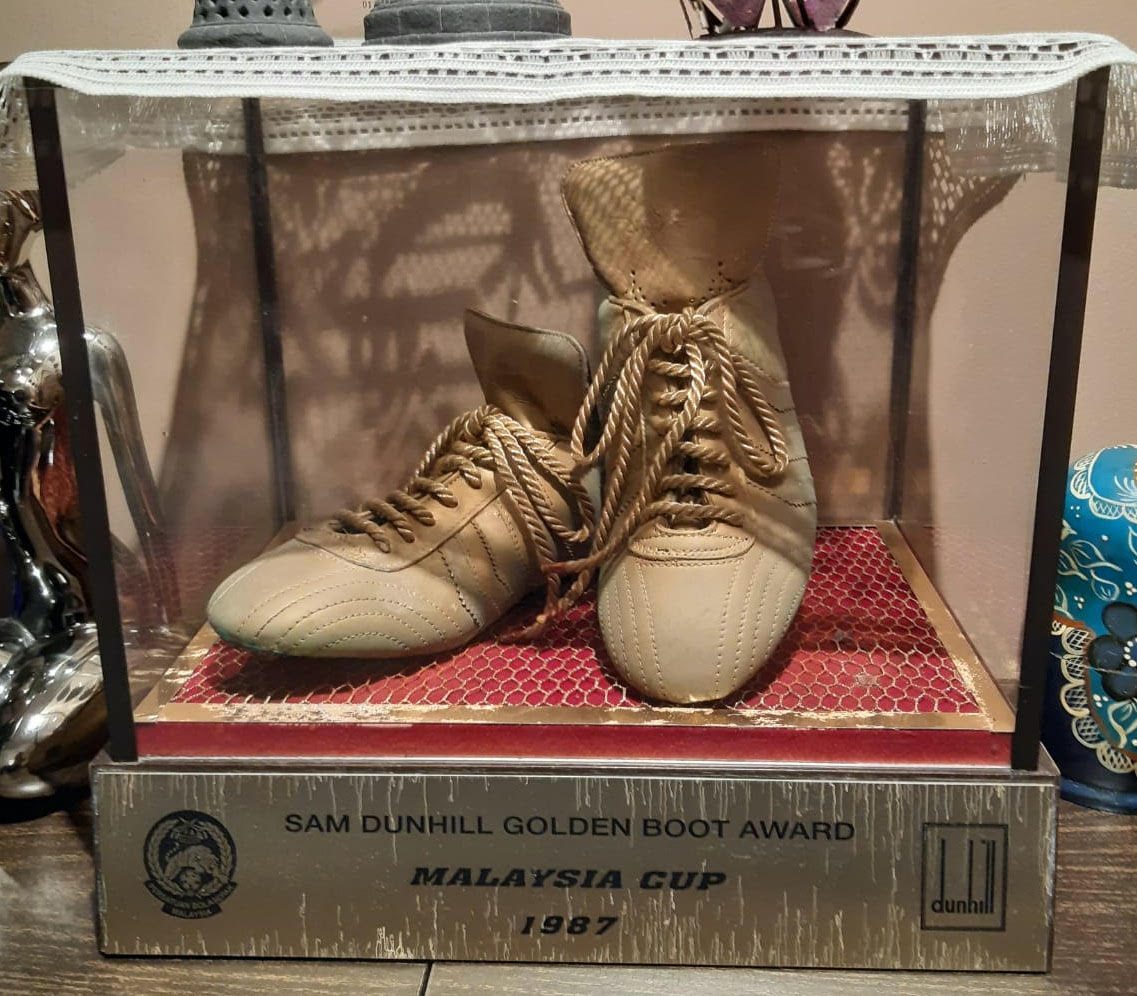 During his time in KLFC, he was even "loaned" to the Singapore National team in 1988, as he could "play a key role in Singapore's hopes for the final of this year's Malaysia Cup," said then national coach Seak Poh Leng.
After 12 years of professional soccer, he decided to retire at the age of 35.
"The feeling (of playing football) will never die. I mean, it's always in your memory. Wherever I go, whatever I do. Even now when I play socially, I think about it," Kannan said, reminiscing his days on the field.
In 1992, he became an insurance salesman.
Things were going well. He was putting food on the table for his growing family while playing recreational football at Changi United Football Club on the side.
But two years down the road, he had a meeting which changed his life.
The match-fixing incident in 1995
Kannan seemed disturbed when he recalled the events that led to his sentence in April 1995.
Sometime in 1994, Kannan met with Rajendran s/o R Kurusamy, a bookmaker to discuss insurance plans.
What seemed to be a typical conversation about insurance took a turn when Rajendran asked, "Do you know David Lee?"
"Yeah, of course I know," Kannan answered.
The meeting set into motion a daring plan to bribe then-national goalkeeper David Lee to concede a goal in an upcoming game where the Singapore team was facing Perlis.
Aside from Rajendran and Kannan, the Changi United manager Ong Kheng Hock was also involved.
During the game between Perlis and Singapore, Lee conceded a goal.
Believing Lee deliberately did so, Rajendran offered S$80,000 to Kannan to give to Ong for Lee and gave him S$5,000 as a token for arranging the bribe.
Kannan was later caught and convicted of conspiring to fix the final score of the game with the two other men.
"But we never even spoke to David Lee," said Kannan.
"But in court, as long as you conspire, it is a crime. Even the Chief Justice himself said that whether the thing really happened or didn't happen, the fact that you can conspire means you're already guilty."
He was jailed for 14 months and issued a lifetime ban on all football activities under the FAS.
Despite this, he doesn't downplay the fact that he took part in corruption.
"I felt devastated. But you know, we all make mistakes in life and have to learn not to mess around with this group of people again. But, you still have to pay the price."
14 months in prison with a lifetime ban on soccer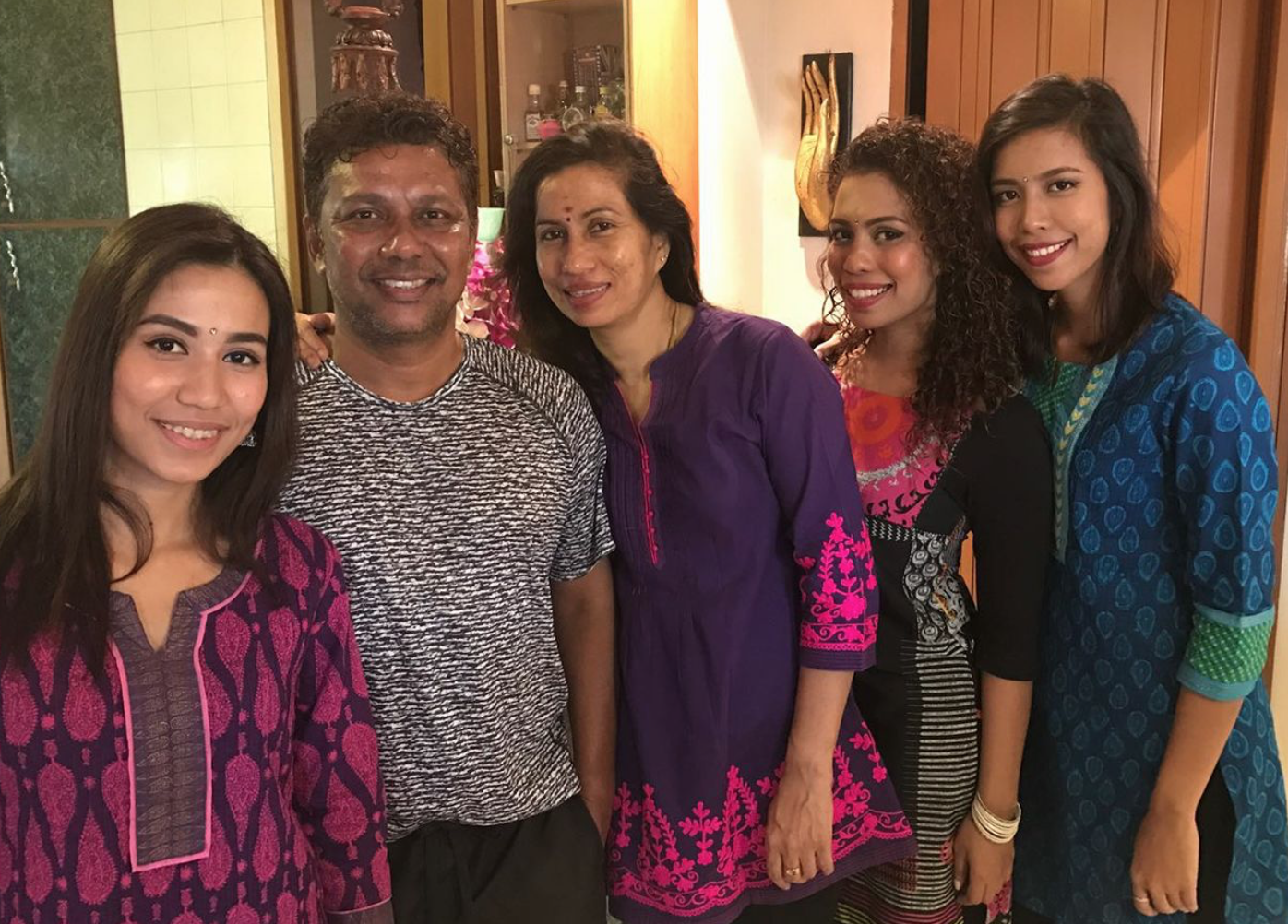 "It was terrible and sad," Kannan said about his time in prison, declining to reveal more.
After his release in 1997, he held a couple of odd jobs before starting his business selling trophies and medals.
In a way, he chose a career path that is connected to his passion for sports — producing awards for school sporting events across Singapore.
Never being able to play in front of a crowd of roaring spectators again is heartbreaking but Kannan has accepted it. However, he could not give up playing football completely.
So when he joined the Indian Association in 1998, Kannan gradually started taking part in its football activities within the association.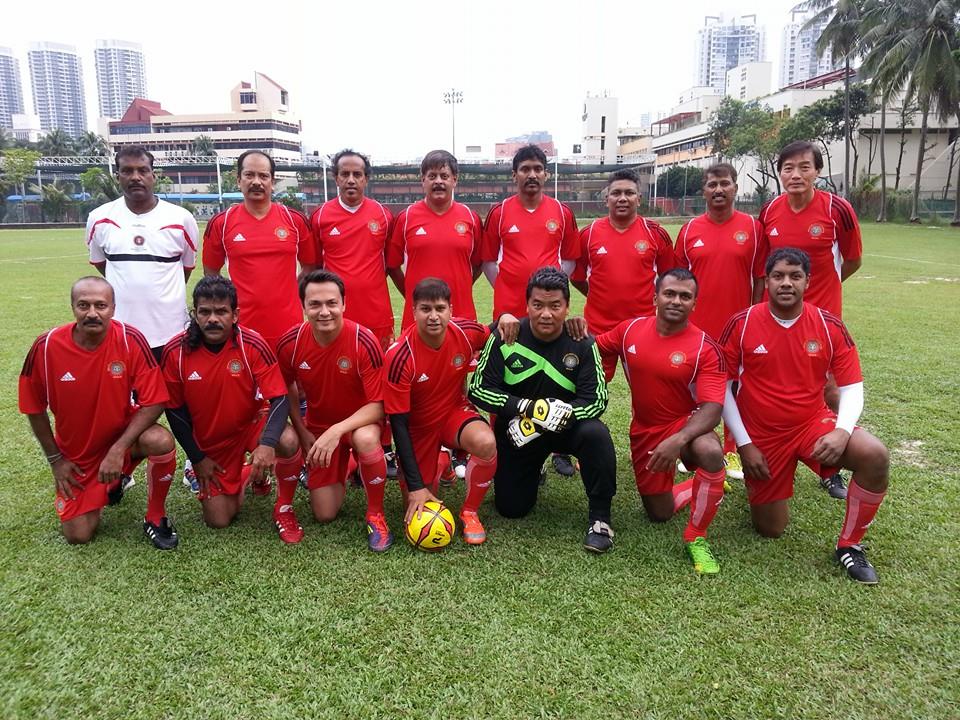 Playing soccer is his way of de-stressing, something that makes him feel alive, said Kannan. And playing social football with other IA members gives him that.
"Now with the pandemic and everything, it has become even more important. I don't jog or do brisk walking. We footballers are not so motivated to do things like that, we rather play games."
Since the Indian Association is not under the FAS, he thought he was in the clear.
But with the warning from FAS in August 2020, Kannan is now not so sure, and since then, he has stopped playing football completely.
No more football, not even outside the FAS?
Former politician Jose Raymond recently highlighted Kannan's plight on Facebook, pointing out that the football activities that Kannan took part in were under the Indian Association, which is not directly affiliated with the FAS.
"I thought this was preposterous as an individual should be allowed to play with his friends, as a means to keep fit, and age gracefully, especially if it doesn't involve any football activities directly organised by the FAS, or a sanctioned event."
Kannan acknowledges that he took part in social football, refereeing, and match organising at the Indian Association, but agrees that "it has nothing, nothing to do with FAS":
"We have played every Tuesday and Friday for 20 years. And it's just social, right? So I don't understand. Why must it be like this?"
Raymond is also working with a legal team from Eugene Thuiraisingam LLP to appeal the lifetime ban.
The appeal, which was seen by Mothership, pointed out the example of Abbas Saad who was convicted of corruption for match-fixing in June 1995. His permanent suspension was lifted after an appeal in 2009.
The appeal also pointed out that in another case, six former S League players who played for Liaonin Guangyuan — Zhao Zhipeng, Li Xuebai, Li Zheng, Dong Lei, Peng Zhiyi, Tong Di, and Wang Lin — were convicted for match-fixing but they were not handed a permanent suspension.
The FAS subsequently responded with a media statement on Aug. 20, reiterating that Kannan had breached the conditions of his lifetime ban.
However, the statement did not address the question of why Kannan's actions were considered a breach since they were under the Indian Association and not FAS.
For now, Kannan just wants to clear the air, appeal the ban, and continue taking part in the sport that he loves dearly.
"I've made a mistake and have paid for it very dearly and I just want to move on with my life. Stepping into the field, it's a joy and happiness. Something money can't buy."
Mothership has reached out to FAS for more information and comment.
Top image via courtesy of Kannan.
If you like what you read, follow us on Facebook, Instagram, Twitter and Telegram to get the latest updates.