Follow us on Telegram for the latest updates: https://t.me/mothershipsg
The Ministry of Health (MOH) has confirmed 120 new cases of Covid-19 in Singapore on Saturday (Jul. 31).
This brings the total number of cases in Singapore to 64,981.
117 new local cases, 42 unlinked
There are 117 cases of locally transmitted Covid-19 infection, of which 26 are linked to the Jurong Fishery Port cluster and one belongs to the KTV cluster.
67 are linked to previous cases, and have already been placed on quarantine. Eight are linked to previous cases and were detected through surveillance.
42 are currently unlinked.
Among the cases are seven seniors above 70 years who are unvaccinated or partially vaccinated and at risk of serious illness.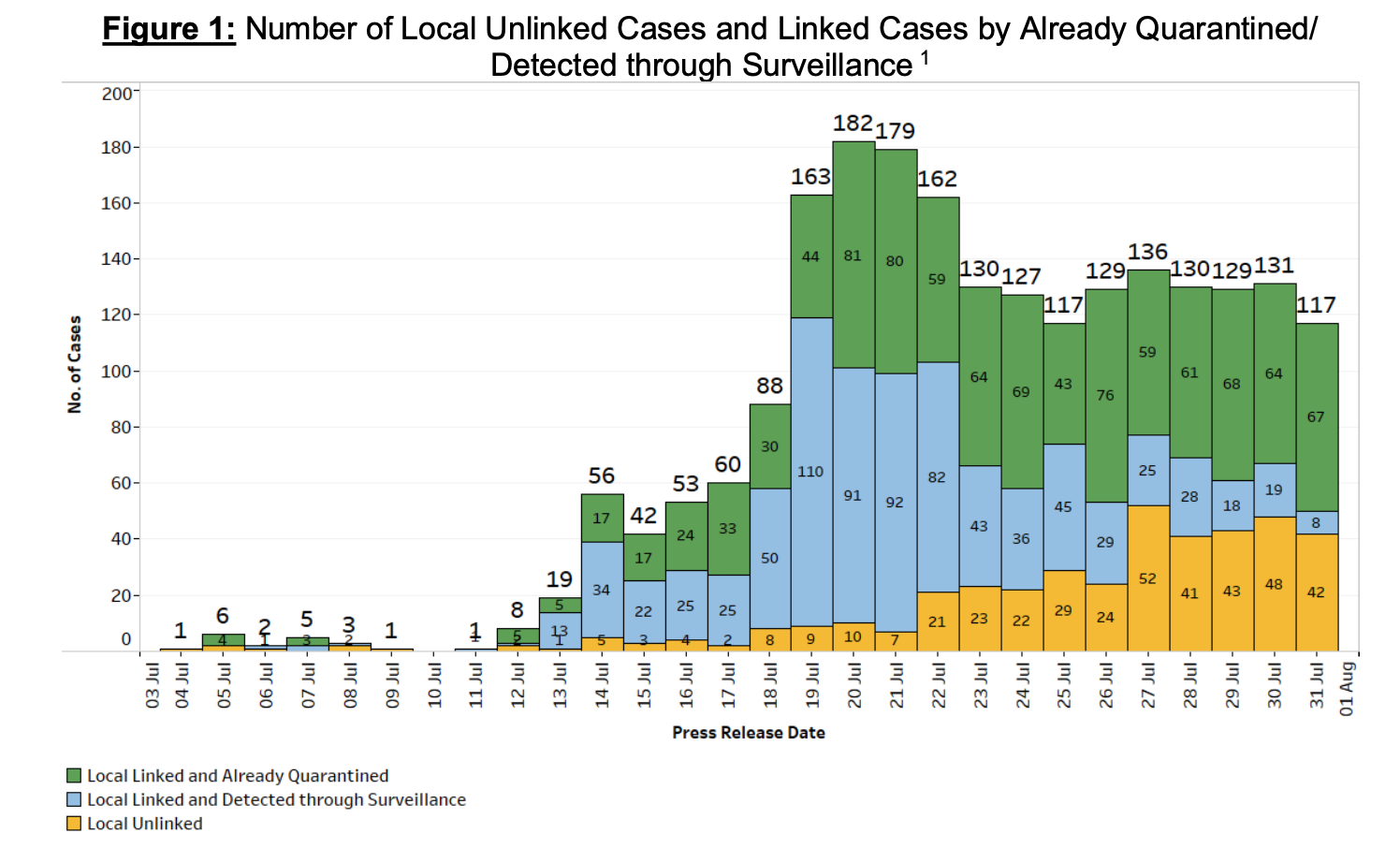 There are three imported cases today.
One was detected upon arrival in Singapore, while the other two developed the illness during stay-home notice or isolation.
71 active clusters
There are eight new clusters today.
In total, there are currently 71 active clusters, ranging between three and 1,027 infections per cluster.
As there have been no more cases linked to the Changi General Hospital cluster for the past two incubation periods (i.e. 28 days), the cluster has been closed.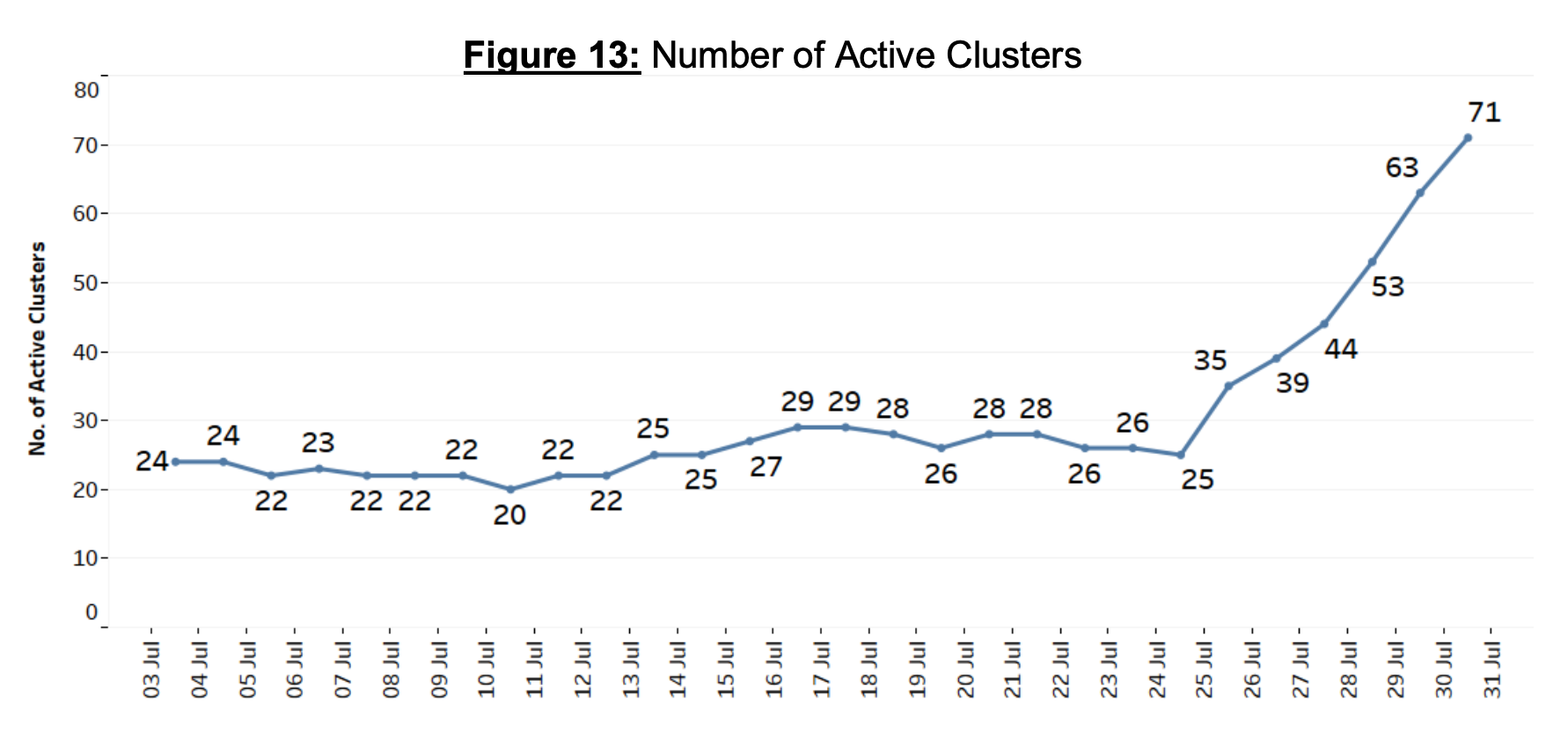 497 Jurong West 41 Market & Fajar Market ART collection
As part of MOH's ringfencing of cases linked to the Jurong Fishery Port cluster, antigen rapid test (ART) self-test kits will be given to individuals who have visited selected markets and food centres in the last 14 days, such as residents living in the vicinity of these places.
The collection will run from Aug. 1 to 2, 2021, at Residents' Committee Centres in the vicinity of the following locations:
497 Jurong West Street 41 Market

Fajar Market (445 Fajar Rd)
Decreasing trend in community cases
Overall, the number of new cases in the community has decreased from 1,027 cases in the week before to 868 cases in the past week.
MOH warns that Singapore is likely to continue to see high number of cases in the coming days, as the government steps up efforts to detect them to contain their spread in the community.
The number of unlinked cases in the community has also increased from 99 cases in the week before to 273 cases in the past week.
The seven-day moving average number of all linked community cases and all unlinked community cases are 85 and 39 respectively.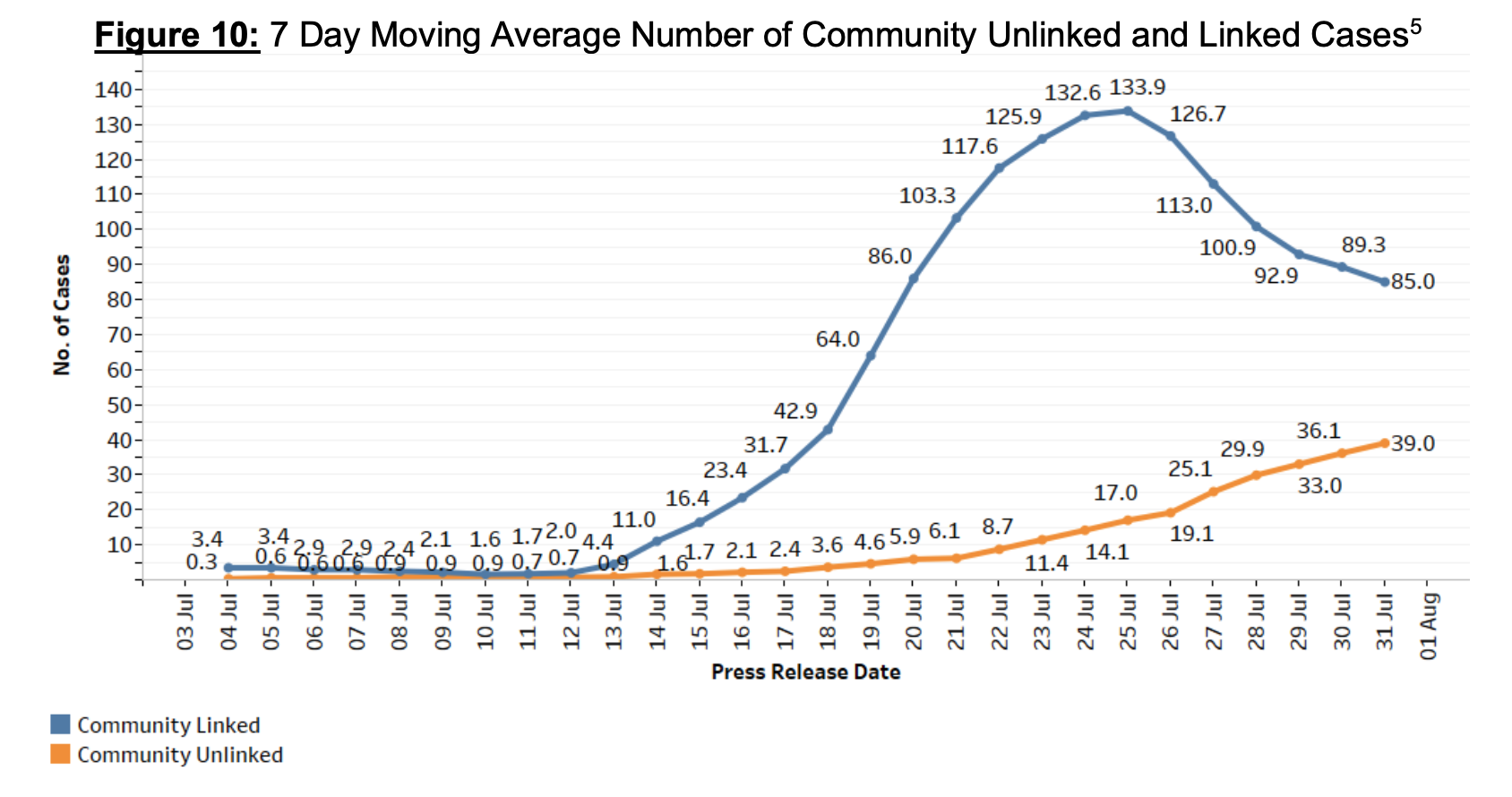 Condition of hospitalised cases
604 cases are currently warded in hospital. Most are well and under observation.
There are currently 33 cases of serious illness requiring oxygen supplementation, and seven in critical condition in the intensive care unit (ICU). Three among these 40 cases are fully vaccinated.
Of these, two requires oxygen supplementation, while one requires ICU care as they have underlying medical conditions.
26 seniors above 60 years, of whom 24 are completely unvaccinated or partially vaccinated, have fallen very ill.
There is continuing evidence that vaccination helps to prevent serious disease when one gets infected, MOH added.
Over the last 28 days, 49 local cases required oxygen supplementation, were admitted to ICU or passed away. 28 are unvaccinated, 18 are partially vaccinated, and three are fully vaccinated.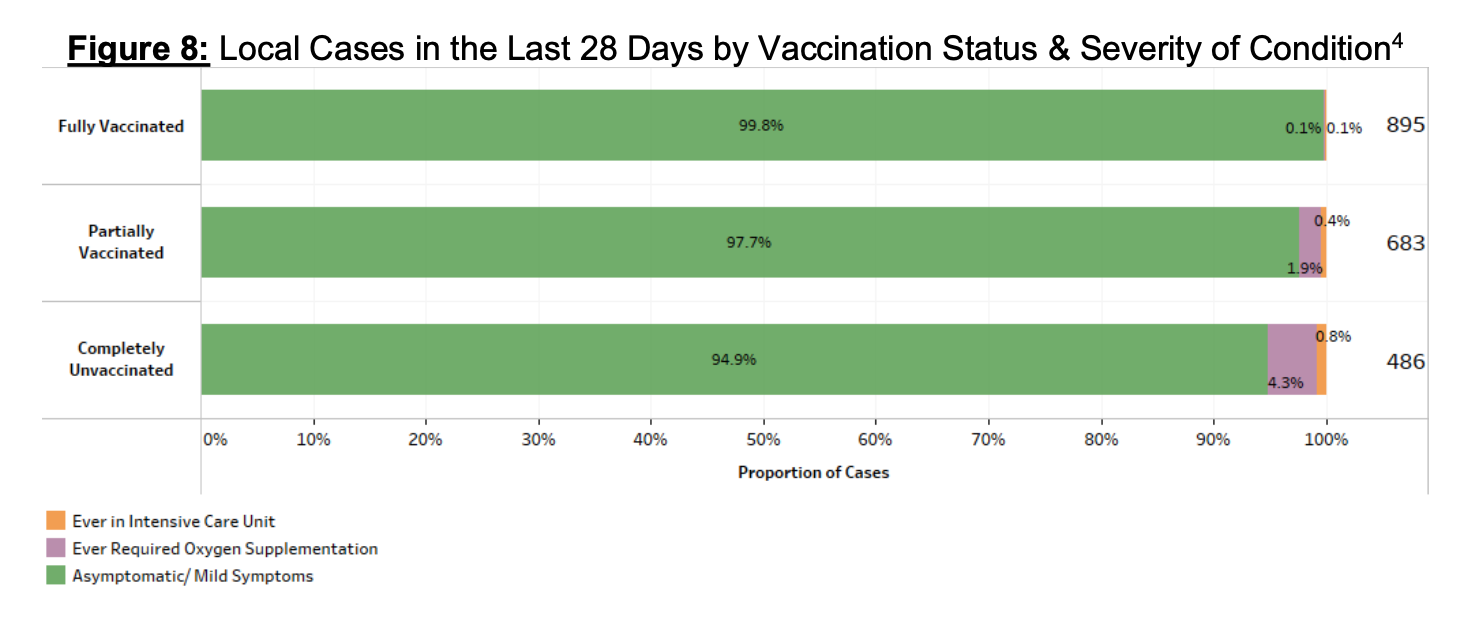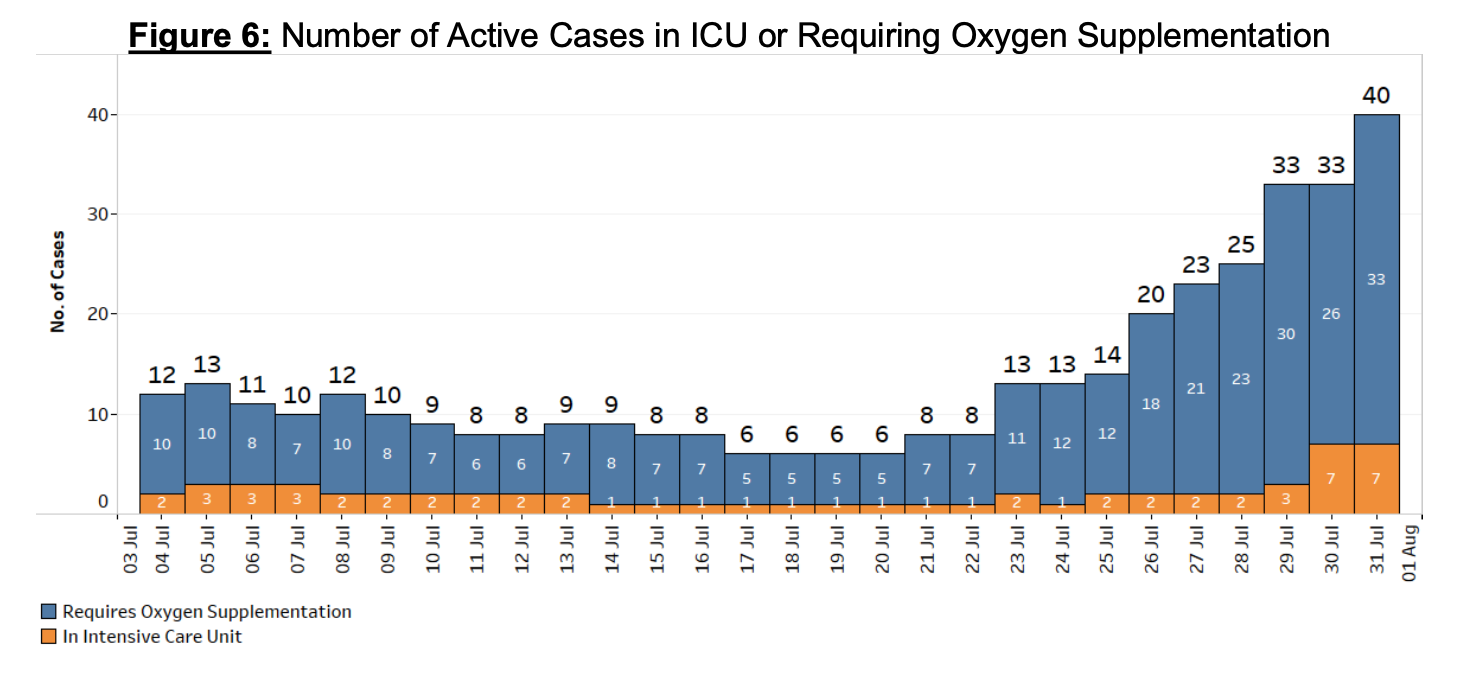 Progress of vaccination programme
According to MOH, 59 per cent of Singapore's population has — as of Jul. 30 — been fully vaccinated; 77 per cent has received at least one dose.
The total number of doses of Covid-19 vaccines administered is 7,504,554 covering 4,299,667 individuals.
3,327,272 individuals have completed the full vaccination regimen.
In addition, 102,840 doses of Sinovac vaccines have been administered as of Jul. 30, 2021, covering 73,793 individuals.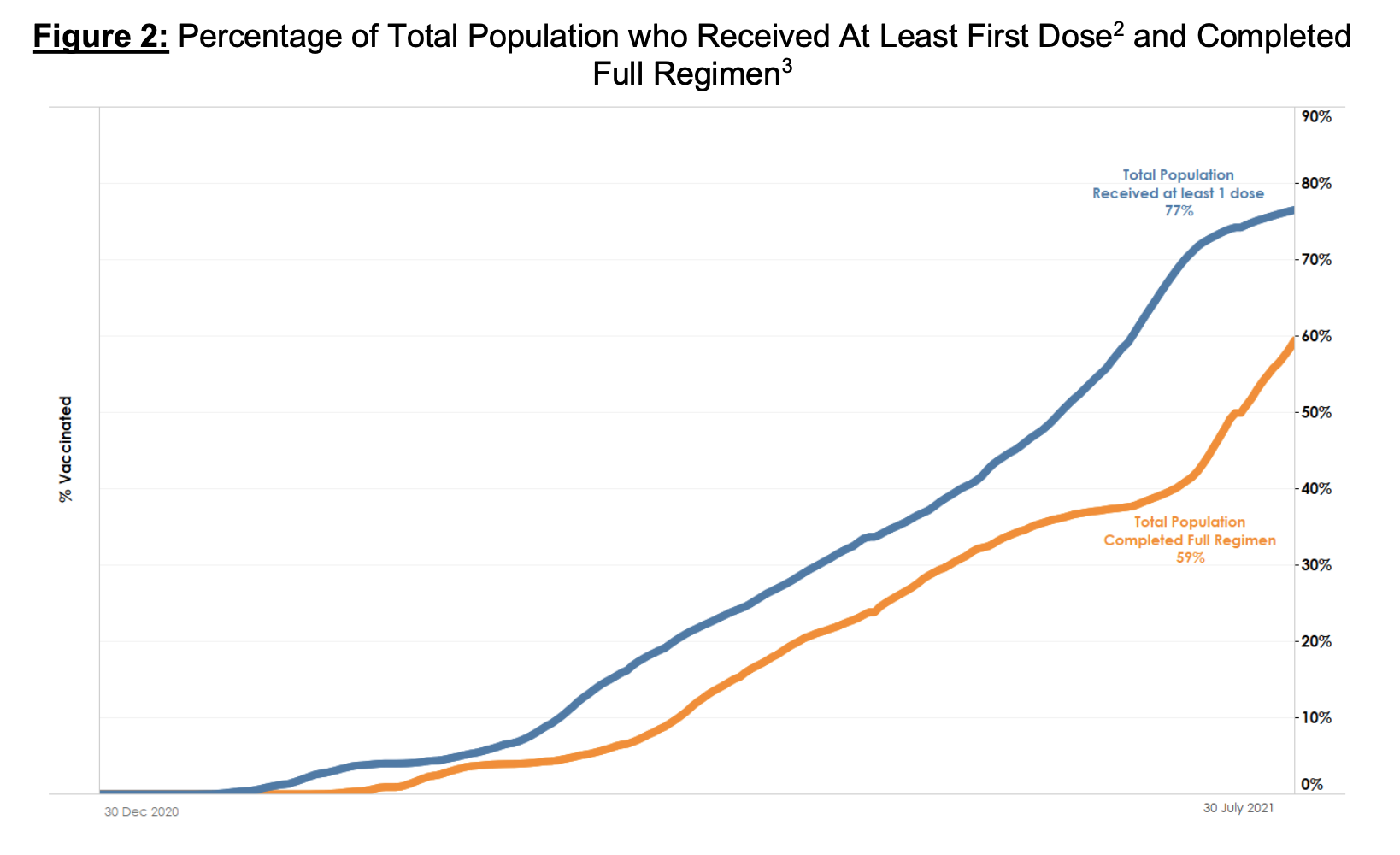 Follow and listen to our podcast here
Top photo via JurongHealth Campus on Facebook
If you like what you read, follow us on Facebook, Instagram, Twitter and Telegram to get the latest updates.