The Ministry of Health (MOH) has confirmed 121 cases of Covid-19 infection in Singapore as of 12pm on Saturday (Aug. 28).
This brings the total number of Covid-19 cases in Singapore to 67,171.
113 locally transmitted cases
There are 113 new cases of locally transmitted Covid-19 infection. 25 of the cases are linked to the Bugis Junction cluster.
Of the remaining 88 cases, 32 are linked to previous cases, and have already been placed on quarantine.
27 are linked to previous cases and were detected through surveillance.
29 are currently unlinked.
There are eight imported cases. Of these, four were detected upon arrival in Singapore, while four developed the illness during SHN or isolation.
Two new clusters
There are two new clusters today — Jurong East Bus Interchange cluster with 11 new cases forming a total of 14 cases, and Homestay Lodge with three new cases forming a total of five cases.
Two clusters have closed.
There are currently 66 clusters, ranging between 3 and 1,155 infections.
Quite a number of new cases are linked to bus interchanges - Clementi bus interchange (1 case), Toa Payoh bus interchange (3 cases), Punngol bus interchange (4 cases), and Sengkang bus interchange (1 case).
Increase in community cases
Overall, the number of new cases in the community has increased from 260 cases in the week before to 551 cases in the past week.
The number of unlinked cases in the community has also increased from 82 cases in the week before to 144 cases in the past week.
The seven-day moving average number of all linked community cases and all unlinked community cases are 58.1 and 20.6 respectively.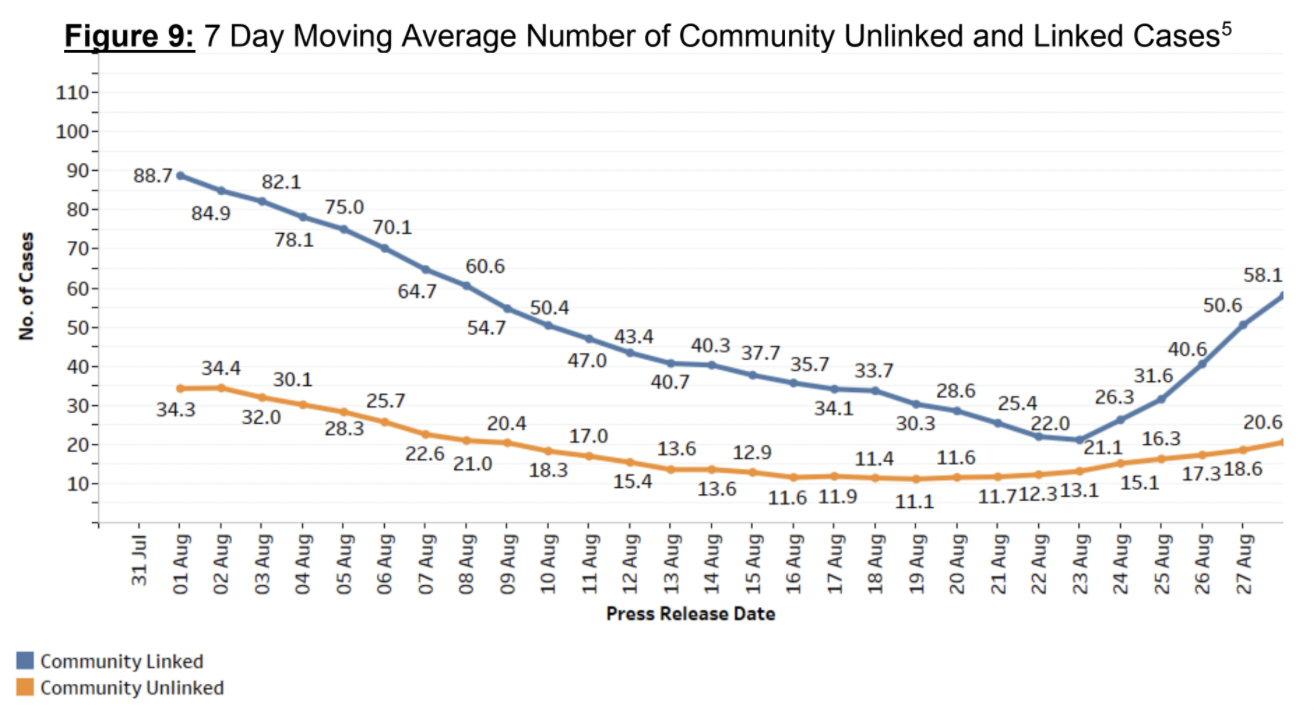 Condition of hospitalised cases
389 cases are currently warded in hospital.
There are currently 16 cases of serious illness requiring oxygen supplementation, and six in critical condition in the ICU.
Of those who have fallen very ill, 16 are seniors above 60 years, of whom 11 are completely unvaccinated or partially vaccinated.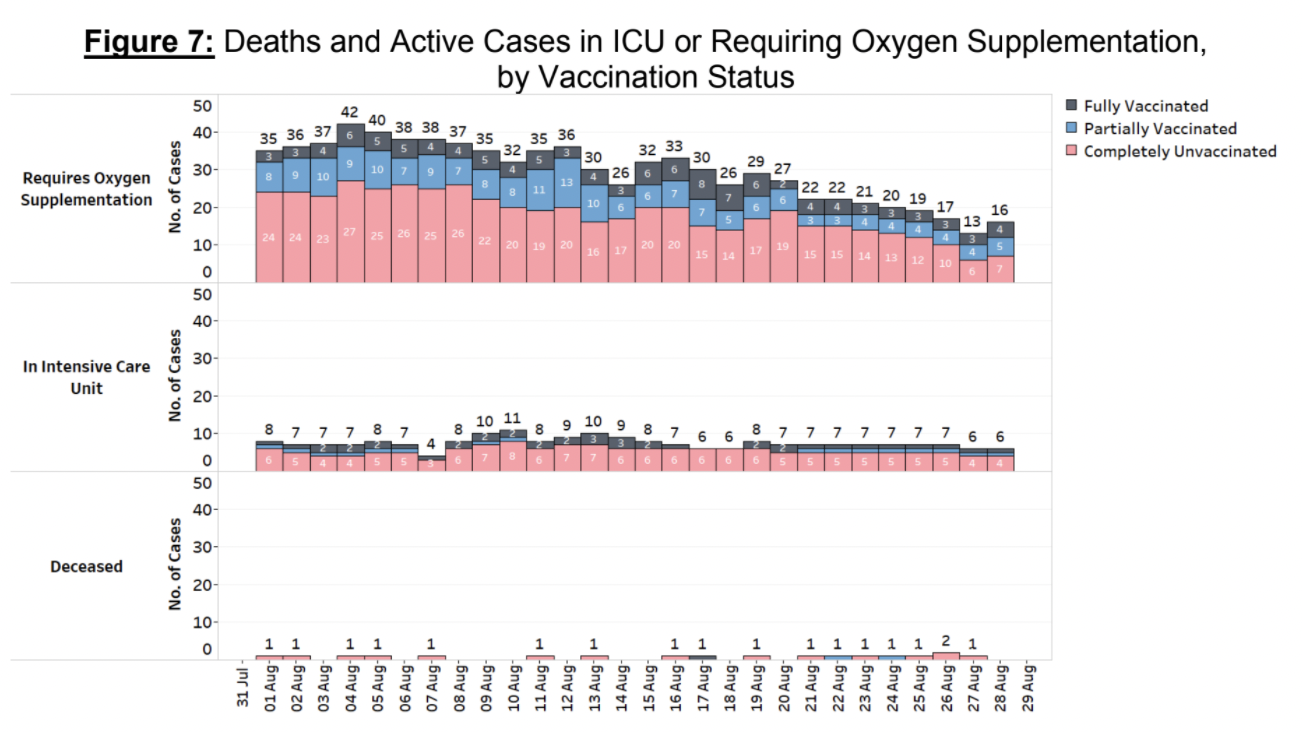 According to MOH, there is continuing evidence that almost all fully-vaccinated individuals do not suffer serious disease when infected, unless if they had underlying medical conditions that made them more susceptible.
Over the last 28 days, the percentage of unvaccinated who became severely ill or died is 9.2 per cent, while that for the fully vaccinated is 1.2 per cent.
Progress of vaccination programme
As of Aug. 27, a total of 8,667,278 doses of Covid-19 vaccines under the national vaccination programme (Pfizer-BioNTech Comirnaty and Moderna) have been administered.
This covers 4,500,430 individuals, with 4,291,659 individuals having completed the full vaccination regimen.
In addition, 164,336 doses of other vaccines recognised in the World Health Organization's Emergency Use Listing (WHO EUL) have been administered as of Aug. 27, covering 85,489 individuals.
In total, 79 per cent of Singapore's population has completed their full regimen/received two doses of Covid-19 vaccines, and 83 per cent has received at least one dose.
Top photo from Glenn Lim and Calvin Foo / Google Maps
If you like what you read, follow us on Facebook, Instagram, Twitter and Telegram to get the latest updates.