The Ministry of Health is currently investigating cases of Covid-19 infection among Vietnamese social hostesses who had frequented KTV lounges or clubs currently operating as F&B outlets.
MOH will be conducting special testing operations for all staff of the following establishments to uncover any community infection cases:
Supreme KTV (Far East Shopping Centre)

Empress KTV (Tanglin Shopping Centre)

Club Dolce (Balestier Point)
Free Covid-19 testing will also be extended to members of the public who had:
Visited the abovementioned places

Visited similar KTV lounges or clubs operating as F&B outlets

Interacted with Vietnamese social hostesses in any setting between June 29 and July 12
More details are available here.
All visitors to these premises and similar settings and those who had interacted with Vietnamese social hostesses are advised to monitor their health closely, and minimise social interactions as far as possible, for 14 days from their date of visit or interaction.
They are encouraged to see a doctor immediately if they feel unwell.
Covid-19 update
MOH confirmed 26 new cases of Covid-19 in Singapore on Monday (July 12).
This brings the total number of Covid-19 cases reported in Singapore thus far to 62,718.
There are eight new cases of locally transmitted Covid-19 infection.
The 18 other cases confirmed today were imported, and had already been placed on Stay-Home Notice (SHN) upon arrival in Singapore.
Among them, 13 were detected upon arrival in Singapore and five developed the illness during SHN or isolation.
Decrease in community cases
The number of new cases in the community has decreased from 28 cases in the week before to 19 cases in the past week.
The number of unlinked cases in the community has increased from four cases in the week before to 10 cases in the past week.
The seven-day moving average number of all linked community cases and all unlinked community cases are 1.3 and 1.4 respectively.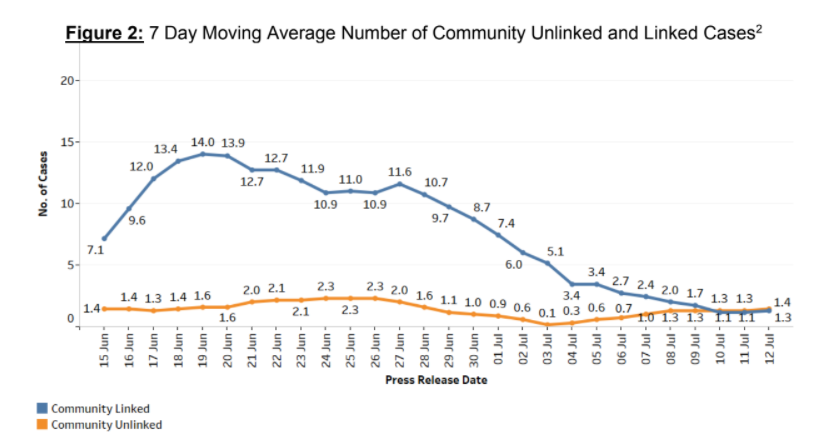 22 active clusters
Two new clusters were announced today:
Case 64693 cluster: Three cases

Cae 64697 cluster: Four cases
There are currently 22 active clusters, ranging between three and 94 infections.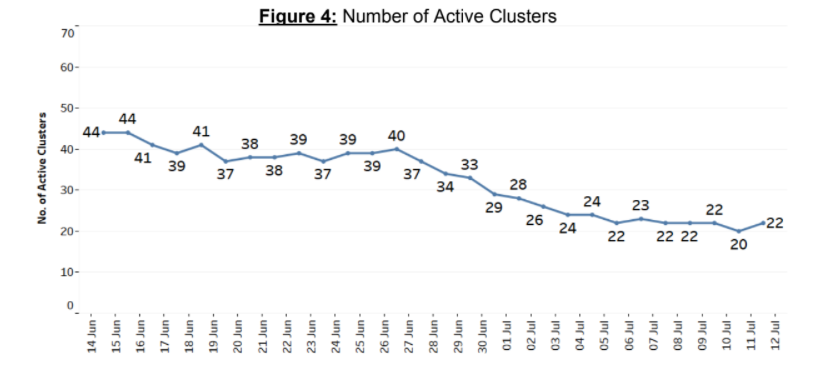 Progress of vaccination programme
As of July 11, MOH has administered a total of 6,304,415 doses of Covid-19 vaccines under the national vaccination programme.
The doses covered 3,981,886 individuals. A total of 2,322,529 individuals have received their second dose and completed the full vaccination regimen.
Condition of hospitalised cases
There are currently 80 cases warded in the hospital. Most are well and under observation.
In addition, there are six cases of serious illness requiring oxygen supplementation, and two are in critical condition in the intensive care unit (ICU).
Top image: Supreme KTV/Facebook.
If you like what you read, follow us on Facebook, Instagram, Twitter and Telegram to get the latest updates.