The tripartite partners issued an advisory on July 2 urging employers to make arrangements to help their employees get vaccinated against Covid-19.
Representatives of the government, capital and labour said that comprehensive vaccination coverage will enable Singapore to reopen further as a society and economy, and speed up the pandemic recovery.
General workplace vaccination policy
First of all, vaccination remains voluntary, although for protection from severe illness, hospitalisation and possible death by Covid-19, medically eligible workers are encouraged to get vaccinated.
Employers should not fire or threaten to fire people for declining a vaccine.
For most workplaces, employers are encouraged to help them by granting paid-time off and educating their employees on vaccine safety and efficacy.
Employers may also ask employees for their vaccination status for business purposes, such as business continuity planning.
Employees who decline vaccination should not be penalised, such as having their employment terminated.
Workplaces with higher risk of Covid-19 infection
The tripartite partners note that there is a "small and exceptional" group of workplaces where workers are exposed to a higher risk of Covid-19 infection.
This could be due to either work circumstances or living conditions.
In general, workers that have to undergo Rostered Routine Testing, mandatory Fast and Easy Testing, or come into regular contact with people isolated for Covid-19 or risk of infection fall into this group.
To ensure their workers' health and safety and to minimise the risk of outbreaks, employers may require vaccination as a company policy for these higher-risk employment settings.
Employers may also impose this requirement upfront at the point of recruitment, or in the advertisement for new hires.
Here are some examples: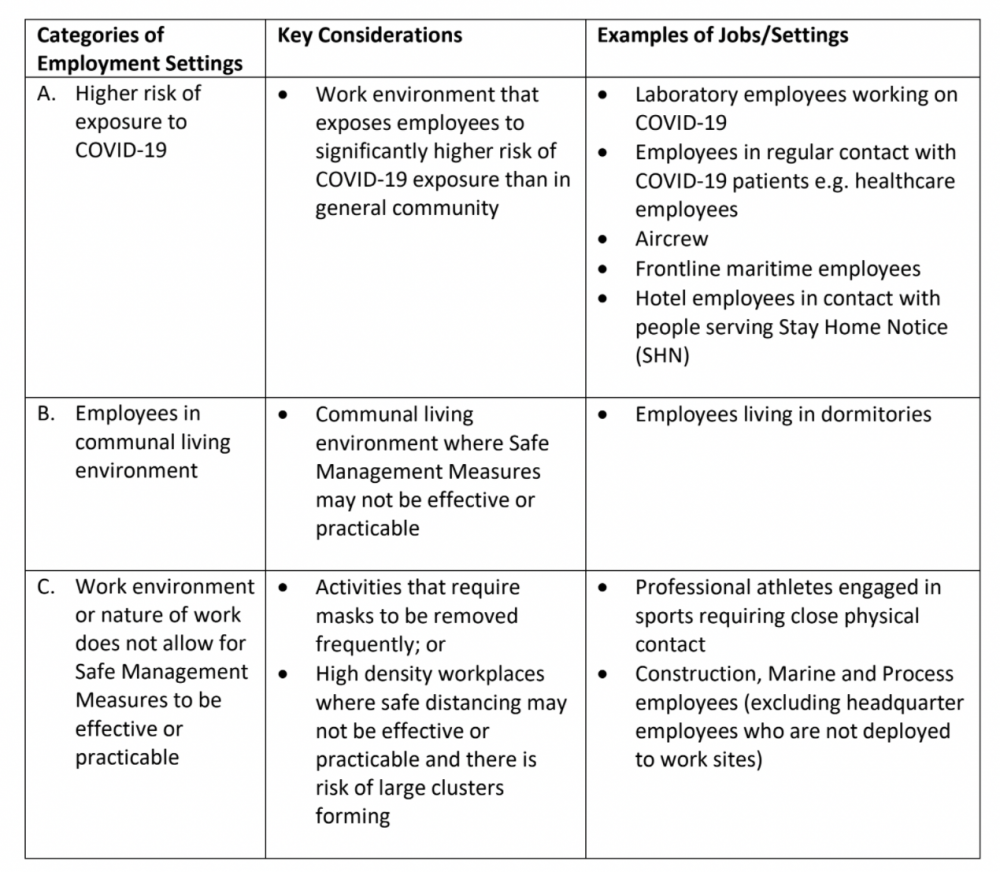 What should employers do about workers in high-risk settings who decline vaccination?
The following measures can be adopted for employees in high-risk settings who can't or won't get vaccinated:
Redeploy such an employee to another job with a lower risk of infection. It should be commensurate with the employee's experience and skills, as per existing redeployment policies.

If there are no existing redeployment policies within the organisation, the terms and conditions for redeployment should be mutually agreed between employers and employees.
If the employees decline vaccination and also redeployment, employers can recover Covid-19 related costs (e.g. testing costs or costs of Stay-Home Notice (SHN) accommodation) incurred, above the costs incurred for vaccinated employees in similar roles.
This excludes costs that employers have to bear as part of any legislation.
These costs can be recovered either through salary deductions or requiring the employee to pay the relevant service provider directly.
Employers may also adopt a differentiated leave policy for vaccinated employees versus employees who decline vaccination, such as putting the latter on no-pay leave for the duration of any SHN served.
And other than the measures above, the union and the employer may mutually agree on other measures to be taken for employees who decline vaccination.
Only for those medically eligible for vaccines
Everything written above applies to workers who are medically eligible for a vaccine.
For workers who are not medically eligible for a vaccine, they should be exempted from such requirements.
They may still be redeployed, if they work in high-risk settings, but companies should not impose cost recovery measures for their cases if the workers decline redeployment.
Employers can refer to MOH's website for up-to-date information on who are medically eligible for vaccines.
Address concerns of employees who decline vaccination
Employers should communicate their policies clearly and make reasonable efforts to address the concerns of their workers.
They should:
Reassure employees that they will not be punished or have their employment terminated because they decline vaccination;

Explain why vaccination is required for employees in high-risk settings;

Explain clearly the measures taken for employees who are medically eligible but decline vaccination, such as redeployment and cost recovery;

Explain what forms of assistance are offered to employees who may suffer from adverse complications due to the vaccination requirement.
Top image
If you like what you read, follow us on Facebook, Instagram, Twitter and Telegram to get the latest updates.