Follow us on Telegram for the latest updates: https://t.me/mothershipsg
While relations between China and the United States have become "less volatile" under the Biden administration, the underlying tensions remain, Deputy Prime Minister Heng Swee Keat said on Monday, July 12.
Why tensions remain between U.S. & China
Speaking at the FutureChina Global Forum 2021 organised by Business China, Heng said the biggest challenge that this region faces is the strategic competition between the U.S. and China.
For the U.S., there is "a strong bipartisan consensus" that China is the country's main strategic competitor, the Coordinating Minister for Economic Policies said. 
Such a view is backed by growing public support, Heng said, adding that the U.S. has rallied its allies by re-energising its ties with the G7, Nato in Europe and the Quad in Asia. 
As for China, it wants to "stake its rightful position in the world", Heng said.
"We can expect that China will continue to take a firm stance on issues that it deems as its 'core interests', such as Taiwan," he added.
In their interests to cooperate
Nevertheless, Heng added that despite their differences, it's in both major powers' interests to cooperate on common challenges.
These include tackling Covid-19, coordination of global economic recovery, and addressing the long-term challenge of climate change.
"The key to stability for Southeast Asia and the world, is for the two major powers to focus on expanding common ground while preventing tensions from boiling over, as they settle into a new modus vivendi," Heng added.
U.S. presence in Asia an "important stabiliser"
In addition, Heng said that Asia's stability and prosperity depend on the region's "continued openness and engagement of all major partners".
He welcomed U.S. renewed focus on Asia under the Biden administration, and said that U.S. presence in the region will continue to be an important stabiliser.
He described the U.S. withdrawal from The Comprehensive and Progressive Agreement for Trans-Pacific Partnership (CPTPP) as "regrettable", but welcomes the U.S. to re-join the trade agreement.
Other countries contribute to region's growth too
However, Heng also noted that it's not only U.S. or China which have a significant influence in the region.
He mentioned that after the U.S. withdrew from the CPTPP, Japan had made major contributions and "stepped up" in pushing for its completion.
India has also been the engine for growth for the region, he said, adding that Australia, New Zealand, and South Korea have important roles to play as well, along with other European countries such as France, Germany and the U.K.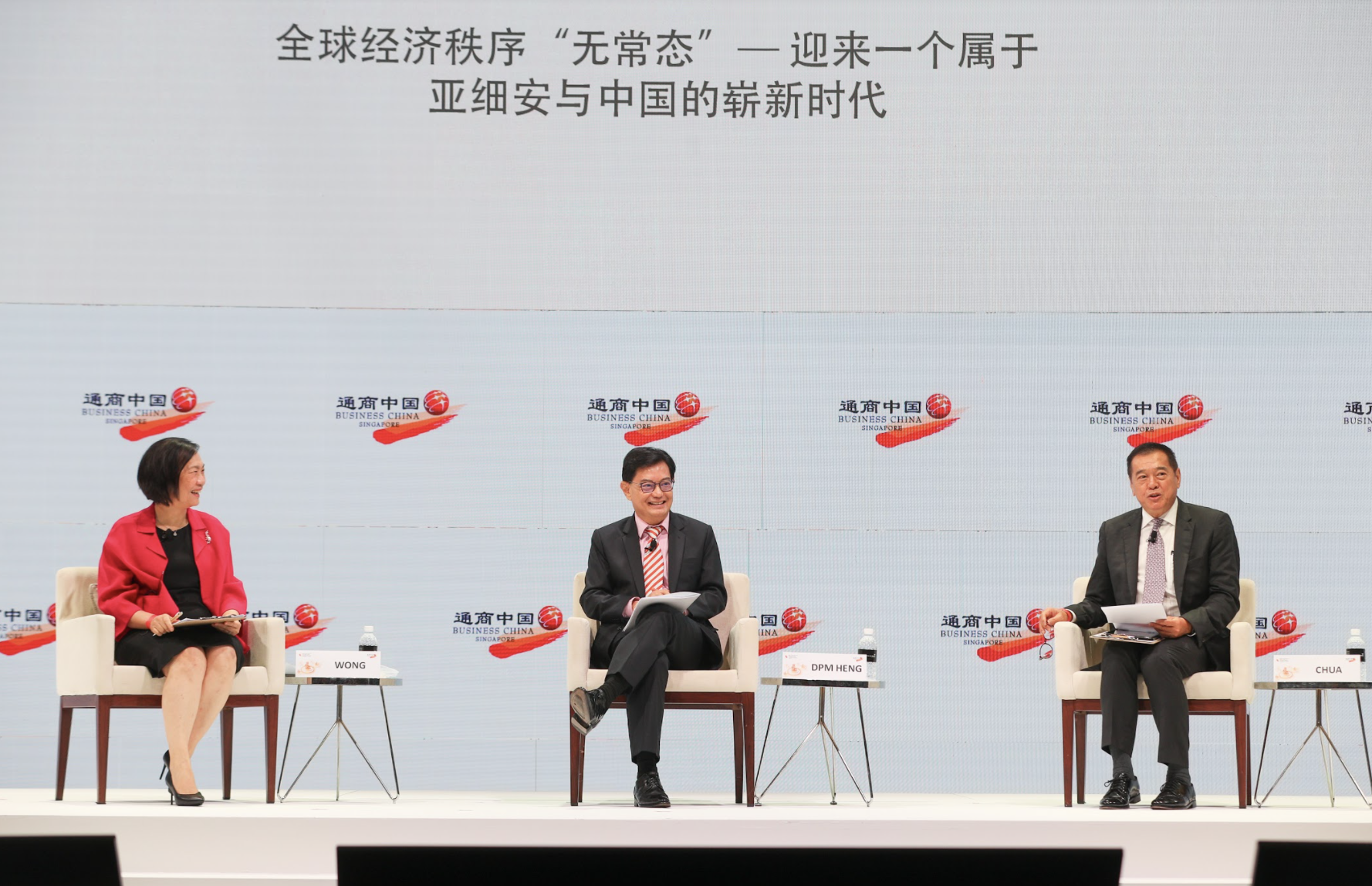 Asean must do what it can to keep region open
Heng further urged Asean to be open and inclusive, and at the same, be able to make choices for themselves and advance their collective interests and "do what is best for [their] peoples".
"Our region must remain firmly anchored on Asean's own interests, and continue to build a regional architecture that is open, transparent, inclusive, and rules-based," he said, adding that this is what Asean Centrality is about.
Heng was also glad that the U.S. and China expressed their support for this goal.
"This shows an appreciation for the notion that a strong and stable Asean is not just good for Asean member states, but also good for the world," he said.
"We should also look out for areas where Asean can collaborate with both the U.S. and China, especially in areas where we all have common interest."
Relations with neighbours "more complicated"
That being said, Heng also acknowledged that relations between neighbours are "often more complicated than relations between distant countries", adding that as Asean deepens its economic relations with China, the region must also "manage the friction and disputes well".
He explained further that tensions are often exacerbated by the disparity of size.
However, he called for the relations between all countries, big and small, to be conducted within the framework of international law and in a "rational manner".
Heng cited some important issues to be resolved between China and some Asean nations, including competing claims over the South China Sea and concerns over environmental degradation in the Mekong region.
"The key is to manage these disputes in a rational manner, in accordance with universally recognised principles of international law, including the 1982 UNCLOS, and with guardrails to ensure that tensions do not escalate out of control," he added.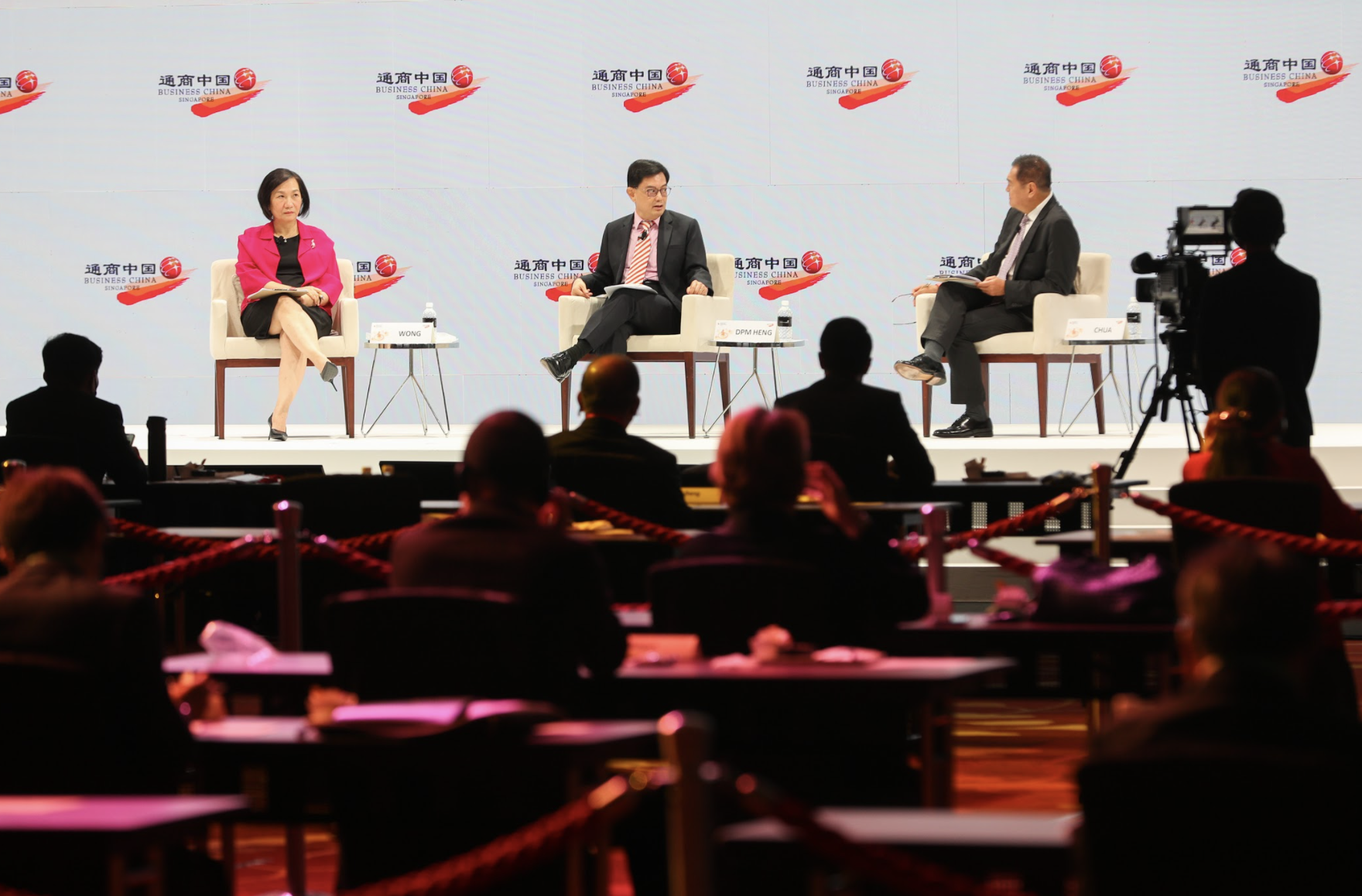 Digital collaboration, sustainable development next phase of Asean-China cooperation
Moving forward, Heng called for the region to explore new building blocks with China beyond free-trade agreements.
Specifically, he mentioned two areas in his speech: Digital collaboration and sustainable development.
As Covid-19 accelerated the global shift to digital, Heng said that there is a need to move swiftly to respond to this shift.
He called for the strengthening of collaborations such as the Smart City initiative between Singapore and Shenzhen, and the establishment of more Digital Economy Agreements with other countries, such as Australia, Chile and New Zealand.
Pointing out that 2021 was designated as the Asean-China Year of Sustainable Development Cooperation, Heng said the region, together with China, can focus on catalysing a green recovery.
This includes investing in more energy-efficient buildings and exploring cleaner energy sources, citing the Green Belt and Road Initiative as an important initiative in catalysing green infrastructure within Asean.
Last year's speech:
Photos via Ministry of Communications and Information (MCI)
If you like what you read, follow us on Facebook, Instagram, Twitter and Telegram to get the latest updates.