A River Valley High student was allegedly attacked and killed by another student on Monday, July 19.
Shin Min Daily News reported that the incident that happened in the afternoon.
The Chinese paper added that the assailant brought a blade to school and attacked the victim.
The police and Singapore Civil Defence Force were alerted and were spotted on site.
The Straits Times reported that the student who was attacked was killed.
A source told Mothership that students were told to stay in the school hall.
There are reports on Twitter and in group chats that there was an axe involved.
According to Shin Min Daily News, some students saw someone holding an axe and standing by the drinking fountain to clean up blood, saying: "I just killed someone."
Mothership
also received messages like these, which show unverified messages allegedly sent by River Valley High students: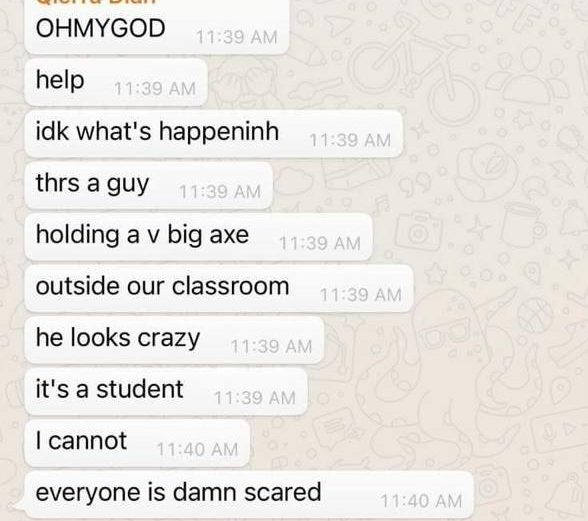 Mothership was on site and saw students being let out of the main gate. Parents were also seen outside the school, waiting to pick up their kids.
Some students who left the school proceeded to the bus stop to make their way home by themselves.
Students whom we talked to said they were instructed not to speak to the media.
Mothership understands that the attacker has been arrested, the victim has been taken away, and the situation is currently under control.
Helplines
If you or someone you know are in mental distress, here are some hotlines you can call to seek help, advice, or just have a listening ear:
National Care Hotline: 1800-202-6868
Samaritans of Singapore 24-hour Hotline: 1800-221-4444
Singapore Association for Mental Health: 1800-283-7019
Institute of Mental Health: 6389-2222 (24 hours)
Tinkle Friend: 1800-274-4788 (for primary school-aged children)
AWARE Women's Helpline: 1800-777-555 (10am - 6pm, Monday to Friday)
Top photo via LinkedIn
If you like what you read, follow us on Facebook, Instagram, Twitter and Telegram to get the latest updates.