Follow us on Telegram for the latest updates: https://t.me/mothershipsg
A general manager of a seafood restaurant along Duxton Road in Singapore wrote a forum letter to The Straits Times (ST), after his restaurant was almost shut down as it was mistaken for a nightlife establishment.
The revelation of the alleged boo-boo came after F&B establishments here are being affected by the re-tightening of dine-in restrictions.
Made to close on Friday night
The letter writer, Goh Tong Hann, wrote that his restaurant, Marcy's, was asked to close by police officers on a Friday night.
This was allegedly because they were identified as a nightlife venue that had pivoted to become a F&B establishment.
Goh wrote:
"We were given less than an hour to do so. When I probed further, I received three responses - 'Haven't you seen the new regulations?', 'Didn't SFA (Singapore Food Agency) send you a message?' and 'You are on the list that I have'."
Goh added that he knew that this was incorrect information, and so did not close his restaurant initially.
However, the officer-in-charge subsequently returned to shut down Marcy's that night.
An "anxiety-riddled 24 hours"
In his letter, Goh shared that he had first opened the restaurant in January 2021, after taking over an ailing nightclub venue in the downtown area.
When the investigation into the F&B eatery commenced, all the documents for the restaurant are new, including having changed the use of the property and getting an SFA license, and at every single table people were seen consuming "full meals (not bar snacks)".
Goh wrote that following the mistake, he and his team had endured an "anxiety-riddled" 24 hours, as they weighed the financial cost of shutting down the restaurant.
He added that none of the relevant agencies were contactable over the weekend.
Goh only received a call from the police after 8pm that Saturday, officially permitting their restaurant to remain open.
"A brand new F&B business"
On July 20, the seafood restaurant owned by Goh made a series of Instagram Stories providing further clarification on the incident.
The posts stated that the restaurant was indeed a "brand new" F&B business, and not a nightlife establishment.
Regarding the incident, the restaurant pointed out that while they understood that actions then needed to be swift -- given how many small, locally owned F&B businesses were already suffering and will "continue to suffer" -- these businesses should not suffer further because of "senseless negligence".
The restaurant also further emphasised that it is open now.
You can find the Instagram stories here: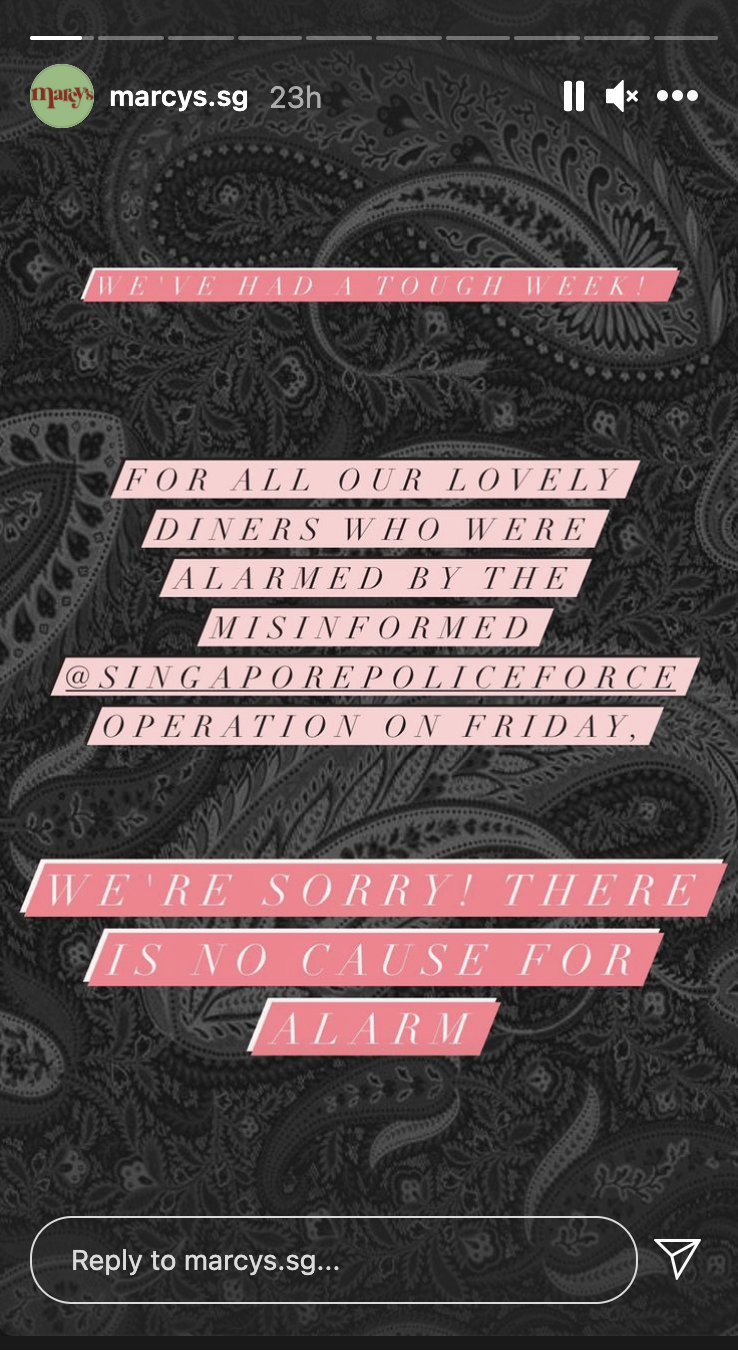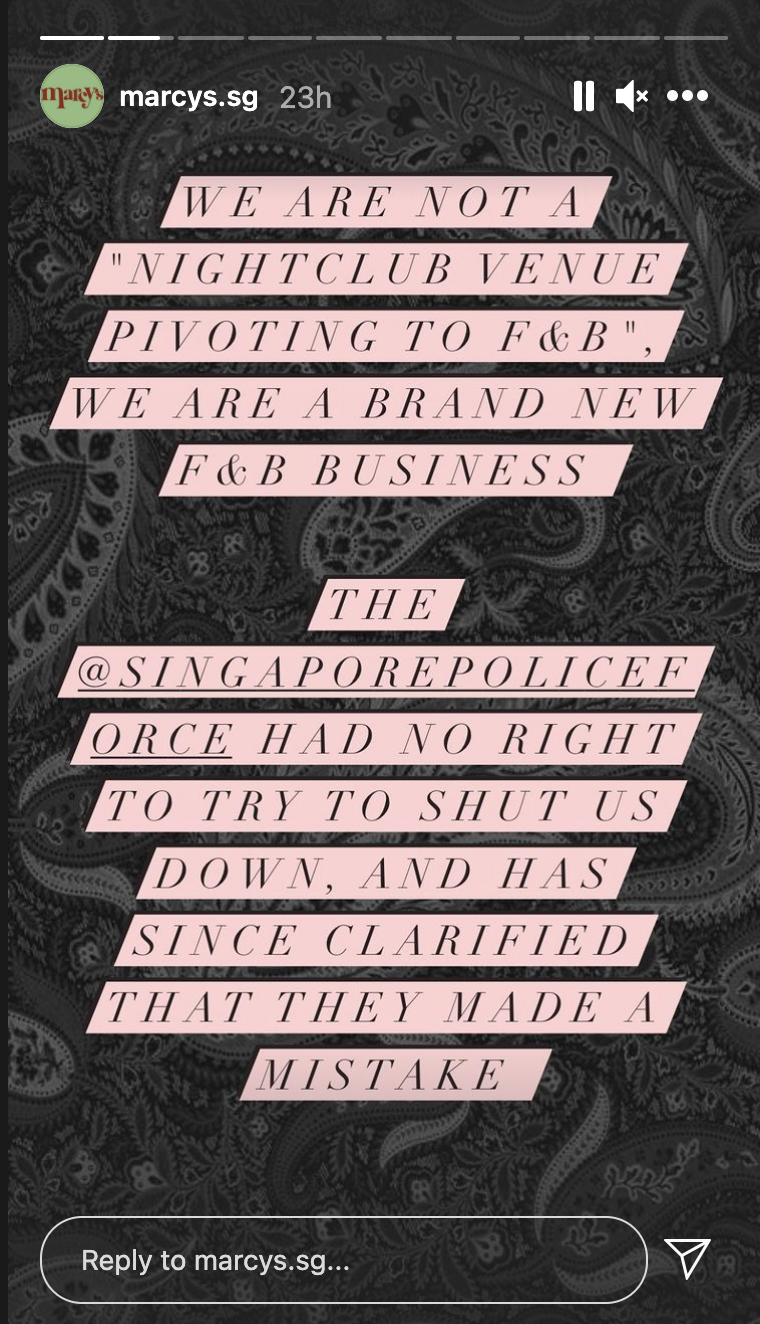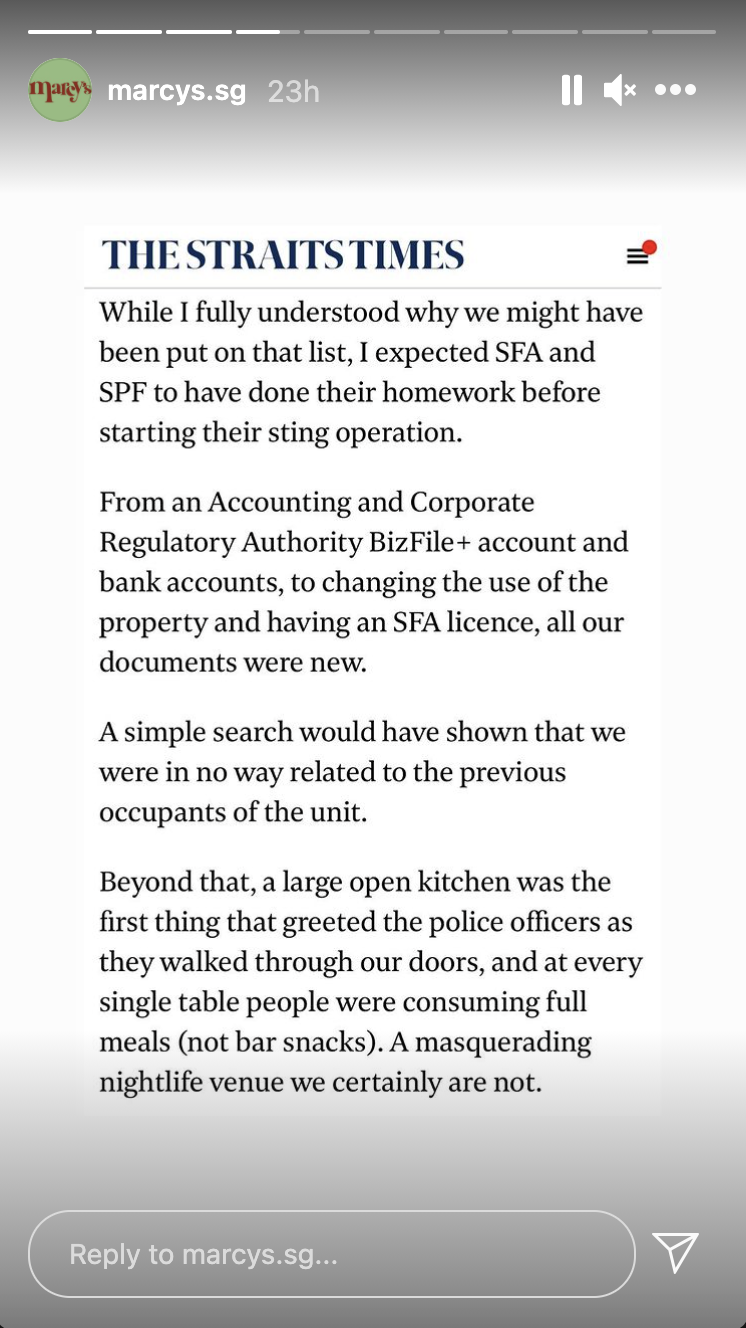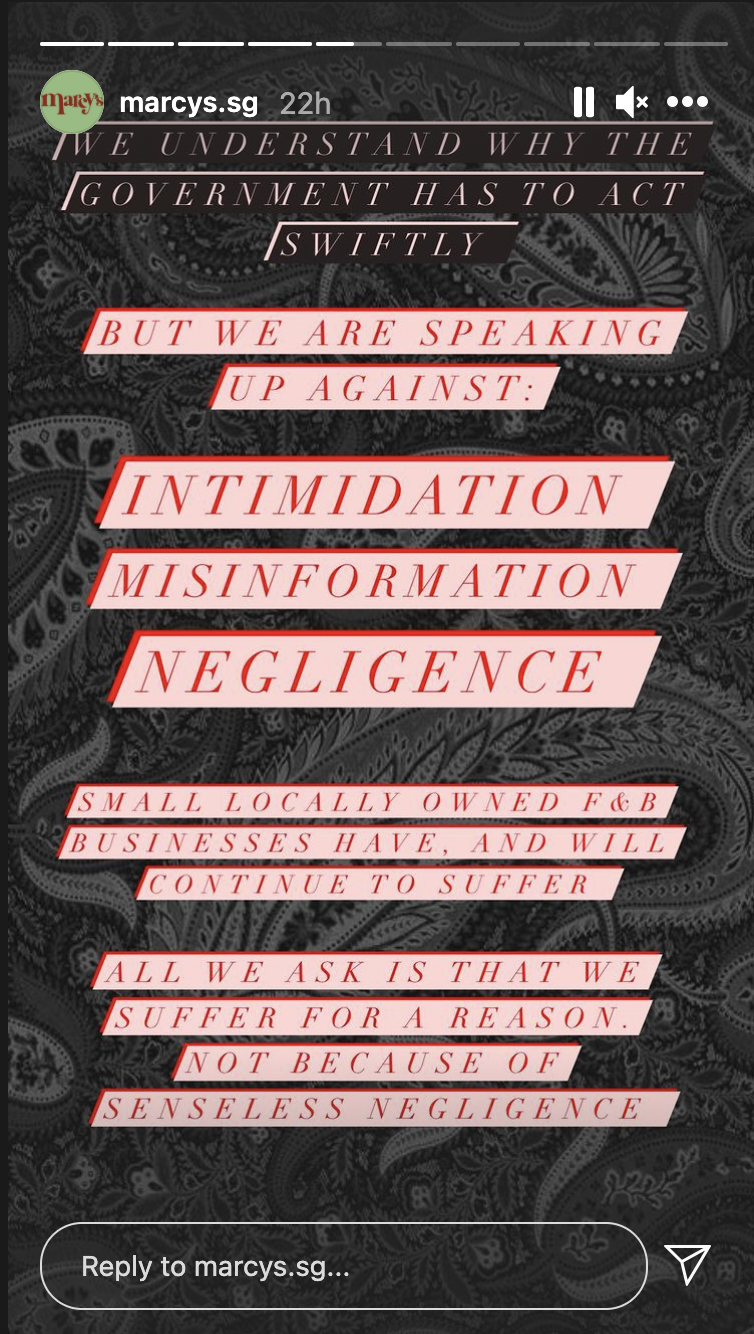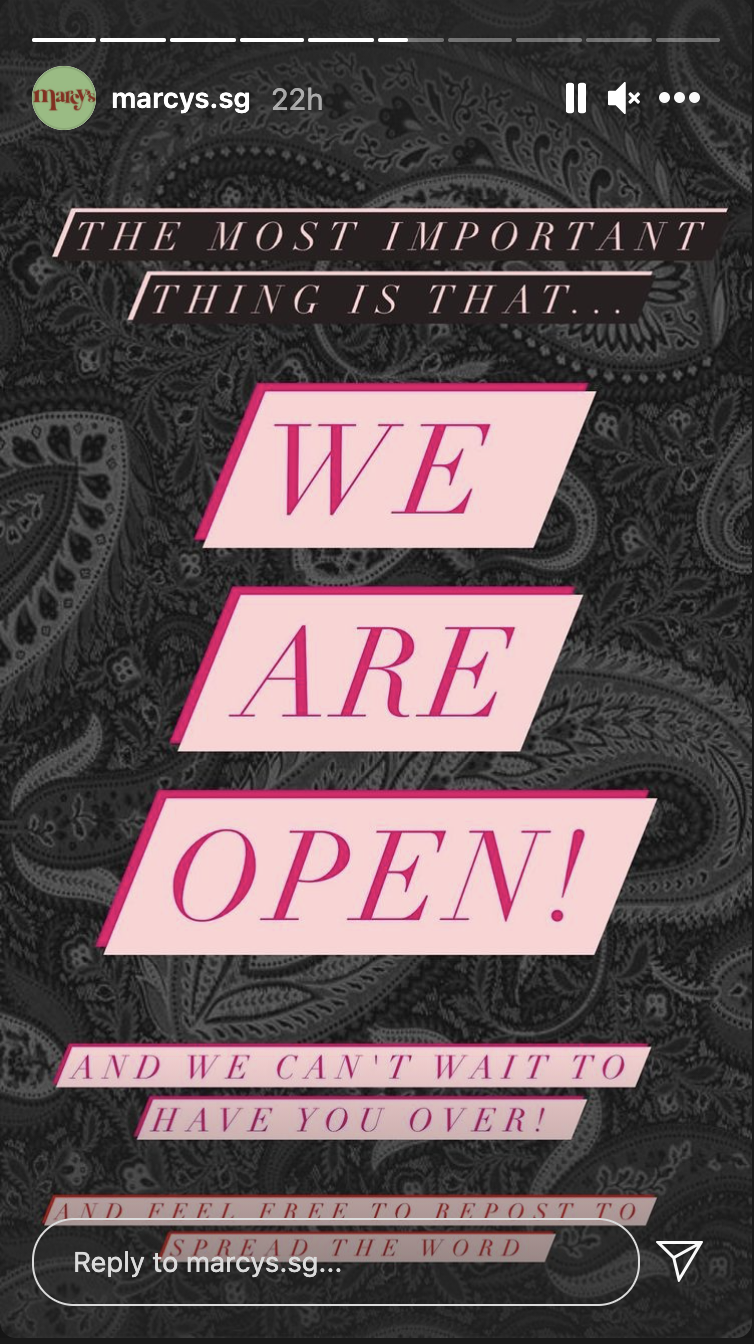 Background
Following the emergence of the KTV cluster on July 12, tightened dining in restrictions were introduced to curb transmission in the community.
This included the reduction of patrons permissible for certain F&B settings, which was announced on on July 16, as well as the cessation of all dine in activities and going back to Phase 2 Heightened Alert, which was announced on July 20.
Sting operations by the Singapore Police Force (SPF) were also conducted thrice in one week to clamp down on illicit activities in the nightlife sector.
On July 16, the Multi-Ministry Taskforce (MTF) also announced a two-week suspension of all nightlife establishments that had pivoted into F&B establishments, to mitigate transmission from the KTV cluster.
This would take effect from July 16 to 30, 2021.
Via @marcys.sg Instagram
If you like what you read, follow us on Facebook, Instagram, Twitter and Telegram to get the latest updates.