Follow us on Telegram for the latest updates: https://t.me/mothershipsg
Many students from the Nanyang Technological University (NTU) were upset after receiving an email last night at 2am (July 1) informing them that they've failed to secure accommodation on campus for the coming academic year.
These include both local and international students.
Limit imposed by authorities
In an email sent to the students seen by Mothership, NTU explained to rejected applicants that there is a limit to the number of students who can stay in the halls as "imposed by authorities".
"Fewer rooms are available because of the need to reserve a certain number for Covid-19 isolation and other related purposes," the email signed off by one unnamed Housing Executive at the Office of Campus Housing wrote.
The email advised those who do not have a local residence to arrange alternative accommodation themselves and provided the contacts of three off-campus housing options.
One of the three options listed include hotels and hostels, where students are directed to use third-party platforms like Agoda, Booking and Trivago.
Students who failed to secure on-campus accommodation were also told to vacate their current rooms by July 15.
They will be charged for overstaying if they fail to do so and belongings not cleared in time will be removed so that the university can prepare for the new resident of the room.
The announcement for the outcome of hall application results had been delayed for a student who shared that she was initially informed that results should be out on June 14.
Year 2 students previously guaranteed residence in first 2 years
Affected students include Year 2 students who were previously guaranteed a residential place on campus in their first two years of study as stated on NTU website.
The application for on-campus accommodation is known to be a competitive and stressful process for student applicants.
Interested students have to pay a S$16.05 application fee for the balloting process. Those who participate actively in hall activities and events, and/or express willingness to share a room with international students will stand a better chance.
Speaking to Mothership, some students who said they had committed themselves to hall activities or supposedly stood a higher chance also failed to secure a room.
A reader wrote to Mothership, saying:
"I know of multiple friends that do stay at the east, Pasir Ris/Bedok who have 9 points and are also part of the main committee not getting halls. So it really calls to question how the procedure works in selecting which student is applicable [because] currently it just seems like a random number generator."
Another reader said:
"The Hall allocation results for NTU was released last night and many students did not get their hall placing, even with their multiple contributions to Hall and the promises from NTU with regards to the Hall Points they earned. Even the direct admissions list was useless as these people did not get Hall stay too."
Many of them were caught off guard upon seeing the email regarding the hall allocation results as there was "no indication" regarding the reduced number of accommodation slots available to NTU undergraduates.
For instance, as one student highlighted, no mention was made in the application portal.
International students "have it worse"
An international student also wrote to Mothership claiming that international students from Year 3 and above also had their hall application rejected by NTU.
Last year, most international students from Year 3 and above still got rooms allocated to them, the international student said.
"For those who are Year 3 and above, they must have Extracurricular Activities Point to get the room. Normally, including last year when Covid hit hard, most Year 3 and Year 4 international students still got room allocated based on their points. However, this year all Year 3 and above international students got rejected from staying in NTU hall."
He added that he understands all Year 2 international students were able to secure an accommodation, but none of them got their first choice, which is "unusual".
Students also brought up the fact that the two-week notice is insufficient for international students to seek alternatives, which are often more expensive than the on-campus accommodation.
The international student added:
"Inside the rejection form there is a link of different place for us to rent. But the fee is definitely way higher than school hall as outside places are for professional worker who already earn money. Not all international students, including me, are financially strong. Most international students are under Tuition Grant and two loans: Tuition Fee Loan and Study Loan. I myself also work part-time and study at the same time to afford the school hall fees. This sudden change can make me homeless. As the school wants us to move out within 2 weeks from 1 Jul, and if I cannot find a place, I don't have an appropriate address, my Student's Pass may be cut. I cannot return to my country. It is still closing. Even if I return, I must take one semester leave, which will delay my study and even delay my loan-paying-back."
Other Singaporean students also empathised with the plight of their peers who do not have a permanent residence in Singapore.
Here's what another student said:
"The international students within the NTU community have it worse: those who were unsuccessful, they have 2 weeks to find new housing before they get evicted from their current rooms. In the current pandemic, it is already difficult to find housing within 1 month, let alone 2 weeks"
Another wrote:
"The most ridiculous part of the situation is NTU demanding international students who are trapped in Singapore right now and did not get allocation for the coming semester, to find local housing and move out within 2 weeks or their belongings will be thrown out of Hall. These poor students came to Singapore for education opportunities only to be treated like strangers by the very school that they are paying to study in."
Some students were also confused by the Covid-19 restrictions cited by the university to explain the limited on-campus accommodation slots.
A student highlighted that last year, the school had SHN facilities as well, but students were still able to secure accommodation:
"Last year, NTU had some SHN facilities but they never rejected us staying in NTU hall. Ironically, although we are getting vaccinated now, we are still kicked out of the hall. Last year, the situation was more complicated but never once did NTU make such decision."
NTU Student Union working with the university on it
Affected students have taken to social media and online forums to express their concerns and displeasure over the accommodation situation.
An online petition was also started in the morning and has gathered over 1,700 signatures in two hours.
https://www.instagram.com/p/CQxP4nWF5fZ/
NTU's Student Union updated on their Instagram, saying that they are working with the university's management on this matter.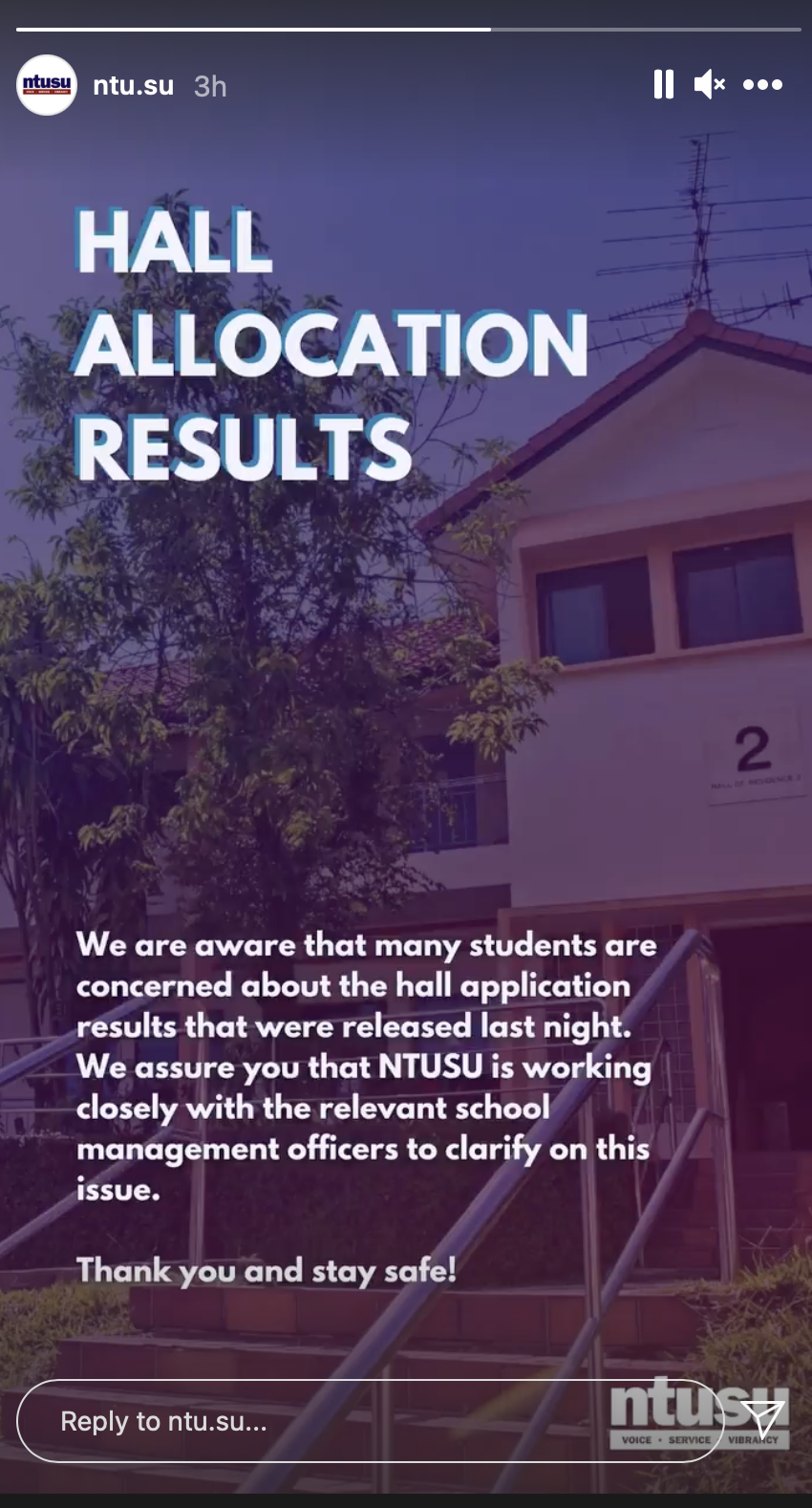 Mothership has reached out to NTU and MOE for comments.
An update from NTU Students' Union:
Official response from NTU:
Top image via NTU
If you like what you read, follow us on Facebook, Instagram, Twitter and Telegram to get the latest updates.