The Immigration & Checkpoints Authority (ICA) and the Ministry of Manpower (MOM) issued an early morning statement on Friday, July 16, 2021, providing a breakdown of the immigration status of the non-Singaporean Covid-19 cases among the first 54 cases linked to the KTV cluster.
First 54 cases
On July 14, 2021, the Ministry of Health (MOH) reported a total of 54 Covid-19 cases linked to the KTV cluster.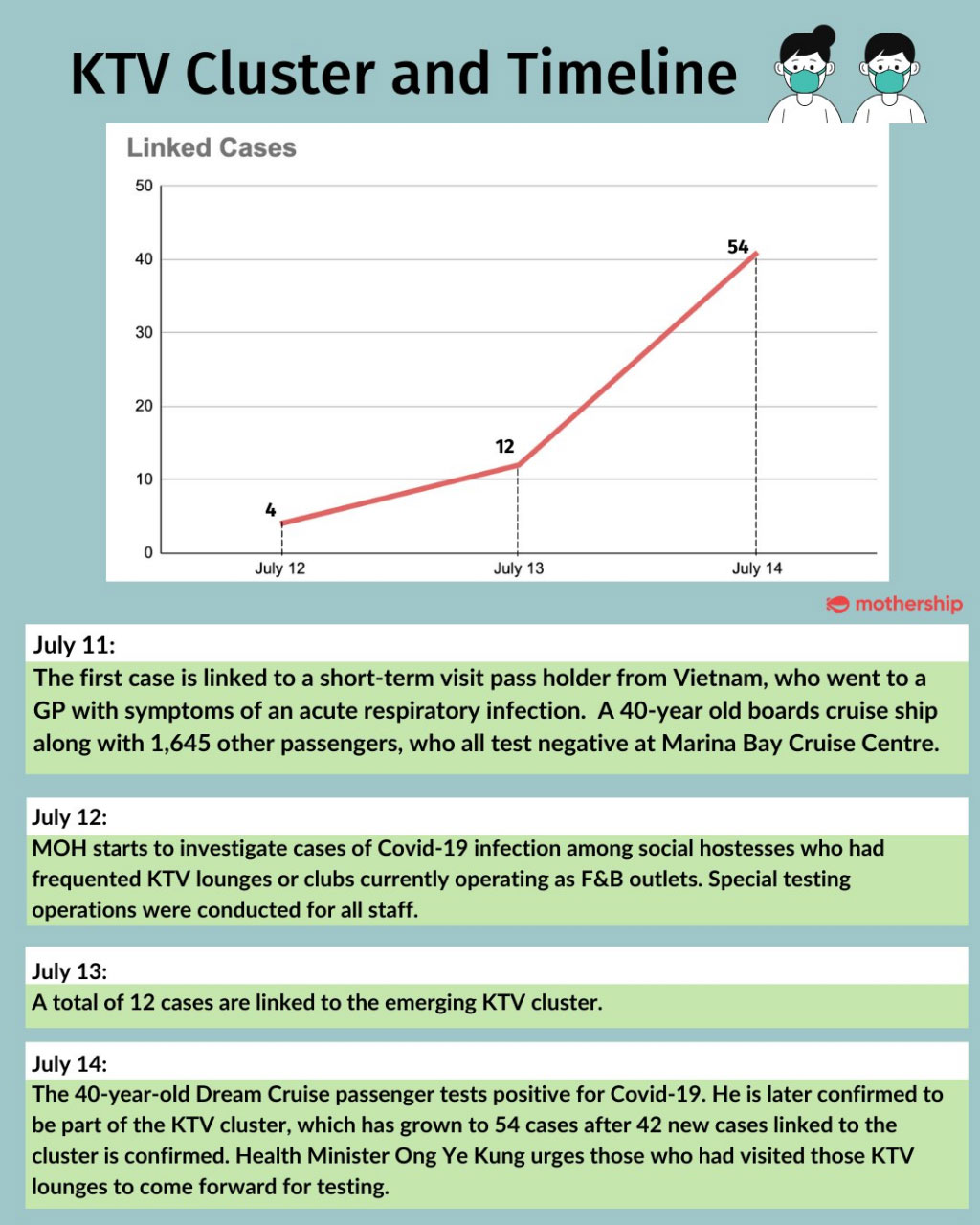 30 non-Singaporeans
According to the joint statement, amongst these 54 cases are 30 non-Singaporeans.
They held the following immigration status when they last entered Singapore:
2 Singapore permanent residents
14 work pass holders
1 student's pass holder
5 long-term visit pass holders
8 short-term visit pass holders
The remaining 24 cases are Singaporeans.
Only five arrived in Singapore from 2021 onwards
A total of 25 out of the 30 non-Singaporeans entered Singapore before 2021.
This means that only five arrived in Singapore this year.
According to the joint statement, four Short-Term Visit Pass Holders entered Singapore in 2021 via the Familial Ties Lane, which facilitates the entry of foreigners with intimate ties in Singapore.
This meant that one individual from the other categories had entered Singapore this year, but the press statement did not mention who this individual is.
Breakdown of short-term visit pass holders
A breakdown of the eight short-term visit pass holders was provided though.
Besides the four short-term visit pass holders who had entered Singapore in 2021 as stated above, two had entered before the imposition of border entry measures last year on March 21, 2020, while another two had entered Singapore in late 2020 via the Air Travel Pass.
The Air Travel Pass enables foreigners -- including business and official travellers -- from specific countries or regions, including Vietnam, to seek entry into Singapore.
This travel lane was available to visitors travelling from Vietnam to Singapore between Oct. 8, 2020 and Feb. 13, 2021.
Top photo via Club De Zara
If you like what you read, follow us on Facebook, Instagram, Twitter and Telegram to get the latest updates.