Some $50,000 have allegedly been raised to pay for the legal fees of Benjamin Glynn, the 39-year-old British man who was recently charged in court for not wearing a mask on the MRT and even wore one improperly and reluctantly while in court.
An image of a Facebook post about the fundraising has been circulating online.
It showed an update by the social media user who goes by the name Jonathan Pollock: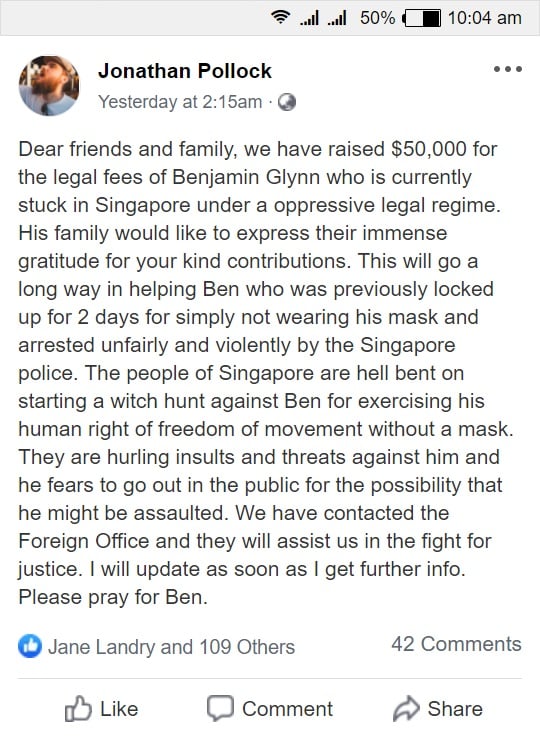 However, a search on Facebook failed to turn up the post.
In it, Pollock alleged that Glynn is currently "stuck in Singapore under [an] oppressive legal regime" and that he was "arrested unfairly and violently by the Singapore police".
He also accused Singaporeans of "starting a witch hunt against [Glynn] for exercising his human right of freedom of movement without a mask" and "hurling insults and threats" at him.
As a result, Glynn fears going out in public and being on the receiving end of an assault, Pollock claimed.
However, a Twitter post supposedly by Glynn himself claimed that this post was a hoax:
This is a hoax! I don't know this guy and he is full of sh*t! I have rejected all offers of crowd funding and donations. Very strange! pic.twitter.com/xagE0A9PUm

— BG from Yorkshire (@Benglynn7) July 5, 2021
Allegedly threatened to knock police officers down
Glynn was filmed not wearing a mask on a train on the East West Line on May 7.
The Singapore Police Force said that Glynn purportedly threatened to knock police officers down when they showed up at his place of residence on May 9, two days after the video was filmed.
According to court documents, he allegedly told the officers, "I'm gonna f***ing drop you", while adopting a boxing stance.
He was at the ground floor lift lobby of the Allsworth Park condominium at that time.
Faced multiple charges
Glynn was charged in court on July 2 for failing to wear a mask without reasonable excuse, public nuisance, and using threatening words towards a public servant.
Glynn told Daily Mail previously before he was charged that Singapore should let him go since he wants to get out of the country.
Anyone convicted of the offence of public nuisance faces a jail term of up to three months, a fine of up to S$2,000, or both.
A person who contravenes the Covid-19 (Temporary Measures) (Control Order) Regulations 2020 may face a fine of up to S$10,000, a jail term of up to six months, or both upon conviction.
Those found guilty of using threatening words towards a public servant who is on duty could be fined up to S$5,000, jailed up to 12 months, or both.
Top images: Facebook, Keefe Chan/Facebook
Editor's note: The article has been updated with a Twitter post which claimed that the fundraising was a hoax.
If you like what you read, follow us on Facebook, Instagram, Twitter and Telegram to get the latest updates.