Follow us on Telegram for the latest updates: https://t.me/mothershipsg
Many major brands have cut ties with Chinese-Canadian celebrity Kris Wu following allegations of sexual predation.
According to WWD, Shanghai-based beauty brand Kans was the first to announce the termination of Wu's endorsement contract on July 18.

Translation of Weibo post:
"Kans has issued a termination letter to Kris Wu and has since ended all brand partnerships with him."
Other brands, including Porsche, Master Kong Ice Tea, Vatti, Tencent Video, and Honor of Kings, have also declared a cessation of their partnerships with him and removed all Weibo posts mentioning Wu.
On July 19, luxury brand Louis Vuitton has also "temporarily suspended all partnership" with him until the outcome of the judicial investigation is announced, as well as removed all posts that mentioned Wu.
Background
These come after he was embroiled in a scandal where he allegedly lured underaged girls to spend the night with him, by offering them lead roles in music videos, among other methods.
For context, Wu is a popular singer-actor based in China.
He was formerly a member of K-pop group EXO from 2012 to 2014.
He is now one of the biggest celebrities in China, starring in movies like "Journey to the West: The Demons Strike Back" and "XXX: Return of Xander Cage" alongside Vin Diesel.
The accusations came to light after his rumoured ex-girlfriend, 19-year-old Du Meizhu, penned an open letter on Weibo on July 8.
July 8: Rumoured ex writes open letter
Du opened her letter by acknowledging that she was among the "numerous girls" Wu was apparently involved with.
She also claimed that the 30-year-old celeb had a preference for younger girls born in the 2000s.
Wu allegedly used the same modus operandi that often involved having an employee as a middle person to lure the girls into playing drinking games, by letting the girls know that he was looking for a female lead for a music video or that his company was looking to sign new artistes.
He was also accused by Du of spending the night with other girls when working in a different city.
As of the time of writing, the post has over three million reactions and more than 147,000 comments.
From June 2: Girls come forward
While Du's post was a catalyst to the entire situation, accusations against Wu have surfaced on Weibo as early as June 2, 2021.
Following Du's open letter, more girls came forward, sharing their experiences and screenshots of their alleged conversations with Wu.
One of them includes Lin Xiya, another rumoured ex-girlfriend whom Wu was linked to during his EXO days.
On July 17, Lin posted a message on Weibo saying: "Seven years, justice? Bring it on." Back in 2013, Lin was the target of enraged fans when pictures of her and apparently Wu were leaked.
Other girls who have shared their alleged text conversations with Wu and/or his employees include Wei Yuxin, Xiao Rou, Xiao Zhang, Xiao Yue, and Brandy_trb.
Here are some of the conversations: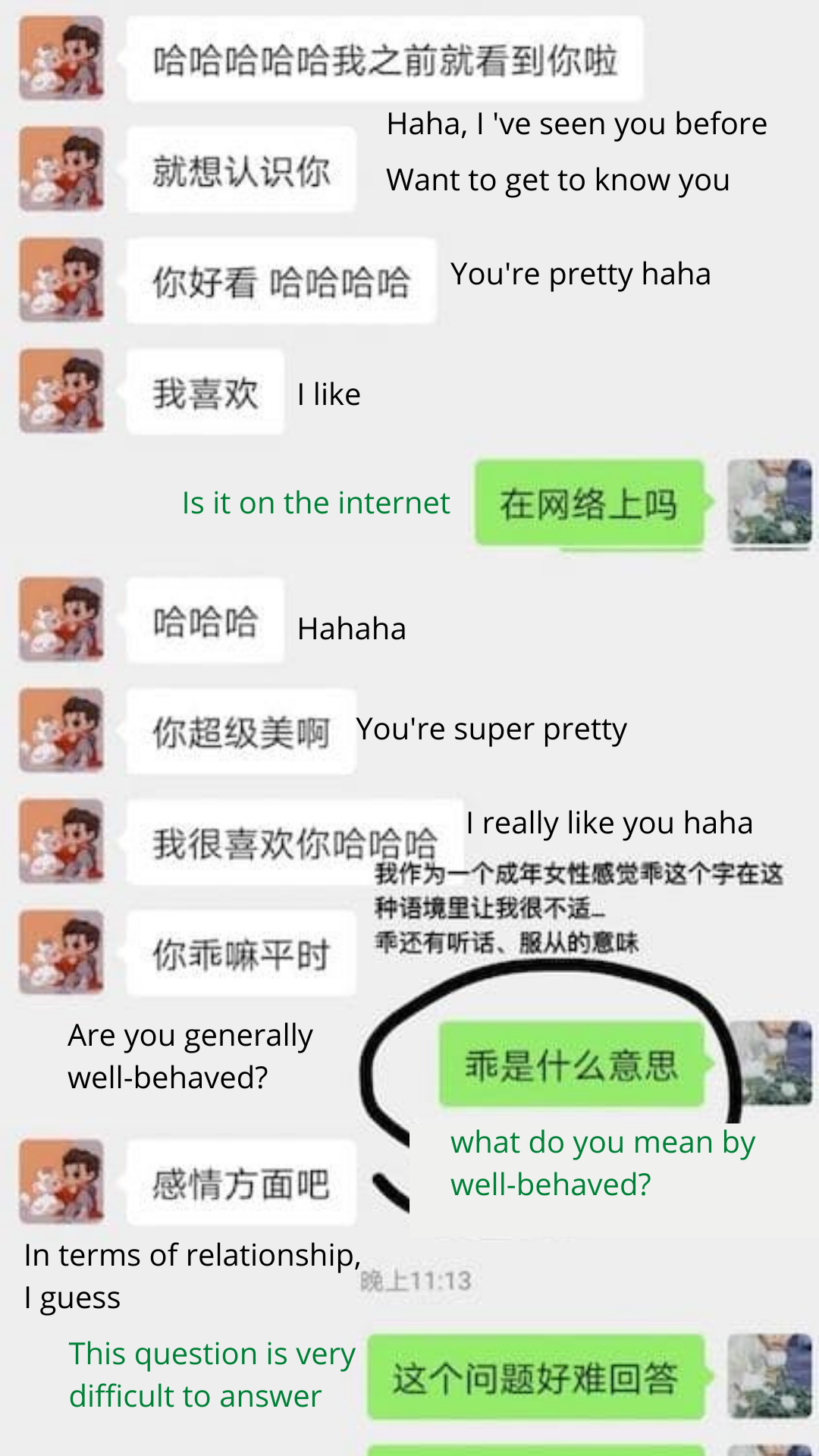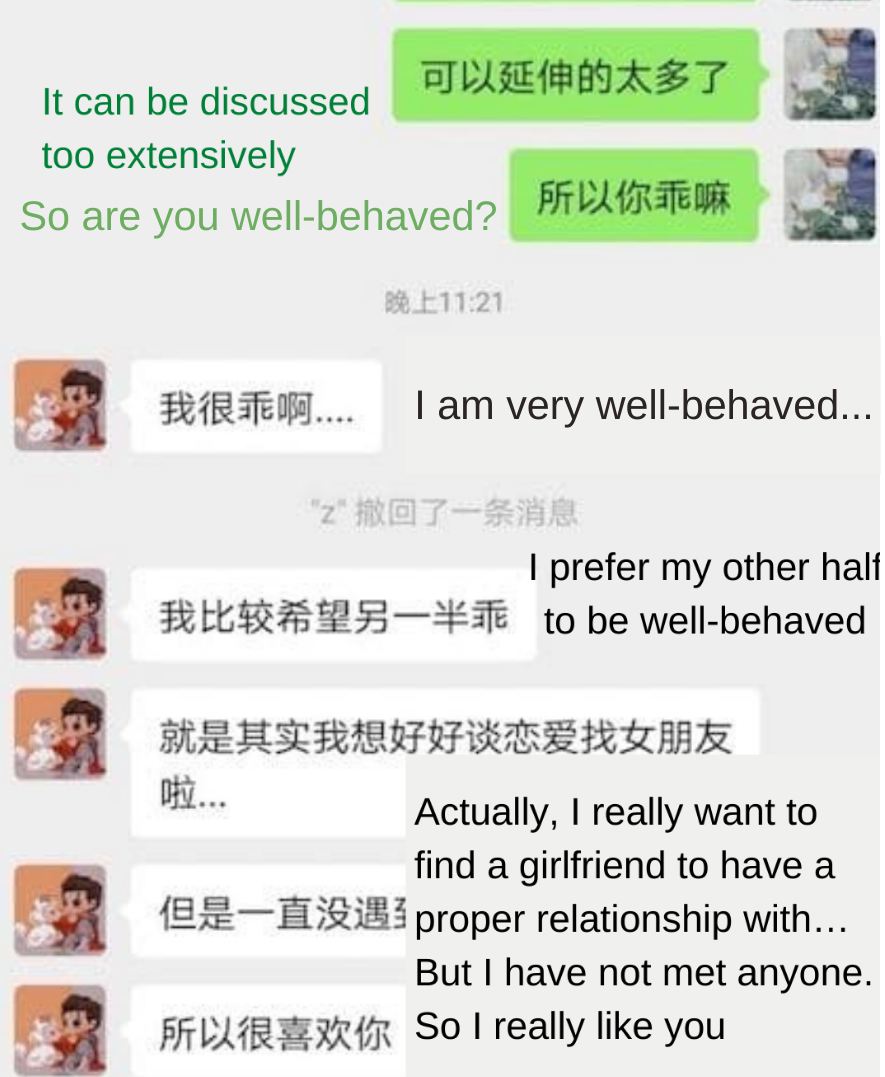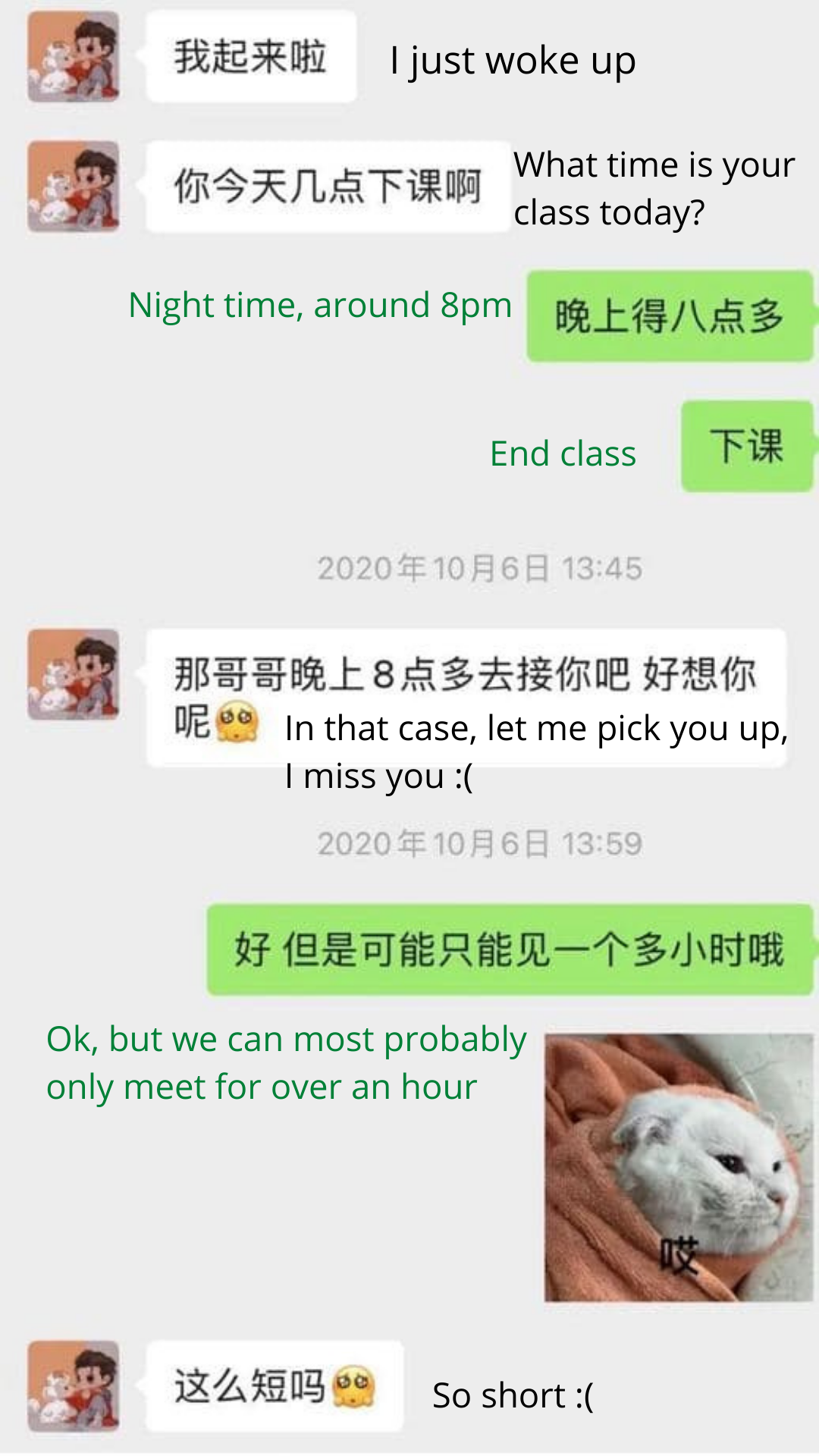 Several others have deleted their Weibo accounts after recounting their experience.
July 18: Du's interview and Weibo post
Things seem to have settled down for more than a week, until Du did an interview with Chinese entertainment platform Wangyi.
Woke up in Wu's bed
In the interview, Du said that she first met Wu under the impression that she was going for an audition.
The "audition" was held late at night and it was only later that night did she found out that she was expected to drink with Wu.
When she realised there was no discussion about professional matters, Du wanted to leave. However, his manager allegedly did not allow her to go, and confiscated her phone instead.
While she got her phone back, she was also warned not to offend Wu as he could make or break her career.
Du was allegedly plied with drinks and woke up in Wu's bed the following day.
According to Du, Wu had assured her that he would "look after her" for the rest of his life, and said that he wanted to take her to see his mother during Chinese New Year.
Given more than S$100,000
Du added that she was given RMB500,000 (S$104,883.60) from accounts named "Wu Yi Fan" (Wu's Chinese name) and "Wu Stacey Yu" (Wu's mother).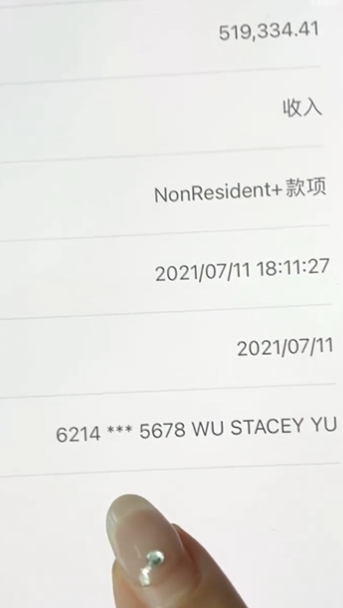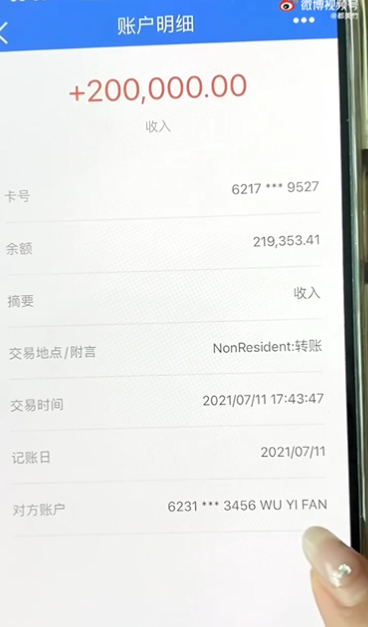 Du uploaded a video that showed transactions made to her on July 11, days after the open letter was published online.
It is unclear why the transactions were made, but it was implied to be hush money. She said that she is in the midst of returning the money to the accounts.
In another video, Du shared the conversations and transactions that allegedly transpired between her and someone who appears to be a representative of Wu.
Sexually-transmitted diseases
In the interview, Du elaborated on Wu's alleged strategies of picking up girls and disclosed that some of the girls received branded goods or up to RMB 10,000 (S$2,101.77) if they introduced him to other girls.
Du also said that she hopes to take legal actions, especially with so many "severely hurt victims":
"I believe this is not just a personal issue, dare I say, this is a problem surrounding the reputation of the Chinese entertainment industry."
In a Weibo post published on the same day, Du claimed that some of Wu's victims allegedly suffered from depression and engaged in self-mutilation.
Some also had to undergo abortions and caught sexually-transmitted diseases as a result of sleeping with him.
Du then went on to make several explicit allegations about her less-than-stellar experience(s) with Wu in bed.
July 19: Wu denies allegations, files police report
In response, Wu denied the allegations made by Du on July 19 via his personal Weibo page.
Wu asserted in his post that he had only met Du once at a friend's gathering on December 5, 2020.
In an attempt to debunk Du's claims, Kris Wu Studio clarified:
Six other people in the eight-person gathering who were present can testify in front of the court and police that no one plied Du with drinks;

Wu has only met Du once in-person at that gathering and the last text message he had sent her was on May 31, 2021;

Contrary to the interview Du gave, she herself was not plied with drinks and that statement was based on "evidence" she had received from other girls;

Du allegedly sent his studio eight "intimidating and threatening" emails on July 10, 2021;

Du approached the studio employee on July 10, 2021, asking for RMB 2 million (S$422,505) in exchange for deleting the published posts and not posting more content related to Wu;

Du had asked for a higher amount of RMB 8 million (S$1,690, 020) on July 11, 2021, claiming that she is asking for compensation on behalf of the other girls. After the studio rejected her demands, Du reduced the asking amount to RMB 5 million (~S$1,056,262) and eventually settled for RMB 3 million (~S$633,757).
Wu denied all allegations made by Du and told his followers that he would check himself into prison if he was caught doing such things.
Here's his full statement:
"I didn't respond earlier because I did not wish to interfere with the progress of the legal proceedings. However, I did not expect my silence to fuel the gossipmongers and I can no longer tolerate this. I have only met Ms Du once at a friend's gathering on 5 December 2020. There was no plying of drinks, no confiscation of mobile phones and definitely none of the various 'details' she has described. There were many people present on that day who can vouch for this! I am sorry to cause inconvenience to everyone. For the record, there was never any 'concubine selection'! No 'sexual coercion' or 'drug-facilitated sexual assault'! No 'underaged persons'! If there were such actions, rest assured, I will check myself into prison!! I am legally responsible for the aforementioned words!!"
Through a lawyer's letter by a Beijing law firm, Kris Wu Studio claimed that the screenshots of the direct messages on Weibo and WeChat texts attached in Du's post were sent by an impersonator of a Kris Wu Studio's employee.
The law firm also accused Du of "provoking trouble and spreading rumours to slander artistes."
July 20: Official notice on mitigating risks of misbehaving artistes
On July 20, the China Television Drama Production Industry Association (CTPIA) released a notice addressed to the Youth Committee of the CTPIA about mitigating risks of misbehaving artistes "in light of the intense public scrutiny on actor Kris Wu's incident."
It includes requests, including an immediate suspension of collaboration with "immoral artistes," with a  zero tolerance policy towards misbehaving artistes.
Du has also updated her Weibo with the post that translates as, "What is happening with this world...." and a broken heart emoji.
Top images by Kris Wu's and Du Meizhu's Weibo pages.
If you like what you read, follow us on Facebook, Instagram, Twitter and Telegram to get the latest updates.