The struggling Ghibli Museum has been given a lifeline by their fans.
Beset by financial troubles because of the pandemic, the museum turned to the public for donations to keep the museum running.
According to SoraNews, donations exceeded the 10 million yen (S$123,540) target within 24 hours of the campaign launch, surpassing 12 million yen (S$148,248) contributed by almost 1,500 donors.
SoraNews reported that the Ghibli Museum requested for public donations via the furusato nozei, or "hometown tax" system, where struggling businesses in rural areas can appeal for donations from urban Japanese taxpayers.
The museum, located in Mitaka City in Tokyo, announced the launch of the campaign via Twitter on Jul 15.
三鷹市では新たにふるさと納税を活用し、「三鷹の森ジブリ美術館」の運営支援を行う仕組みを構築しました。

皆さまの協力を得て美術館の持続可能な施設運営を支援してまいりますので、ぜひともご協力をお願いします。

◆ふるさとチョイスhttps://t.co/T17rKQq5jc #三鷹 pic.twitter.com/UjDI8kCMMq

— 東京都三鷹市 (@mitaka_tokyo) July 15, 2021
At the time of writing on July 19, the campaign garnered almost 22 million yen (SGD 271,788) in donations.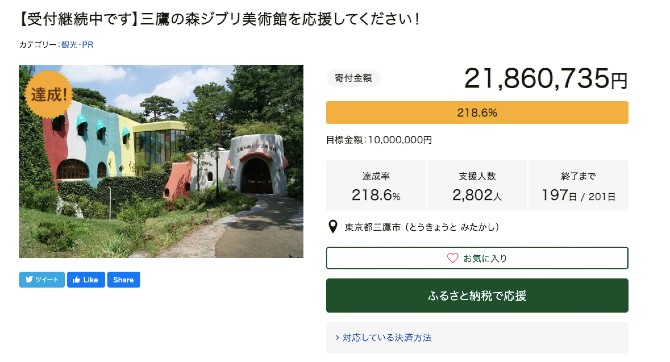 A spokesperson from the donation site's company was reported by Tokyo Shimbun as saying the response was unexpected, and thanked Ghibli fans.
Reduced revenue
According to NHK, visitor numbers fell from 580,000 in FY2019 to 90,000 in FY2020, severely reducing revenue.
The museum had a series of temporary closures since February 2020, and has been operating at reduced capacity since mid-July.
The museum has been drawing on its financial reserves to keep up with operations.
A spokesperson from the museum said that if they were to continue drawing from its reserves, "the operation of the facility and planned maintenance will be in jeopardy", according to SoraNews
In the regular tradition of furusato nozei campaigns, the Ghibli Museum is offering donors a small thank-you card as a thank you for donations.
Top image via cowardlion/Shutterstock
If you like what you read, follow us on Facebook, Instagram, Twitter and Telegram to get the latest updates.