Follow us on Telegram for the latest updates: https://t.me/mothershipsg
A little past 8pm is when the durian street in Geylang comes to life.
It was durian season, which meant that someone (i.e. me) had to check out one of the few durian streets in Singapore.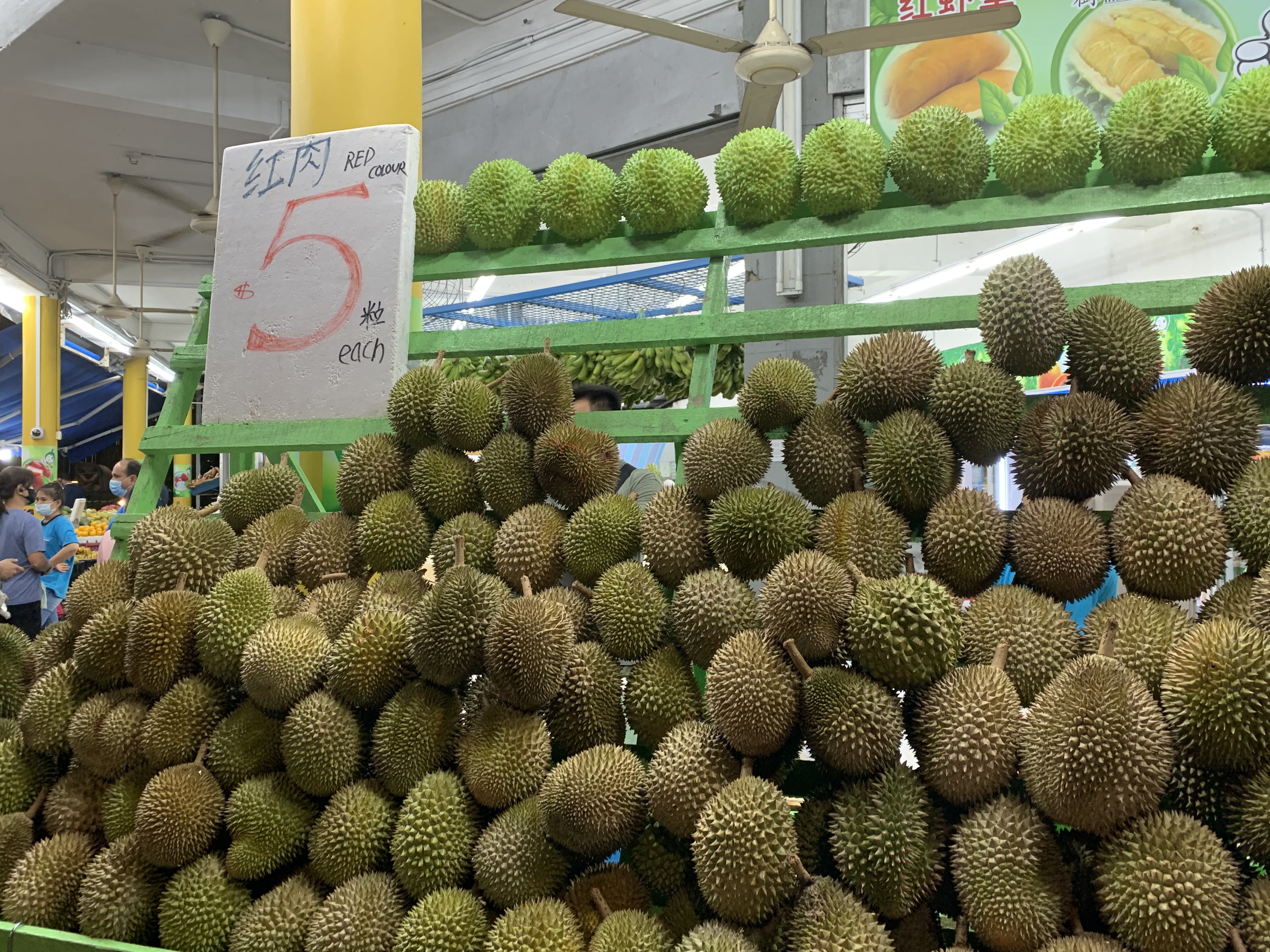 This unofficial durian street has no label on Google Maps; but it's an approximately 800-metre nondescript stretch along Sims Avenue.
When I went down on June 30, at least six durian stalls lined the street, all spread within a few hundred metres of the other.
The set up
Most vendors have their stalls set up in the same manner – durians stockpiled by variety and price.
While there are a lot of durians, the potent aroma doesn't pervade the neighbourhood; rather it aggressively assaults your senses only when you're standing in the middle of each stall.
The most common varieties (and by common, this means the durians you'll most often spot on display), are the Mao Shan Wang, Red Prawn, as well as D13 or D101 durians.
The SOP to "pick your poison" then goes like this – choose your thorny durian of choice amid the occasional cry of "LIU LIAN LIU LIAN" (translation: "Durian Durian!"), pick it up gingerly to mitigate the spiky thorns, then have the seller weigh it for you.
The cost of your purchase will depend on the weight of the selected durian(s).
Typically, many customers dine alfresco after, chomping down on the decadent fruit either at the back of or beside the stall.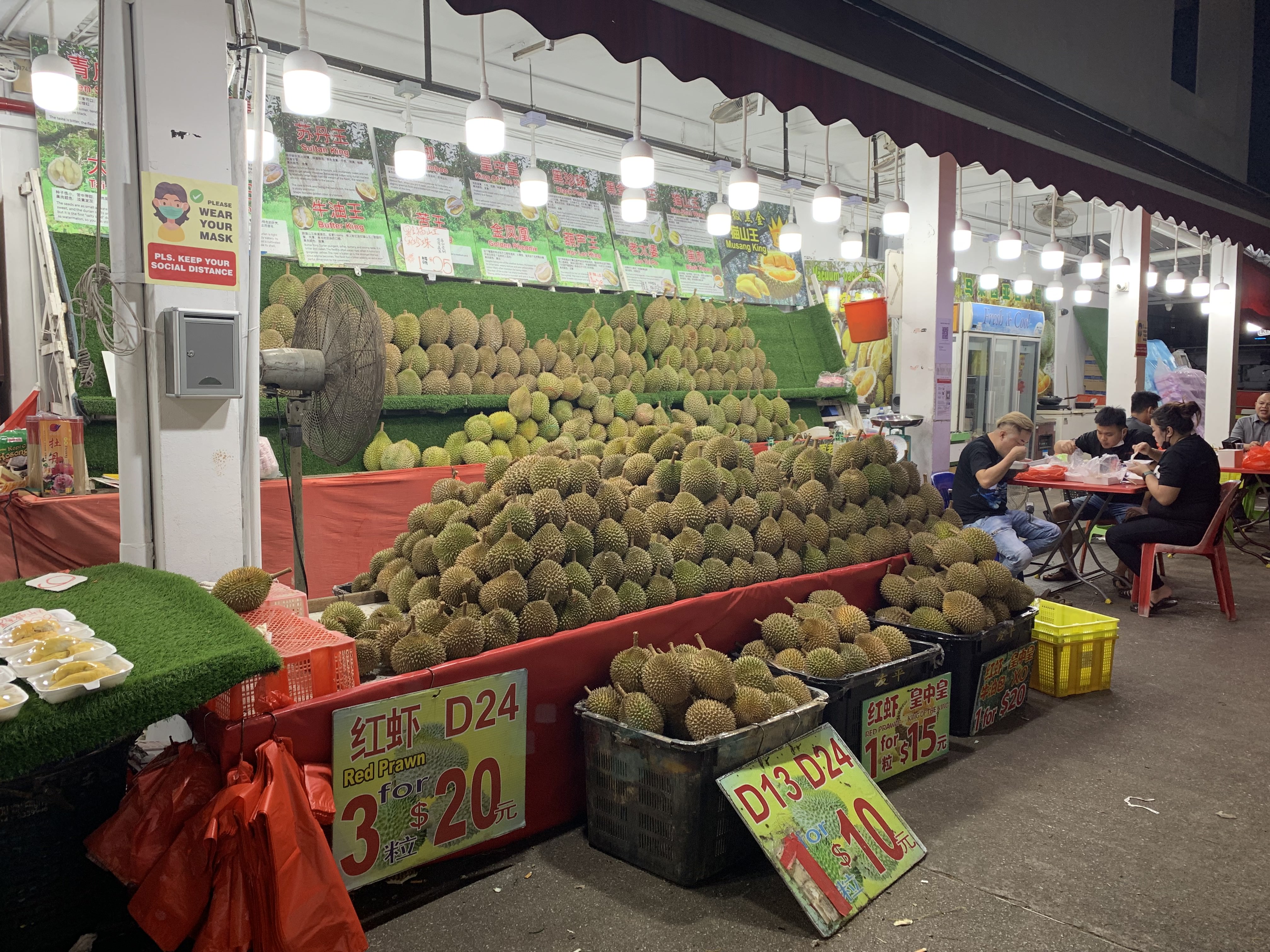 The crowd
While there were no jaw-dropping queues at any one stall, some durian vendors appeared to be a lot more popular than others.
When I attempted to talk to the vendors at Durian Culture, for example, I was brushed off with a brusque, "Come back at 10+pm, that's when the crowd lessens".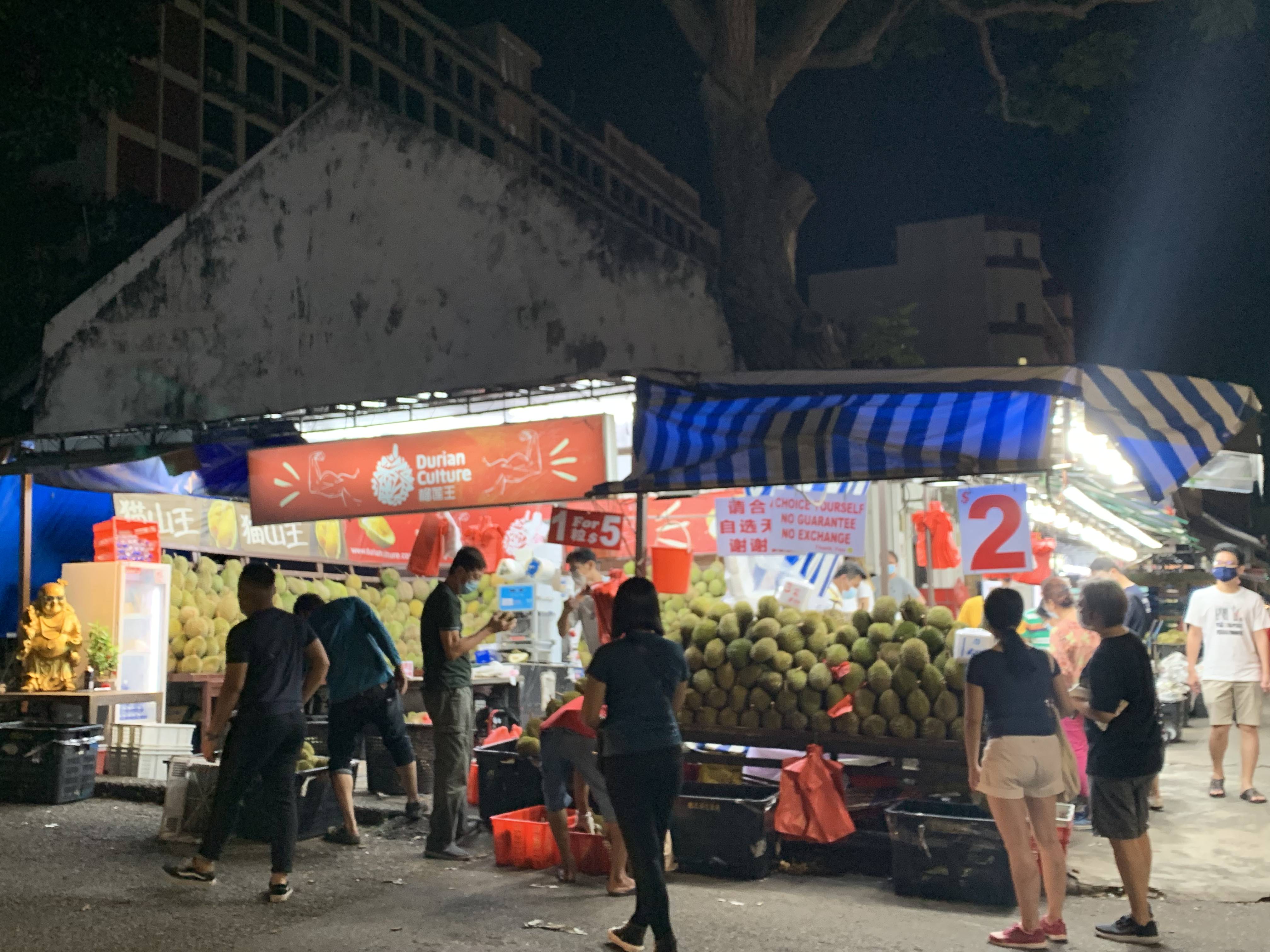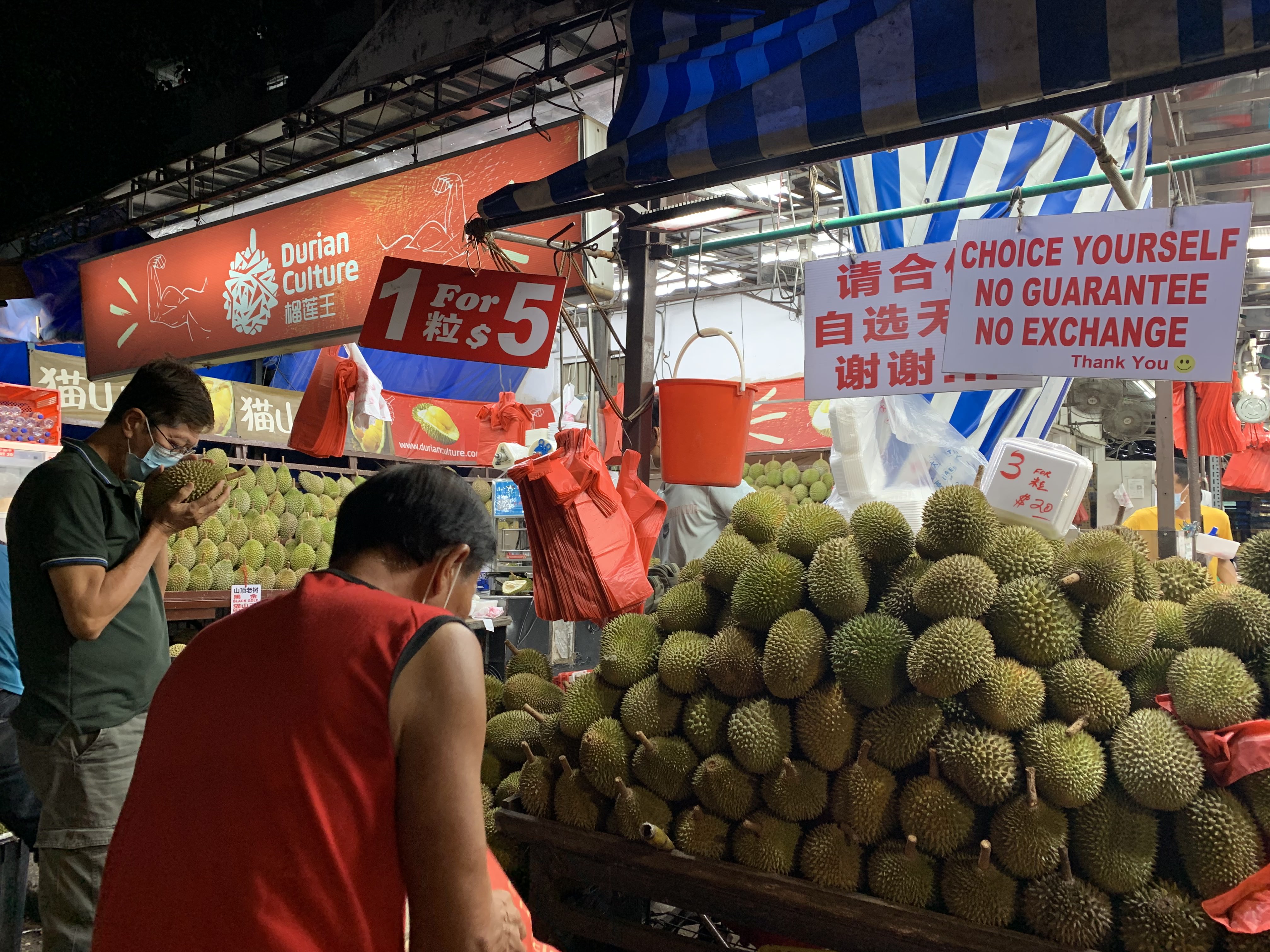 The biggest crowd (of about 20+ people) was later spotted at Wonderful Durian, King Fruits Durian and Durian 36 respectively.
All of them had signs for S$5/kg durians, so if you ask me, there's some correlation there.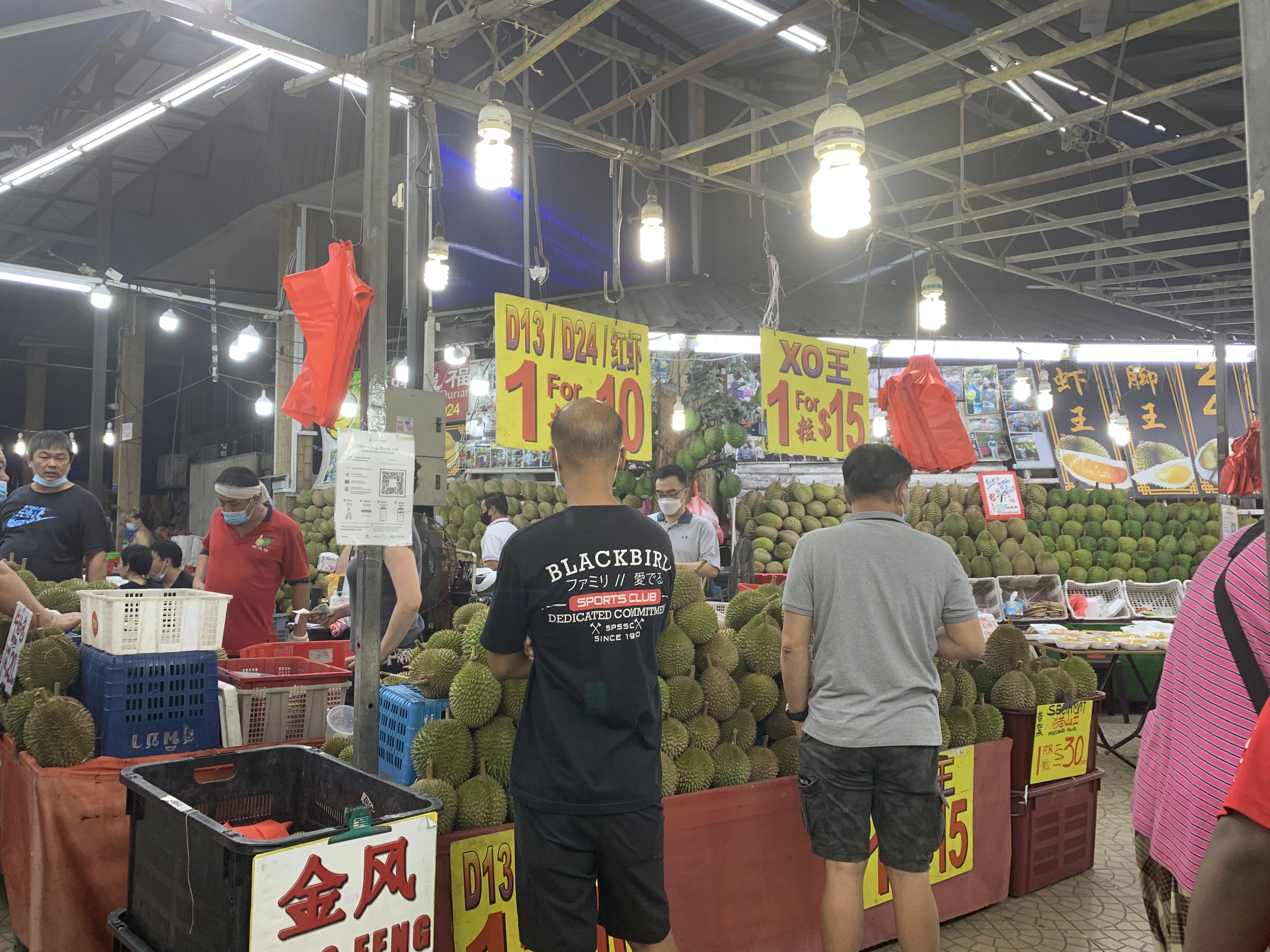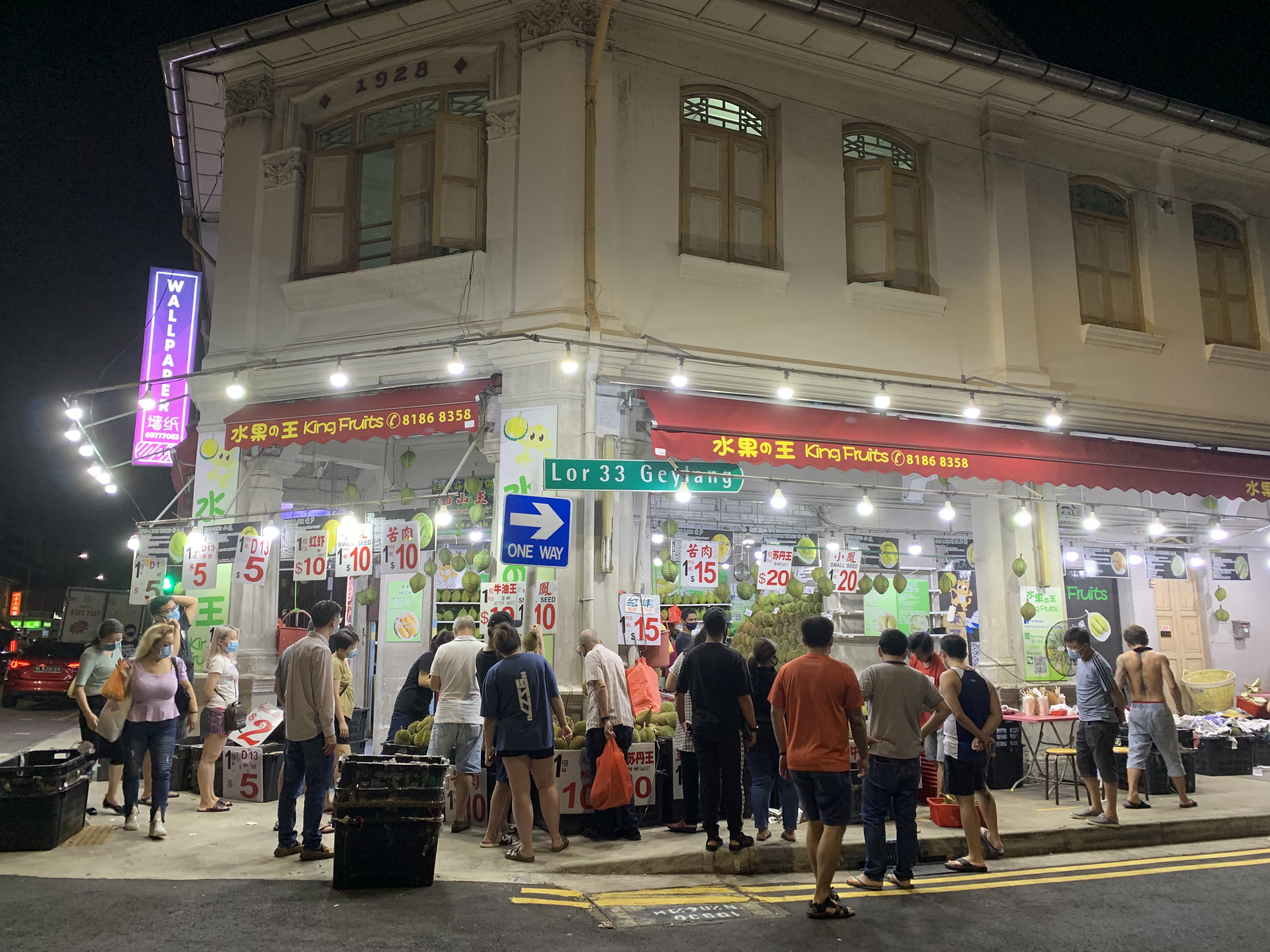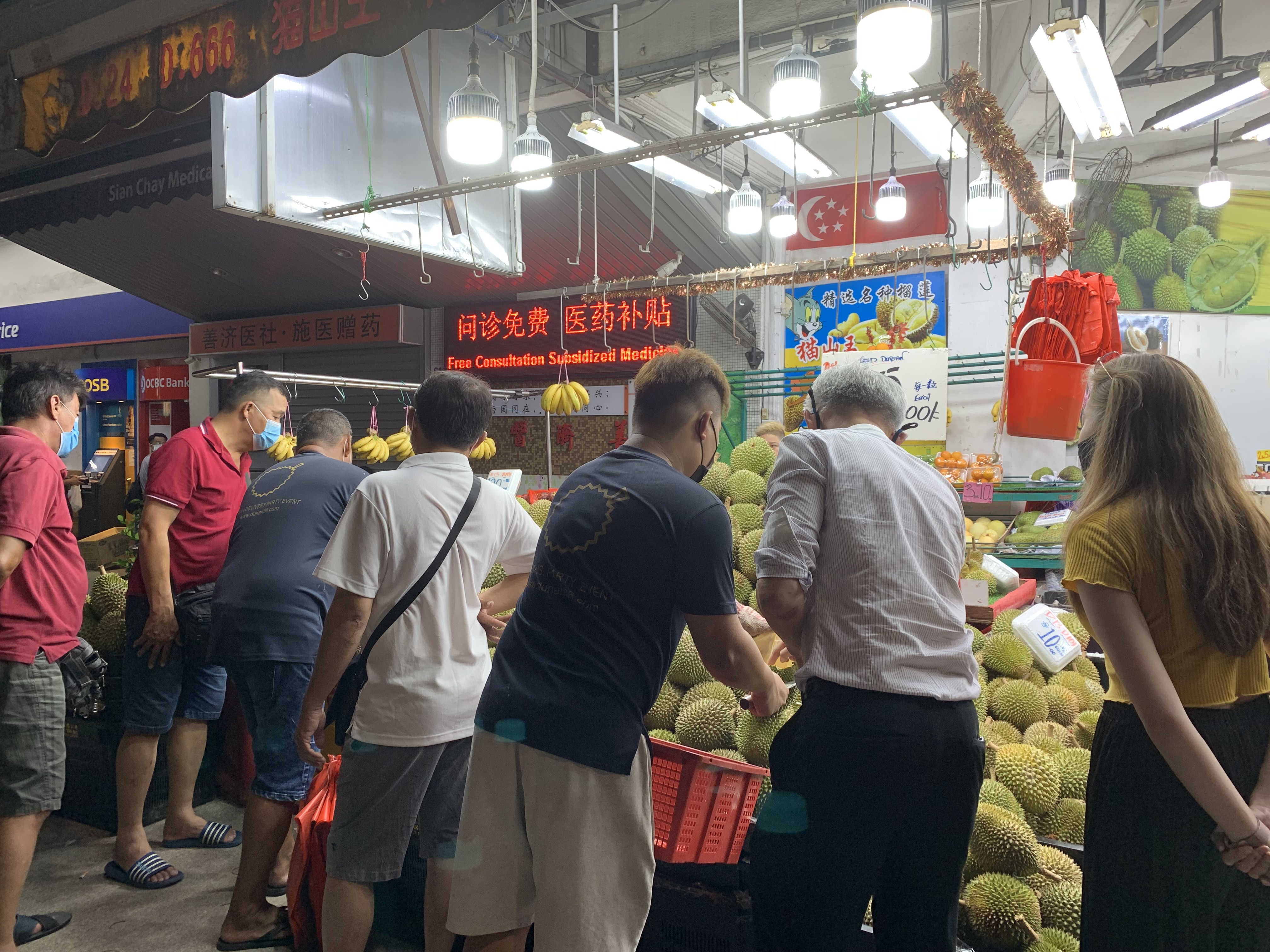 The stalls that appeared to field fewer patrons still averaged at about 6-10 customers at any given time, with most perhaps enticed by the attractive prices.
Not too shabby.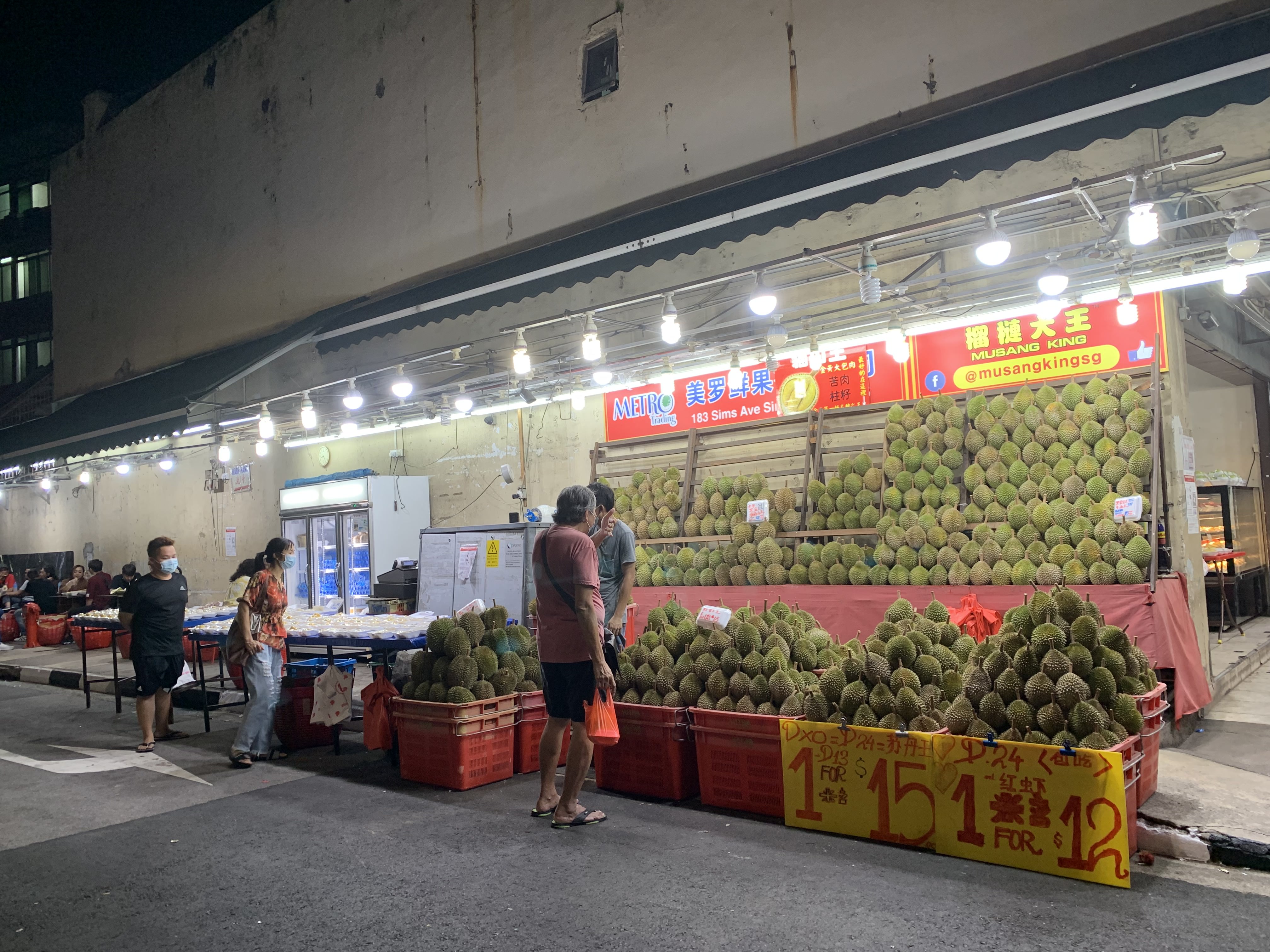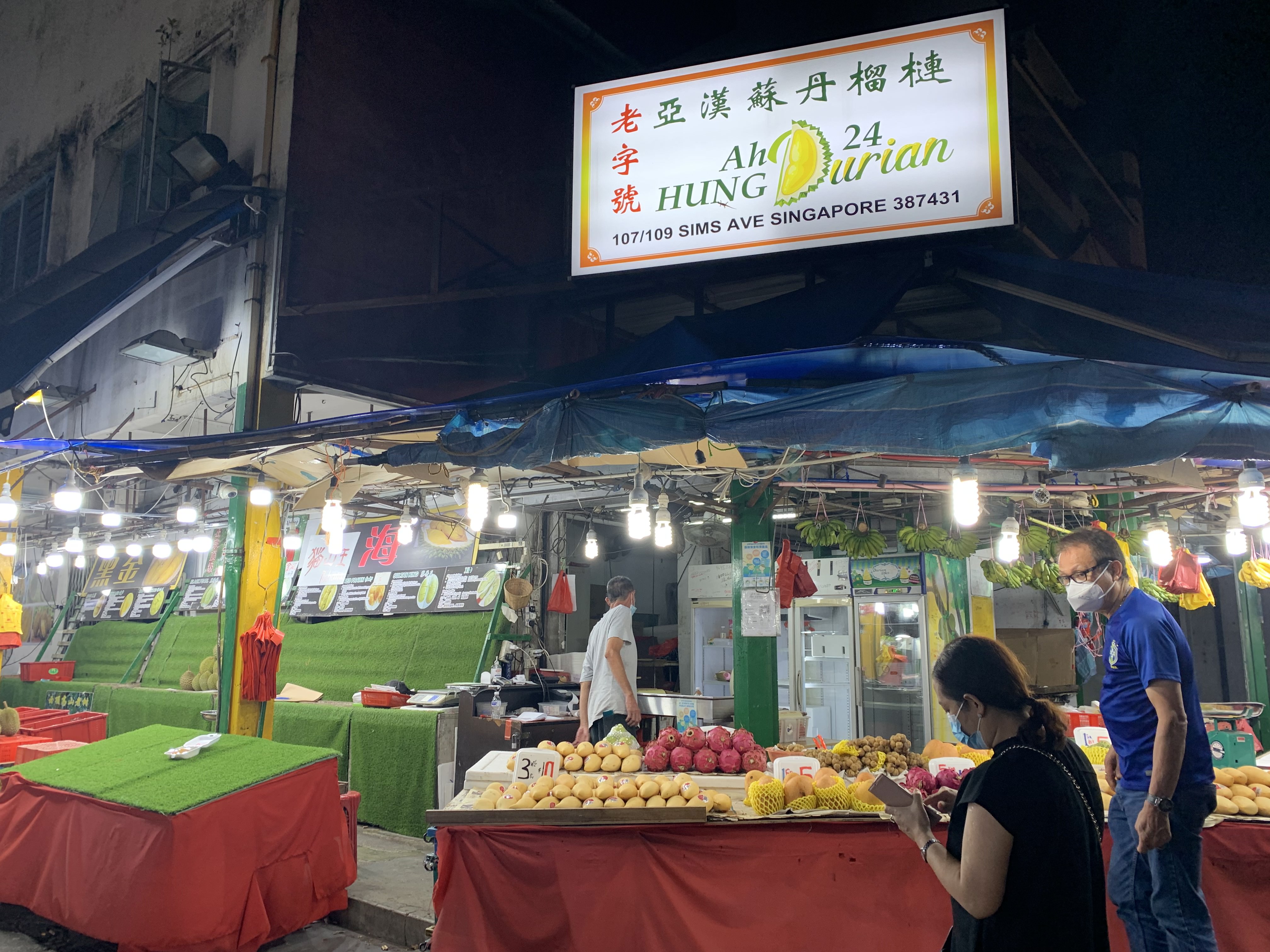 Demand and supply
With durian season in full swing, some of the durian vendors told Mothership that business has improved as compared to last year, but that it has been better.
Xiao Hei, 30, an employee of Ah Hung D24 Sultan Durian, explained:
"Pre-Covid, Geylang Durian Street saw a lot more tourists and immigrants, especially those with work visas from China, who would drop by to feast on some durian. With the onset of Covid-19, this is not as common."
The stall, however, has still been able to sell out almost 500kg worth of durians a day, tending to fare better on weekends.
Speaking to Mothership, King Fruits Durian, which is located on the adjacent Geylang Road, said they were able to sell out twice this amount (about 1000kg to 1500kg worth of durians a day), including for baskets of durians sold at S$5 per kg.
Long, 34, a vendor who has been working at the stall for three years, added that getting the supply to meet this demand was not an issue, as they import most of their durians from plantations owned by their boss, who is Malaysian.
Good deals
And maybe because of the competitive nature of the street, with multiple stalls selling a similar product, many vendors were hawking durians at S$5 a pop.
This, naturally, attracted crowds like moths to a flame.
The stream of customers seemed to increase the later it became; according to one durian seller, he'd noticed the "atmosphere" in Geylang only livened up from around 9 to 10 pm.
For certain stalls however, only empty baskets for the S$5/kg stockpile remained by night.
When Mothership visited King Fruits Durian at 9pm, for example, its baskets were wiped clean.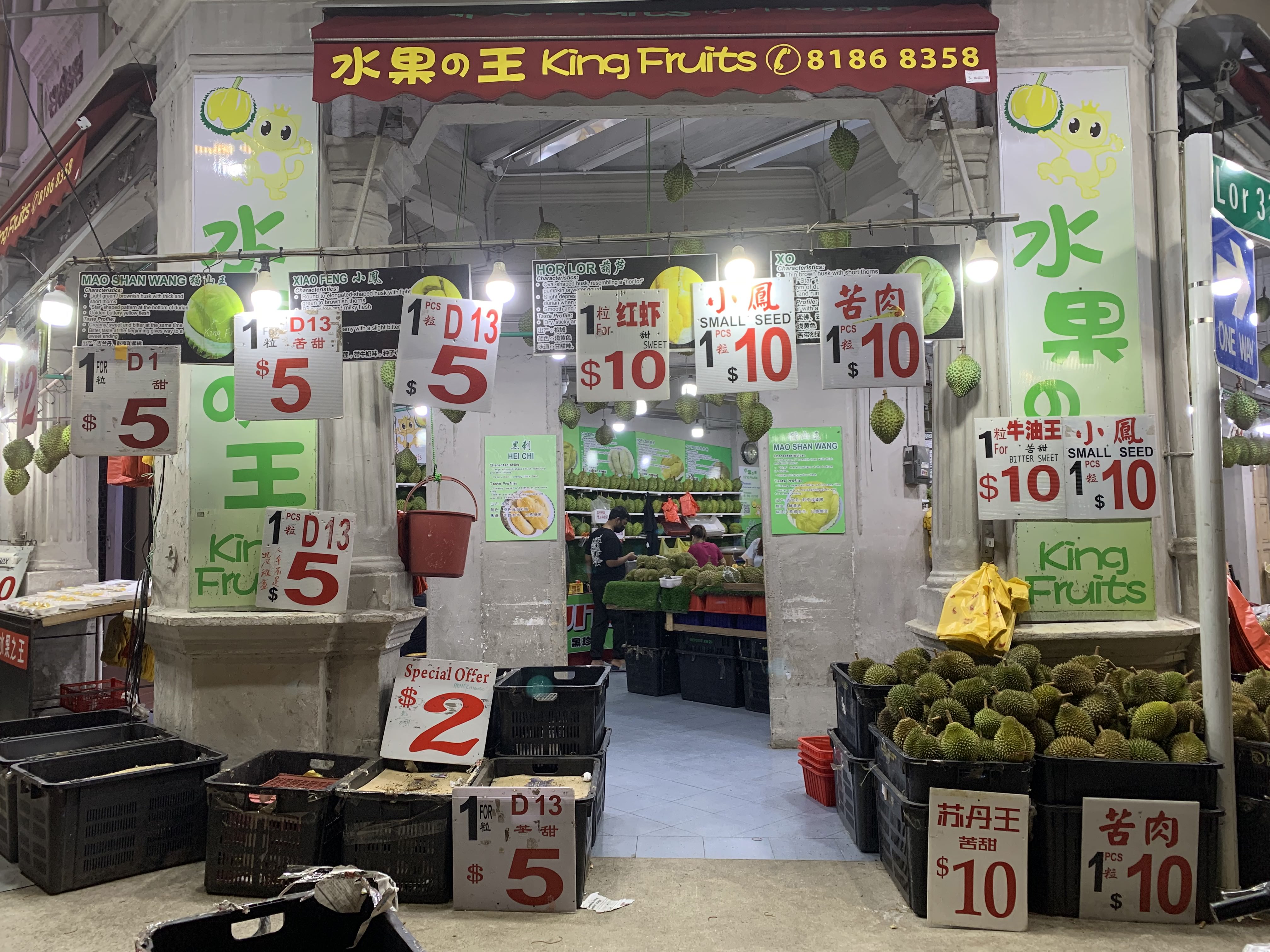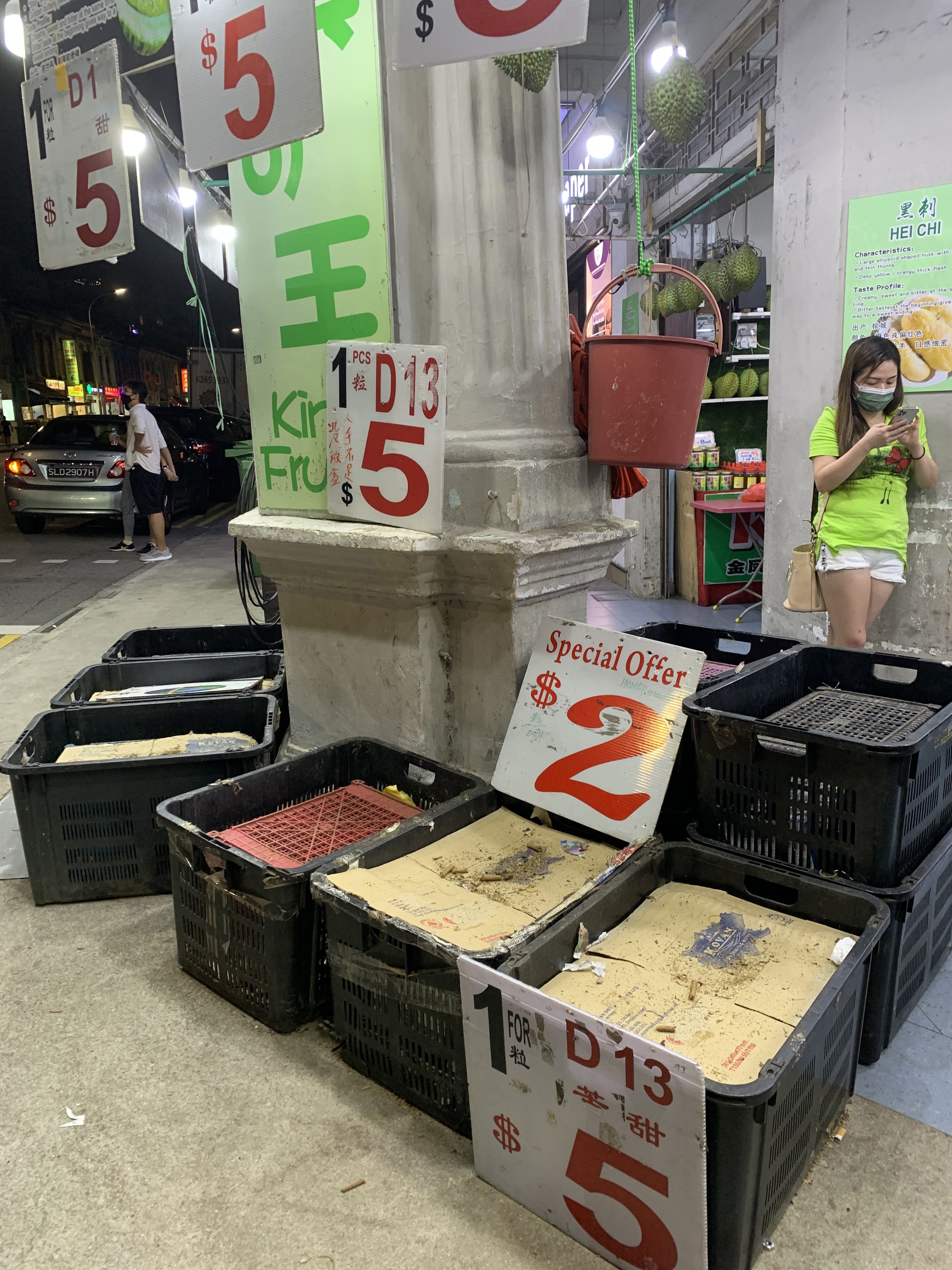 Depending on the stall visited, Mao Shan Wangs' also appeared to be going at S$15 to S$20 per piece.
According to CNA, the price of durian is expected to drop further as the season progresses, though one vendor did disagree that prices would fall.
Last weekend, on July 4, Durian 36 put up a Facebook post sharing that Mao Shan Wang durians were on sale for just S$10 each.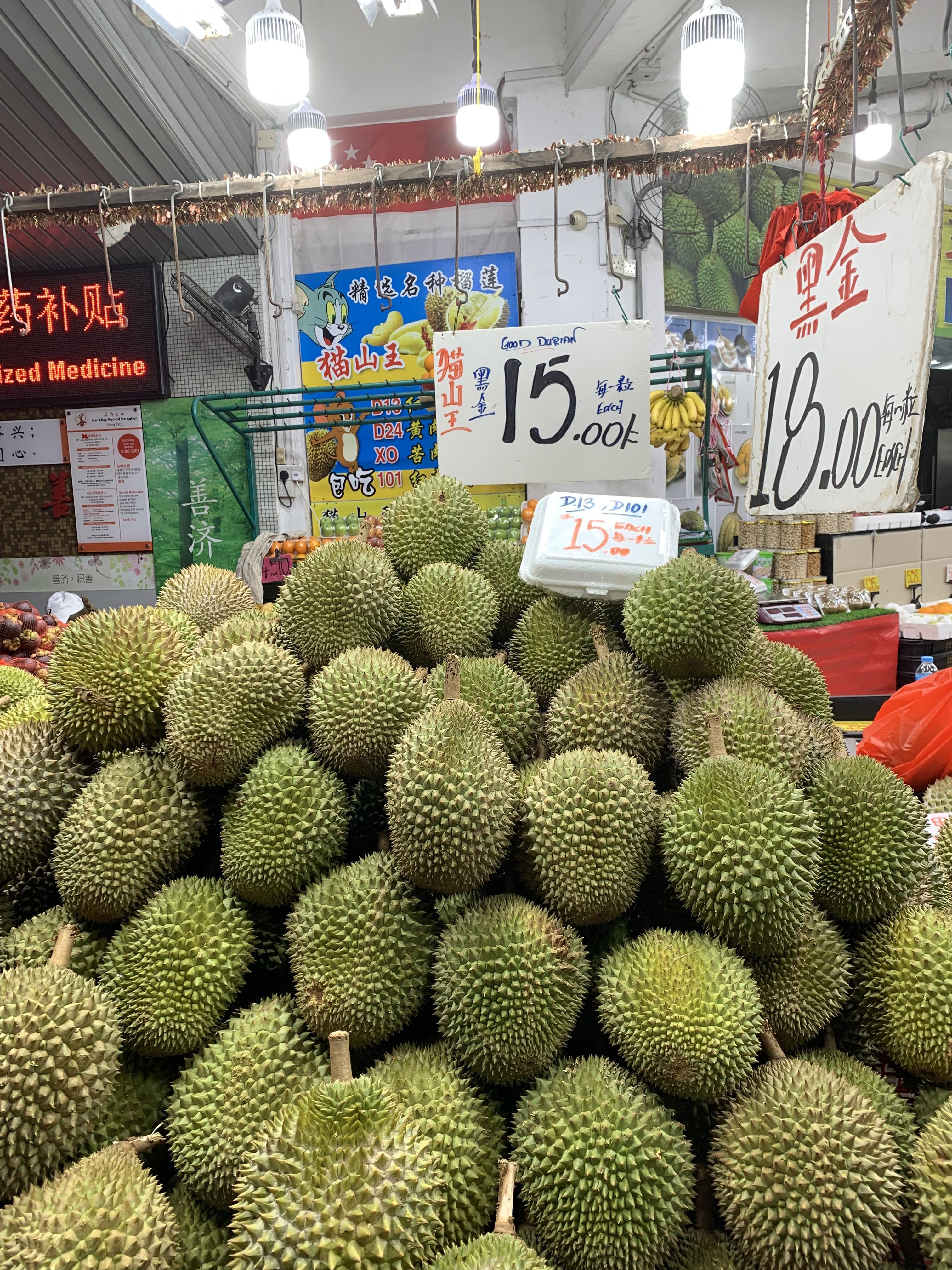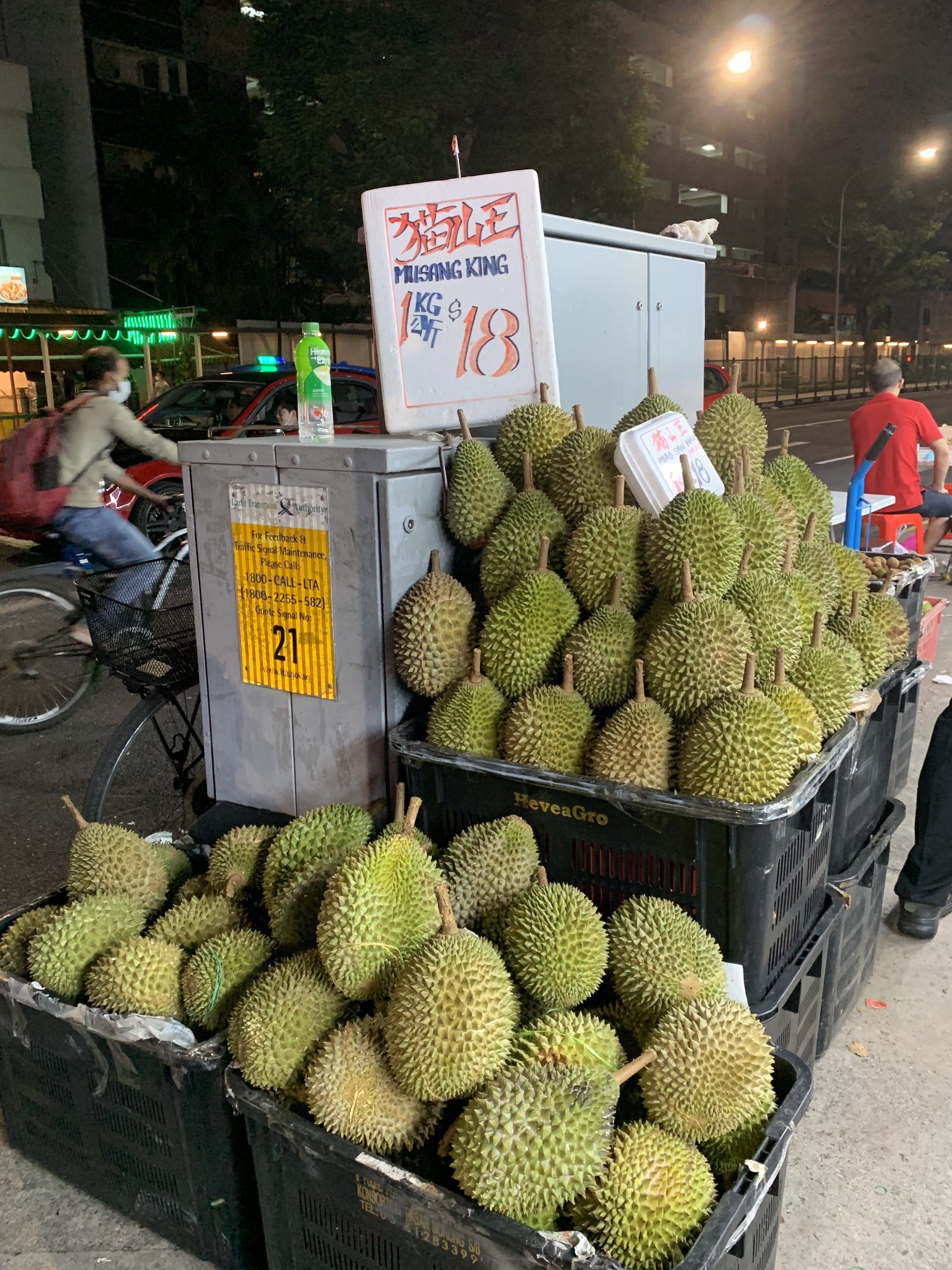 Sweet.
Before heading down
As much of the durian sold is based on demand and supply, do be prepared for the price of durians to fluctuate throughout the season.
Those interested should contact the business before heading down to the stall.
Top image via Lean Jinghui
If you like what you read, follow us on Facebook, Instagram, Twitter and Telegram to get the latest updates.