A foodpanda delivery rider was seen carrying a fellow foodpanda delivery rider who got injured in an accident in Yishun on Friday afternoon, July 9.
An e-scooter and an e-bike collided at Block 201 Yishun Street 21 at around 1.30pm, according to a post on Facebook.
The aftermath of the incident warmed the cockles of eyewitnesses' hearts at the scene.
The rider who went to help carried the injured man to a shelter.
Another person was seen holding on to a bag walking beside the Good Samaritan and the injured man.
Shortly afterwards more riders stopped to render assistance to the injured rider.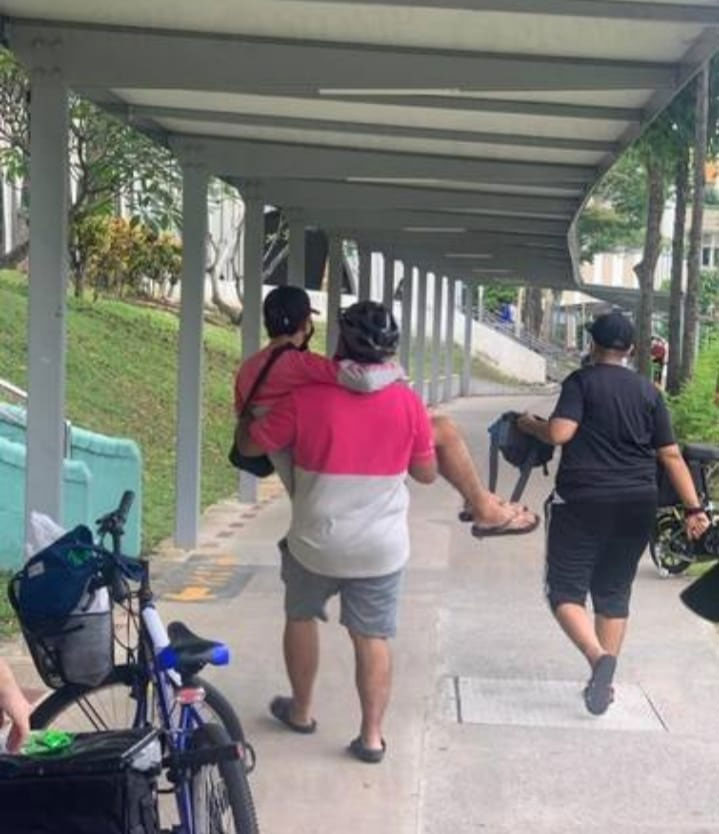 Responses
However, one response to the post highlighted that the injured man should not be moved if he cannot do so by himself as he might have been injured and moving him might aggravate the injury, despite him being conscious.
The photo showed the injured rider conscious with his head upright, but possibly, just immobile.
Should victims have been moved?
It was previously reported that moving an injured person should only be done when necessary.
The general rule of thumb is that if the victim is unconscious, he or she should not be moved.
This is to prevent inflicting any further injury to their possibly broken bodies. For example, broken ribs can puncture lungs if the body is lifted or made to lean on one side.
Plus, a person in shock might not be able to respond appropriately to the pain experienced, so it might be difficult to gauge the full extent of any injury.
Moreover, moving any victim from where he or she landed should only be done if not moving the victim poses a greater danger. For example, if the victim has fallen onto the train tracks or into the water.
If you like what you read, follow us on Facebook, Instagram, Twitter and Telegram to get the latest updates.