The Ethnic Integration Policy (EIP). You might have heard of it if you caught the rather spirited debate over it in Parliament on July 5.
If you haven't, here's our coverage to catch you up:
What is the Ethnic Integration Policy?
The EIP caps the proportion of flats in each HDB block and neighbourhood that can be owned by households from each of Singapore's four core ethnic groups (Chinese, Malay, Indian, Others).
The limits are set based on the ethnic proportions of the general population, with an allowance for some local variation in each block and neighbourhood.
Once the limit for an ethnic group has been reached, home buyers from that particular ethnic group cannot buy a unit in that block.
This ensures that there is a mix of ethnic groups in each HDB block and neighbourhood. The stated objective of this piece of government policy is to prevent the formation of racial enclaves, and promote racial integration instead.
Malays preferred Bedok/Tampines, Chinese preferred Hougang/Ang Mo Kio
The EIP was implemented on March 1, 1989.
Then-Minister for National Development S. Dhanabalan said in January that year that the government had detected a growing trend of ethnic congregation in certain estates.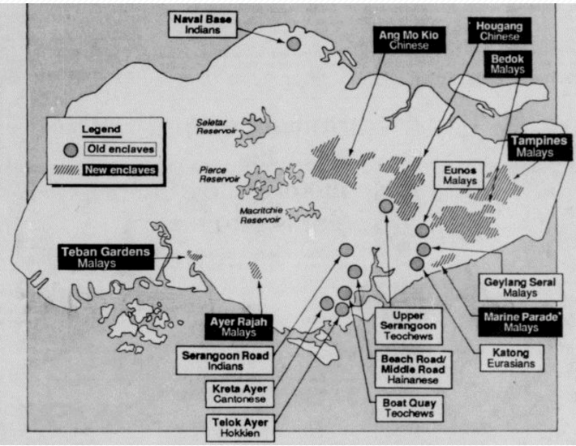 The trend was reflected in the preferences of new flat applicants — new Malay flat applicants wanted to live in Bedok or Tampines while Chinese applicants preferred places like Ang Mo Kio and Hougang.
It was also reflected in the resale market, said Dhanabalan:
"Between September 1987 and September 1988, Malays formed more than half of the applicants for resale flats in the Bedok/Tampines zone."
There were more statistics that Dhanabalan threw out: Neighbourhoods in Bedok/Tampines where Malay households exceeded 30 per cent; neighbourhoods in Hougang New Town where Chinese households exceeded 90 per cent.
Original ethnic quotas
When the policy was officially introduced in Parliament on February 16, 1989, these were the ethnic quotas for HDB neighbourhoods and blocks:
Proportion of flats in each neighbourhood for:
Malay (22 per cent)

Chinese (84 per cent)

Indian and Others (10 per cent)
Proportion of flats in each block for:
Malay (25 per cent)

Chinese (87 per cent)

Indian and Others (13 per cent)
According to HDB, the policy change in 1989 affected 35 out of 125 neighbourhoods across 25 HDB new towns.
The limit for home buyers who are categorised under "Indian and Others" was subsequently updated in 2010 to 12 per cent and 15 per cent in each neighbourhood and block respectively, however there is no other information on limits for other ethnicities.
Similarly, information about the EIP quota is not made public presently, except that it is reviewed from time to time to reflect Singapore's demographic changes, and that the limits are updated on the first day of every month.
Home buyers can only find out if they fall within the ethnic limit in a prospective block by checking with HDB here.
Different issues faced by flat sellers and buyers
The policy, which Senior Minister Tharman Shanmugaratnam once called "the most intrusive social policy in Singapore", has resulted in some difficulties for a particular group of people: HDB flat buyers and sellers who want to transact with parties who are not of the same ethnic group.
While these difficulties have been heard repeatedly in Parliament over the years, the government's stance has been remained largely unchanged: These are small inconveniences that must be tolerated for the greater good.
Longer time to sell HDB flats
In 2009, Member of Parliament Lim Biow Chuan asked if the policy could be reviewed on a case-by-case basis for residents who could not sell their flats to purchasers of other races, resulting in financial hardship or were unable to sell their flats for a long period of time.
Then Minister for National Development Mah Bow Tan said:
"There could be a small number of households that may need more time to find a suitable buyer for their flat because of the EIP. This is a small inconvenience that Singaporeans must live with to ensure racial harmony in our society."
In 2013, then Minister of State for National Development, Maliki Osman also pointed out that most of the cases affected by EIP restrictions were sold either at or above valuation, leading him to say that the EIP alone was not a key factor in determining the selling price of a flat.
"We recognise that some face more challenges than others, but by and large, our data show that it is not impossible for them to be able to find the buyers of the necessary ethnic group," he added.
Selling house below market valuation, perception of ethnic discrimination
In 2010, then-Nominated Member of Parliament Viswa Sadasivan highlighted ethnic minority owners who had difficulty selling their flats due to EIP restrictions, resulting in them settling for prices below market valuation.
"It does not augur well for the multi-cultural nature of our society," Viswa said,  "if people feel that they are disadvantaged as a result of their ethnic minority status."
Then-Parliamentary Secretary to the Minister for National Development, Maliki Osman pointed out that there were various reasons (aside from EIP restrictions) why a flat would be sold below market value — location, age, extent of renovation and the prevailing market conditions.
"There are also sellers who are affected by EIP restrictions, who are able to sell at way above market valuation, even $30,000 above market valuation," Maliki pointed out.
"The EIP policy has benefited Singaporeans as a whole by ensuring that there are no ethnic enclaves. We really seek Singaporeans' understanding that EIP is a necessary encumbrance for a greater social good."
Flats left vacant for years
And then, there was the (most likely unintended) case of HDB flats being left empty for years, which was similarly justified away in the same vein as a "small inconvenience".
Highlighted in Parliament by then-Member of Parliament Zainudin Nordin in 2004, the issue garnered a response from then-Minister of State for National Development Cedric Foo, who said that the EIP was "a bedrock" upon which the racial harmony of Singapore rested:
"So, yes, although there are some vacant flats available, we must adhere to this policy. In fact, we must adhere to it very strictly and we should not compromise the long-term policy intent just because there are some holding costs of vacant flats involved."
Today: 1 in 3 blocks have hit at least 1 racial quota
Available data from the Hansard also tell us that the the number of neighbourhoods which hit or exceeded their EIP quota has been declining — from 28 per cent in 1989 to 25 per cent in 2003.
It then dropped to 14 per cent in 2010 and then 11 per cent in 2013
Today, that number has jumped back to 14 per cent of HDB neighbourhoods, said Minister for National Development Desmond Lee in Parliament on July 5, perhaps an indication that HDB flat dwellers aren't as prone to forming racial enclaves today as 30 years back.
However, according to Lee, nearly one in three blocks have hit at least one racial quota.
"So just imagine how much more the different ethnic groups would concentrate in different neighbourhoods, if we did away with the EIP.

And how much harder it would then become, to promote mixing and understanding across ethnic groups in the home environment."
Should the EIP be abolished or tweaked?
Considering the issues that arose due to the EIP, should it be abolished?
That was the subject of fierce debate in Parliament on July 5 between Pritam Singh, the Leader of the Opposition, and several PAP Ministers and Members of Parliament.
There is merit in using such a policy to prevent the rise of racial enclaves in Singapore.
In fact, most Singaporeans agreed that the EIP is an important scheme. Citing a recent REACH survey, Lee said that over 60 per cent of Singaporeans agreed that implementing racial quotas in public housing was an important way of promoting integration.
However, there is also merit in considering if the policy could perhaps be tweaked to accommodate an increasingly different Singaporean demographic — people who don't fall nicely within the CMIO (Chinese/Malay/Indian/Others) model — a smoothening of the policy's rough edges, in Singh's words.
Some examples given by Singh in Parliament include naturalised Singaporeans from Myanmar, the Philippines and non-Tamil ethnic Indians, as well as an increase in mixed marriages between Singaporeans of different ethnicities and nationalities, all of which fall outside the boundaries of the EIP.
The debate in parliament resulted in the conclusion that both PAP and WP agree, in Lee's words, that Singapore "still need the EIP" and will "work towards a race-blind society", and "endeavour to reach there".
What WP does not agree with PAP is that they eventually still want EIP to be abolished, a change in its previous position to abolish the EIP immediately.
But perhaps the more pressing question we should ask ourselves is whether after three decades of the EIP and other racial integration policies, if Singaporeans are moving towards the right direction in being truly integrated across racial lines, or if it's a vision that is still a little bit far off.
---
Mothership Explains is a series where we dig deep into the important, interesting, and confusing going-ons in our world and try to, well, explain them.
This series aims to provide in-depth, easy-to-understand explanations to keep our readers up to date on not just what is going on in the world, but also the "why's".
---
Top image by Joshua Lee.
If you like what you read, follow us on Facebook, Instagram, Twitter and Telegram to get the latest updates.