Following the emergence of the KTV lounge cluster on July 12, the Singapore government tightened dining-in restrictions which kicked on on Monday (July 19).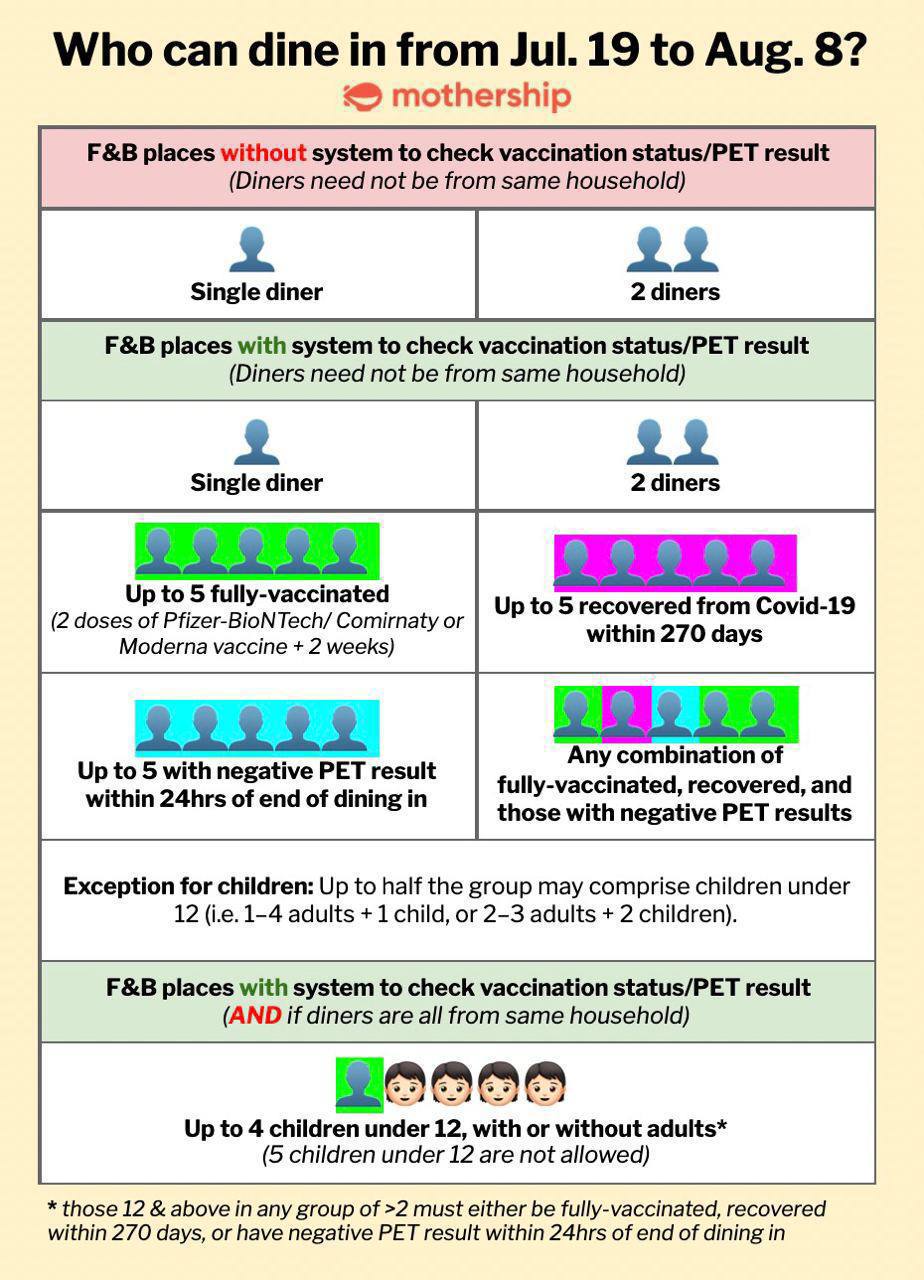 If you're thinking that the updated restrictions are confusing, you're not alone.
"The regulations are a bit messy," said Ben Lim, manager of the Old Town White Coffee outlet at Novena Square .
"If we have two adults and two children from different households, as long as the adults are fully vaccinated it is OK. But if it's three children in total, then its not allowed, but why? It's a bit weird. It's quite complicated."
Increased workload for staff
Because of the updated restrictions, the Old Town White Coffee outlet had to place a staff at the entrance to assign seats and check customers' TraceTogether app for proof of vaccination, which was "a bit troublesome" according to Ben.
"I had like three aunties come in, don't know how to check their vaccination status and show proof. And so we had to teach them how to do it," he recounted.
It's more troublesome when it comes to making reservations, said Anda, the manager of the Gyu Kaku outlet at Novena Square, because she has to remind customers of the new rules before they head down.
"I have to ask: 'Mdm please check your TraceTogether before you come.'

Because if I accept you and you're coming, in the end if you're not fully vaccinated, I'll have to split your table.

If I accept you but when you're here you cannot enter the restaurant, it's a waste of time."
Aside from the increased workload, staff might also have to deal with unhappy customers who might kick up a fuss, said Ben.
"Some customers will complain, we are in the same family, one is not fully vaccinated and one is a child, so we cannot allow them to sit together. So they are unhappy, and might argue with us."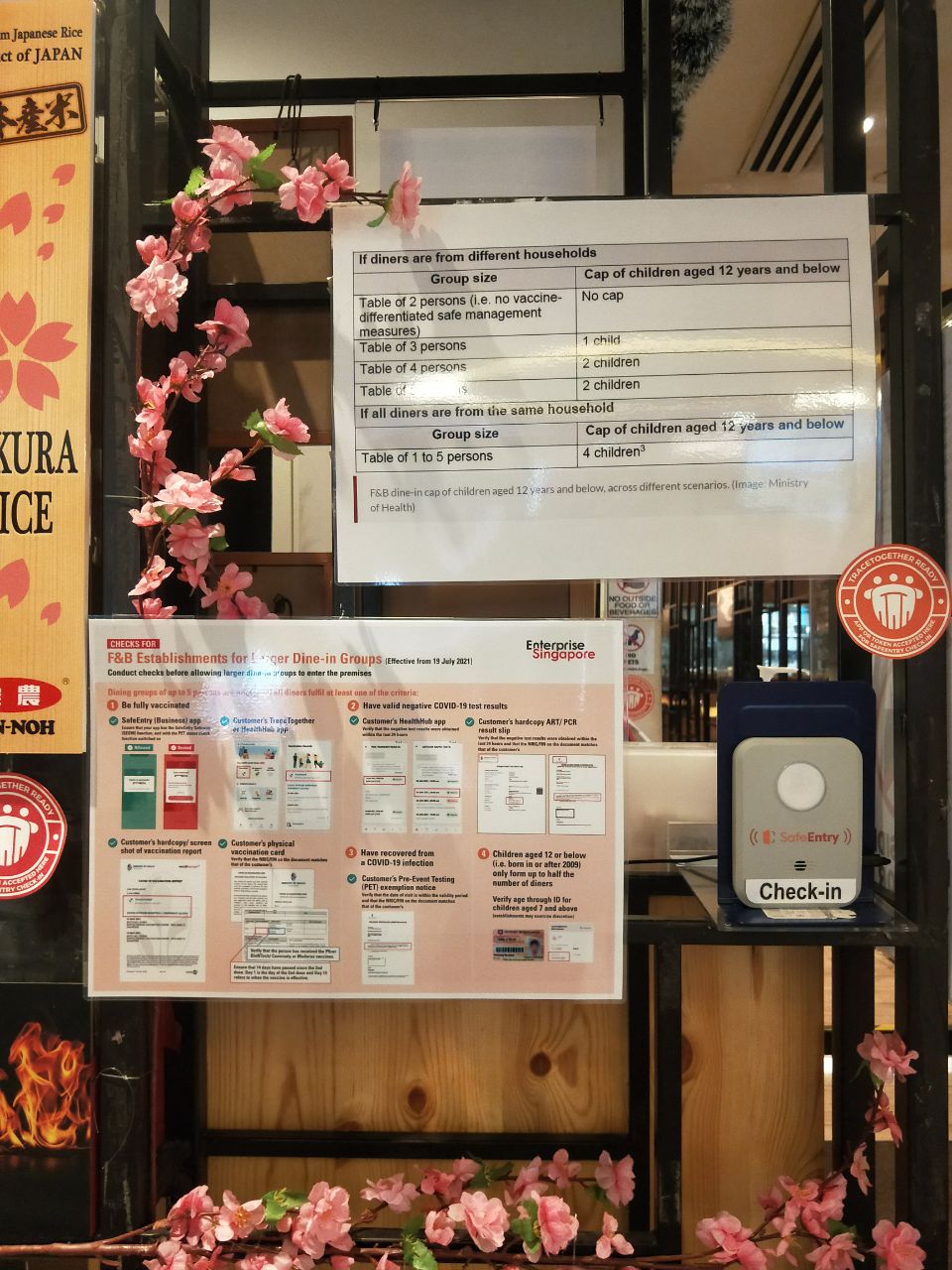 New restrictions "greatly affected" business
The size of the post-lunch crowd at Novena Square and Square 2 on July 18 was pretty ordinary but eateries that Mothership spoke to said business was poorer than usual.
This was the case at Nan Xiang Chicken Rice where its manager, who preferred to be known as Lim, said that the tighter restrictions have "greatly affected" the business.
"With the new regulations, and also because of the spike in number of Covid-19 cases, we immediately feel the effect. Last week we still had up to five people (per dine-in group), but now we don't have groups of five!"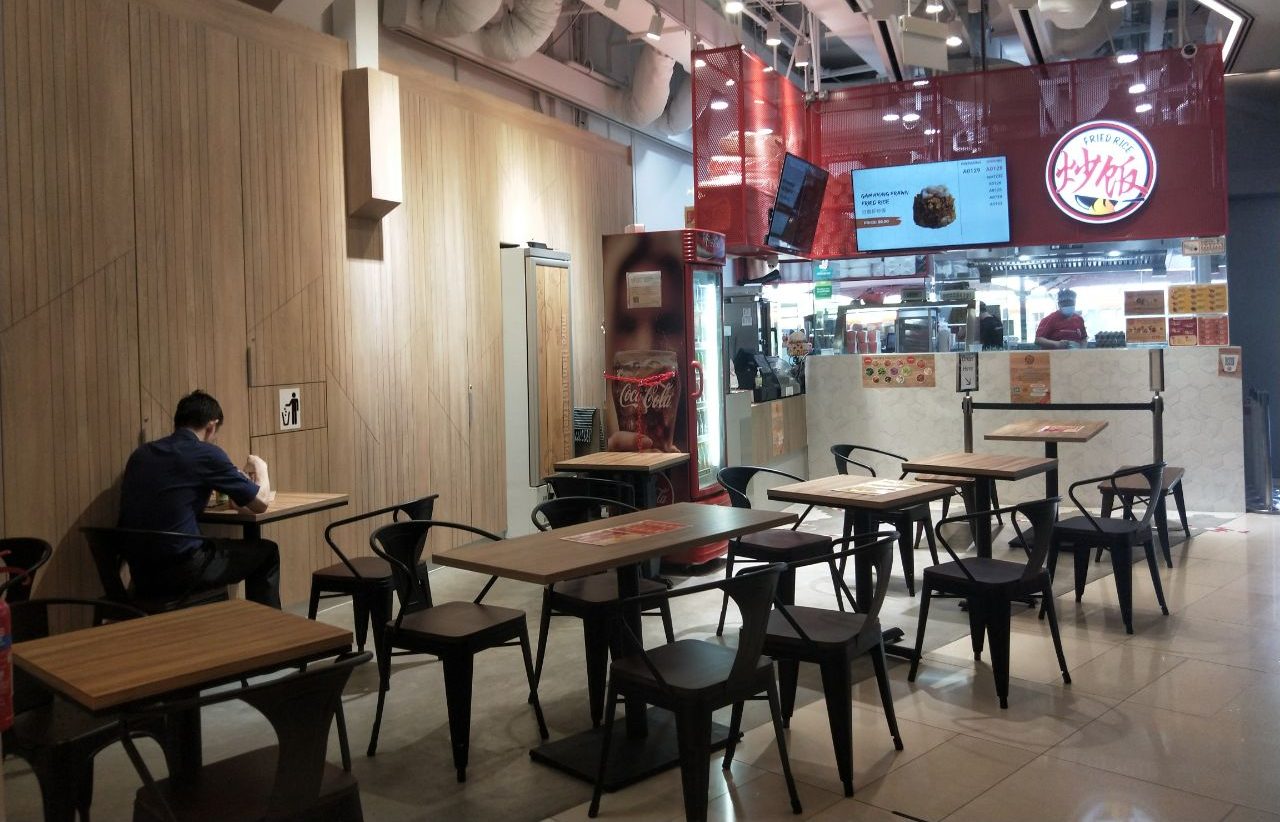 Restrictions kicked in with minimal fuss
In general, we observed that customers were eating in groups of two.
Those in bigger groups typically complied with the new rules, said the eateries, although they required more work to enforce.
Most of the customers who patronised the Seoul Yummy outlet at Square 2 were vaccinated staff from the nearby Tan Tock Seng Hospital, said assistant manager Otman.
While dine-in business was not brisk (the outlet saw only 60 per cent of its usual crowd), Otman said that the outlet saw three times more takeaway orders than usual.
"Now everyday cases are high, customers stay at home and are more hesitant to eat outside."
He was also thankful that the updated restrictions kicked in without much fuss, with "no confusion or annoyance".
Had to turn away diners
Similarly, Mijing, the manager of Hansang Korean Family Restaurant at Square 2, said that many of it diners came in groups of two and were mostly vaccinated.
"If they are not vaccinated, I don't think they will come. Everyone is aware of the situation and follow the regulations so they are prepared. So when we request the vaccination records, there is no problem."
Leo, the manager of Tonkotsu Kazan Ramen, had to turn away a group of three diners because one of them was unvaccinated.
"We could not separate the table also because of lack of manpower and the space is too small," he added.
Thankfully, the group of three was very understanding of the restaurant's constraints.
In general, the eateries in both malls seemed to be able to adapt to the new restrictions. There were some, like Itacho Sushi, which chose to implement a limit of two diners regardless of vaccination status.
Over the weekend, McDonald's Singapore announced that it too would impose the 2-person limit regardless of vaccination status.
This seems to be a much easier arrangement for eateries as it does away with the need for extra manpower to check dine-in customers.
On the bright side, the tightened restrictions are expected to be lifted on August 9.
Top images by: Kow Zi Shan.
If you like what you read, follow us on Facebook, Instagram, Twitter and Telegram to get the latest updates.