Follow us on Telegram for the latest updates on Covid-19: https://t.me/mothershipsg
The Ministry of Health (MOH) has confirmed 170 new cases of Covid-19 in Singapore on Thursday (July 22).
This brings the total number of cases in Singapore to 63,791.
162 new locally-transmitted cases
There are 162 cases of locally-transmitted Covid-19 infection. 59 are linked to previous cases, and have already been placed on quarantine.
51 are linked to previous cases and were detected through surveillance. 52 are currently unlinked.
87 are linked to the Jurong Fishery Port cluster and five belong to the KTV cluster.
Amongst the cases are six seniors above 70 years who are unvaccinated, and are at risk of serious illness.
There are eight imported cases, who have already been placed on Stay-Home Notice (SHN) or isolated upon arrival in Singapore.
Five were detected upon arrival in Singapore, while the remaining three developed the illness during SHN or isolation.
Increase in community cases
Overall, the number of new cases in the community has increased from 127 cases in the week before to 883 cases in the past week.
The number of unlinked cases in the community has also increased from 16 cases in the week before, to 105 cases in the past week.
The seven-day moving average number of all linked community cases and all unlinked community cases are 111.4 and 14.7 respectively.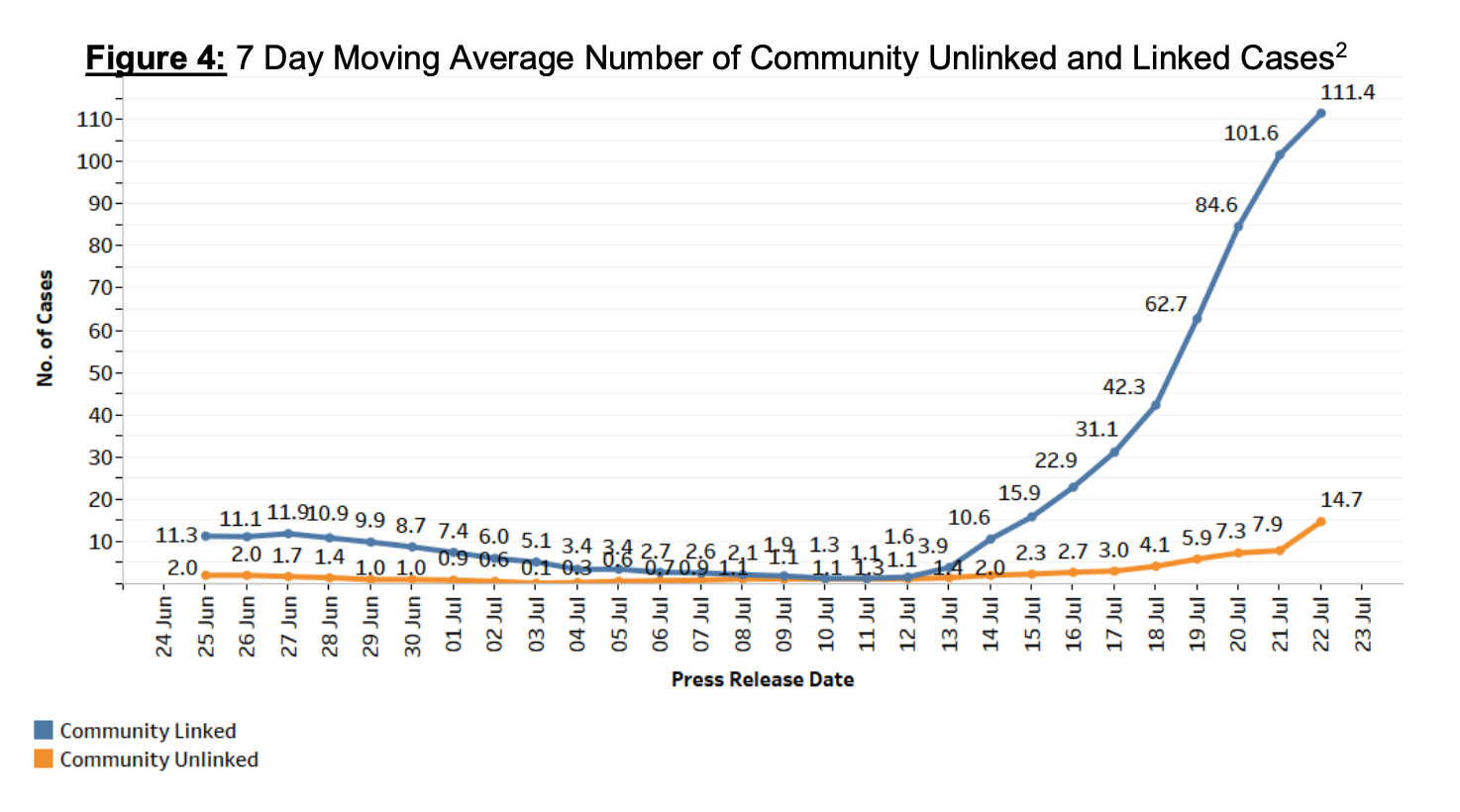 Closure of Boon Lay Place Food Village
MOH said that it is investigating cases of Covid-19 infection involving markets and food centres.
These infections are believed to have been seeded by fishmongers who visited Jurong Fishery Port to collect their stock and sell at the markets and food centres.
The ministry said they had detected seven cases among individuals who worked in or visited Boon Lay Place Food Village, prompting MOH to close the food centre to the public from Jul. 23 to Aug. 6, 2021.
This will break the chain of transmission and enable deep cleaning of the premises.
MOH has also extended free Covid-19 testing to members of the public who visited Boon Lay Place Food Village and Chong Pang Market and Food Centre between Jul. 8 and Jul. 22.
More details on testing operations can be found here.
28 active clusters
There are currently 28 active clusters, ranging between three and 560 infections each.
There are now a total of 221 cases linked to KTV lounges and clubs, and 560 linked to Jurong Fishery Port and Hong Lim Market & Food Centre.
Condition of hospitalised cases
There are currently 415 cases warded in the hospital, most of whom are well and under observation.
In addition, there are seven cases of serious illness requiring oxygen supplementation, and one is in critical condition in the intensive care unit (ICU).
There is continuing evidence that vaccination helps to prevent serious disease when one gets infected, MOH said.
Over the last 28 days, seven local cases required oxygen supplementation, were admitted to ICU or passed away. Six are unvaccinated, one are partially vaccinated and none was fully vaccinated.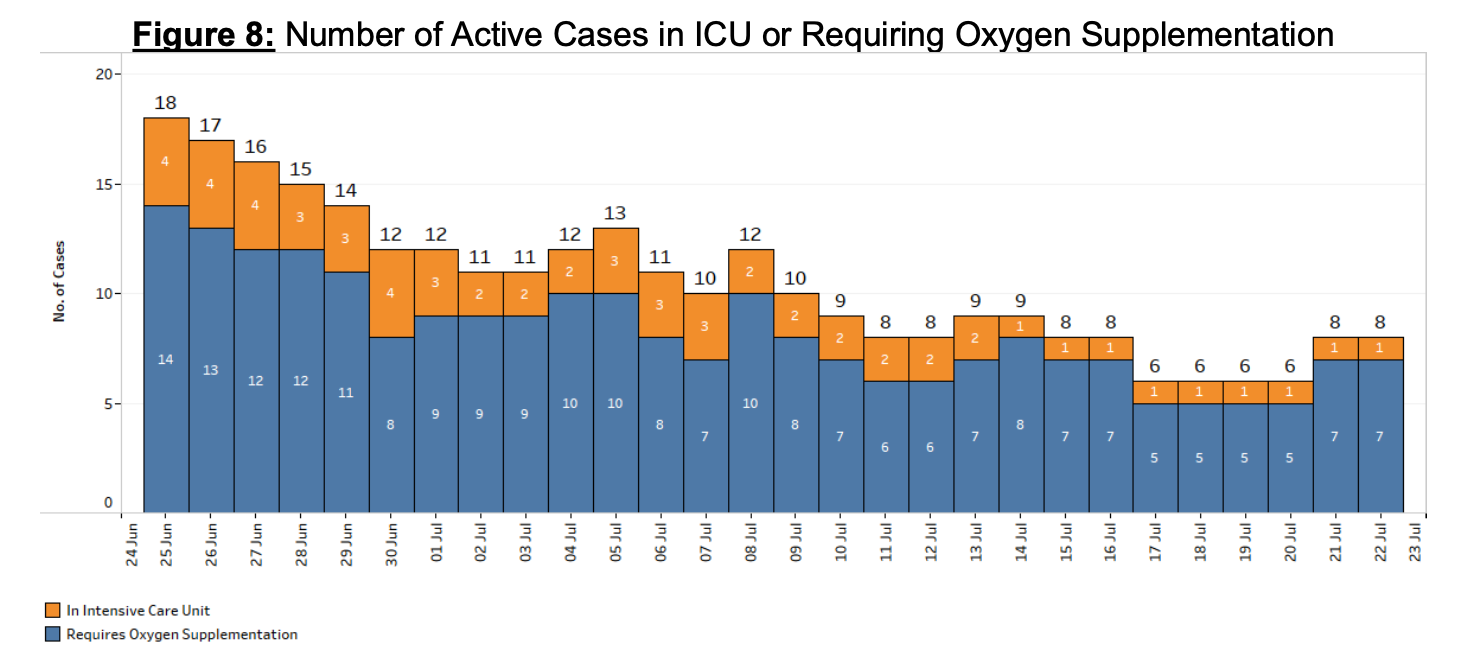 Progress of vaccination programme
As of Jul. 21, MOH has administered a total of 6,911,740 doses of Covid-19 vaccines under the national vaccination programme.
This covers 4,184,559 individuals. 2,847,397 individuals have completed the full vaccination regimen, comprising those who have received two doses and recovered individuals with one dose.
In addition, 74,052 doses of Sinovac vaccines have been administered as of Jul. 21, covering 64,982 individuals.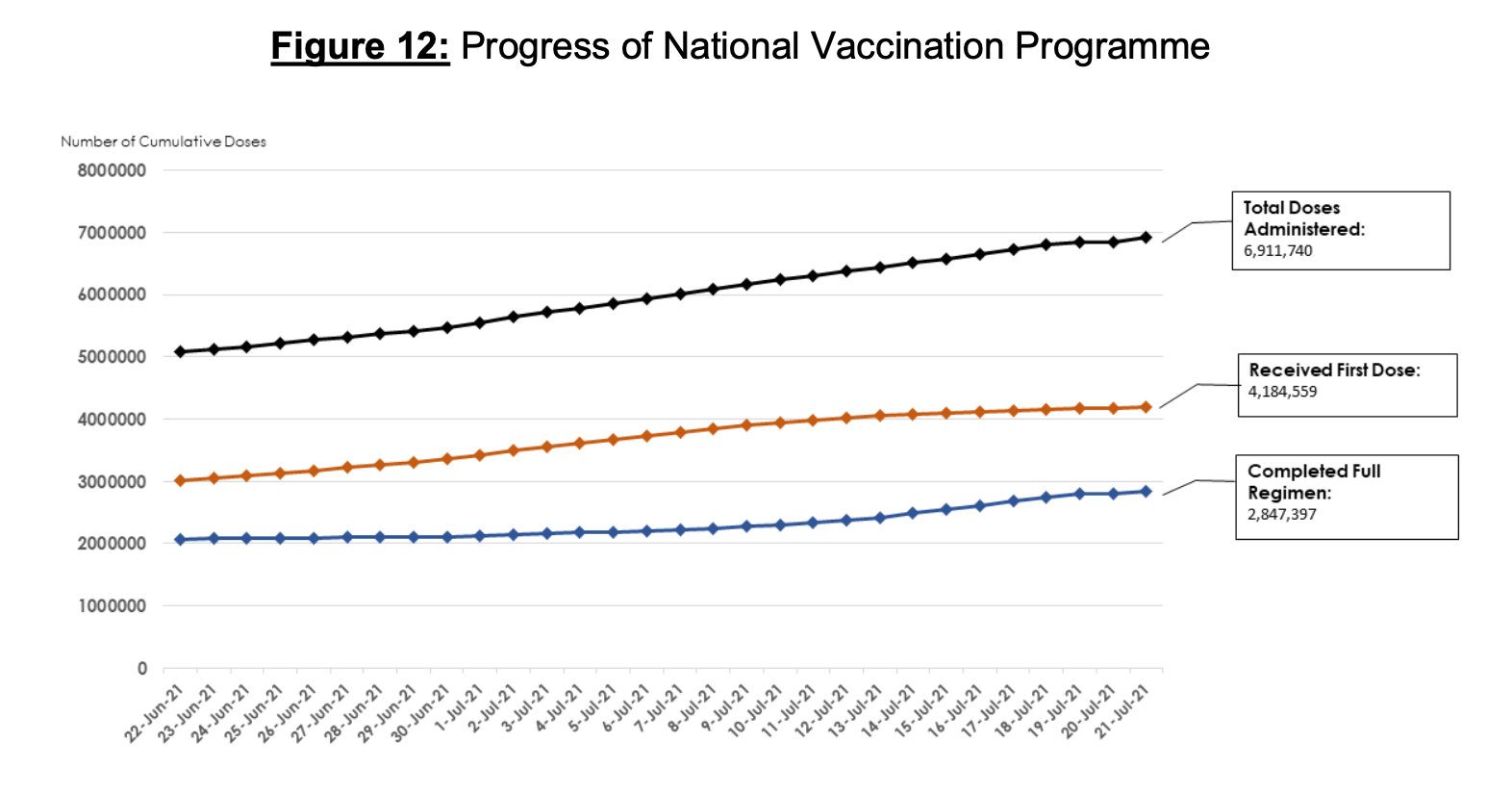 If you like what you read, follow us on Facebook, Instagram, Twitter and Telegram to get the latest updates.