MOH confirmed 88 locally transmitted Covid-19 cases on Sunday (July 18), of which 25 belong to the KTV cluster and 42 are linked to the Jurong Fishery Port cluster.
Of the these 88 cases, 30 are linked to previous cases, and have already been placed on quarantine. 48 are linked to previous cases and were detected through surveillance. 10 are currently unlinked.
Among the cases are four seniors above 70 years who are unvaccinated, and are at risk of serious illness.
The total number of Covid-19 cases in Singapore now stands at 63,073.
There are also four imported cases on July 18. One was detected upon arrival in Singapore, while three developed the illness during SHN or isolation.
12 require oxygen supplementation, 1 in ICU
243 cases are currently warded in hospital. Most are well and under observation.
There are currently five cases of serious illness requiring oxygen supplementation, and one in critical condition in the intensive care unit (ICU).
None amongst these six cases are fully vaccinated, said MOH.
KTV cluster
MOH is investigating cases of Covid-19 infection amongst social hostesses who had frequented KTV lounges or clubs currently operating as F&B outlets, and their close social contacts.
MOH's epidemiological investigations have found that there is likely ongoing transmission at the following KTV lounges/clubs:
Maze Club (2 Aliwal Street)

China Doll (1 Sophia Road)

Club Myth (1 Coleman Street)

Martell W Ktv Chivas (6 Foch Road)
Jurong Fishery Port cluster
MOH is also investigating Covid-19 cases involving markets and food centres which are likely seeded by fishmongers who visited Jurong Fishery Port to collect their stock and sell at the markets and food centres.
According to MOH, there are currently clusters detected at Hong Lim Market & Food Centre and Chong Boon Market & Food Centre.
MOH has previously announced cases detected amongst fishmongers working in 11 markets. On July 18, MOH has detected additional cases amongst fishmongers working at these places:
Haig Road Market and Cooked Food Centre

Jurong Central Plaza

Shunfu Mart
To better enable contact tracing to ringfence cases, from 19 July, the National Environment Agency (NEA) and Town Councils will be progressively implementing access control with interim fencing and mandatory SafeEntry check-in at markets where Covid-19 cases have been detected amongst stallholders or stall assistants.
MOH also advised all visitors to markets and food centres to avoid crowds and to do their marketing during off-peak hours, or at supermarkets, and to strictly observe the safe management measures.
Increase in community cases
The number of new community cases has increased from 17 cases in the week before to 325 cases in the past week, according to MOH.
Singapore will likely see rising cases in the coming days as MOH steps up efforts to detect them to contain their spread in the community.
The number of unlinked cases in the community has also increased from eight cases in the week before to 31 cases in the past week.
The seven-day moving average number of all linked community cases and all unlinked community cases are 42.0 and 4.4 respectively.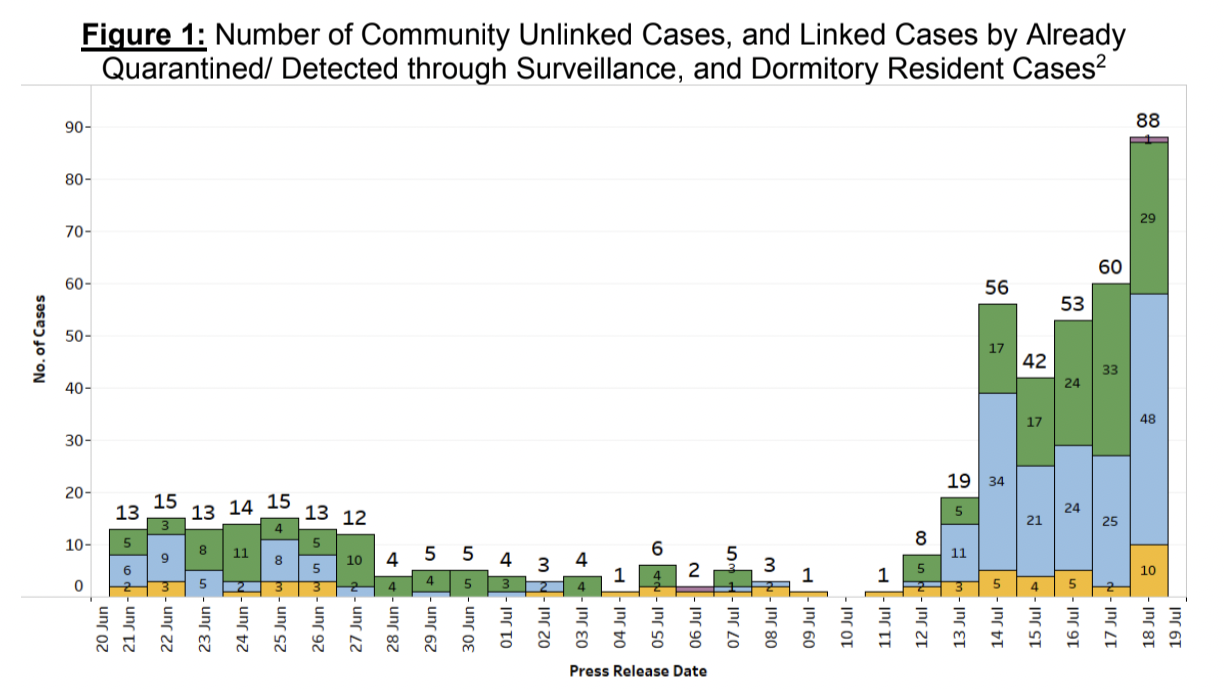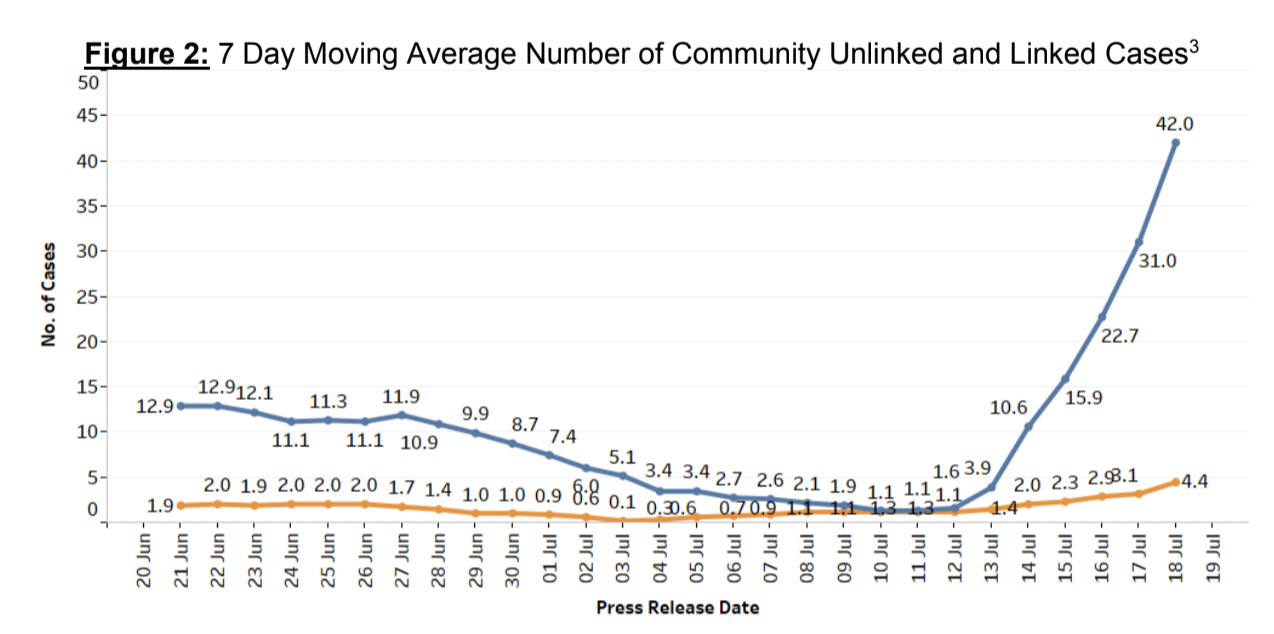 Progress of vaccination programme
As of July 17, 2021, the authorities have administered a total of 6,726,540, doses of Covid-19 vaccines under the national vaccination programme.
The total number of doses administered was 6,726,540, covering 4,136,551 individuals.
2,676,171 individuals have completed the full vaccination regimen, consisting of 86,182 recovered persons who received at least one dose and 2,589,989 who received their second dose.
MOH continues to observe that vaccination helps to prevent serious disease when one gets infected.
Over the last 28 days, 17 local cases required oxygen supplementation, were admitted to ICU, or passed away.
11 are unvaccinated, six are partially vaccinated, and none was fully vaccinated.
Top image via China Doll/FB & Maze Club/FB.
If you like what you read, follow us on Facebook, Instagram, Twitter and Telegram to get the latest updates.