The Chinese Communist Party (CCP) celebrated its 100th anniversary in 2021 and nearly 72 years in power.
Celebrations to mark the momentous event on July 1 -- the Party's actual founding date, however, is July 23, according to official documents -- were in full swing, with some centenary performances taking place a few days before.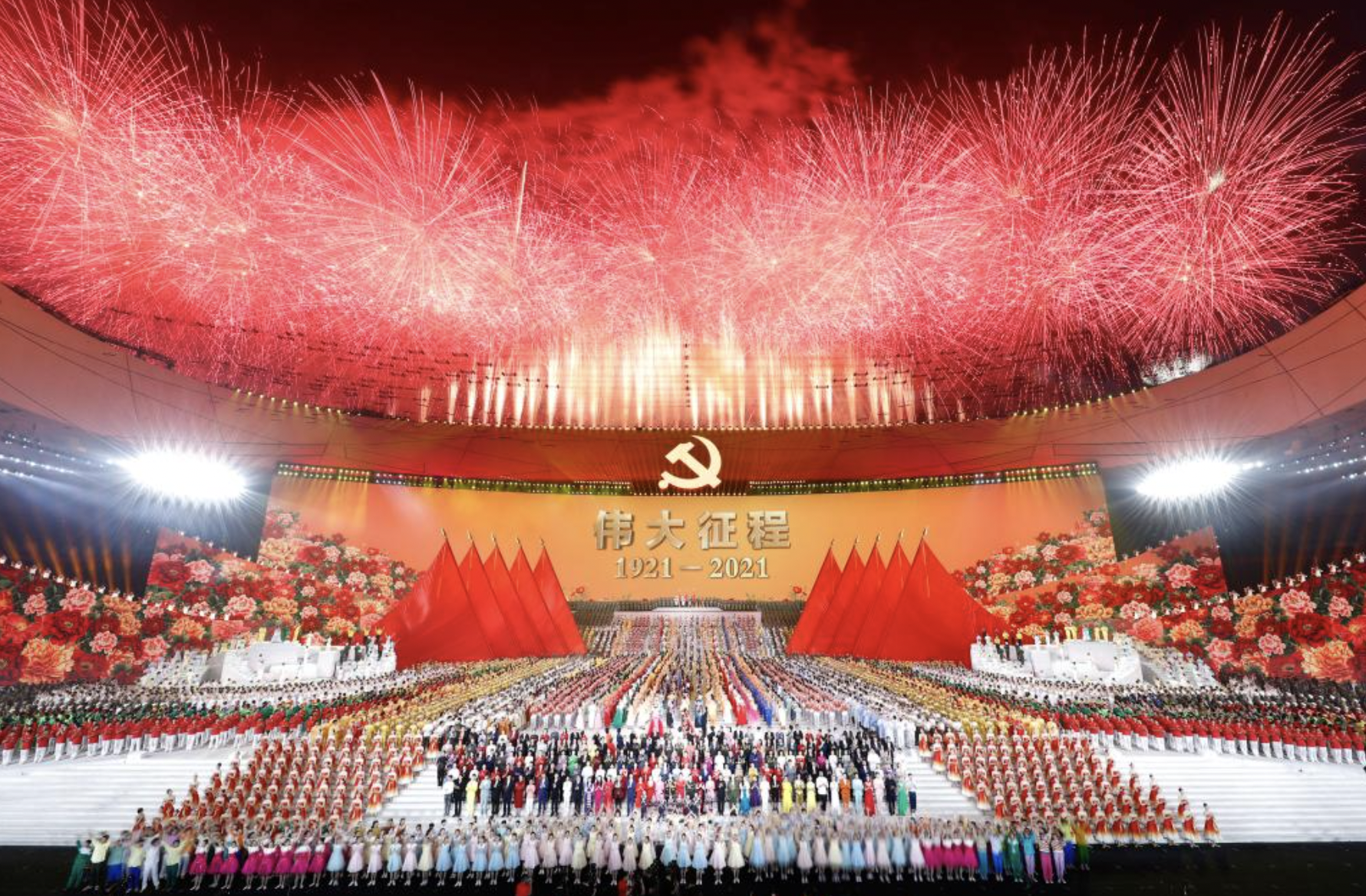 In the lead-up to the occasion, the state ran a series of propaganda on television and newspapers that highlighted its achievements, shut down traffic in central Beijing, and decked the streets in flowers and other nationalistic display.
On the day itself, Chinese President Xi Jinping gave a speech before a crowd of 70,000 in Tiananmen Square in Beijing, promising the Chinese people that the country will not allow foreign powers to "bully, oppress or subjugate" them.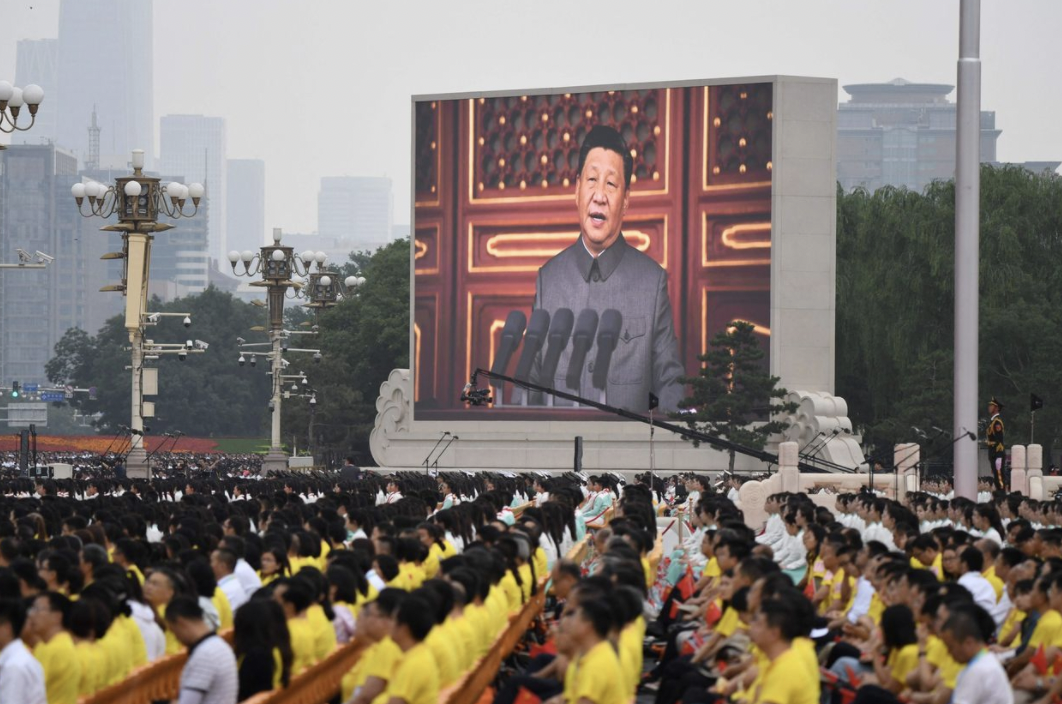 The audience listened with rapt attention, cheering and applauding while he gave his message, and reinforced his Party's authority for the years ahead.
Taiwanese singer Angela Chang took part in centennial performance
Taiwanese celebrities joined in the centennial celebrations as well, with singer Angela Chang performing the patriotic song, "Roar, Yellow River" (怒吼吧黄河), at a lavish performance held at Beijing's National Stadium on June 28.
Other entertainers from mainland China, Hong Kong and Macau joined in as well.
Standing next to her was Hong Kong martial arts movie star Jackie Chan.
Decked out in braids and a traditional costume from the Minguo (Republic) era that started from the early 1910s, Chang was the only performer who appeared on stage as an artiste from "Taiwan, China".
Taiwan criticised Chang
Chang's participation in the performance has drawn criticism from Taiwan's Mainland Affairs Council (MAC), which discouraged Taiwanese citizens from taking part in any political activity organised by the CCP, Formosa TV News reported.
In addition, the MAC, which handles the self-ruled island's China policy, claimed that the CCP's aim, by getting relevant persons from Taiwan to take part in the centennial celebrations, is to form the impression that "both sides of the Strait belong to one China".
It also called on the Taiwanese people to consider Taiwan's "national dignity, social perceptions and legal norms", and to recognise the CCP's strategy that's attempting to divide Taiwan.
Lastly, the council said Taiwanese citizens should not cooperate with the CCP and take part in their political activities, so as to avoid becoming a tool for the United Front's propaganda campaigns which would "harm the national sovereignty and identity of the Republic of China".
Netizens support Chang
Despite the criticism, there were many netizens who backed Chang's decision to perform at the show in Beijing.

"Here comes even more shattering of a bunch of glass hearts..." (an insult that's usually aimed at ultra-nationalistic Chinese neitzens)
---

"Taiwan used to shun Angela Chang in the past, now that she's doing well on the mainland, don't get all jelly and drag politics in, I wish her all the best."
---

"Did y'all from Taiwan give her a stage to perform? She has so much more opportunities now in the mainland, and of course, earns much more there."
---
Chang expressed her well-wishes for the 100th anniversary of the Party as well, taking to China's Twitter-like Weibo on July 1 to re-post a celebratory message that was originally posted by Chinese state broadcaster CCTV. Her post received more than 30,000 "likes".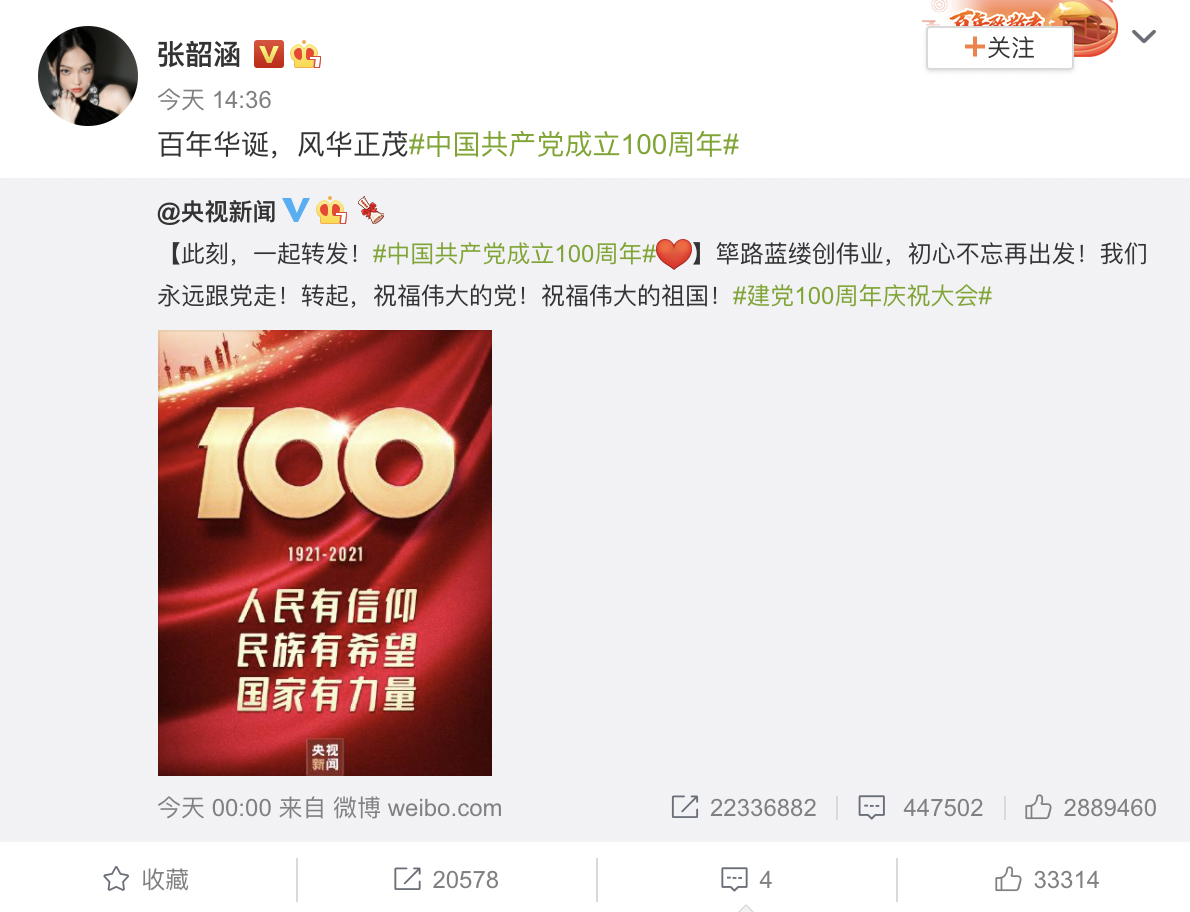 Chinese netizens stan Taiwanese actress Ouyang Nana
Similarly, Taiwanese musician and actress Ouyang Nana re-posted the same Weibo post from CCTV, along with the same caption.
But unlike Chang, she had taken to Weibo much earlier, sending the post 42 minutes after the clock struck 12.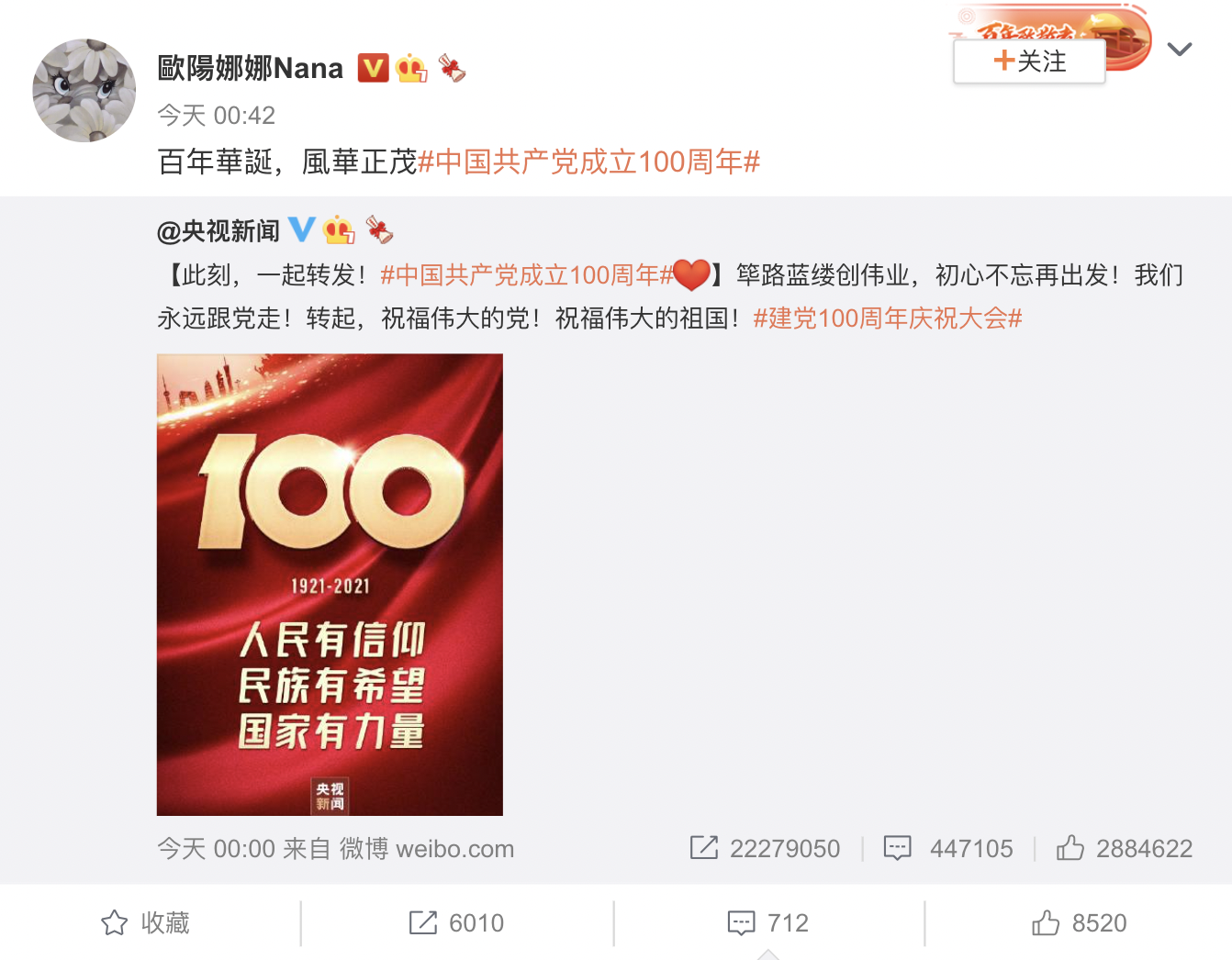 Ouyang's post attracted a wave of comments from nationalistic Chinese netizens, who said they were pleased to see a Taiwanese celebrity who loves China and is patriotic towards the country.
A commenter asked her to quickly go register her residence in China as well, Malaysian Chinese-language newspaper China Press reported.
Besides the two of them, other Taiwanese artistes, such as Chen Linong and Lai Guanlin, who are active in mainland China as well, publicised their support for the Party too, with the former re-posting the same post from CCTV.
Support for the Party often a prerequisite to work in China
This is not the first time that Chang and Ouyang, who are active in mainland China, have sparked controversy for taking part in China's national celebratory events.
They sang the song "My Motherland" at China's National Day celebrations last year.
In 2019, Ouyang sparked controversy for her comments that said, "Let our motherland be proud of us". Netizens later suspected that the comments were made after Beijing Television censored Ouyang from a photograph taken with three other mainland Chinese.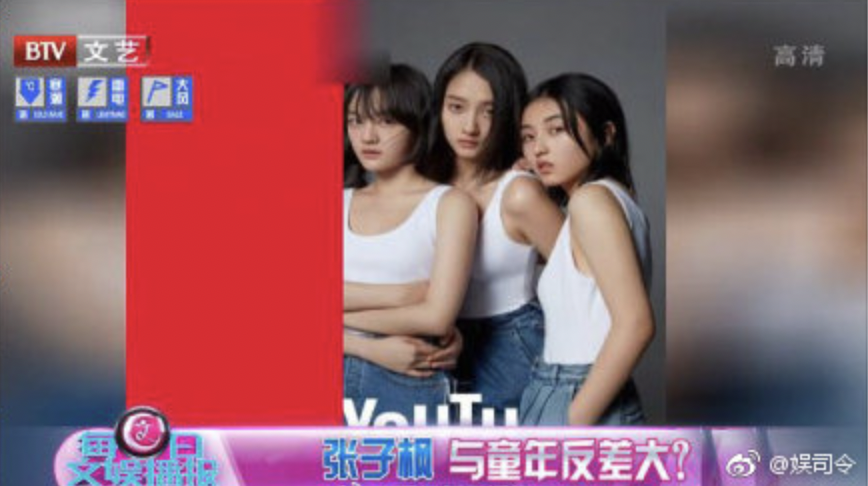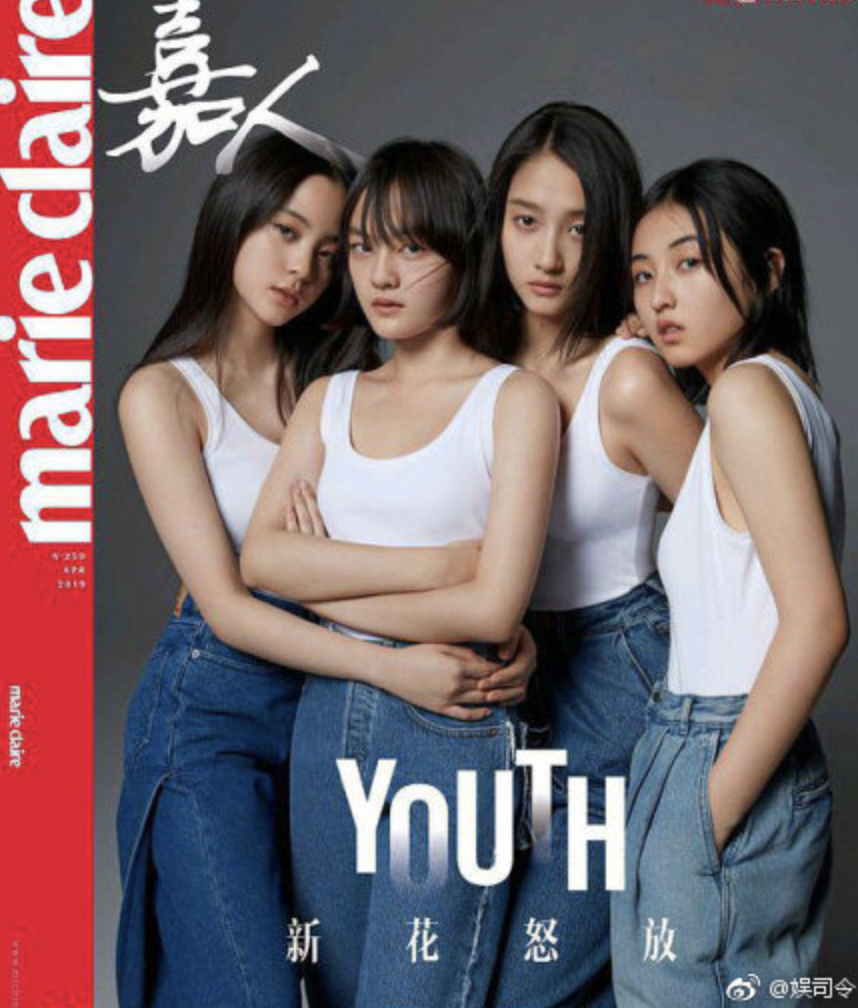 Taiwanese artistes often have to clarify their political stance and recognise Taiwan as a part of China, in order to work in China, according to New York-based, China-focused news site SupChina.
The "King of Mandopop" Jay Chou has also said in the past that he is "a Chinese", and therefore is able to work in China with no government interference.
In addition, Chinese authorities and the public can be extremely sensitive at times over the topic, with movies and TV shows receiving backlash for involving artistes whose political views are not in line with the Party's.
Top image adapted via Angela Chang/IG, Chen Linong/IG & Ouyang Nana/Weibo
If you like what you read, follow us on Facebook, Instagram, Twitter and Telegram to get the latest updates.